30 Best Free Screen Capture Tools and Plugins
There's no denying the fact that screenshots are the best way to record your computer's activity or create a guide either to keep for yourself or to share with others. However, what troubles most users is that which tool to use for taking quick and quality screenshots.
Well, for all those who are on such a quest, here is a comprehensive collection of free tools and plugins to capture screenshots for both macOS and Windows. All these tools are equipped with different set of features and you'll know which one to choose when you'll read about each in detail. So let's take a look.
Read also:
Tools
A project of Techsmith, Jing has the ability to do instance image and video capturing. Aside from that, you can also do sketches on the image and share them online. Speaking from functionality point of view, being free tool is definetely a steal.
Nimbus Capture lets you edit screenshots in its easy-to-use editor. You can then share the screenshots or save them online to Nimbus or Google Drive. It is available for major browsers including Chrome, Firefox, Opera, macOS, and Windows.
ShareX is a tool for Windows that allows to capture regions on screen and customize them later using color picker, annotations, highlights, and effects, etc. Also, it supports sharing the final images to online services like Dropbox, Imgur, etc.
Greenshot can capture any region on the screen or a web page and present the options to annotate or highlight parts of the shot. Interestingly, it provides an option to save the file or upload it to Flickr or Picasa. But it runs only on Windows PC.
Monosnap for macOS and Windows allows you to take screenshots, draw on the screenshots, and crop them pixel-perfectly, thanks to its magnifier. You can also highlight details in the images and finally save them or upload them to its online storage.
Lightshot supports capturing the screen with just two clicks and editing them later using its powerful editor. Moreover, the images can be uploaded to its server, which also generates a short, shareable URL. Lastly, Lightshot supports a multitude of OSs and browsers like Windows, macOS, Chrome, Firefox, IE, and Opera.
Screenpresso for Windows lets you capture photos with the help of PrintScreen key and highlight an area with its inbuilt editor. The images can be automatically saved in its library or uploaded and shared online via Google Drive, Dropbox, etc.
A screen capture tool for iOS and macOS, Skitch allows you to use annotations, shapes, etc. to highlight essential areas and supports sharing the snapshot after that. This tool can also upload the final pictures to your Evernote account.
A portable, open-source app for Windows, ScreenToGif allows three places to record content, namely screen, webcam, and its own sketchboard. Its editor provides options to edit the images, and you can also export them as a GIF or video.
Tinytake for Windows and macOS can capture images and videos, and further allows you to add comments to them and share them quickly, thanks to its shareable links. You can annotate, capture using webcam, and even store the photos online.
Paparazzi! for macOS can capture entire web pages, which can be saved with size and filename options along with support for formats like PNG, JPEG, TIFF, and PDF.
Snipaste offers intuitive sniping experience with color picker and keyboard shortcuts. It allows the images to be pasted as floating windows and lets you annotate and edit them then. Moreover, you can use it on Windows and macOS as of writing.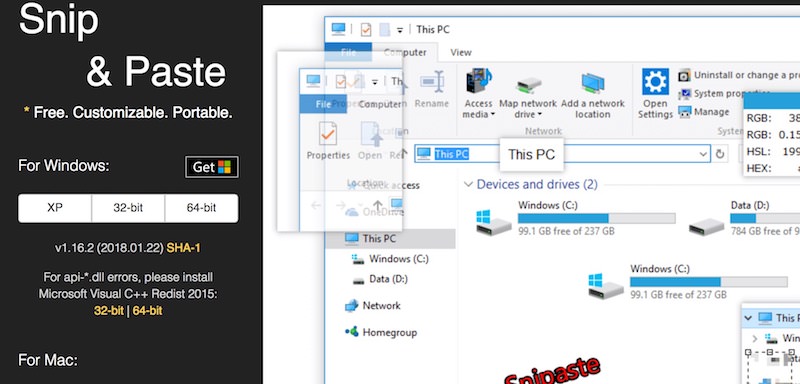 BrowseShot lets you capture full-length shots or a scrollable area in PNG format. It is compatible with Safari browser and provides back/forward support as well.
Screenshot Captor lets you add shapes (like arrows) and texts to snapped images, and allows uploading them to image hosting sites. Moreover, it supports recording videos from webcams and doing more, but unfortunately, it works only on Windows.
Lightscreen for Windows and Linux works mostly in the background and can be invoked with one or more hotkeys, like Greenshot and few others. It lets you upload the shots to Imgur and allows previewing the image in its image viewer as well.
Another program for Windows, FastStone Screen Capture lets you capture and annotate anything including windows, menus, objects, etc. and record screen activities. You can export the captures to its editor or clipboard or email them. Also, you can add effects, watermarks, etc. and save the images in one of the supported formats.
Sharpshooter for macOS is a simple screenshot tool that lets you save the captures in multiple file formats. Also, the captured shots can be quickly opened in other apps.
Another tool for Windows and macOS, Snagit supports capturing and editing the screen as images and videos. You can add visuals to your screen recordings and save as GIFs. Interestingly, you can also extract text from the captures to use it elsewhere.
LICEcap lets you record screen activities and save them as GIFs on Windows and macOS. You can also pause and restart recording, and even insert texts. Moreover, it provides hotkeys to capture and record the screen quickly.
An excellent tool for Windows 7 and above, Snap lets you snap, record and edit shots, and features live-editing and more smart features. It also includes a built-in text recognition tool and quick sharing features to share the shots.
PicPick is a full-featured screenshot tool for Windows with an image editor, which provides a load of options like color picker, pixel ruler, color palette, whiteboards, etc. The images can be enhanced with effects and are shareable via the web.
Snipping Tool, a simple tool shipped along with Windows, can snip in free-form or rectangular form. After snapping, it allows you to draw freely or add highlights on the image, and then, you can save the image or copy it to the clipboard.
Read Also: Top Web Annotation and Markup Tools
puush lets you capture and share screenshots on Windows, macOS, and iOS platforms. It offers keyboard shortcuts and drag-and-drop gestures to support quick captures. Also, the images are directly uploaded to provide you shareable URLs.
Browser Extensions
Fireshot for popular browsers like Chrome, Firefox, Opera, and IE allows doing quick edits like adding annotations. The images can be saved as an image or a PDF, and also, you can upload or share them on the web almost instantly.
Awesome screenshot lets you store your captures directly to its servers, and share them to ask for feedback. You can add annotations, blur sensitive info, and share the images directly. This tool is used as an extension for Chrome.
Another extension for Google Chrome, Screenshot Extension can capture both vertical and horizontal content and allows you to share or save the final image. You can blur, annotate, and create PDF from images; and also upload them to Google Drive.
Another add-on for Firefox, Full Web Page Screenshots lets you take screenshots and save them as images or PDFs, or send them directly to the clipboard. Also, you can capture all tabs in one click, and print, annotate, edit, email, and upload the images.
Full Page Screenshot is yet another tool for Chrome that lets you capture and save the images as PNGs. You can capture whole or part of the web page using this extension.
Summary
| | | | |
| --- | --- | --- | --- |
| Tool | Windows | macOS | Browser Plugins |
| Jing Project | Yes | Yes | No |
| Nimbus Capture | Yes | Yes | Yes |
| ShareX | Yes | no | no |
| Greenshot | Yes | no | no |
| Monosnap | Yes | Yes | no |
| Lightshot | Yes | Yes | Yes |
| Screenpresso | Yes | No | No |
| Skitch by Evernote | No | Yes | No |
| ScreenToGif | Yes | No | No |
| TinyTake | Yes | Yes | No |
| Captur | No | Yes | No |
| Paparazzi! | No | Yes | No |
| Snipaste | Yes | Yes | No |
| BrowseShot | No | Yes | Yes |
| Screenshot Captor | Yes | No | No |
| Lightscreen | Yes | No | No |
| FastStone Screen Capture | Yes | No | No |
| Jet Screenshot | Yes | No | No |
| Sharpshooter | No | Yes | No |
| TechSmith Snagit | Yes | Yes | No |
| LICEcap | Yes | Yes | No |
| Ashampoo Snap 9 | Yes | No | No |
| PicPick | Yes | No | No |
| Snipping Tool | Yes | No | No |
| puush | Yes | Yes | No |
| Fireshot | Yes | Yes | Yes |
| *Awesome screenshot | Yes | Yes | Yes |
| *Screenshot Extension | Yes | Yes | Yes |
| *Screengrab! | Yes | Yes | Yes |
| *Full Web Page Screenshots | Yes | Yes | Yes |
| *Full Page Screenshot | Yes | Yes | Yes |
* – Browser extensions and plugins.