10 Apps to Record Android Screen Activity
Whether you want to record your Android screen for your YouTube channel or just to record some steps to recall later, there are HD screen recording apps available for that. Below I have listed the best (so far) screen recording apps for Android.
Related posts:
Loom is an intuitive screen recording app for Android that offers you the fastest way to create and share screen recordings of your device. It allows you to record your screen as well as the camera and share your recordings with anyone with a simple clickable link.
Whether you want to create a tutorial, share your review about something, or collaborate with your team on a project, the app comes with a number of useful features that enable you to do all that.
What we like:
Save your created video automatically on the cloud.
Password-protection for your videos.
Multiple app integrations so users can have a seamless cross-platform experience.
What we don't like:
You can edit the screen recordings but no editing features for screenshots.
The transcription feature needs improvement.
Probably the best screen recorder for Android devices. It's a completely free app without any limitations or ads while still offering the most advanced features. The app lets you record HD screen up to 1080p at 60FPS without any recording limit. The resolution, bitrate, and framerate are highly customizable as well.
Other recording features include pause/resume, facecam, external sound recorder, tap tracking, shake to stop, built-in GIF maker, and more. Apart from screen recording, it also has a highly customizable video editor, a screenshot tool, and an image editor.
What we like:
Truly free.
Highly customizable video recording without any limitations.
Built-in image and video editor.
Easy to use interface.
What we don't like:
Could have added a compressor to compress HD videos on the go.
Download U Recorder for Android
Another reliable Android screen recorder that offers 1080p HD screen recording with up to 60FPS. You can use its facecam feature to record video and audio of both the phone and your face. For professional video makers, Mobizen also has options to add a custom background music and create intros and endings for your videos.
It has a built-in video editor, which does the basic job of trimming, stitching, rotating, and speeding up videos. Although Mobizen adds its watermark to all of the videos, but there is a dedicated "Clean Recording Mode" that records videos without the watermark.
What we like:
HD video recording without limitation.
Built-in video editor.
Pause/resume option while recording.
What we don't like:
You have to deal with ads after every recording.
Download Mobizen Screen Recorder for Android
AZ Screen Recorder has a reliable free version that offers all the required features for screen recording. Similar to others, it can record 1080p HD videos at 60FPS and offers full control over resolution. It lets you record mic audio and use the facecam feature as well. You can also set a timer to end the video automatically when you are done.
Although the free version is good enough, some special customization features are only in the pro version ($2.99). These features include facecam, countdown timer, drawing on the screen, video trimming, and the magic button to control recording.
What we like:
Full HD video recording.
Record mic audio.
What we don't like:
The features available in the pro version are usually available for free in other similar apps.
Download AZ Screen Recorder for Android
This android screen recording app has two modes, Default and Advanced. The Default mode offers basic recording, and the Advanced mode lets you customize the video while recording. ADV lets your pause videos, draw while recording, and even use front or rear camera while recording.
You can also add text in the videos to provide instructions. Additionally, it has the tools to create a custom watermark and apply it to your videos for brand awareness.
What we like:
Has dedicated modes for novice and advanced users to record videos easily.
Create a custom logo and paste it on videos.
Use both front and rear cameras for facecam feature.
What we don't like:
You'll have to deal with ads.
Lacks some of the important editing features.
Download ADV Screen Recorder for Android
A completely free app without any ads or in-app purchases. Game Screen Recorder has a built-in feature to identify games and automatically start recording. It gives you tools to create an intro of the video and add to the start of the video. You can also pause and resume video while recording and adjust video quality.
Unfortunately, Game Screen Recorder also shows the record button inside the recorded video. Although, you can disable it or even customize it with a custom picture.
What we like:
Automatically detects games.
You can create a separate intro to the video.
Completely free
What we don't like:
Doesn't have a video editor.
The record buttons show in the videos recorded.
Download Game Screen Recorder for Android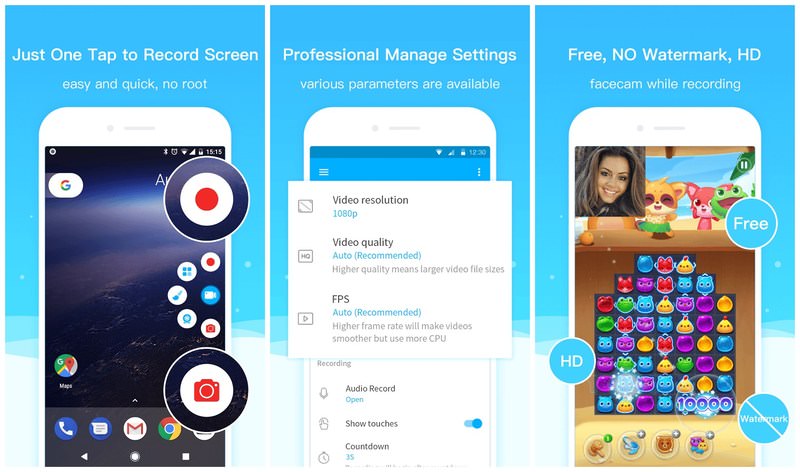 A very powerful ad-supported screen recorder for Android that is highly customizable and offers advanced features. You can record up to 1080p HD videos at 60FPS with facecam and mic audio recording. The app can create gifs, add background audio, add a custom watermark to videos, draw on videos, track taps, shake the phone to stop, and much more.
Super Screen Recorder also has a good video editor that even lets you compress videos to easily share. A screenshot-taking and image editing tool is also available if you want to take screenshots while recording.
What we like:
Compress videos to make the file size small.
Built-in video and image editor.
Easy to use yet highly customizable.
What we don't like:
Download Super Screen Recorder for Android
Yes, Google Play Games also has a built-in recording feature, and the app is already installed on your Android phone. You are already using this app for saving your gameplay in the cloud and achieving ranks to compete against your friends. Of course, the recording feature isn't as fancy as the other apps on this list. Although you already have access to it, it's worth considering.
The app lets you record up to 720p resolution videos and can only record your games. To record videos with Google Play Games, just launch your game and use the recording widget to start or stop your recording. You can also pause and resume while recording.
What we like:
The app is already installed on your phone.
It's really easy to use.
Completely free.
What we don't like:
Very limited in customization.
720p is the highest resolution you can get.
Download Google Play Games for Android
Another completely free Android screen recording app that doesn't have ads or in-app purchases. It actually offers similar features as some of the top apps in this list, but its simple material design interface might attract you. The app lets you draw on the screen, use facecam, trim videos, take screenshots while recording, record mic sound, and pause/resume.
It uses an on-screen magic button to control video recording and the button is not recorded in the videos. Furthermore, you can also add text or a custom logo of your brand anywhere on the video.
What we like:
Easy to use interface.
Add text or custom logo in videos.
HD video recording.
Completely free without ads.
What we don't like:
The video editor only lets you trim videos.
Video quality settings are a bit limited.
Download Screen Recorder for Android
HD Screen Recorder offers reliable screen recording features with the ability to lock your videos. The app lets you add password protection to your recorded videos and saves them in a separate folder. You can delete videos right from the app and share them as well. It also keeps up with orientation and supports recording in both portrait and landscape modes.
You'll also find reliable customization options to adjust bitrate, framerate, and resolution.
What we like:
Password protect videos.
Gives full control over video quality.
What we don't like:
No built-in video editor.
You'll have to deal with ads.
Download HD Screen Recorder for Android
To sum it up
DU Recorder and Loom are definitely the best screen recording app in this list. It's completely free and offers advanced features that most of the other apps can't even come close. Although Super Screen Recorder is also a great contender if you don't mind a few nonintrusive ads. Do let us know in the comments which one of these apps you may prefer for your Android screen recording.