5 Free macOS Tools For Screen Recording
If you're using the latest macOS, you'd already know about the new screen recording feature that comes built in with the system. However, for some users, this built-in tool doesn't work the way they want.
So, for those looking for suitable alternatives for macOS's built-in screen recording tools, here are some free tools that can work mighty well. All the tools in the list have different features. So read on to learn about each tool in detail.
5 Best Free Screen Recorders for Windows
5 Best Free Screen Recorders for Windows
Screen Recorders are handy tools used to record the computer's screen, i.e., record the ongoing activities on the... Read more
Related posts:
VideoSolo Screen Recorder is a simple yet feature-rich app for capturing high-quality screen recordings. It offers a clean interface and really simple functionality that captures any kind of screen activity from your computer.
Besides recording your screen, you can use the tool to capture webcam video as well as the audio from your computer system and microphone simultaneously. This feature makes it a fantastic tool for creating professional video tutorials and recording gameplay videos.
Some of the other cool features of the VideoSolo Screen Recorder include an independent audio recorder, one-click snapshot during the screen recording, defining the recording area, exporting to various formats, mouse tracking, shortcut controls, and much more.
With FonePaw Screen Recorder, you can easily capture your Mac screen and record both system sound and your voice simultaneously. Unlike other screen recording tools that come with complicated setups, FonePaw Screen Recorder has a clear and easy-to-understand user interface that enables you to grasp the logic of using the software quickly.
Its real-time drawing feature makes your screen capture process flexible and convenient. When recording the desktop activity on Mac, you can instantly add text messages, highlight with shapes and arrows, and draw on the screen. All these drawing tools help produce a much more engaging screencast video.
This app also gives the option to record your webcam and record gameplay. You are free to customize the recording area, output format, and output quality before you start the recording session.
VideoProc Converter's screen recorder enables you to use multiple features to do screen recording. Thanks to its GPU hardware acceleration feature, you can record in SD/HD quality, save your videos in different formats, and do all of that with great speed.
There are many other features that you can use in this app. For example, drawing and annotation in real-time right on the video, recording with system sound and microphone, and recording full or partial screen according to your requirements.
This software gives you the ability to do screen recording that can record both your mic input as well your system's sound. By just clicking on the record button you can then choose to record in full screen, a specific region or only using your web camera. Although the recordings are limited to only 3 minutes per video, including watermark, they have a lot of other features to justify these limitations.
You can have your videos converted into AVI, MKV, WMV, ASF, 3GP, FLV, SWF, or HTML5 directly using the software converter feature. Moreover, you can also create a task schedule to automatically trigger recording at a day and time of your choosing.
Monosnap is a screen capture application that is on par with (or probably even better than) the once free Droplr. We say better because, unlike Droplr, Monosnap is free and includes features like in-built image editing, the option to upload your files to your own server, and finally screen recording.
It also comes with option of turning on your webcam, mic, and system's audio all at the same time before you start recording. If you are connected to your Monosnap account, once you're done recording, you can immediately upload and share the link with your friends so that they can stream or download it.
More Screen Recording Tools For macOS
This is a simple app that you can get from the Apple App Store. Just as one would expect, it lets you select any part of your screen to have it recorded. The video recording only lasts for 200 seconds on the lite version of this app.
The good thing about this app is that your video won't get watermarked. Besides that, you can also enable the mouse click feature so that it can detect every mouse click that happens and have them included in the recording.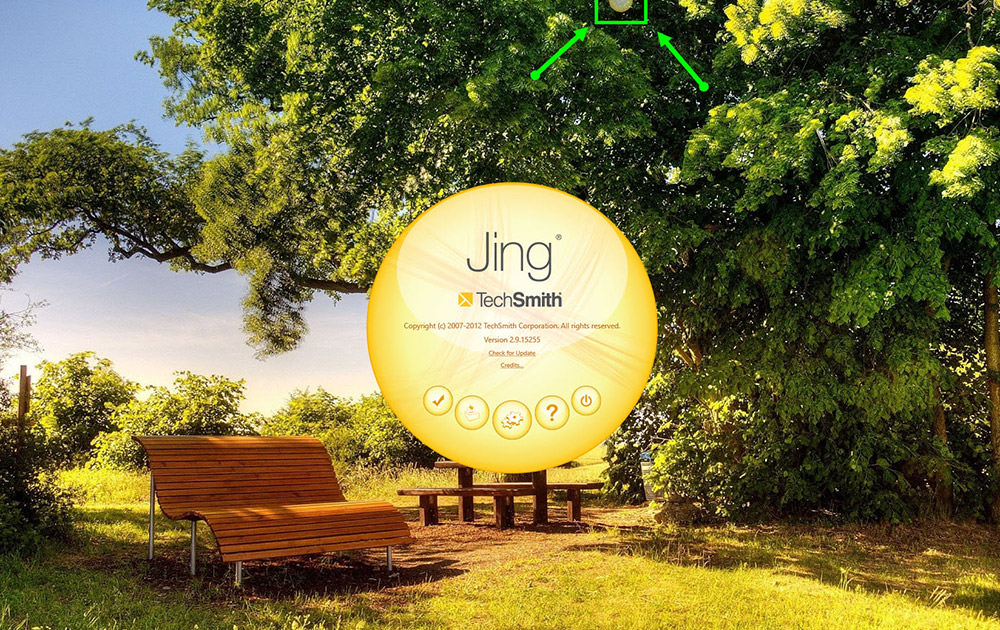 TechSmith Capture (formerly Jing) is a screen capture tool that allows you to capture images, but it also has video recording capabilities. To begin recording, just use the capture tool and drag it to the area you want to record. Once you have selected your area, you can start recording.
Jing includes the option to use the mic when recording, so you can narrate through your steps if that is necessary. It is the perfect tool for creating video tutorials of up to 5 minutes. While you can record your voice, unfortunately, you can't record your sound system because it's not designed to capture the system's audio.
Note: Jing has since been retired, but it is still free and available for download.
QuickTime Player
If you have been using Mac for a while, you'd probably know Quick Time Player is the default Mac video player. But did you know that you could use Quick Time Player to do screen recording too? That's right, and it's as easy as opening the player and going to File > New Screen Recording.
You can choose to record your entire screen or just drag your mouse to only select and record a certain area. Best of all, the recording limit is only limited by the available space in your hard drive.
Note: QuickTime Player is – by default – installed on your macOS. If you have accidentally uninstalled it, go to the Apple Product Page to download again.