7 Ways to Compress and Optimize Your Videos
If you have ever worked with videos, you'd know that their size can grow enormously with every additional frame. This is especially concerning when we need to upload them to Facebook and YouTube or make their backups for safe storage.
However, a raw video that is gigabytes in size can be compressed to a few megabytes by compressing. But is there a way to compress videos without losing quality?
The answer is to use "video compressors". These tools work on a video to compress it to a smaller size while retaining its quality. Of course, there are lots of factors that define a video's quality and size, but these tools help you to minify videos as easily as possible.
Here's my recommendation for seven video compression tools to optimize your videos.
10 Websites to Edit Your Videos Online
10 Websites to Edit Your Videos Online
Online video editors give you a great solution when you don't have the time, skill, or resources to... Read more
YouCompress is a simplistic video compressor with an intuitive interface. It's built for beginners as it requires zero configuration, chooses the best parameters according to your video and reduces its size losslessly. You can also convert audio files, documents, and photos using YouCompress.
The best thing is that it automatically deletes your videos from its servers after a few hours. However, you can't confirm the deletion. And lastly, YouCompress delivers compressed videos without any watermarks. That said, I find it best suited if you wish to quickly compress a video online.
Formats:

.avi

,

.mov

, and

.mp4

.
Platforms: Web/browser.
PROS
A simple, easy-to-use application.
Compresses videos without watermarks.
CONS
Available on the web only, i.e., no offline software.
Supports fewer video formats than other video compressors.
No advanced options for choosing format or quality.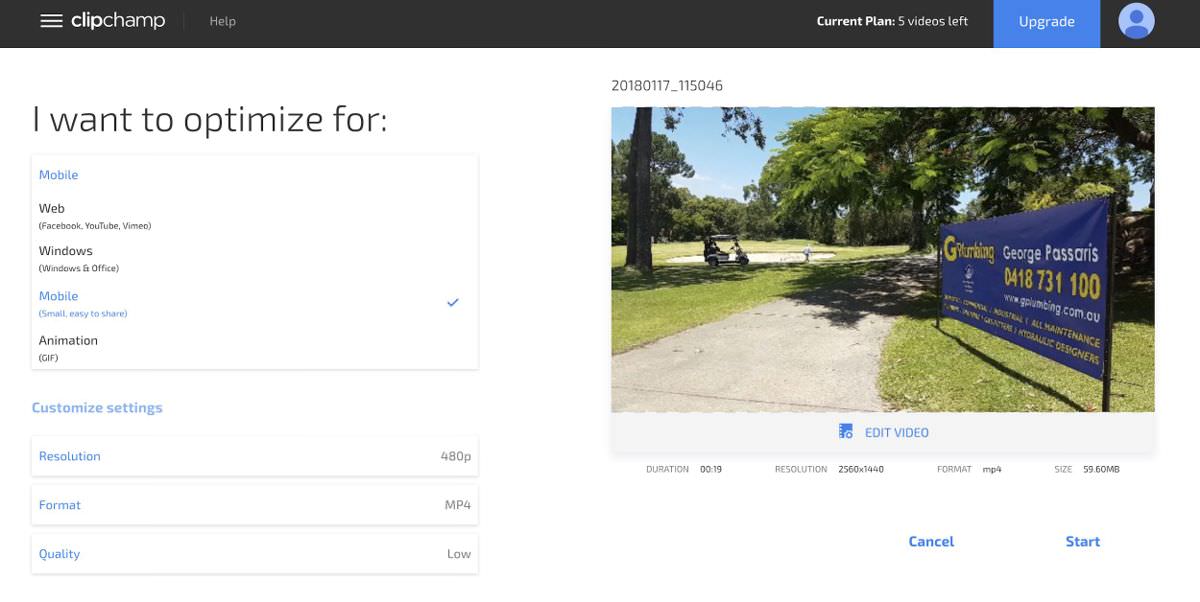 Clipchamp Utilities offers a powerful set of online tools for video professionals. The list includes a video compressor and converter as well as a recorder, unlike others. It works like magic — it auto-determines your video, its format, and the compression level to deliver an optimized yet high-quality video.
What I liked the most is that it can compress or convert an unlimited number of videos of any size for free. Also, it features privacy protection that allows you to work on your videos locally without uploading them to its servers, unlike the above tools. Moreover, it supports batch operation as well.
Formats:

.3gp

,

.avi

, .

divx

,

.mov

,

.mp4

,

.vob

,

.webm

, and a lot more.
Platforms: Web/browser.
PROS
Supports numerous video codecs and formats.
Advanced features such as video recorder, batch processing, etc.
CONS
No offline tool.
Compresses videos with watermarks in its basic plan (that comes free).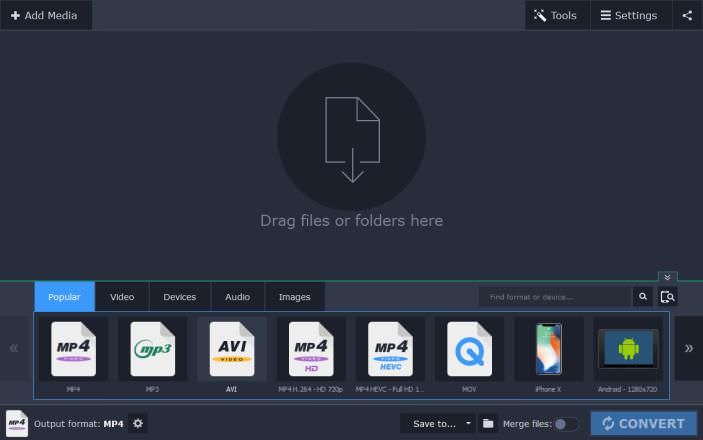 If you're looking for a quick and easy video compressor, Movavi is a good option. You can compress any number of video files with unlimited sizes, however, it's not avaialbe offline.
It boasts of lightning-fast conversion, like UniConverter Offline, which is an added advantage along with its pro-only features for veterans. I like its preset output formats — they ease your work and deliver high performance. Lastly, you can also opt to customize the settings for having the full control.
Formats:

.avi

,

.divx

,

.mkv

,

.mov

,

.mp4

,

.mpeg

,

.vob

,

.webm

,

.wmv,

and more.
Platforms: Windows and Mac.
PROS
Compresses and converts a long list of video formats.
Its preset profiles provides quick compression/conversion.
CONS
No web tools.
No option for downloading online videos.
No free or limited version, unlike most tools on this list. You can only download, install, and use its trial version for 7 days.
HandBrake is a free and open-source software that runs offline only, like the above tool. It has built-in device presets, like the other tools, which are perfectly optimized for popular devices including mobile and web platforms.
It's one of my favorite video compressors as it's free and provides competitive features. For example, you can manage or select quality modes, add subtitles, add video filters, and customize audio and video codecs individually. That's not all, it supports processing a queue of video files, i.e., batch processing.
Formats:

.avi

,

.mkv

,

.mp4

,

.mpg

,

.webm

,

.wmv

, and more.
Platforms: Windows, Mac and Linux.
PROS
Works on all popular operating systems.
Offers built-in presets for quickly compressing/converting videos.
CONS
Less intuitive interface than most of its competitors.
Isn't suitable for beginners because of its long list of options.
If you run macOS and love powerful apps from Apple, you may enjoy using Compressor for minifying your videos. This application is a complete package of best-in-class features for your video compressing requirements.
It offers high-quality yet flexible video compression along with the support for 4K and 360-degree videos, unlike many tools. Moreover, you can personalize the output settings, work with numerous encodings and formats and convert among them per needs, and process the videos in batch (unlike most tools).
Formats:All common formats including DVD and HEVC.
Platforms: Mac.
PROS
Right tool if you work on videos for Apple devices.
Supports all popular formats including 4K and 360-degree videos.
CONS
Supports macOS only, unlike most of the compressors here.
Free HD Video Converter by WonderFox is another ultimate video converter cum compressor for creating high-quality videos. It supports powerful compressing mechanism which effectively reduces the size of your video files.
You can customize the bar between the quality and size of your videos and achieve the exact results per your video requirements. It's a popular tool, which I have used many times in the past. It's mostly comparable to other tools on this list, especially the video converters, and packs similar features as well.
Formats:

.avi

,

.mkv

,

.mov

,

.mp4

,

.mpg

,

.wemb

,

.vob

, and more.
Platforms: Windows.
PROS
Offers a free version.
Supports a large number of video formats, like most tools.
CONS
Works offline only, unlike some utilities given on this list.
Supports Windows PCs only.
UniConverter, by Wondershare, is a remarkable video compressor that efficiently reduces the size of your video files. I find it's online version to be the best for any novice user. You can choose the final format, size, and resolution of the video — right in the browser.
There's also an Offline UniConverter that's able to compress your videos in batch and download videos from YouTube, unlike its online video compressor. What's more interesting? It packs in extra features that help you merge and trim videos, apply effects, add soundtracks and subtitles, etc.
Formats:

.avi

,

.divx

,

.mkv

,

.mov

,

.mp4

,

.mpeg

,

.vob

,

.webm

,

.wmv

, and more.
Platforms:Web/browser, Windows and Mac.
PROS
Supports numerous codecs or formats.
Compresses videos without adding watermarks.
Converts videos as well while compressing them.
CONS
Web tool is basic, not suitable for professionals.
Conclusion
It's impossible to pick one video compressor, but the above ones are the best video compressors in the market. Of course, it all depends on your requirements — the compression and quality you seek in your target videos. Also, it depends on your budget and platform — whether you need it online or offline.
I suggest an offline tool if you have large videos or seek complete security of your videos. But an online tool is a better option if you're looking for a quick and handy tool that works almost everywhere. And among them, I like Clipchamp Utilities for its salient interface and powerful features — all in the cloud.
Lastly, I find most video editors can also perform as video compressors if you know the little attributes of videos.