How to Take Screenshots on Your Smart TV
There are tons of tools to help you take screenshots on your desktop or smartphone. But what if you want to take a screenshot of your TV screen? Maybe you want to capture a special scene in a movie, or you spotted something interesting and want to share it with your friends.
There can be any reason to take screenshots of your TV screen, but most of us don't know how. In this post, I will show you some ways to take screenshots on your smart TV, where find out where screenshots are saved, and how you can transfer these screenshots to your PC.
Method 1 – Take Screenshot with a Remote Control
This method should work on almost all Smart TVs from different manufacturers. You can take screenshots with your smart TV's remote control by pressing the volume-down button and the power button simultaneously.
However, one issue with this method is that since it uses the power button, it may cause your screen to turn off automatically every time you take a screenshot, and you will have to turn the TV on again.
PROS
No installation of apps is required.
Suitable for Smart TV without Google Play Store
CONS
Unstable as it may turn the TV off every time a screenshot is taken.
Method 2 – Take Screenshot with an App
For this method, you need to download and install the Button Mapper app from Google Play Store on your phone. With this app, you can customize the controls of your remote control's keys and modify any button to take screenshots.
Note: For this tutorial, we will customize the Home button to take screenshots when long-pressed.
Instructions:
Open the app, and go to Button Mapper > Home Button.

Turn Customize on, then go to Long press.

Under Long press, select Screenshot.
That's it. Every time you long-press the Home button on your TV's remote control, it will then take a screenshot.
PROS
CONS
It will not work if Smart TV does not support Google Play Store.
Requires installation of 3rd party app.
Where are the Screenshots Located?
Whichever method you use to take screenshots, you will be able to find them inside /Pictures/Screenshots/ in your Android system.
To access the screenshots, you will need any built-in file explorer app to browse them on your Smart TV. If your Smart TV doesn't come with a file explorer, you need to download one via Google Play Store.
We recommend using AnExplorer app. It is a user-friendly file explorer app and is also free.
How to Download The Screenshots
To download the screenshots, you will first need to locate them with an Android file explorer. For this guide, we will find our screenshots with the AnExplorer app and download them via a browser (PC or tablet).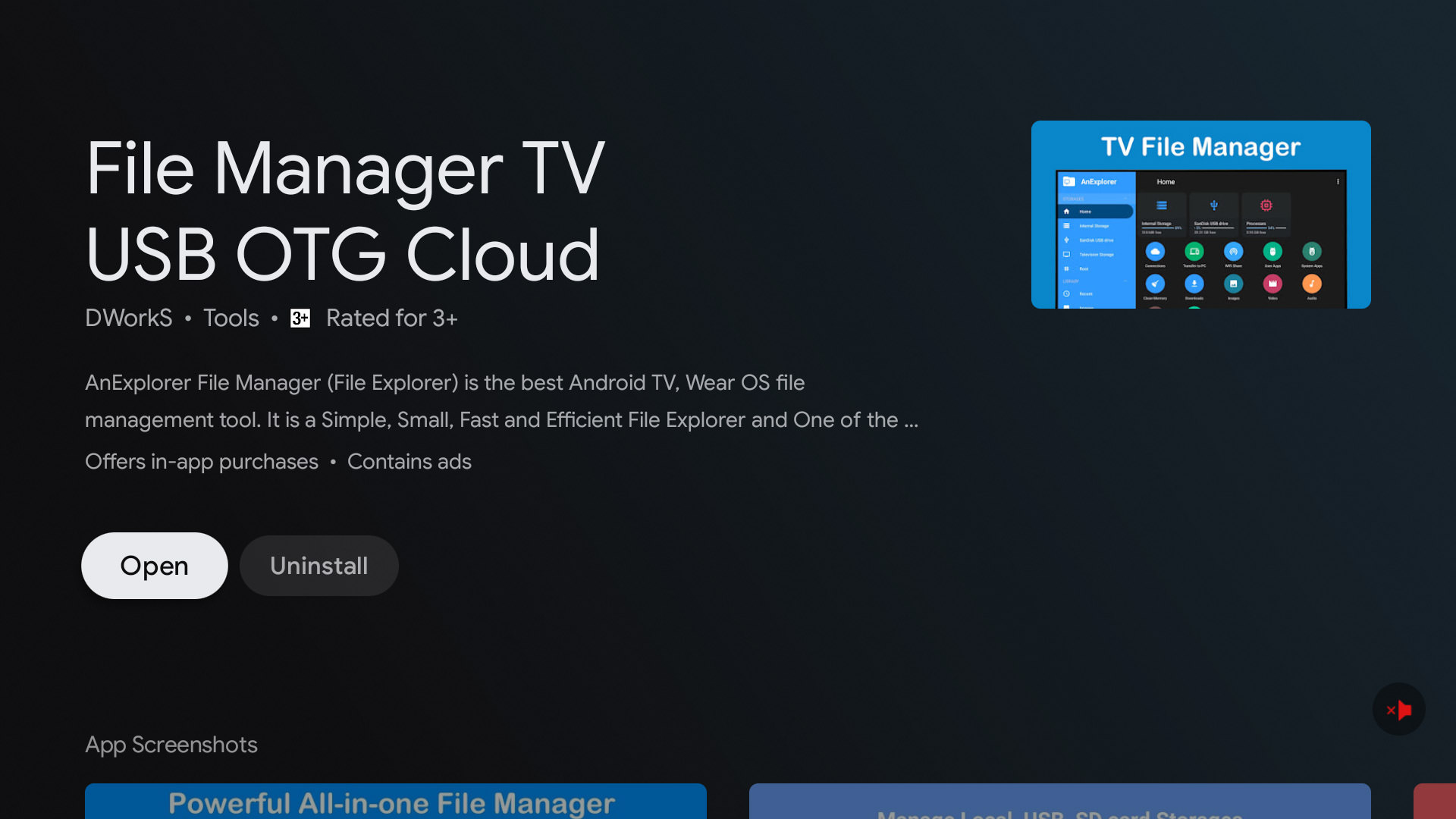 Requirements:
PC (Windows, Mac) or tablet (Android, iOS).
Make sure both Smart TV and PC are connected to the same WiFi.
Instructions:
Run the AnExplorer app, go to Transfer to PC.

Click Start.

You will be presented with an IP address and a QR code.

Open a browser, type in the IP address, and browse to /Pictures/Screenshots/. This is where all your screenshots are located.

Click the triple-dot button (on the right side) once and then select Download.