MooURL, Short URL with Personalization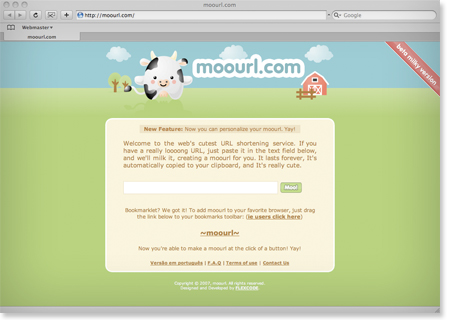 Getting bored using TinyURL's short URL? Here's something for a change. MooURL also offers short URL service. That means you can convert your long URL from:
http://www.hongkiat.com/blog/12-creative-advertisements-from-big-brands/
into:
http://moourl.com/fu5o5
Personalized your Short URL

One special feature about MooURL is that you can further personalized your url if you don't like the random characters generated. You can change the short URL from:
http://moourl.com/fu5o5
into:
http://moourl.com/coolads
MookURL as Bookmarklets
Drag [MooURL] to your Firefox Bookmark tool and shorten your URL without going to the website.
This post is published by a Hongkiat.com staff (editors, interns, sometimes Hongkiat Lim himself) or a guest contributor.