10+ New Windows 11 Features You Should Know
Windows 11 is finally here with a new design and several exciting features. With a newer, fresher, and simpler design language and user experience, Windows 11 empowers productivity and inspires creativity — as it is redesigned from the ground up to provide a faster, fancier, and powerful user experience.
Windows 11 is bringing with it several path-breaking changes in design and features like changing the position of the Windows Start button, new widgets, and the all-new Microsoft Store, etc.
That said, let me introduce you to the prominent features of the latest operating system by Microsoft. Read on.
How to Speed Up Your Slow PC (25 Ways)
How to Speed Up Your Slow PC (25 Ways)
25 Ways to Speed Up Your Slow PC Is your computer often slow or unresponsive? Each new version... Read more
Reimagined user design
Microsoft has changed the design of practically the entire operating system to a softer, more rounded theme in Windows 11. There are some bold changes to the design for instance, the Start button has been brought to the center of the taskbar for the first time in Windows OS. It is one prominent change to the Taskbar after the Start screen was introduced in Windows 8.
The pinned apps have also been brought to the center of the Taskbar. This new design is not only esthetically pleasing, but it also puts everything you need right at the center of the system — both literally and figuratively.
What I found interesting is that this kind of placement makes switching apps a lot easier and quicker in Windows 11 compared to its predecessors.
Redesigned Start menu
The Start menu shows you the default pinned apps like Calculator and Microsoft Edge, etc. Also, the Start button is powered by Office 365 and lets you quickly access all your recent files. This includes the files you were working on — on different devices as well as across mobile OSs like Android and iOS.
Unlike Windows 10's Start menu's live tile interface, in Windows 11 Start menu the apps cannot be grouped together to create a folder. However, you can now pin any app to the taskbar by right-clicking the app's icon. The Start menu also changes dynamically depending on the time of the day — a novel feature!
You can customize the Start menu from the Windows Settings to match your preferences. For instance, you can restore the left-aligned Start button or change the icons' sizes from the Taskbar settings in Windows 11's Settings.
Enhanced multi-tasking
Windows OS is known for its flexibility — especially since it allows the use of multiple apps and windows side-by-side. This flexibility a notch higher with Windows 11. The reason being it offers more powerful tools for multi-tasking like Snap Groups, Snap Layouts, and Virtual Desktops.
Windows 11 comes with several predefined snapping layouts for you to quickly snap applications. These layouts will help you optimizely utilize your screen space and organize your application windows for a visually clean desktop.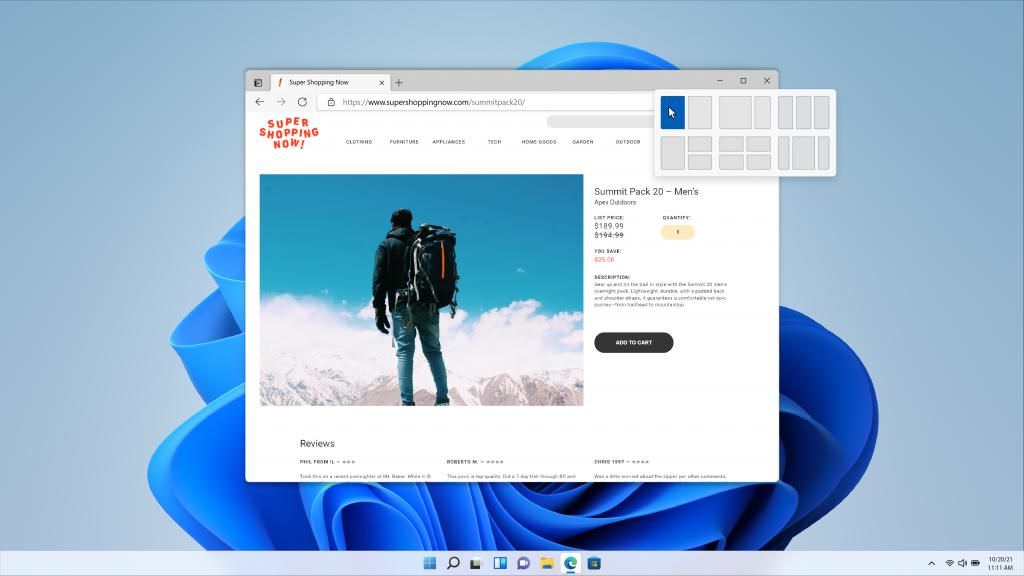 One of the most exciting features is that you can create multiple virtual desktops for each part of your life; for example gaming, school, or work. Also, these virtual desktops can be customized according to your liking including wallpapers.
Redesigned File Explorer
The File Explorer in Windows 11 has fresh new icons, esthetic rounded corners, and better dark mode options. The interface is modified to suit both keyboard and mouse as well as touch users.
It is also easier to select, rename, or delete files as the ribbon toolbar is replaced by a command bar that lets you quickly access commonly used actions like rename, select, and delete, etc.
Windows Widgets is back
If you have used Windows XP or Windows Vista and remember using desktop gadgets, you'd know the usefulness of Windows Widgets. They are small widgets like Android Widgets that display some information about the system or from the web according to how you customize it.
Windows Widgets is an AI-powered personalized feed that changes dynamically based on the time of the day and the apps you are using — just like the Start menu.
This personalized feed slides over the screen like a glass piece without disturbing what you are working on. The widgets are accessible from the dock, you can choose from plenty of widgets like weather, news, search bar, etc.
Enhanced Microsoft Store
Windows 11 is bringing to you an all-new Microsoft Store that is re-built from scratch for speed and simplicity. But the more exciting news is: the new Microsoft Store brings more apps than ever before. Also, it makes it easier for you to search for apps, collections, as well as stories.
Microsoft will now support leading first- and third-party apps like Microsoft Teams, Disney+, Adobe, etc. directly in the Microsoft Store, unlike the previous store in Windows 10. And as always, while downloading apps from the Microsoft Store, you can be assured about the safety and security of the apps.
Improved Android apps support
Windows 11 has improved Android apps support in Microsoft Store — a long-awaited improvement in Windows 10. You can now find and download Android apps from the Microsoft Store, thanks to its collaboration with the Amazon Appstore.
Well, isn't it exciting that you can now download your favorite Android apps right on your PC without the need for Android emulators?
A faster way to connect to people
In today's world, a person's well-being depends on being in touch with people one loves. With this in mind, Microsoft has redesigned Windows 11 to make it easier for you to connect with your loved ones. Chat from Microsoft Teams is integrated right into the Taskbar in Windows 11, letting you quickly chat.
This enables you to connect with the other person through text, chat, voice, or video directly from any screen in Windows 11. What's better is, you can connect with people even if they are not on Teams via two-way SMS. That said, it seems like Windows 11 is all set to become your makeshift for the mobile phone.
Improved gaming experience
"If you are a gamer, Windows 11 is made for you." Microsoft keeps its promise of bringing the ultimate gaming experience to you in Windows 11. It is using some of the latest technologies to provide the best gaming environment to you. The DirectX 12 Ultimate enables magnificent, enchanting graphics in games.
Auto HDR provides a wider range of colors for an amplified visual experience. Moreover, Windows 11 uses the DirectStorage technology to enable faster loading time and overall gaming performance, so you do not have to wait for your favorite games to load or get stuck while you are making winning moves.
Improved battery settings
The Battery settings page has seen a much-needed change in Windows 11. You may know it by Battery saver settings or Power & sleep settings in Windows 10. The new page provides detailed graphs about battery usage, which helps you understand your device's battery usage over the past week or anytime sooner.
New, redesigned clipboard
The Clipboard Manager has seen changes in its design in Windows 11. The design is more rounded — just like the entire Windows 11. But the most prominent enhancement is that you can now copy and paste emojis and GIFs via clipboard.
Bonus: Features for normal users
Acrylic right-click menus
All the right-click context menus are updated to use acrylic material design, which gives a see-through effect.
Black Screen of Death
The infamous Blue Screen of Death by Microsoft is being replaced by the Black Screen of Death for a more metallic look.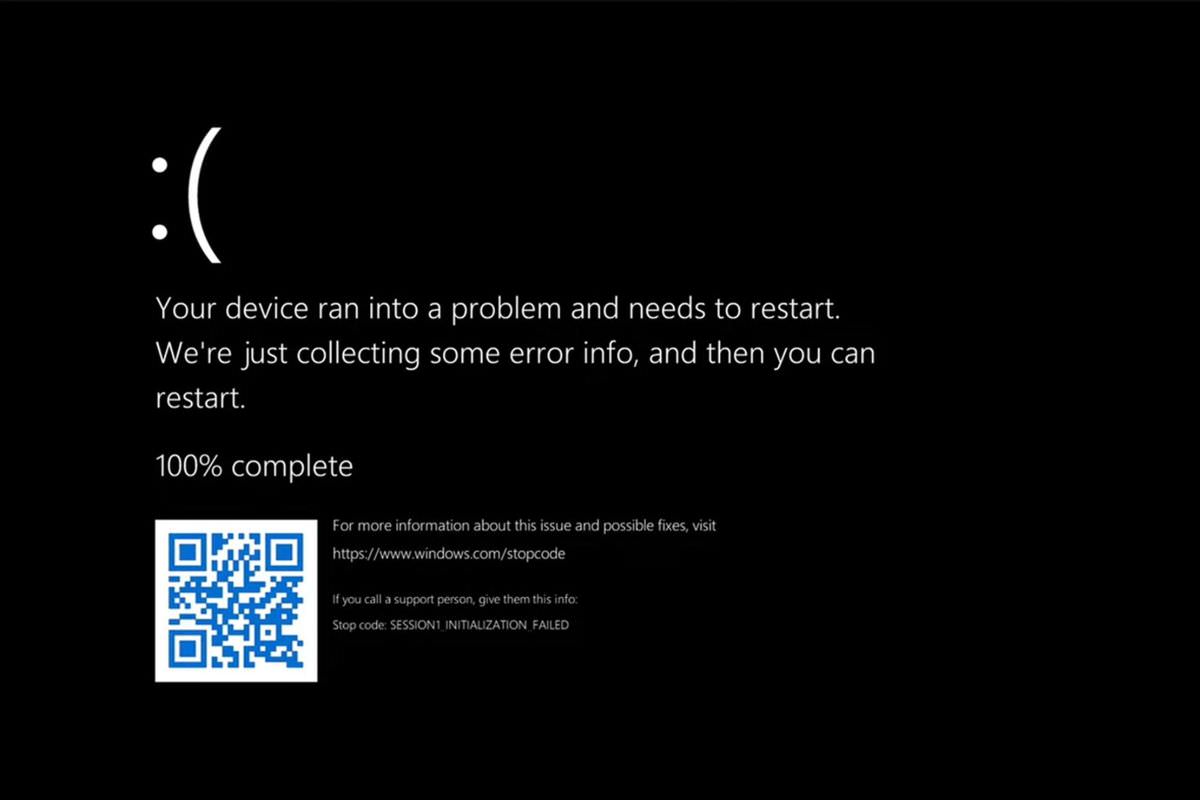 Dynamic Refresh Rates
Windows 11 supports Dynamic Refresh Rate (DRR) that allows monitors or screens to refresh at low rates up to 60Hz or high rates up to 120+ Hz and effectively switch between the two refresh rates to enhance user experience while lowering the power usage.
Focus Assist in the Notification Center
Windows 11 has added the Focus Assist settings directly into the Notification Center for easy access.
Bonus: Features for developers
Microsoft Store
With Windows 11, Microsoft has announced support for Android apps from the Amazon Appstore and also different app types like Win32, .NET, and PWAs.
Also, Microsoft is offering better revenue sharing options like giving 100% of the revenue if you bring your own commerce platform to your app. However, this offer is not available for games.
Designer Apps
You can take advantage of WinUI3 to build your app's design in sync with Windows 11 UI for giving a known experience to your app users using Windows 11. The built-in user interface update includes rounded corners, refreshed color palette, better typography, etc.
Game Development Kit
Microsoft is making its Game Development Kit (GDK) publicly available. It can be accessed free of charge on GitHub. This will help developers create, publish, and scale their games easily.
With all these novel features and a truly innovative user design, Microsoft has described Windows 11 as the "Windows that brings you closer to what you love". Windows 11 has a highly customizable user interface that helps you enjoy a truly personalized experience — unlike all its predecessors including Windows 10.
Windows 11 delivers on bringing you closer to what you love by bringing you closer to the people you love with its Chat feature integrated right on the Taskbar.
However, some people including me may see it as bloatware if Teams is not your primary communication tool. But, Microsoft has always forced its products on Windows users — be it Internet Explorer, Microsoft Edge, or the new Microsoft Edge. And this time it is doing the same with Microsoft Teams.