Icecream Video Converter for Windows (Review)
Are you tired of dealing with several video formats? Do you want to watch your favorite videos on any device, without having to worry about compatibility issues? If so, a free video converter app might be exactly what you need.
Video converters are designed to help you convert video files from one format to another, so you can play them on any device or platform. Whether you want to convert a video to a different resolution, codec, quality, these apps can help you get the job done quickly and easily.
In this blog post, I will review Icecream Apps' free Video Converter to help you decide if it's the app for your needs.
What is Icecream Video Converter?
Icecream Video Converter is 100% free and allows you to quickly and efficiently convert your videos to a variety of popular formats. Whether you want to watch your favorite movie on your phone or upload a video to social media, it might be the one-stop-shop solution for you.
It has a really simple and intuitive interface. Simply drag a video to the app or click on the Add File button and you will almost immediately understand what to do next.
On the screenshot above, you can see that the interface is primarily divided into two columns: left column for the original video and its information like the file type, resolution, duration, and file size. And you will see an arrow pointing to the right, which hints at the new settings to use for the conversion.
Here you will see all supported file types to convert to:
As well as the resolutions you can choose from:
And of course, the quality you want for the video:
Icecream Video Converter has one purpose and it does it really well.
I tried converting a 4K .mp4 video into .avi and the conversion really went fast at under 15 seconds, provided it's just a test footage with a duration of 14 seconds and 172 MB file size.
And of course I tried it with a larger file size, this time 2.2 GB and 3 minutes 11 seconds of duration.
The conversion from .mp4 to .webm finished in just under 7 minutes, which is really good.
Icecream Video Converter's Features:
Now, let's talk about its other features that can prove to be useful for lightweight users.
Video Trimming
Trimming is very useful for video editors of all levels, it's perhaps one of the most used features for all video editors and it is available in this application too. Maybe you started recording a video while giving instructions, or some unflattering conclusion to it, so before converting your video into a more appropriate format, trim it first.
If you would just like to take a section of your video, this works without a hitch. One thing you can't do, however, removes a section in the middle and connect the video together. It's not built for that kind of editing.
Video Subtitles
Feel like adding subtitles to your video? You can do that here…well, sort of. The limitation is you need to have a .srt file to add to it. It does not natively allow you to write your own subtitle on the app, which could have been a really nice addition, but understandably not available in the app since that's an entirely different software to use with its own set of features.
That said, many video editors won't even allow you to add a subtitle, so in a sense, this is a plus point for a video converter app.
And as you can see, you can choose from several fonts, adjust the size, opacity, text color, background color for the text, and even the location of the subtitles.
Adding Watermark
If you'd like to add a watermark on your video, you can also do that natively in Icecream Video Converter, and honestly, it does it well.
You can choose between adding an image watermark or even text.
You can even position it wherever you want or have it tiled all over the video, then adjust its size and opacity. It's really useful if you are working on a video project and you are sending a sample to a client (who hasn't paid yet ;) ).
Post-Conversion Action
What I like about Icecream Video Converter is you can set action on what your computer should do after the conversion.
For example, you can set it so that once your file is converted, it will turn off your system, or go on sleep mode, close the application, or just simply do nothing. This is understandable if you are converting a huge file and you're about to sleep or head out.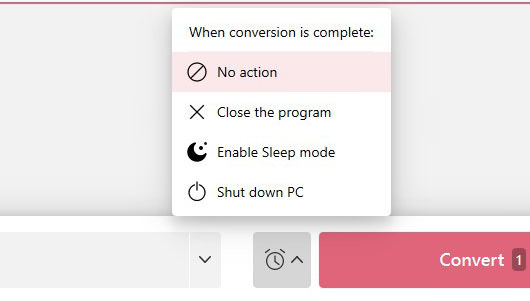 Bulk Conversion
This is where the feature above plays a good role. If you are converting a lot of videos in one go, then it could take you anywhere from a couple of hours to perhaps even an entire day. And yes, you can do bulk conversion on this free video converter, each with its own setting if you choose.
The Supported Video File Types
I was able to test a few video file types, but as far as I can tell, you can convert from these file types:
.mp4, .mkv, .m2ts, .mts, .webm, .avi, .wmv, .mov, .mpeg, .m4v, and .flv
To the following file types:
.mp4, .mov, .avi, .webm, .mkv, .mpeg, and .mp3.
As for the last one, it's an audio-only file, and understandably it looks out of place, but keep in mind that some people would just like to remove the video and keep the audio, so this is extremely helpful.
The Positives
Icecream App's free Video Converter does its job well. It's supposed to be just a video converter, but it adds a whole other set of features that are important for editing videos, thus minimizing your need for another application.
For a free video converter, it has robust features that shouldn't even be there.
Also, unlike other video converters, the interface for this one is really intuitive. You won't get lost. Everything you need is there, nothing is hidden; what you see is what you get.
One last thing, and maybe this is just me being surprised, but they weren't lying when they said it's 100% free. There are no paid upgrades for this one. Everything is free.
One More Thing…
Soon, the app will feature built-in presets for different devices like iPad, iPhone, Android, and PS5, so it will be easier to export/convert your videos to the device you want to watch it on, no more guessing or Googling about the settings you need.
Honestly, this is a feature that every video converter should have. I am looking forward to it.
The Negatives
Honestly, I wish I could find a downside to using this application since everything that I would ever potentially need is available in this video converter. I am a man with simple needs, but I could imagine that professionals who are working with 4k or 8k quality videos would probably need a more enterprise solution.
Conclusion
In conclusion, Icecream App's Video converter is a nifty, free, and valuable tool for anyone looking to convert videos to different formats or optimize them for various devices. It can save time and hassle compared to using online converters or purchasing paid software.
While other free video converter apps may have limitations or display ads, Icecream's app doesn't have any of these. It's truly a 100% free application.
Overall, I recommend this video converter app. It will be my go-to converter moving forward.