Best Apps to Clean Up Windows Junk for 2023
Like every other machine in the world, your Windows PC needs regular maintenance. With constant use and passage of time, your PC gets bogged down with unwanted apps, temp files, cache, and other types of junk data that cause your system to slow down and eat up storage space.
If your Windows computer is lagging in performance, draining the battery faster than usual, or is out of storage space, it is an indicator for a PC clean up. So if you are wondering how to clean up junk files, or what are the tools best to take on such tasks, take a look at this list of some of the top PC cleaning tools for Windows.
Each of the tools in the list comes with its own unique features and pricing options and you can know about it in detail in the following.
How to Clean Install Windows 11 (and Rollback)
How to Clean Install Windows 11 (and Rollback)
Like every other machine in the world, your Windows PC needs regular maintenance. With constant use and passage of time, your PC gets bogged down with Read more
With over two decades of history under its belt, jv16 PowerTools comes with 18 different tools ranging from cleaning temporary files, and advanced duplicate file finding to automatically fixing common Windows errors and optimizing Windows startup time.
Also comes with generic Windows maintenance tools such as batch file renaming and a software uninstaller which allows you to find and remove currently installed apps and leftovers from old apps.
Every tool in this Windows utility suite has been designed to give you an extensive set of options but still keep everything easy to use, and unbloated. Even though the program comes with numerous translations (English, Czech, Danish, Dutch, Filipino, Finnish, French, German, Hindi, Hungarian, Indonesian, Italian, Japanese, Korean, Malay, Norwegian, Polish, Portuguese, Romanian, Slovak, Spanish, Swedish, Thai, Turkish, Ukrainian and Vietnamese to be exact), and with support for Windows dark mode, the entire software is still under 25 MB in size.
Pricing
$19 per year, or $49 for a lifetime license. There is a fully functioning 14-day trial version that allows you to test every tool without any feature limitations.
Download jv16 PowerTools for Windows
CCleaner is one of the best applications to clean up junk on your computer. It has various features to help you get rid of junk files and optimize your computer; it even helps protect your privacy.
You can easily remove unwanted files, folders, and registry entries, resulting in faster and smoother system performance.
This cleaning app is also great for clearing your Internet browsing histories and cookies.
Related: How to Deep-clean Your PC with CCleaner
Key Features:
Enhance the efficiency of PC devices and hardware.
It has Recuva that helps you recover your files if lost.
Updates apps to reduce security vulnerabilities.
Regulates junk in real-time.
It incorporates Speccy, which provides detailed information about every bit of hardware in your system.
Pricing:
A free version is available.
CCleaner Professional: $24.95/year/PC.
CCleaner Professional Plus: $39.95/year/3 PC.
CCleaner Premium: $49.95/year/5PC.
Aside from scanning and removing junk from your computer, Ashampoo WinOptimizer is also great for fixing broken registry entries.
The app provides details about everything it discovered on your system, making it easier to decide manually if you want to delete or fix them.
Ashampoo WinOptimizer also has the feature of defragging your hard drive to enhance the boot process.
Key Features:
Disable irrelevant services and recycle system resources.
It gives you a whole picture of your software and hardware.
Prevent reports, disable telemetry, and make your Windows more guarded.
Validate shortcuts, divide files or remove them permanently.
Pricing:
Ashampoo WinOptimizer is free.
Download Ashampoo WinOptimizer for Windows
From the creator of gaming devices and accessories, Razer's Cortex app helps improve your system's performance so your gaming experience can be better.
The app provides a variety of optimization and performance-enhancing tools to help you get the PC's full potential. What the app does include cleaning unnecessary junk files to finding new and famous mobile games on mobile.
Key Features:
It manages and kills unwanted processes and apps. This frees up the RAM and resources to give you higher frames/second with smooth gaming performance.
The auto boost functionality of the app automatically sets in when you launch the game and auto convert it to the initial state after gaming.
It micromanages the Windows Operating System to enhance FPS.
Pricing:
Download Razer Cortex for Windows
IObit Advanced SystemCare is designed to help you clean up your computer and remove all the junk accumulated over the years.
It includes a junk folder manager, disk cleanup, and malware removal. Once you've installed IObit Advanced SystemCare, just start playing around with the different options to see which ones work best for you.
Key Features:
Advanced interface that is easy to use and understand.
Offers solid performance that keeps your Windows 11 PC running at its best.
Keep your RAM free from freezing so that you experience the best performance from your computer.
Make sure all your private data is safe and secure from any harm.
Pricing:
IObit Advanced SystemCare is free.
Download IObit SystemCare for Windows
Advanced System Optimizer is not just one of the top junk file cleaners for Windows 11 but also a one-stop solution for numerous PC-related problems.
It is a reasonably easy-to-use tool that helps delete junk files, caches, logs, and other residues; it also helps clean up and optimize your Windows registry.
Other great features of Advanced System Optimizer include a file shredder, encrypter, backup, uninstaller, memory optimizer, and more.
Key Features:
Affordable and easy-to-use utility for your Windows.
It helps remove junk files, logs, caches, and other residues.
One-stop solution for a plethora of PC-related issues.
It enhances your system performance by optimizing your PC for better performance in various tasks.
It comes with a free trial so that you can evaluate its features before purchasing it.
Pricing:
A free version is available.
Paid Version: $49.95/year.
Download Advanced System Optimizer for Windows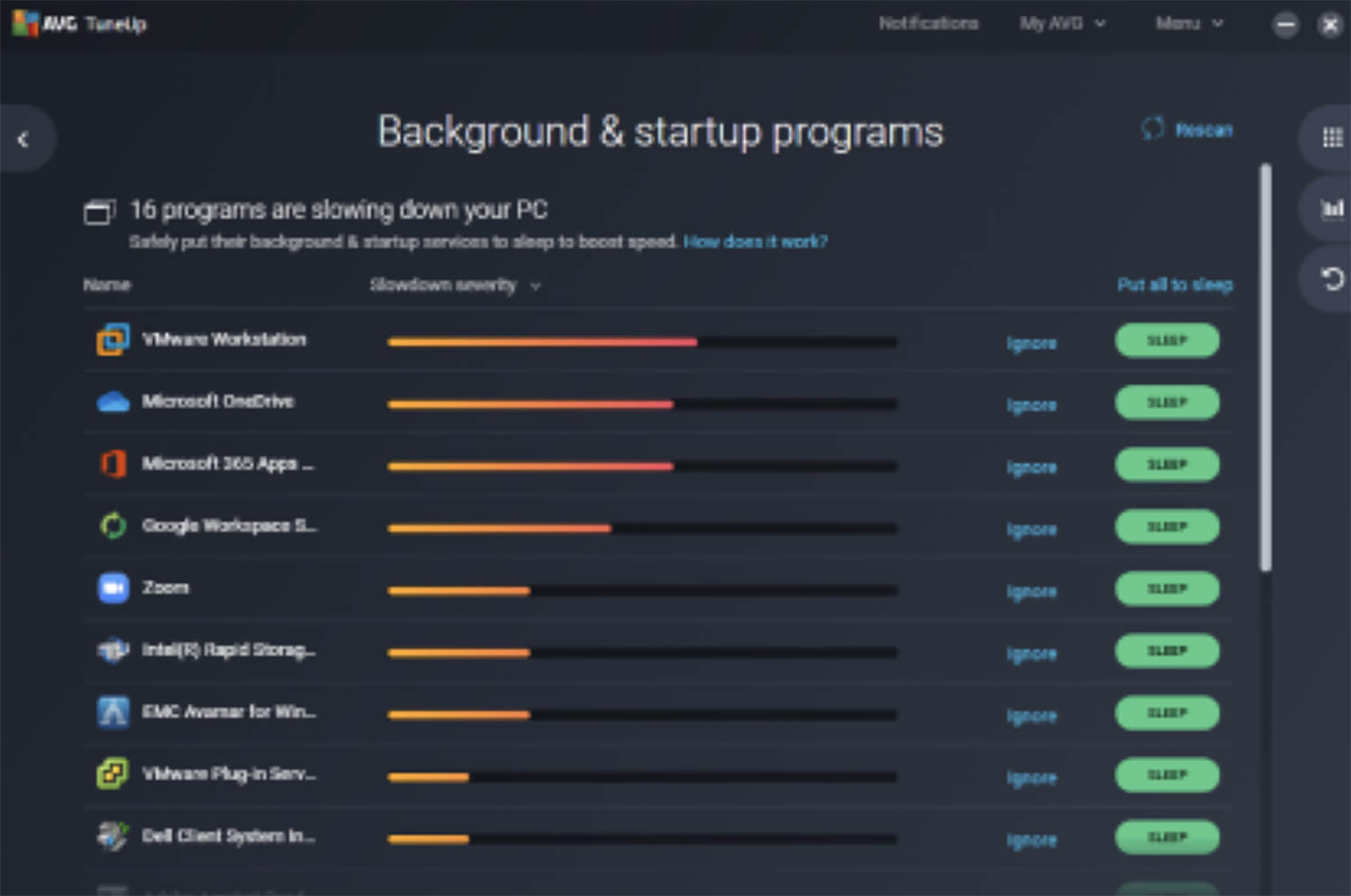 Being one of the most powerful junk file cleaners for Windows 11, AVG TuneUp is popular among the Windows community. The app eradicates hidden browser traces From Google Chrome, Edge, and Mozilla Firefox.
It keeps track of updating system software to resolve bugs and safety loopholes. You get continuous update notifications for famous programs, including Chrome, Skype, and more.
AVG TuneUp also includes tools to automate vital maintenance tasks and has abundant of choices for remote device management.
Key Features:
Eradicates hidden browser traces.
Keeps track of system software updates.
Continuously updates notifications for famous programs.
Easily removes junk files and files with invalid data.
Runs on both Windows 10 and Windows 11 operating systems.
Pricing:
$29.99/year for 1 PC.
$34.99/year for 10 PC.
Download AVG TuneUp for Windows
Advanced PC Cleanup is a great Windows system optimization suite with features to eliminate junk files, speed up RAM, free up disk space, and repair the Windows registry.
The app includes a feature to uninstall programs and their related files with other residues to get more storage. It also protects the Windows system from possible adware, malware, virus, spyware, and other malicious dangers.
Key Features:
Effective system optimization suite that brings several modules to clean up junk files, speed up RAM, free up disk space, and repair the registry.
Increases Startup time.
Comprehensive scanning, which remarkably increases the efficiency of your computer.
Available in multiple languages.
Free and available on most platforms, including Windows, macOS, and Linux.

Pricing:

A free version with limited features is available.
Paid version: $39.95/year.
Download Advanced PC Cleanup for Windows
BleachBit is a well-known open-source disk space cleaner, PC optimizer, and privacy manager for Linux and Windows OS.
This tool can delete cookies, free cache, discard junk you don't know, delete logs, and shred temporary files.
It is also capable of shredding files to avoid recovery, vacuuming Firefox to make it quicker, and traces of files removed by other apps.
Key Features:
No malware, adware, backdoors and spyware.
Remove your personal data completely without any trace.
You can shred any file, including the spreadsheet, on your PC.
Import and update winapp2.ini cleaner files automatically, giving Windows users access to over 2500 extra cleaners.
Pricing: