5 Cool Toys You Can Control With Your Smartphone
Who says that toys are made for children only? Although we may have outgrown the toys we grew up with, some of the toys you can find in the market these days can really make you want to let out your inner child. So, to heck with age recommendations, let's check out some of the new, innovative toys that you can play with your iOS or Android device.
In this list, you will find 9 toys that you can maneuver with your smartphone or tablet. They include airplanes, tanks, robots and more. These toys can fly, drive, turn, flip and rotate, avoid obstacles and even take pictures and record videos. See if these toys can make you feel like you want to be a kid again.
Recommended Reading: High-Tech Toys & Gadgets Designed For Kids
Ollie
Ollie is a toy you can maneuver with your iOS or Android device. It can reach up to speeds of 14mph. It has a durable colored shell with built-in LEDs, and they can spin, flip and do plenty of tricks while you control them from your smartphone. Ollie is connected to your smartphone in a 30 meter range, via Bluetooth. Watch it in action here. [$99.99-149.99]
Smart Plane
Smart Plane is touted as the "R/V aircraft imagined" – a slow-flying durable plane that can withstand flying both indoors and outdoors. The app, available for iOS and Android, is built to simulate a fly-from-the-cockpit atmosphere complete with FlightAssist technology. The plane is powered by a 1g lithium-polymer battery which can last up to 30 mins of "airtime". When you're done, charge it up in 15 minutes and go again. [$67.99]
Wireless Spy Tank
Need to run a little espionage? This Wireless Spy Tank is the perfect tool for the job. Equipped with a camera to stream and record live videos and still images, the tank can travel up to 200 ft unobstructed, half of that distance around walls. The visual feed comes with night vision plus you can not only hear what it hears, but also "speak" on its behalf, using its speakers. Avaialble for iOS and Android devices. [$156]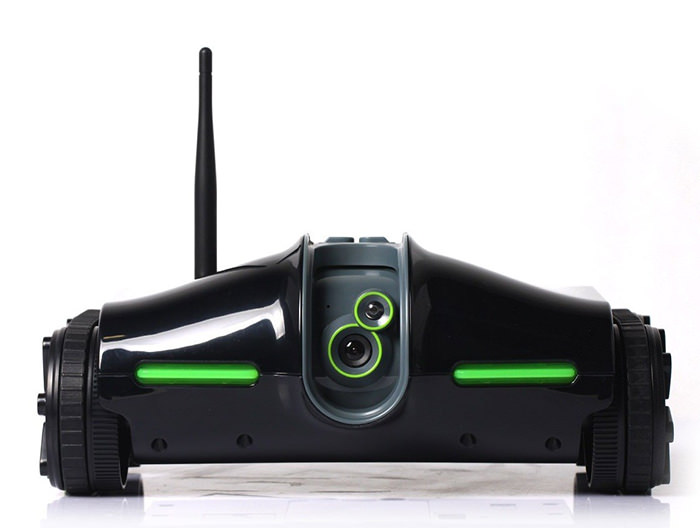 Petcube
Hate leaving your pets at home when you go to work? With Petcube you can watch your pet, talk to it and even play with it remotely using your iOS or Android device. Petcube has a built-in camera, microphone and a laser pointer to help you do that. This interactive wireless camera lets you watch your pets pet even when you're not home, and you can also get your friends to join in and play remotely. [$199]
Power 3.0 Paper Plane Conversion Kit
Always wanted your paper airplane to fly longer and go further? Maybe what you need is some help from Powerup 3.0, a conversion kit that turns a regular paper airplane into a flying drone! The kit comes with paper plane templates (they have 8) which is available on their site as well. Charge up the smart module, attach your folded plane design to the Powerup 3.0 and use your iOS or Android device to fly your plane into the horizon. [$49.99]
iPhone-Controlled Bug
Yes, this is a bug you can control with your iPhone. It is designed to look like an insect, although I'm not sure what kind. Anyways, it can work up to a distance of 6 meters, and it is powered with a USB-rechargeable battery. You can "steer" it with a transmitter that you can plug into your headphone jack. It moves pretty fast and can really creep your friends out; just make sure they don't step on it! [$39.95]