iBlazr: Your Go-To External Flash for Smartphones and Tablets
Having trouble capturing quality photos with your smartphone in low-light settings? The built-in flash often falls short, leaving you with poor-quality images. If you don't have one of the newest smartphones with advanced low-light capabilities, here's a solution that could be a game-changer for you.
iBlazr is an external flash compatible with both iOS and Android devices. It operates in both photo and video modes and is suitable for use with smartphones and tablets.
Note: iBlazr is no longer available.
Turn Your iPhone Into a 3D Camera Using Poppy
Turn Your iPhone Into a 3D Camera Using Poppy
The world of 3D technology is experiencing a resurgence, from awe-inspiring 3D street art to groundbreaking 3D printing... Read more
The iBlazr connects via the device's audio jack and is compatible with both front and rear cameras. It delivers over 180 lux at a distance of 1m, which is four times more powerful than the built-in flash on an iPhone.
The device features four high-end CREE LEDs that serve as the light source. It also comes with its own battery, conserving your device's battery life. A single charge can power up to 1,000 flashes or provide 40 minutes of constant light. Recharging is simple with a USB cable.
iBlazr offers a dedicated app for both iOS and Android to help you optimize your low-light photography. Even without the app, iBlazr works seamlessly with other camera apps or your device's default camera as a fully synchronized flash.
Here's a side-by-side comparison of photos taken without a flash, with the iPhone's built-in flash, and with iBlazr.
But iBlazr isn't just for photography. The USB charger doubles as a stand, allowing you to use iBlazr as a light source or a compact table lamp. When not in use, it can also function as a regular flashlight.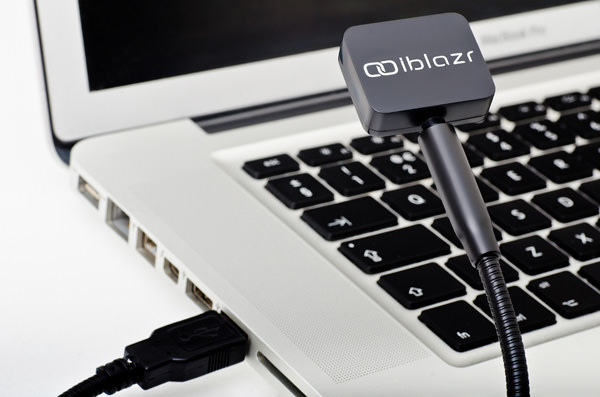 If you're keen on getting your hands on one, you can back the iBlazr project on $39 on Kickstarter. The estimated delivery date is December 2013.