15 Funtastic Playgrounds That'll Bring Out the Kid in You
Discover the most fascinating playgrounds around the world. Get inspired for your next adventure and have fun with your kids.
Do you remember when you were young and loved to hang from monkey bars, played around with sand and took daring leaps from swings? Playgrounds are amazing places where a kid (or big kid) can get dirty and experience the joys of being young and free.
Here, I've put together a selection of 15 creatively designed playgrounds from all over the world. Featuring illuminated ring-swings and playgrounds with educational themes, these structures are meant to cultivate a sense of creativity whilst having fun. So take a look at these cool playgrounds and let your inner child out.
This playground based in Spain was created by architects, Eduardo Navadijos and Csaba Tarsoly. The design is meant to incorporate parts of the original playground and it is done so here in a stunning and modern way that promotes the outdoors and also provides sufficient protection.
The Blaxland Riverside Park by JMD Design is an innovative and sleek playground for children in Sydney, Australia. The idea is to make it enjoyable not only for children, but also for the entire family. This particular playground is 300 metres in size and boasts tunnels, a climbing net, a waterplay area and of course, swings amongst various other features.
Danish studio, Monstrum, makes creative playgrounds for kids that reflect the importance of having a creative environment. These gorgeous and imaginative sculptures below are all made of wood.
Free Play Playground
Free Play is a company that focuses on creating abstract playgrounds for kids. Wanting to create something that wasn't very standardized, they came up with something that would provide a more sensory experience.
We live in a world that's placing more importance on helping the environment. So what better way to make a statement about up-cycling then by creating a playground made from the re-used rotar blades of giant windmills? This is what was done at a children's activity centre in Rotterdam.
These cool retro-style mosaic playgrounds can be found in Singapore. This unique material makes the experience of playing here a bit of a trip back into the past.
The only thing better than a playground is one that you can customize. The best thing is that it was built with adults in mind. It's a great place for rest and relaxation accompanied with lovely water views that was set up in Spring 2013.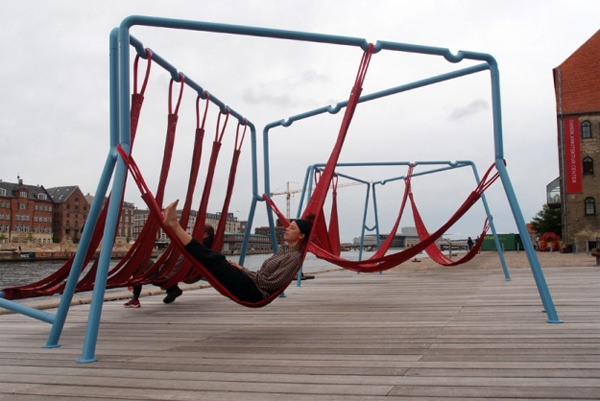 Play Work Build
David Rockwell is best known as a renowned architect but he has also done various Imagination Playgrounds installed around the globe. This 'Play Work Build' exhibition was featured at the National Building Museum in Washington D.C. and encourages visitors to play with blue blocks of different shapes and sizes.
Swing Time
Swing Time is a psychedelic swing set including 20 illuminated ring-shaped swings in South Boston. The best time to try them out is at dusk when the rings emit a cool white glow.
The Belleville Playground project was made in 2003. It's a multi-level wooden structure that is part treehouse, part pirate ship, and part medieval fortress. Definitely a place where you can let your imagination soar.
This instant orange playground was made to bring people together. The best thing about this awesome playground game is that it fits in a suitcase and can be built in less than an hour giving more time for actual play.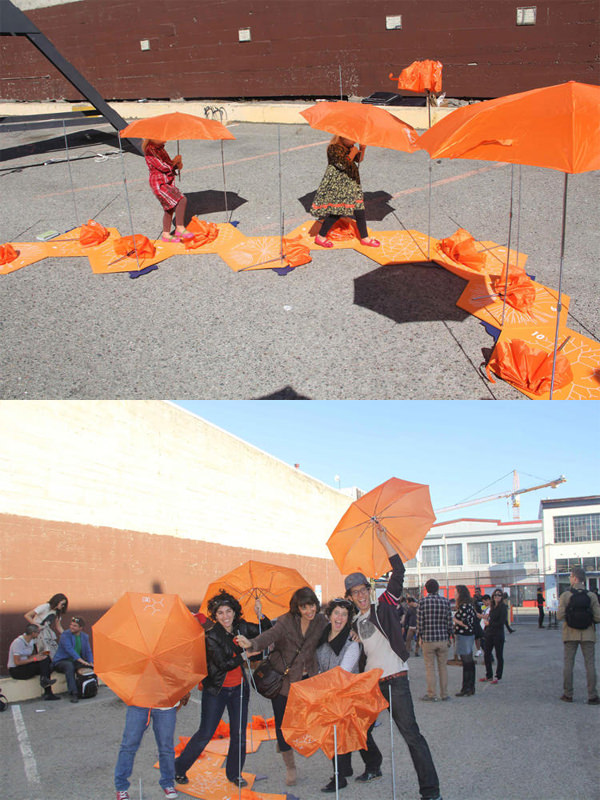 Dubai's Zabeel Technology Park is one of the first playgrounds in the world with a technology theme. It has 3 zones that comprises of interactive displays and really embraces the whole feel of educating while playing.
The Vail Nest by tres birds workshop in The Town of Vail, Colorado is part of a series of comissioned artworks for the park. These bird habitat inspired structures are made of non-toxic materials and are not only fun to play in but also elegantly designed.
Created by Toshiko Horiuchi-McAdam, this color-infused installation gives its visitors a sensory experience that embraces the spirit of childhood. Using vivid colors, her work aims to merge aesthetics with function.
The Geopark is full of activities for youngsters. It was designed through recirculation of technology, know-how, and objects from the oil industry.