30+ Awesome Gifts Ideas for Geeks, Vol. 1
In one's family or friends circle, there's always someone who's smart and loves everything related to tech, video gaming, superheroes, and Star Wars. Well, we call them geeks.
If you have one such nerd among your loved ones and don't know what to buy for them as a birthday or holiday gift, take a look at this list of awesome gift ideas for geeks. From Star Wars and superhero merchandise to interesting gadgets, you'll find many gift ideas for your geeky friend.
You can't be a true geek with a 90's childhood if you're not a fan of the Nintendo Gameboy. So the company Xreart which creates frames of each component of iconic products has created a component frame of the legendary Nintendo Gameboy, first released in 1998.
You can order a customized frame in different colors of the original Nintendo Gameboy, and the company keeps upgrading to maintain quality standards. It is a unique and environmental-friendly artwork that you can give to a geeky friend or make a part of your own memorabilia.
There's hardly a geek who's not a fan of Star Wars, its characters, and props. If you're one of those, here is a real lightsaber that can be customized according to your taste. These sabers are crafted with amazing skill and advanced saber prop technology.
Geeky is a versatile little pocket tool that offers 16+ functions. Made with premium stainless steel, you can use it as a keychain, bottle opener, screwdriver, bit driver, file, bike spoke key, scoring tip, wrench, ruler, and much more.
Love Marvel comics so much that you want to wrap them all over you? Well, now you can. This is a fleece blanket or throws with 72 unique Marvel comic book covers in which your favorite heroes appeared for the first time. From Captain America to Spiderman, you'll find a whole lot of them on this cozy blanket.
Here is a beautiful bedroom light made as game controller buttons. You can use it as a wall sign or just a decorative element. The light has a color control function with seven color options, three light modes, and adjustable brightness.
A table lamp that every geek or PacMan fan would want. Shaped as the ghost in the world-famous PacMan game, the lamp has many functions, including 16 different phasing colors and a party mode that makes it automatically react to the music. Also, it won't take up too much space.
LEGO is a geek's best friend as it gives them a creative and fun activity and much time to think. And how wonderful it would be if you find a wonderful combo of LEGO with Star Wars like this set of the Millennium Falcon ship. It comes with different LEGO Star Wars characters and 1351 pieces that offer amazing detail to the model.
A beautiful gaming desk for serious gamers. the SecretLab Magnus Metal Desk is built on a meticulous design with premium materials. It is ideal for maintaining a proper posture during long gaming sessions and has amazing stability.
Here is a deck of premium playing poker cards that are long-lasting and equally beautiful. This is a standard deck but with a captivating holographic texture with shiny patterns. Also, the cards are durable and waterproof.
A wireless media streaming player by Roku. It comes with a voice-controlled remote and HDMI cable that connects seamlessly with any TV or monitor. You can easily stream in 4K, HR, and HDR and watch your favorite streaming services without any hassle.
A speaker that allows you to listen to your favorite music and create fun pixel art. It is a versatile Bluetooth speaker that offers features like a radio, alarm clock, voice memo, notifications, and fun lighting.
This is a feature-rich gaming keyboard with hybrid mechanical key switches. It comes with comfortable wrist support, removable keys, gaming immersion with Razor Chroma, and supports millions of colors for backlit keys. Plus, the Mecha-Membrane Switches provide great tactile feedback.
Geeks like robots to do their work so they'll love this robot vacuum by iRobot. The Romba i7 offers automatic dirt disposal, edge-sweeping brush, powerful suction, and multi-surface rubber brushes. It works with Alexa too.
Here is a USB Killer kit with MicroUSB, USB C, and Lightning connectivity. You can use it with a tester shield and as many times as you want. Just be careful not to use it for anything serious.
If Thor would've been a gym-goer, this would've been his water bottle. This is a large-capacity water bottle shaped like Thor's hammer. The bottle is sturdy, BPA-free, and can hold up to 1.7 liters of water.
A beautiful prop inspired by Star Wars Darksabre, this one is made with premium crystal acrylic with high-quality LED lights. Ideal for photoshoots, cosplay or just as a decorative element for your room. However, this is just the blade and you would need to buy the hilt separately.
Here is a bioluminescent Bio-Orb made with hand-blown glass and bioluminescent PyroDinos that glow in the dark. Apart from creating a charming view, these bio-orbs clean air, remove toxins and produce fresh oxygen.
You may not be able to afford a Telsa vehicle, but you can buy this desktop-sized replica of Tesla's own supercharging station. You can fit in your own micro-USB, USB-C, or Lightning charging cable in this tiny supercharging station.
For the Batman fandom, this is a call phone holder or phone mount for your car shaped as the Batman logo. You can easily slide it in and the retractable mounts will keep your phone stably fixed. You can easily mount it on your windshield, dashboard, or any flat surface.
This is an interesting 32GB USB flash drive that you can transform into a realistic robotic leopard. the USB is reliable and offers fast connectivity and is compatible with USB 2.0 and USB 1.1.
A device that converts your Android phone into a SmartBoy gameboy. It is super easy to install and you can play GB and GBC cartridges with it. With classic style tactile buttons, it will take you on a wave of 90's nostalgia.
For the true Batfans, here is a wall mount frame with three Batrangs that you can actually use in case of an emergency. You can open the display box through a hinge and easily take them out.
If you're concerned about your privacy being at the risk through your phone or computer's microphone, you can use this Mic-Lock microphone blocker that stops all signals. You can hang it with your keychain and take it anywhere. It's compatible with all kinds of mobile devices.
Recreate the Final Challenge of the famous Harry Potter and the Sorcerer's Stone chess set. It is a standard chess set with 32 pieces made with amazing detail and comes with a string play board that goes with the theme.
Star Wars-inspired wall clock with eye-catching LED lights. Made with a real vinyl record and displaying the most epic scened from the movie, it can work as a great decorative element for any room.
For Star Wars fan, this is a metallic fork that captures the best dialogue of the series "May the force be with you" as "May the fork be with you". A great gift to put a smile on anyone's face. Also, you can customize the fork with any other phrase of your choosing.
Interesting keycaps set that shows a person teleporting from one key to another. These keycaps are made with high-quality ABS material and are compatible with Cherry R4 Profile Keycap for MX-style switches.
Relive your love for the Super Mario game with the Super Mario Maker 2 game for Nintendo Switch. The game comes with new tools, course parts, and features as you create the Super Mario courses of your dreams.
If you have a picky eater in your house, you can make them interested in food through this Tetris-style sandwich crust cutter. Your kid will love to make patterns and eat the food afterwards.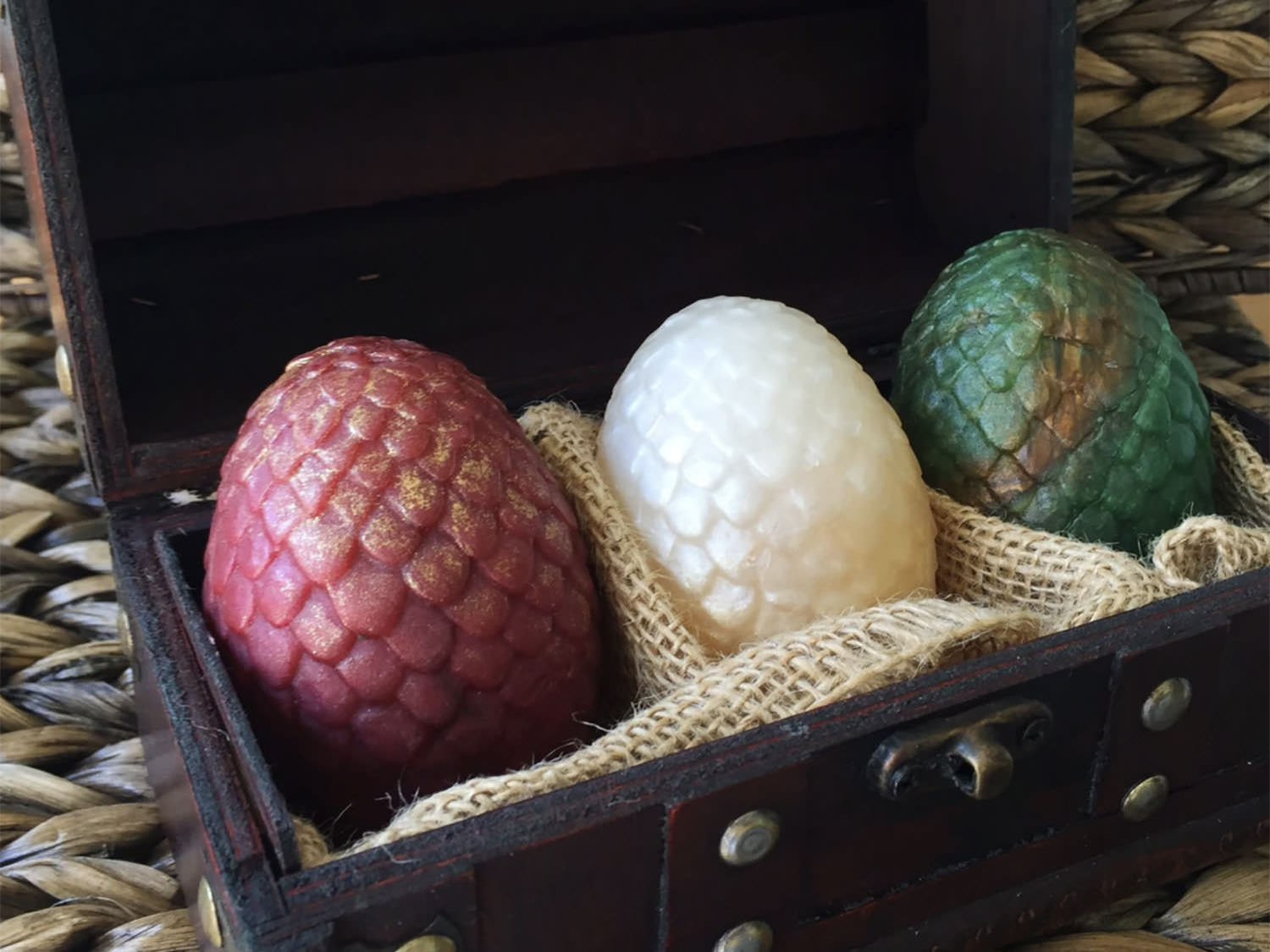 For the Game of Thrones fans, here is a set of soap bards made like Dragon Eggs and packed together in a wooden box to make them look realistic. The sops are handmade with vegetable-based glycerin and are lightly scented.