20 Unique Wrist Watches Fit For Geeks
A classy wrist watch is great for formal events, dinner parties and is a functional accessory fit for a casual day out. The type of watch you wear spells out the kind of person you are, whether you are one with a great sense of fashion, with expensive taste, prefer things simple and minimalistic or will go all out for function over form. These watches though are in a class of their own.
In this article, we're going to feature watches that are out of this world, some requiring a manual to help you learn how to decipher the time. If that sounds like the watch for you, we have picked out 20 geeky and unique-looking watches for you to check out. Time's a-wasting. Let's check them out.
8 Tell-Tale Signs You're A Geek
8 Tell-Tale Signs You're A Geek
Have you ever wondered what it takes to be a geek? Are geeks highly intellectual individuals who are... Read more
#1 – Solder ($35)
For a truly geeky watch, why not make your own with this easy to do solder kit. It has all the components you need and all you have to do is assemble it. The clear plastic case shows all the components within for an extra geeky look. It's also hackable so you can write your own source code to program anything on the LED display.
#2 – V02MKII ($265)
Here's an unconventional one. It looks half covered but yes, you can tell time with it, but the gist of it is the short hand points to the hour, the long to the minute, however each hand has two colors, white and red. So when it is the red hand, the red numbers it points to is the correct time; the same applies to the white hand. Seriously, just check out the manual.
#3 – QLOCKTWO Black Steel ($1350)
The concept behind QLOCKTWO W is to tell the time with words instead of numbers. Other than the 2 different colors, the watch is also sold in Spanish, French and German. The time isn't shown all the time so you'll have to press the single button on the side to show the date and time or hold it down to set the date and time.
#4 – 1000100101 LED Watch ($179)
For 60's sci-fi fans, here is the 1000100101 LED Watch with a unique and creative display that tells time in binary numbers. The blue LED light pattern shows cryptic flashing lights that display date and day.
Going with the 60's industrialization theme, the watch is made with stainless steel with brushed finish and polished detail on the button. You can buy it in black or silver colors.
#5 – Zone LCD Watch ($179)
The Zone LCD Watch displays time in the form of stylized hexagonal numbers. You can activate the animation mode in which the hexagons spin around the display once every 15 minutes between 6pm to 12 am.
It is equipped with a fine stainless steel basle and chain strap. The watch also features EL backlight and continuously changing display.
#6 – Kaidoku LCD Watch ($169)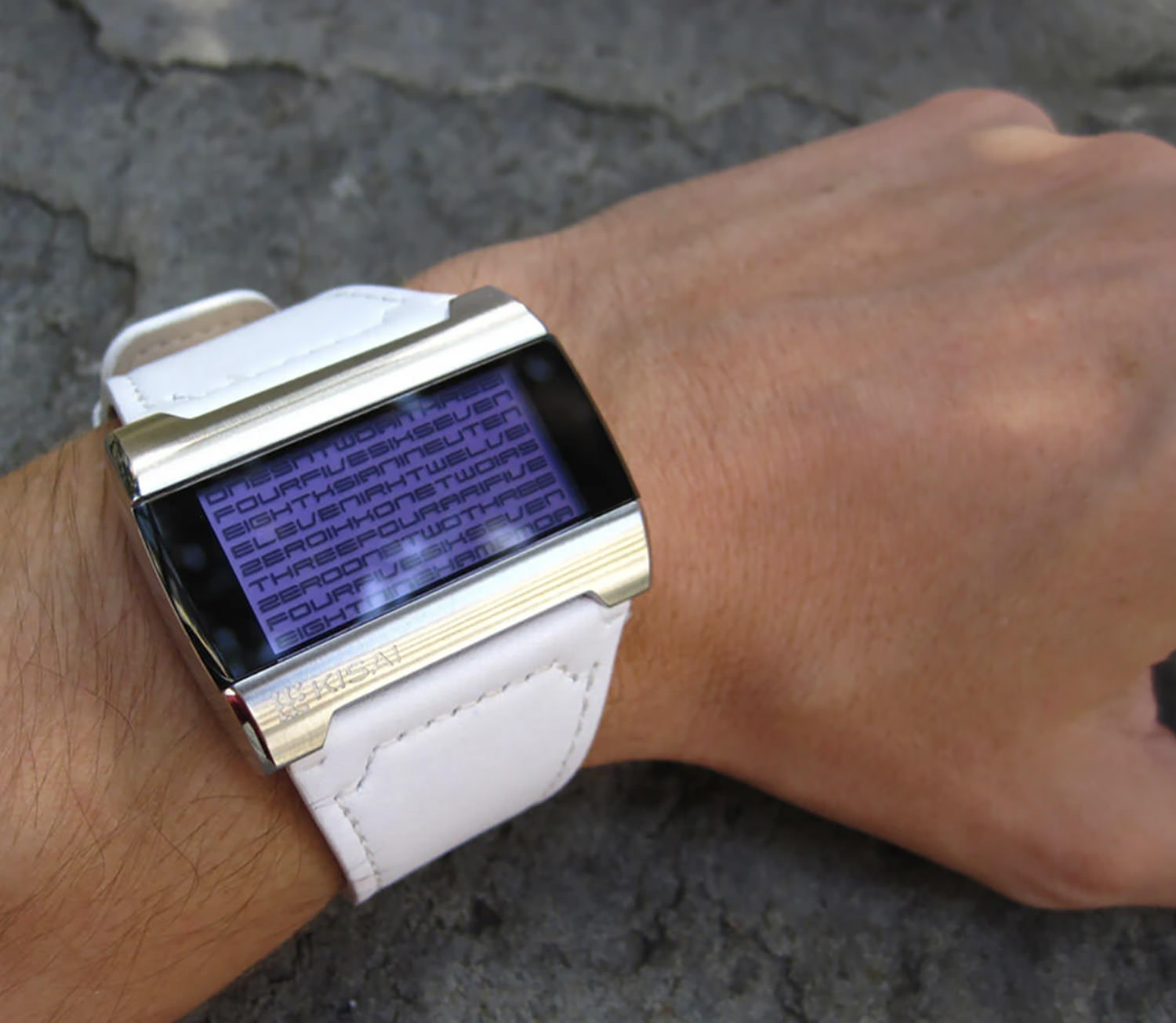 The Kaidoku LCD watch is a limited edition watch designed by Tyan Mayhew. The unique thing about this watch is that it displays time in the form of words instead of simple numbers.
Though the watch has a broad face, however, it is lightweight and looks quite dashing to wear. It features time, date, and alarm, different color display with EL backlight and premium stainless steel cover.
#7 – Spider Wood Transparent LCD Watch ($159)
This interesting watch is not just unique in its display but its casing material as well. Housed in dark sandalwood case, the watch displays time in stylized numbers on transparent mineral crystal lens.
It is a limited edition watch with an adjustable strap and equipped with animations. It is also quite lightweight and uses the standard SR626SW batteries for power.
#8 – Intoxicated Silicone Breathalyzer Watch ($169)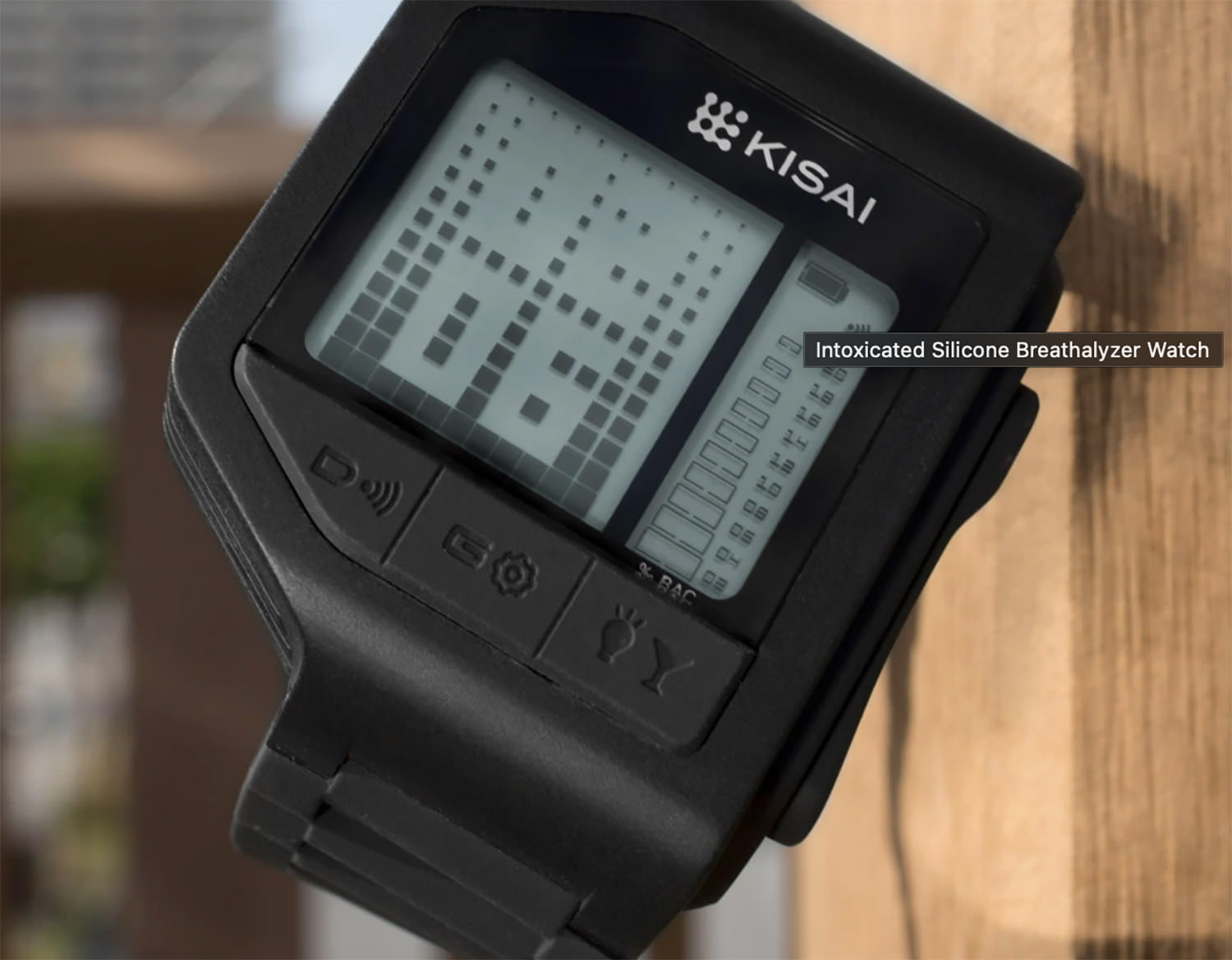 For the ones who are conscious about their drinking, here is Intoxicated a silicone breathalyzer watch. It features a built-in breathalyzer that lets you test your blood alcohol level through efficient sensors.
Additionally, it comes with a sobriety game that you can play to test how sober you are to drive or go to a social gathering. It uses rechargeable batteries that take 3 hours to charge and go on for a month.
#9 – Laze LCD Watch ($179)
The Laze LCD watch features a labyrinth to display time on screen. You can get it in softly brushed silver or black stainless steel and one of the four display colors to choose from. Also, it features time and date display as well as alarm and animations.
#10 – Keisan LED Watch ($199)
Here is a cleaver little watch that looks sooner cool to wear. The Keisan LED watch features raised convex bulb lens with optical technology to create a bright and magnified lighting effect.
The watch is manufactured with premium aluminum that contributes to its amazing lightness and comfortable feel. Moreover, the animation effects bring the watch to life and give out an interesting display.
#11 – Gravity Banana + ($159)
Gravity Banana is a funky little watch that displays time with two perpetually moving swirls that show hours and minutes in a beautiful gradient movement. The watch body is high-quality stainless steel and is placed in a soft patented silicone strap.
#12 – Saturn Silver ($229)
Saturn Silver is a magnificent looking watch that has a unique way of time display. It has hours and minutes displayed as an inner and an outer ring with 60 segments for minutes ring and 12 for hours ring. The watch has stainless steel case and mesh strap.
#13 – getDigital Binary Wrist Watch ($27)
For computer geeks, here is a dashing watch with an enigmatic display. getDigital Binary wrist watch features LED lights that show time in binary code.
The best part about the watch is that in order to save power, the led only glows when you press the side button. Also, it has a comfortably fitting wrist band and a changeable battery.
#14 – Nixon Dork Too ($80)
Nixon Dork Too Men's Watch is a custom digital time displaying watch featuring a speaker to dictate time. It is made with 34mm custom injection molded stainless steel case with a micro USB charging port. Plus, the watch has stainless steel bracelet strap with butterfly clasp.
#15 – Steampunk-Styled Tesla Analog Watch ($320)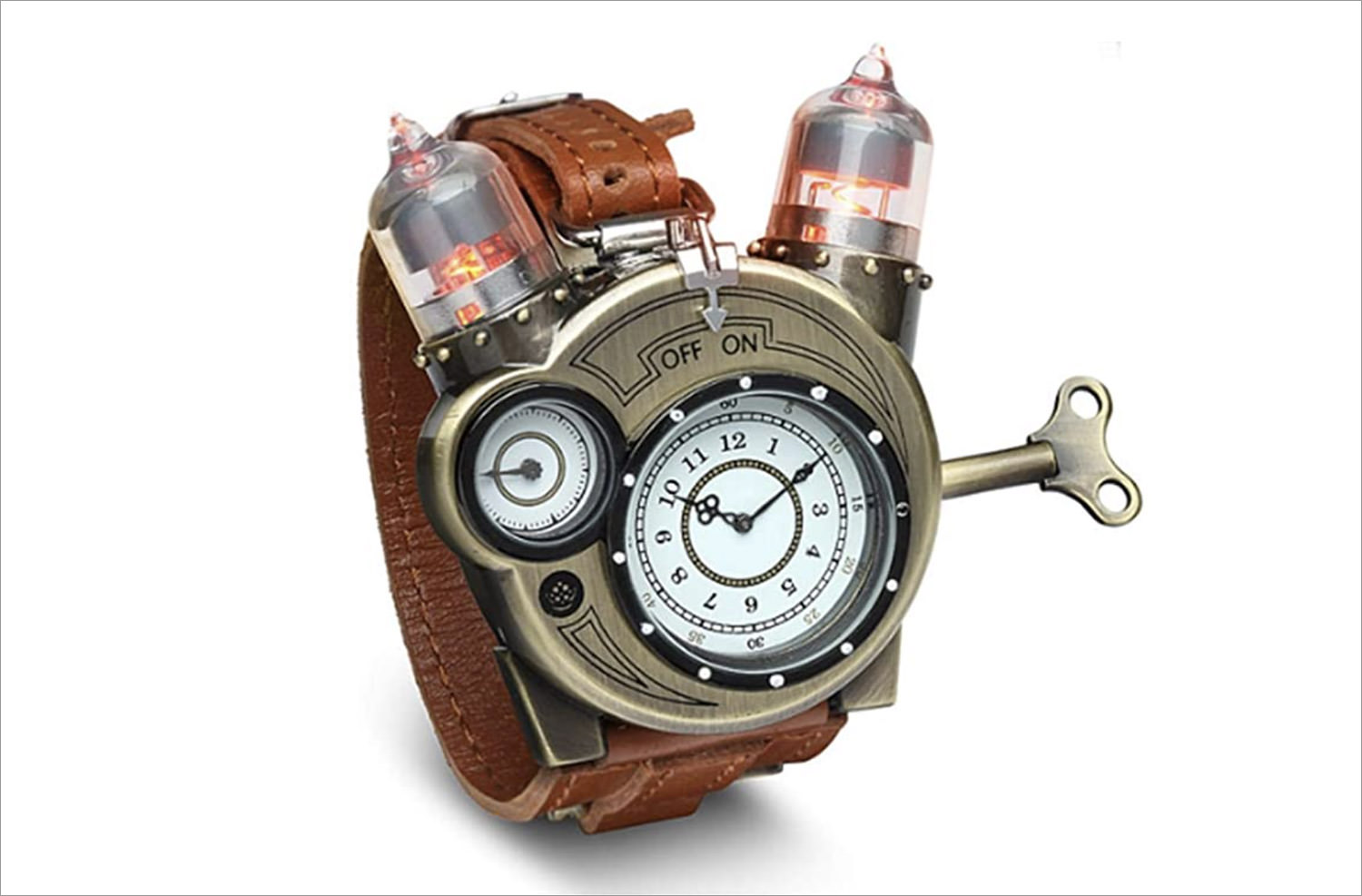 The stamping fans out there will definitely love this watch. It is made in the shape of a vintage Tesla chronometer with an analog watch and two light-up vacuum tube-style LEDs.
The watch has a weathered brass finish with comfortable leather strap to give it a completely elegant look. You can turn the LED light of the faux vacuum tubes on and off with a button to impress the onlookers.
#16 – TOMORO Original Watches ($9)
This Tomoro watch has a creative design inspired by the racing theme. The watch features a 3D design ideal for formula1 fans and is equipped with genuine leather band and precise Japanese quartz movement. It is also quite durable and waterproof.
#17 – Casio A168WA ($24)
This Casio A168WA watch brings a breeze of nostalgia for every 90's kids. It is a classic vintage unisex watch with crystal glass and premium stainless steel case. One look is guaranteed to take you back to your childhood.
#18 – Binary Square Blue LED Watch ($20)
It may look like a simple wrist band, but is in fact an ingenious binary watch that tells time in binary code. The watch features blue LED lights and an array of colors to choose from.
The built-in LEDs adjust to the dark or bright environment. Moreover, the double open stainless steel buckles make it easy to wear and take it off.
#19 – Avaner Military Quartz Wrist Watch ($21)
Why have one watch dial, when you can have three. This Military Quartz wrist watch has a unique watch face featuring one primary analog watch dial and two sub dials so you can see minutes and seconds separately.
The watch has a solid face with anti-corrosion silver tone finish and a comfortable genuine leather strap that fits to writ of any size. Additionally, it is suitably sized so you can use it for everyday wear.
#20 – MJSCPHBJK Men's Unique Analog Watch ($19)
Here is a dashing analog watch for men with dual dials and a unique design. The first dial shows time with two coaxial rotary scales and the second dial show time by analog. The black watch face gives it a very interesting look and the soft PU leather band ensures a comfortable fit.