6 Ethereum Wallets to Keep ETH and Other Crypto Safe
Ethereum is a rapidly growing digital currency that thousands of people are using for trade. However, it's not too different from paper currency because like its paper counterpart it too needs a place where you can store and secure it — a digital wallet.
There are various options when it comes to digital wallets for Ethereum, however, it may get difficult to choose the right one — especially if you're new in the world of cryptocurrencies. That's why, in this article, I'll walk you through the best, trusted wallets and help you choose the right wallet for you to store crypto funds.
14 Best Bitcoin Wallets
14 Best Bitcoin Wallets
Here's something every bitcoin owner should know: the safety and security of your bitcoins is ultimately your responsibility.... Read more
Hardware Wallets
Hardware wallets isolate your wallet's info from your easy-to-hack computer. These are affordable and portable wallets mostly used as alternatives to paper wallets because they store your wallet's private key within their hardware — technically offline. You can use these if you wish to secure funds but also need to transact regularly.
I'm admired by the way any hardware wallet tries to protect your coins against unauthorized use. First of all, you must have the device. Then, you must approve every transaction using the keys on the device, meaning a hacker can't transact even if he gets virtual access to your wallet. Lastly, using its backup phrase, you can restore a lost wallet.
Supported Platform: Windows, Mac, Linux, and Android.
A multi-coin wallet that offers to store your coins on a small key-sized device with an OLED display. It lets you actively sign (aka approve) all your crypto transactions using the wallet's private key but doesn't reveal it anyhow. It can store Bitcoin, Dogecoin, Dash, Ethereum, Ethereum Classic, Litecoin, Namecoin, Bitcoin Testnet, ZCash, and more.
Trezor generates a 24-word backup phrase offline and offers top-level security against network hacks and thefts. Surprisingly, no one can access your wallet or its funds, even if your wallet or computer is lost or stolen. Last but not least, you can connect to an online wallet service like Mycelium, MyEtherWallet, etc., to transact coins.
Related:
Supported platforms:Windows, Mac, Linux, and Chrome OS.
I find Ledger Nano S better than TREZOR, especially due to its sturdy and portable form factor and multi-sign capability. It has a OLED display to show necessary information and a button on its side to confirm transactions and do other stuff. If I talk about its support for coins, it can handle Bitcoin, Ethereum, Ethereum Classic, Litecoin and more.
You can set a PIN code that protects the wallet's private key, and its second-factor authentication feature secures your logins and transactions on supported services like Dashlane, Dropbox, and many more. And in case of a lost wallet, you can restore the same using the backup phrase on any Ledger device or on compatible wallets.
Related:
Supported platforms: Windows, Mac, Linux, and Android.
An aesthetically pleasing, durable, and large-screen wallet, KeepKey works nicely with multiple digital assets like Bitcoin, Ethereum, Litecoin, Dogecoin, Dash, and Namecoin. It comes with a glossy 3.2" OLED screen unlike the above two hardware wallets, which makes it more expensive than both.
If I talk about security, KeepKey uses a 4-digit PIN to protect your wallet and its info. You can also exchange assets directly on KeepKey using its ShapeShift integration in combination with any software wallet like Electrum or its own extension for Chrome. And like above two, you can restore a lost wallet using backup phrase.
Software Wallets
Software wallets are basically downloaded and stored on your computer, and so are the private keys of your crypto addresses. Though these are built to be user-friendly, you must be a little tech-savvy to use them as it's always a good idea to add extra layers of security to your software wallets.
Supported platforms: Windows, Mac, and Linux.
An all-in-one app that lets you securely manage and exchange blockchain assets, with Exodus, you can store, transfer and exchange various currencies like Augur, Bitcoin, Dash, Dogecoin, Ethereum, Golem, and Litecoin. Exodus, however, doesn't support Ethereum Classic.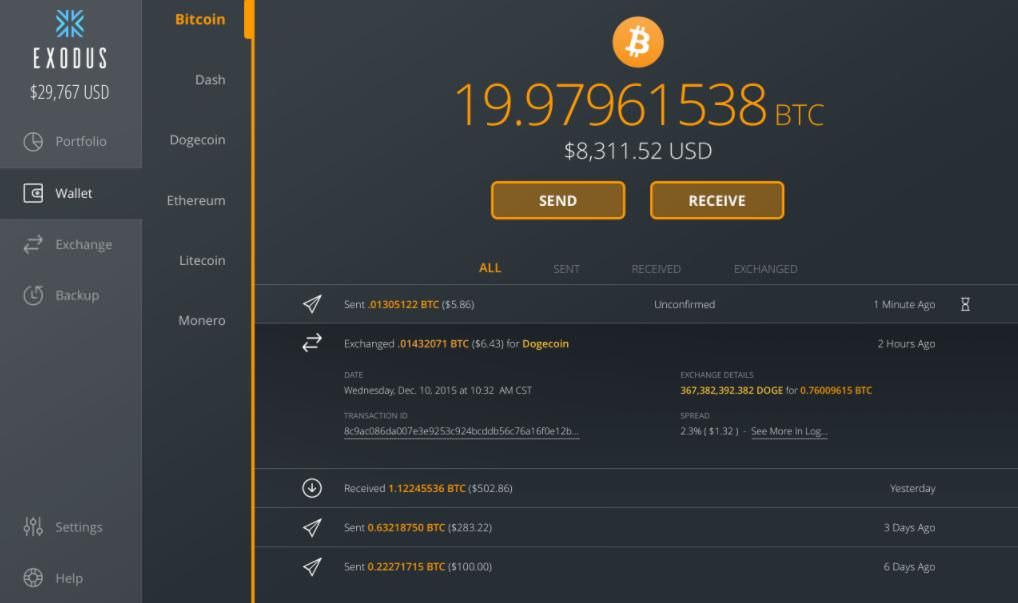 I liked its clean and organized interface, which makes you feel you're in control of coins. Thanks to its private keys stored just on your computer, it's more secure than the wallets that store such info on the cloud. Such a feature, however, poses risk of losing your wallet in case your computer breaks down; thus, it's a must to backup your wallets if using Exodus.
In addition to its intuitive interface, Exodus offers a super-easy functionality of exchanging digital assets — thanks to its built-in integration with Shapeshift. If I talk about security, it secures all your info (including private keys) with a password and gives a 12-word backup phrase to restore a lost wallet easily using its step-by-step backup wizard.
Supported platforms:Windows, Mac, Linux, iOS, and Android.
Jaxx is an independent multi-coin wallet for mobile and desktop platforms. It supports various popular cryptocurrencies, including Bitcoin, Ethereum, Ethereum Classic, Dash, Augur, Litecoin, Zcash, and RSK. With its minimalistic interface, easy functionalities, and multi-platform support, it has become my favorite everyday crypto wallet.
Backing up and restoring the wallet using a backup phrase, importing funds from a paper wallet, and setting up a security PIN are a few of its advanced features you can easily try. Though it works perfectly for day-to-day transactions yet, you must take regular backups of your wallet because it stores the private keys locally, which may get lost accidentally.
Along with its simple and attractive interface for multiple platforms, its embedded support for ShapeShift exchange gives it an edge over traditional or official wallets. Using the same, you can quickly exchange your crypto assets right from the Jaxx wallet.
Paper Wallets
These aren't wallets, actually – rather some tools to create paper wallets. A paper wallet is a cold storage option to store funds securely for a long time. It's the cheapest yet the best form of security you can get to store crypto funds, but it's not the easiest option.
Supported platforms:Windows, Mac, and Linux.
This open-source wallet is an online as well as offline tool for creating paper wallets to store Ethereum in cold storage. ETHAddress generates an address and its private key, which can be printed or written down on paper for safety. Then after, you can transfer your funds from your wallet to this new address and protect your coins from hackers.
I'm a big fan of paper wallets right from the time they came for Bitcoin some years ago, but what I like more about ETHAddress is that you can also encrypt your private key using a password, thus hardening the security even further. And to use these funds in the future, you just need to import the keys into a software wallet like Exodus, Jaxx, etc.
Ending Thoughts
I'll suggest to use hardware wallets if you're cautious about your digital funds. Though they're little costly yet they offer the best security — no matter you transact an ETH a day or millions of it. If you do serious business in the crypto world and don't wish to meet bad luck along the way, just invest in Ledger Nano S or TREZOR.
Of course, if you're not ready to invest in a hardware wallet — a situation most likely for any beginner or enthusiast, go for software wallets like Jaxx or Exodus. Do note, however, that the software wallets are as secure as the computer they are on, and that means, they're prone to malware and other attacks that may steal your wallet's information.
If you're using software wallet, remember to sweep your computer for malware and similar malicious programs. The easiest thing you can do is install an efficient antivirus cum firewall software. And lastly, here's a serious advice — don't forget to store your long-term investment in a paper wallet; it'll be the best decision of your crypto life.
Hope the above info helps you in managing and storing your digital assets. In case you're already aware of above wallets or have started using them, please do leave your feedback or share your story by writing a comment.