10 Best MetaMask Alternatives
Explore top MetaMask alternatives for secure cryptocurrency transactions. Discover unique features of BlockWallet, Trust Wallet, and more.
Cryptocurrency wallets will soon be the new normal and cash will become a thing of the past. Technologies are advancing at an incredible rate, and we, as consumers, are adapting to them and taking advantage of the opportunities that it has to offer.
There are a lot of alternatives out there aside from MetaMask, which is probably the most popular wallet right now, but like everything else, it does not cover every need.
That said below are the following alternatives that you can use. Learn what they are, their features, and functions, and so on. At the end of the article, you'll most likely end up using a couple, because different wallets have different perks and features.
What is MetaMask and How Do You Use It?
What is MetaMask and How Do You Use It?
Metamask is a popular cryptocurrency wallet, surpassing 10 million monthly active users. It is a crypto wallet that... Read more
What is MetaMask?
In case you're not familiar with MetaMask, it's a cryptocurrency wallet for Ethereum-based tokens. It allows users to interact with decentralized applications and exchanges. In it, you can buy, swap, and deposit tokens in and out of supported exchanges.
For example, if you have your coins in Crypto.com, you can send them to your MetaMask and vice versa. Why? Because there are a lot of applications and games that require users to register MetaMask before doing any kind of transaction.
It's like literally connecting your wallet to an application or website so that website can use your money (with your permission, of course!).
So, let's get started!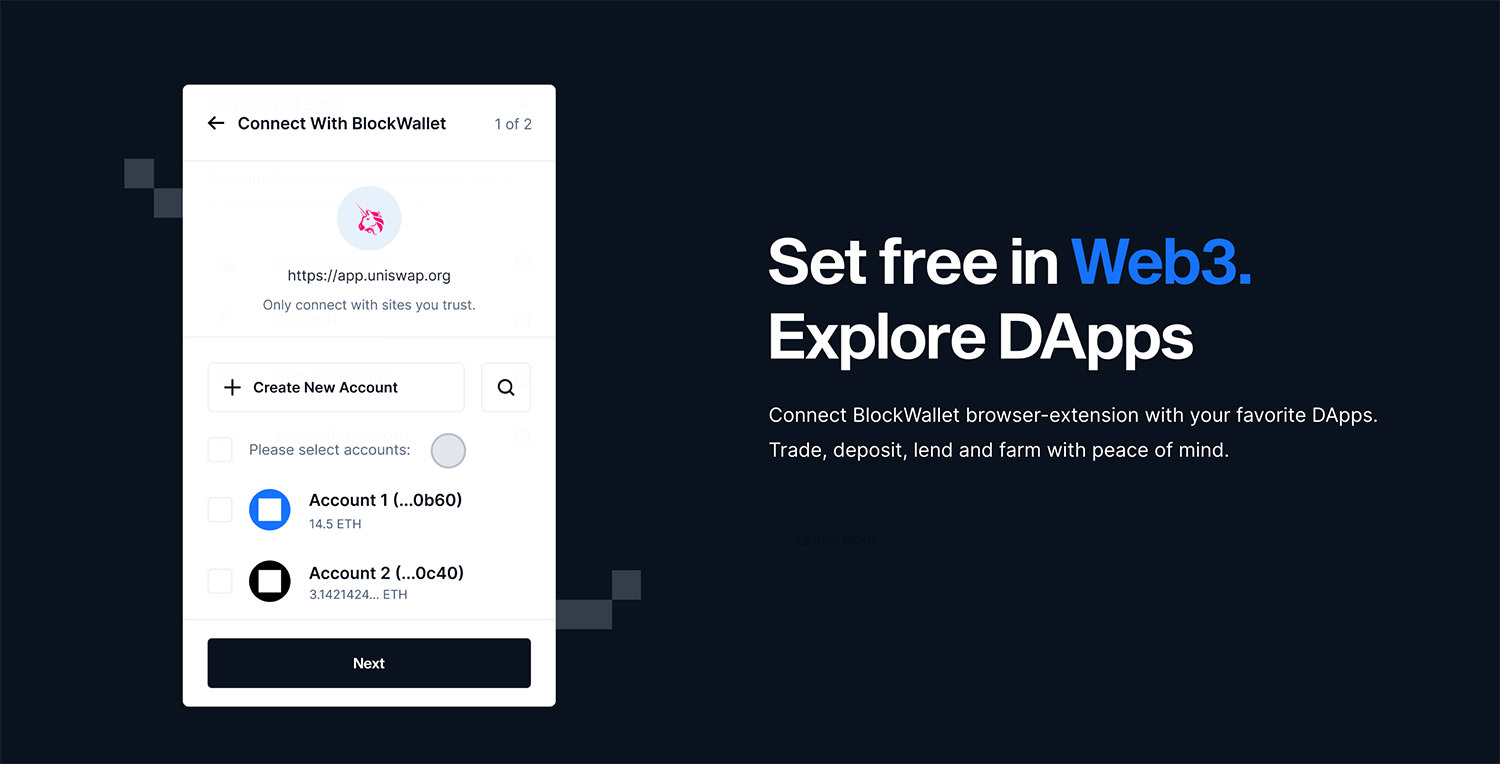 BlockWallet is a self-custodial wallet that offers privacy and security features to help you stay safe on Web3. It has a friendly, intuitive user interface that makes it easy to use. With built-in swaps and bridges, you can explore the depths of what crypto has to offer in just a few clicks.
BlockWallet supports all EVM-compatible chains, including Ethereum and Polygon, and allows you to connect to any DApp or NFT marketplace. If you're looking for additional security, BlockWallet also offers hardware wallet support for your Ledger, Trezor, and Keystone devices.
In case you ever run into any issues, BlockWallet has 24/7 customer support in their Telegram community. If you're interested in trying out BlockWallet, head over to your Chrome Web Store to get started.
It is the official crypto wallet of Binance. Just like the other wallets that were previously mentioned, you can store, send, and receive cryptocurrencies and digital assets within this app.
It is fast and secure and even has features that allow you to play blockchain games and access the latest and popular DApps and DeFi platforms.
Trust Wallet supports Bitcoin and blockchains from the Ethereum ecosystem. It is available for Android and iOS mobile devices, but you can also access your wallet from your desktop through the mobile app.
There are several videos on YouTube that provide tutorials on how to do it.
MathWallet is pretty similar to the ones mentioned above. It is also a multi-chain and multi-platform crypto wallet that you can use for your assets and crypto.
It provides a 'one-stop shop' experience for users since it offers tons of features like allowing users to store and trade cryptocurrencies, access and manage token exchanges on DApps, and create multiple in-app wallets.
You can secure your assets with private keys, two-factor authentication, Mnemonic phrases, and so on, which makes it really secure. And it is available on mobile, desktop, browser extension, and even hardware.
WalletConnect is a software that connects Decentralized Applications or DApps (i.e. Uniswap, OpenSea, etc.) to your Cryptocurrency Wallet. It's also built to work on multiple blockchains such as Etherereum, Solana, Polkadot, and many more.
WalletConnect is also multi-chain, meaning, it can connect to multiple wallets and send transactions to several chains at the same time without needing to switch chains. It can also handle multiple sessions and it has a one-time pairing feature that allows you to do an infinite number of sessions by connecting only once.
And the best part? It can work on several platforms such as desktop apps, browser apps, mobile apps, and even gaming apps!
Coinbase Wallet is a Cryptocurrency wallet that lets you store your cryptos and NFTs all in one place. It supports all ERC20 tokens, Bitcoin, Litecoin, Dogecoin, XRP, and many more.
Your private keys which represent ownership of your cryptos are stored within the device that you are using, compared to a centralized exchange like Coinbase.com. Do note that these two are not the same.
You can also use the Coinbase Wallet as a DApp browser and it is compatible with Google Chrome as a browser extension. You can get it on Google Play, Apple Store, and Chrome Web Store.
Fortmatic is another cryptocurrency alternative wallet that is easy to use, like MetaMask, but without the need for a browser extension. Instead, it uses a phone number or email address to connect to Ethereum-based applications.
And since it does not need any specific app or browser extension, its accessibility is greater and more user-friendly especially for non-technical users compared to other crypto wallets out there. This allows users to use Formatic on multiple devices, including mobile.
Sean Li, the founder of Fortmatic, has rebranded it to Magic on May 29, 2020, to reinvent their identity, befitting their purpose, which is to make transactions much easier by reducing all the necessary steps that need to be done when authenticating or registering.
Portis is another simple and easy-to-use crypto wallet that can be connected to DApps with ease. Portis does not need any browser extension to work. Users can just use their email address and password to connect to DApps, which is quite similar to Magic. Thus, users can also utilize Portis on any desktop and mobile device.
It is also newbie-friendly, they can just set their account without familiarizing themselves with private keys, seed phrases, and other technical stuff.
This one is also multi-chain, so it supports other blockchain networks like Bitcoin, Ethereum, and EOS.
SafePal on the other hand is a cryptocurrency wallet that provides both hardware and software wallet products that you can manage on the SafePal app. Unlike the other alternatives, having the option to utilize a hardware wallet gives it more security since it is stored on a separate USB stick style hardware and is, of course, cannot be breached by hackers. It is also the first hardware crypto wallet backed by Binance Labs.
SafePal also supports 20 blockchains, including Binance Chain and Binance Smart Chain, Ethereum, and even NFTs. This allows users to freely buy, store, and trade tokens. It is safe to say that it is one of the more advanced crypto wallet alternatives out there today.
Coin98 was created as a single solution for utilizing cross-chain swaps, Decentralized Finance (DeFi), earning, staking, and yield farming. It is available on several platforms as a mobile app for both Android and iOS, web app, and browser extension.
It's also a non-custodial wallet, meaning your private information is not collected by the app, only you have access to it. It also has additional safety features like faceID security, password protection, etc.
Coin98 supports over 25 blockchains including BTC, ETH, Binance Smart Chain, and many more. Thus, users have several options to explore and choose from. Moreover, Coin98 does all the work for users and gives them the benefit of getting the best price when swapping and with the lowest gas fees when doing transactions.
TokenPocket is another multi-chain wallet that you can use to store, send and receive your cryptos without having to go somewhere else; very convenient to use. It supports all the leading cryptocurrencies like Ethereum, Bitcoin, Cosmos, Binance, and many others.
It also has a web browser that allows you to interact with Dapps and trade your tokens in decentralized exchanges. You can even play blockchain games inside the wallet!
Your private keys and passwords are also safe and stored within your local device. And It's available on desktops and mobile devices.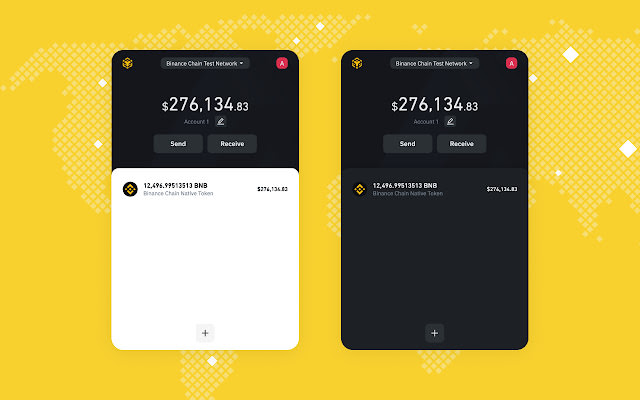 Basically, it is a crypto wallet for Binance Chain and Binance Smart Chain, they sound the same but they're not. They are both individual blockchain that's designed to work alongside each other. Binance Chain Wallet now also supports Ethereum.
You can use it to store your cryptos and get access to thousands of Dapps and projects across several blockchains.
You can get Binance Chain Wallet as a web browser on Chrome and Firefox.
Conclusion
The competition within the blockchain today is more immense than ever, and its growth is still ongoing. Its vast ecosystem and concepts are far too complex for an ordinary user.
Blockchains are incapable of communicating with each other, so several cryptocurrency wallets popped up and they all have the same mission. That is to make buying, selling, and trading assets much easier for everyone.