How to Get Alerts of New Crypto Listings
The cryptocurrency market has exploded in recent years, making it more difficult for anyone to keep up with what is happening in the market. There is a lot of talk about cryptocurrency price alerts.
But what about the alerts of new cryptocurrency listings?
If you want to be the first to know about new blockchain technologies and projects, you should keep an eye out for new cryptocurrencies and Initial Coin Offerings. Only a few coins will rise to the top of the market, but most will suffer from instability when they start.
Not all cryptocurrencies will survive. So if you're willing to take the risk, keep an eye on the following sites, research everything you consider carefully, and you might come out on top.
Pro tip: You can use Visualping to get alerted as soon as new crypto listings are announced. You won't miss any new crypto listings, and you won't need to regularly visit all these sites.
Monitor Binance's Announcements
Binance has one of the most visited lists of new coins, where thousands of visitors look over to see if any new coins are worth investing in.
10 Best Alternatives For Binance
10 Best Alternatives For Binance
Here are some of the best alternatives to Binance, one of the most popular crypto trading platforms. Read more
With so many new cryptocurrencies launch daily, Binance often makes the listing announcement on their New Cryptocurrency Listing page hours before trading begins.
Image: Binance's New Cryptocurrency Listing's page.
Keeping an eye on Binance's new cryptocurrency listing is the best way to know when new crypto and pairs are coming to this exchange. The Visualping tool can help you automate the process and get alerts of new crypto listings on Binance.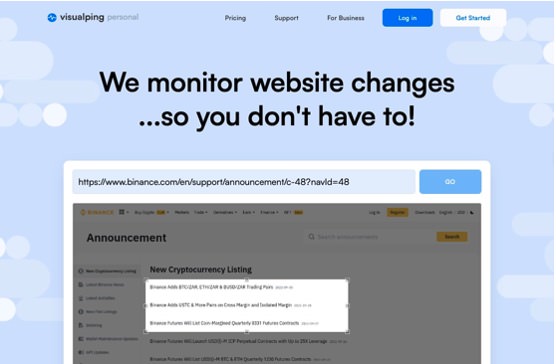 Image: Monitor changes with Visualping.
Track CoinMarketCap's Latest Coins
You may already be familiar with CoinMarketCap as a financial analysis tool for coin value and total market capitalization. However, CoinMarketCap has a hidden recently added section where you can see the latest coins added to the site.
Image: CoinMarketCap's New CCryptocurrencies page.
You won't see Initial Coin Offerings on this list, but it will help you find coins with a real circulating supply. Each coin comes with valuation estimates, giving you the information you need to buy at a fair price and compare it to other coins.
You can now monitor CoinMarketCap with Visualping and get alerts of new crypto listings as soon as they are announced.
Join Bitcoin Discussion Forums
The BitcoinTalk forums originate from the humble beginnings of Bitcoin in 2009 and have remained the topic of blockchain discussion ever since.
In the Altcoin announcements sub-forum, you can keep track of all the key points of discussions about new coins and altcoin updates.
Image: Altcoins annoucement section in Bicoin Forum.
These extensive threads should give you various opinions from other users and point you in the right direction. You can be sure that any big release will be thoroughly discussed, as users don't hesitate to share their opinion and speculation.
Follow Reddit News
If you want to monitor new crypto coins listed on any exchange, you may want to keep an eye on Reddit news.
Reddit is an aggregated news site run by the community you've probably come across before if you're into cryptocurrencies.
Three subreddits, /r/altcoin, /r/ico, and /r/CryptocurrencyICO, are worth subscribing to for altcoin information. You will find a diverse mix of altcoin opinions, announcements, and news posts.
Image: /r/Altcoin in Reddit.
Unfortunately, all three are quite small and are prone to vote-rigging. Vendors selling vote manipulation services have even admitted to 'pumping' altcoins by providing false positive feedback on the coins.
If this concerns you, the more general /r/CryptoCurrency subreddit might be better for you, as the larger community makes it harder to push posts to the top illegitimately.
Now that you know how to save time by getting new crypto listing alerts, you can use your time to conduct more research and to decide which crypto coins are worth your investment and which ones are better to pass.