How to Mine Verus Coins with Your CPU
There are many different cryptocurrencies on the network that are using Proof-of-Work (PoW) or Proof-of-Stake (PoS) algorithms. But have you heard of a coin that uses both of them at a 50-50 ratio? Well, that's Verus coin.
Verus is one of the most double-spend resistant public blockchains on the market. Because of its excellent Proof of Power algorithm, it is immune to 51% hash attacks.
In this guide, I will show you how to mine Verus with your CPU. Note that this guide is for Windows and Linux users only.
How to Mine Decentraland (MANA)
How to Mine Decentraland (MANA)
Before mining Decentraland MANA, you should first conduct some research on your own to see if it's feasible.... Read more
Current performance of Verus (VRSC)
Verus is currently ranked 476th in the world's cryptocurrency rankings. The current price of VRSC (as this article is being written) is $0.93 VRSC/USD, with a current market capitalization of $63.53 million.
The 24-hour trading volume is $52,144.84 USD, with a supply of 67.87 million USD. The price of VRSC peaked on April 26, 2021, at $3.4.
Mining Verus with your CPU
Here is a step-by-step process of mining Verus using your CPU. Let's get started.
Step 1: Create a wallet
Getting a wallet is really easy. But first, you need the Verus Wallet app to create a wallet, so go to Verus.io and download it.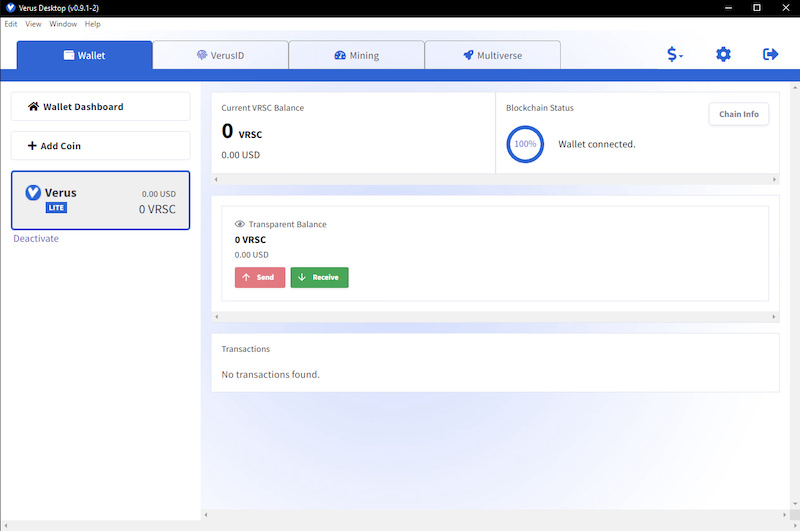 Step 2: Download and install mining software
To download the mining software, follow this link. After installing the archive file, just unzip it to a location of your choosing.
Step 3: Go to your folder and open the guided-setup file
After you've unzipped the archive, run the guided-setup file. There you will be asked a few questions after which you can start mining.
But before that, you need to enter a configuration name. It's just whatever name you would like to give your miner.
Step 4: Type the mining algorithm
The first thing you need to do is to enter "n" in the command line so as to avoid using multi-algorithm mining.
Next, enter the VRSC mining algorithm, which is written as "verushash"
Step 5: Enter the mining pool
First, follow this link and scroll down the page, there you will find different mining pools. Choose a mining pool for yourself and simply enter it.
To enter the address of the chosen mining pool, just copy it and paste it into the command line using the keyboard shortcut Control + V.
Step 6: Enter your wallet address and password
Go to your wallet, copy your wallet address and paste it. After that, type in your password.
Step 7: Answer a few questions before mining
Enter "y" in the command line to use your CPU for mining, then "y" again to enable logging. Next, type "n" to disable compute mode. Once you've answered the questions, press any key to move on.
Step 8: Final part
Open the newly created file with the configuration name you specified earlier and simply start mining!