9 Tools Every Project Manager Should Know
From task automation to team collaboration, explore the top project management tools that cater to diverse needs. Streamline workflows and achieve your project goals.
If you're struggling to manage your team and projects or maintain peak productivity, a project management tool might be the solution for improved outcomes.
To assist you in identifying the best project and task management tools, we've curated a list of 10 project management services that provide crucial features at little to no cost.
These tools centralize your projects and team, ensuring everyone is aligned as the project progresses. Features of some of these tools include time-tracking and invoicing capabilities, commenting systems, version controls, and user-friendly interfaces to help everyone meet their objectives.
Overview:
| | |
| --- | --- |
| Monday | Streamlines tasks with a visually appealing interface and automation features. |
| ClickUp | Robust tool for task automation, customization, and team collaboration. |
| Freedcamp | Centralizes unlimited projects with to-do lists and Google Calendar integration. |
| Taiga | Open-source tool for agile development with an integrated issue tracker. |
| AceProject | Simplified tool with Gantt charts, time tracking, and document sharing. |
| ProjectPlace | Enhances team collaboration with personalized kanban boards and cloud storage access. |
| HiTask | Combines project-sharing with to-do lists and integrates with Google Calendar. |
| Comindwork | Premium tool with CRM, Gantt charts, and auto-scheduling for tasks. |
Monday provides a comprehensive task management platform designed to streamline and organize tasks for both individuals and teams. With its user-friendly interface and visually captivating design, users can effortlessly customize their workflows and automate repetitive tasks.
Key Features:
Notable features of Monday are:
More than 200 specialized templates tailored for various industries.
Adaptable column types to enhance workflow.
An extensive range of data visualization tools, accompanied by a vast image library.
Limitations:
Although Monday.com offers an extensive array of project management tools, many are exclusive to premium plans. As a result, users on basic plans might feel they are not accessing some of the platform's prime features.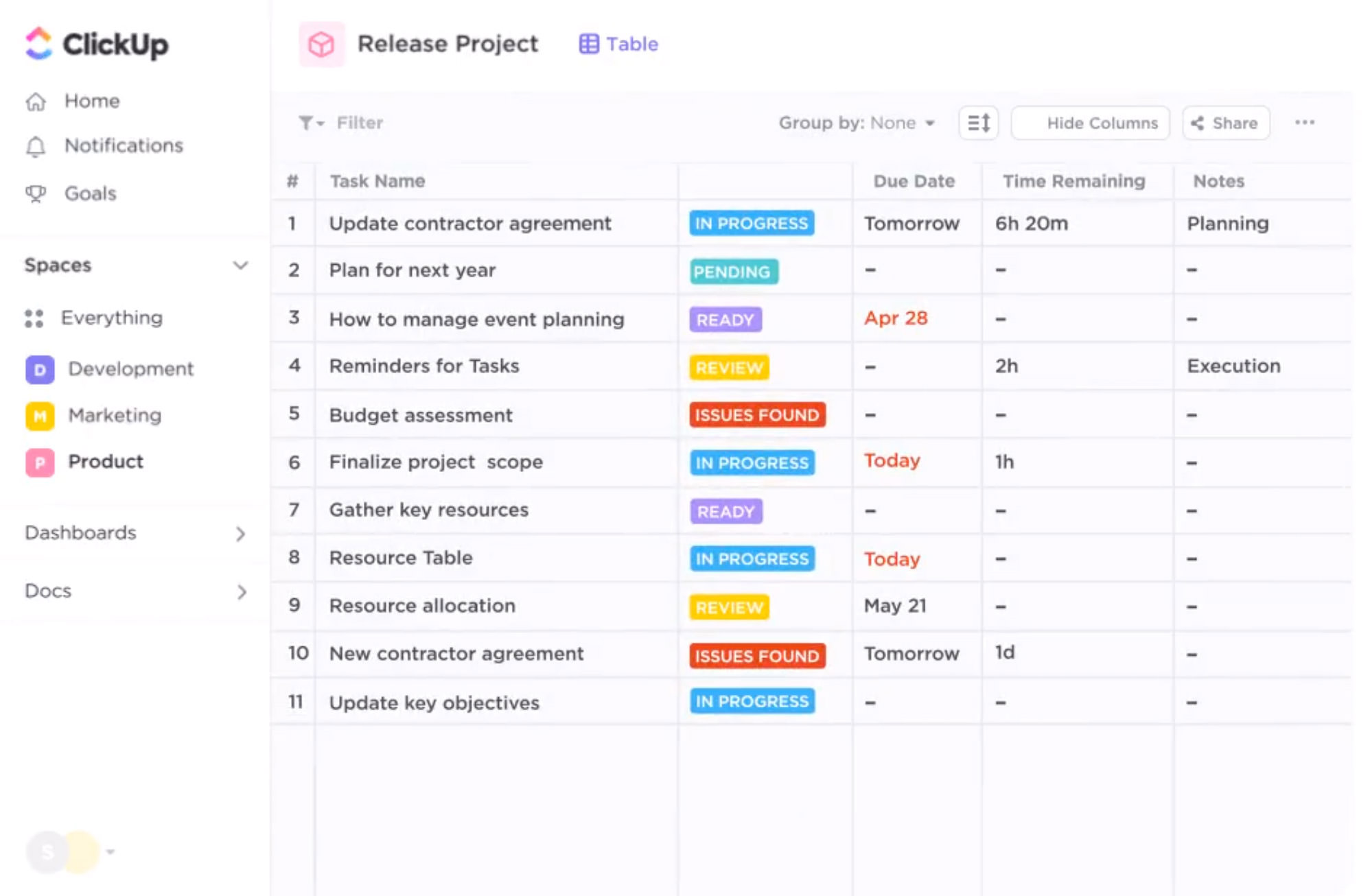 ClickUp is a robust and user-friendly task management tool that provides an extensive array of features to organize tasks, whether daily, weekly, or monthly. It supports automation and task customization. For teams, ClickUp facilitates collaboration across multiple projects, task assignments, and sharing feedback through comments and screenshots.
Features:
Notable features of ClickUp are:
Strategize by setting and monitoring goals.
Capability to integrate with over 1000 apps and tools.
Seamlessly import projects from various online and offline platforms.
Drawbacks:
While ClickUp boasts numerous impressive features, its dashboard could offer more flexibility. Additionally, the onboarding experience for new users can be somewhat intricate.
Freedcamp is a proficient project management tool that centralizes your work and schedule. It accommodates unlimited users and projects, providing 200 MB of complimentary storage for project files and team data. Whether managing a business team, orchestrating wedding plans, overseeing school projects, or planning travels, Freedcamp has you covered.
Features:
Among the myriad of features Freedcamp offers, the following stand out:
Task management through to-do lists or sticky notes (kanban board).
Integration with Google Calendar.
Enhanced functionality with extensions.
Drawbacks:
While Freedcamp is available at no cost, some of its premium features require upgrades. These encompass CRM, issue trackers, invoicing, expanded storage, and data backup. Fortunately, these features are modular, allowing you to invest only in what you need.
Manage Projects with Freedcamp
Taiga, an award-winning open-source project management tool for agile development, is crafted to provide flexible work management. It caters to a diverse range of industries and work types. Taiga facilitates the listing of issues needing improvement and streamlines task management to achieve overarching goals and their associated sub-tasks.
Features:
Notable features of Taiga include:
An issue tracker that categorizes issues and allows assignment to a responsible individual.
Integration capabilities with tools such as HipChat, Slack, and others.
Access to Taiga's API.
Drawback: Under the free plan, projects are public. To maintain project privacy with Taiga, you receive one private project at no cost for up to 25 members. For additional private projects or members beyond this limit, you'll need to choose a paid plan, starting at $19/month.
AceProject stands out for its straightforwardness. Unlike some complex tools, AceProject offers a simple, user-friendly, and intuitive interface, ensuring users can easily navigate and find options. It also provides email notifications. The complimentary plan includes 250 MB of storage, 50 active tasks (deactivated tasks don't count towards this limit), two projects, and accommodates up to five users.
Features:
Notable features of AceProject include:
Interactive Gantt charts.
Time tracking and expense reports.
Document sharing with permission management.
Drawbacks:
Unlike Taiga, AceProject doesn't offer product backlog management, even though it's designed to support agile development.
Manage Projects with AceProject
ProjectPlace serves as a comprehensive project management platform, enhancing online collaboration and team engagement. It allows users to engage in real-time communication and share media resources through a unified dashboard. Additionally, it offers features like workload management, two-factor authentication for added security, API integrations, and more.
Features:
Notable capabilities of ProjectPlace include:
Personalized kanban boards to fit user preferences.
Direct access to files from integrated cloud storage.
Efficient commenting systems equipped with @mentions.
Drawbacks:
Although ProjectPlace offers screen sharing for up to 100 members, Gantt charts, and version control for document management, these features are exclusive to the Enterprise (paid) plan. Additionally, it lacks product backlog management.
Manage Projects with ProjectPlace
HiTask serves as both a project-sharing platform and a to-do list. It synchronizes tasks among team members and seamlessly integrates with Google Calendar. With HiTask, managing extensive projects becomes hassle-free, thanks to features like email integration, import/export tools, media attachments, and developer APIs. The platform also embraces the drag-and-drop functionality, simplifying task adjustments and reorganization.
Features:
Some standout features of HiTask include:
Customized reporting.
Efficient issue tracking.
Smart grouping for enhanced organization.
Drawbacks:
HiTask doesn't allow setting user permissions for editing or viewing roles. Despite its emphasis on reporting features, it lacks a Gantt chart.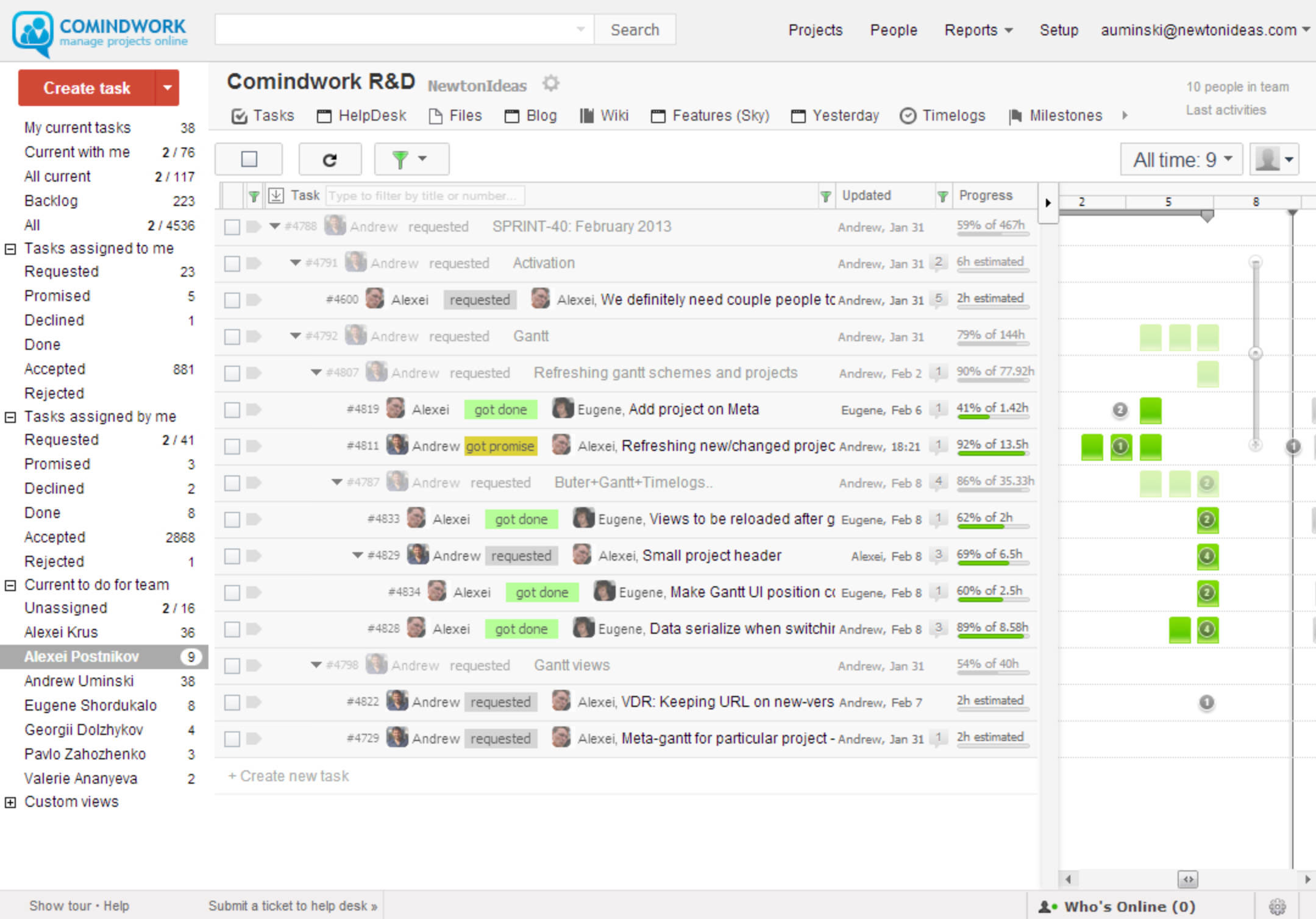 Concluding our list, Comindwork stands out as a premium cloud-based tool equipped with an integrated CRM. It boasts features such as time tracking, billing management, and customizable Gantt charts, enhancing collaboration with teams and colleagues. Comindwork simplifies task management with its auto-scheduling feature. As a centralized platform, it ensures organized work and provides a preliminary overview of project statuses.
Features:
With Comindwork, users can:
Set priorities for work and milestones.
Access unlimited customization options and business-ready apps.
Benefit from weekly backups and a data import tool.
Drawbacks:
Comindwork doesn't offer a free plan. However, those interested can fill out a form to request a personalized demo. The Starter plan is priced at $15/user/month.
Manage Projects with Comindwork
Related: