10 Best Project Managing and Planning Tools For Freelancers
Whether you are a freelancer or simply an owner of a small business, it comes in handy to know what is required and needed to manage a client's project successfully. But you don't have to do it alone, especially when help is readily available online.
Programmers and engineers have created a variety of tools to make our lives easier when it comes to project management.
When you work with global co-workers, who may be difficult to put into the same room together, project management apps like those in this list are even more crucial to the business.
Let's get right into it, shall we? In this article are ten tools you should certainly give a go if you need help in managing your future projects.
Zoho Projects is a project management and planning software. It features a user-friendly interface with a dashboard that allows the users to plan, keep track, and analyze project development flexibly.
You can also sync your Zoho Projects account with Dropbox to have access to your files from everywhere. It also has support for up to 16 languages.
To get a bird's eye view of your project, Zoho Projects is equipped with a Gantt chart feature that allows you to have the full picture and reports of the projects you are working on.
Apart from the free single project you can try, pricing plans stand at $199 to $599 for annual plans and $20/mth to $80/mth for monthly plans.
Sometimes, completing a client's project within a certain time frame and with a fixed budget is challenging.
ProProfs can help with that by keeping track of your precious time and budget while keeping it encrypted and providing a great environment with simple features to manage your team better and collaborate with them.
Free trial lasts for 15 days, and if you decide that this is the management tool for you, then you get to choose between three pricing packages, small ($24/mth), medium ($49/mth), and large ($99/mth).
The tool also has an app for iPhone users and a mobile version for iPad and Android users.
BaseCamp is one of the most popular project management tools. With close to a decade of experience under its belt, BaseCamp features a clean and robust UI, allowing you to have a full view of all your projects, tools, files, and collaborators, all in one page.
Keep your workspace clutter-free, everything within reach, schedules and calendars updated and in sync, and constant access to team members even if they are halfway around the world.
Pricing starts at $20/mth for ten projects and 3GB storage. Power users may prefer to get unlimited projects and 100 GB of storage space for $150/mth.
Each package includes daily online backups and data encryption, which is now available for the iPhone in the App Store. The mobile version of Basecamp is also optimized for Android and iOS devices.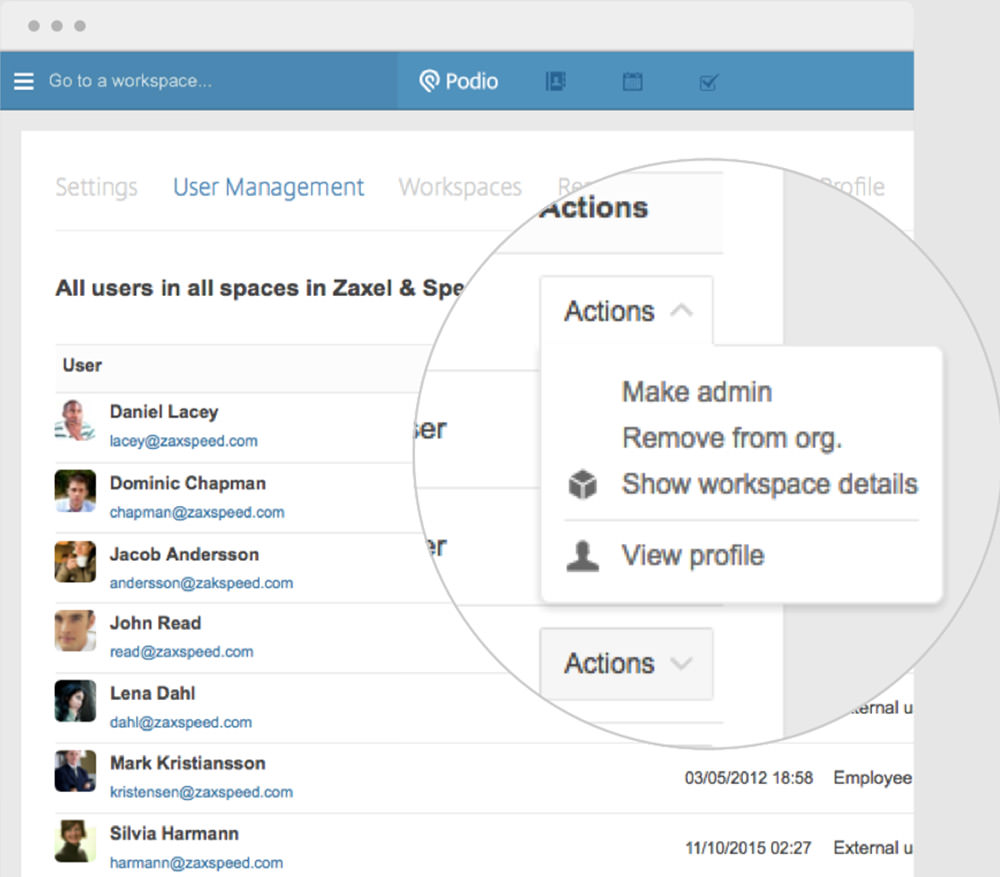 Podio is a powerful tool that aims to help users manage projects, tasks, events, and meetings. Alongside this tool, you can handle recruitment matters of your future team members in a dedicated workspace.
The interface is easy to use and provides features such as task management, instant messaging, and integration with OneDrive, Google Drive, and Dropbox to help you better access your freelance projects.
Podio is a little different when it comes to pricing plans as it charges by per-user rather than projects. You can start with a team of 5 for free or pay $19 per user monthly under the Podio Team pricing plan. Podio is available on iOS and Android.
Clarizen is an award-winning project management tool. With Clarizen, you have the appropriate environment to collaborate with other freelancers, and were built with exclusive features, such as project roadmap functionality, project monitoring, resource management tools, and even success kits to help project managers be more efficient.
It even has its marketplace featuring add-ons and mobile apps that suit a variety of needs.
Clarizen has support for iPhone and Android. You can try Clarizen for 30 days before opting in for a paid plan.
Wrike not only allows you to manage projects and tasks professionally, but it also provides you integrated functionalities with Google Apps, emails, mobile, and spreadsheets.
There are also loads of features such as budgeting and task management, dynamic Gantt charts functionality, and other team collaboration tools to make your life easier.
Wrike the app is also available for iOS and Android, and you can start using it for free for up to 5 users per team.
Paid plans start at $49 for five users and 5 GB storage, to up to $199 per month for 50 users and 100 GB storage.
LiquidPlanner is an online project management tool that provides users with sustainable functionalities to manage projects effectively.
It allows you to have full access and display of your project branches by integrating them with a variety of features. LiquidPlanner features team planning tools, project scheduling options, project reporting, dynamic collaboration tools, drag-n-drop scheduling, and estimate cases, all displayed to you on a single page.
The service is now extended to mobile platforms, namely iOS and Android platforms, and it is free to try on a 30-day basis, but even under a paid pricing plan, it's less than a dollar a day. Educational bodies can apply to use it in class for free, and there is a 50% discount for nonprofit organizations.
TriveSolo
(This service has since discontinued.)
TriveSolo covers the important needs of freelancers when managing a client's project.
If invoicing to your clients is still a thorny and intricate task, this app can help you a lot with these matters. Just like ProProfs, this tool has a time- and budget-tracking system which is very organized and dynamic to use.
The entire display of the project is very robust, incorporating the project progress, contract, and deadlines.
Projecturf
(This service has since discontinued.)
This tool can be beneficial for freelancers who face difficulties in getting things done. The concept of Projecturf is to help users to manage their projects with efficiency.
Projecturf comes with a boatload of features, such as a dynamic Gantt chart display, robust drag and drop control, time and budget tracking system, advanced layouts, customizable templates, and many others.
Pricing plans go by the number of projects from $9.99/mth for a single project or $19.99/mth for five projects all the way to $199.99/mth for an unlimited number of projects.
There is a 30% discount for nonprofit organizations, but if you want to give it a go, it is free for the first 14 days.
ViewPath
(This service has since discontinued.)
ViewPath is the way to go if you want a professional team tool. This tool is built with a flexible interface that allows users to drag and drop menus and have a full picture of the project they are handling.
Project timeline, inline editing, drag and drop Gantt chart, and daily activity dashboard are features to ensure you will finish your projects successfully.
Users can sign up for a free starter pack and access to all the essential features or upgrade to the Team Edition for $12.95/mth per user for more advanced features.
Viewpath functions on a 1-month, 6-month, and 12-month subscription modal with discounts available for multiple user signups. If a user fails to clear payment in time, they will just be downgraded to the starter pack rather than lose all their data or project progress.
Give the free trial a go for 15 days to get a whiff of what Viewpath offers.