Top Project Planning Tools Every Freelancer Should Know
Boost your project success with these top-rated tools. Ideal for freelancers and small businesses aiming for efficient project management.
If you're a freelancer or a small business owner, understanding how to successfully manage a client's project is crucial. Luckily, you don't need to tackle this task alone, thanks to numerous online resources.
There's a vast array of tools designed by programmers and engineers to simplify the task of project management.
Working with international colleagues can often present logistical challenges. This is where project management apps, like the ones included in this list, become indispensable for your business.
Here are ten tools that are worth trying out if you're looking for assistance in managing your upcoming projects.
Wrike is more than just a project and task management tool. It integrates seamlessly with Google Apps, email, mobile devices, and spreadsheets for a streamlined experience.
It's packed with numerous features like budgeting and task management, dynamic Gantt chart capabilities, and a variety of team collaboration tools to simplify your work.
The Wrike app is available for both iOS and Android. It offers a free tier that supports up to 5 users per team. For expanded features and storage, paid plans begin at $49 per month for five users and 5GB storage, and can go up to $199 per month for 50 users with 100GB storage.
Zoho Projects is a project management and planning tool that offers a user-friendly interface and a dashboard. This enables users to conveniently plan, monitor, and analyze the progress of their projects.
You can sync your Zoho Projects account with Dropbox, allowing you to access your files from any location. The platform also supports up to 16 languages.
For a comprehensive overview of your project, Zoho Projects includes a Gantt chart feature. This provides a complete visual representation and reports for your ongoing projects.
You can get started with a free trial for a single project. After that, the pricing plans range from $199 to $599 for annual plans, and $20 to $80 per month for monthly plans.
Learn more about Zoho Projects
Completing a client's project on time and within budget can be a tough task. ProProfs is designed to help you stay on top of your time and budget, while offering a secure environment and user-friendly features for improved team management and collaboration.
ProProfs also offers an app for iPhone users and a mobile version for iPad and Android users, ensuring accessibility and convenience.
You can try ProProfs with a 15-day free trial. If it suits your needs, you can choose from three pricing packages: small ($24/month), medium ($49/month), or large ($99/month).
BaseCamp is a widely-used project management tool with nearly a decade of proven performance. It boasts a clean and efficient user interface, enabling you to view all your projects, tools, files, and team members on a single page.
BaseCamp helps you maintain a clutter-free workspace, ensures everything you need is within reach, keeps your schedules and calendars in sync, and allows you to stay connected with team members, no matter where they are in the world.
BaseCamp is available as an iPhone app in the App Store and also has a mobile version optimized for Android and iOS devices.
Pricing begins at $20 per month for ten projects and 3GB of storage. For those needing more, there's an option for unlimited projects and 100GB of storage for $150 per month. Each plan includes daily online backups and data encryption.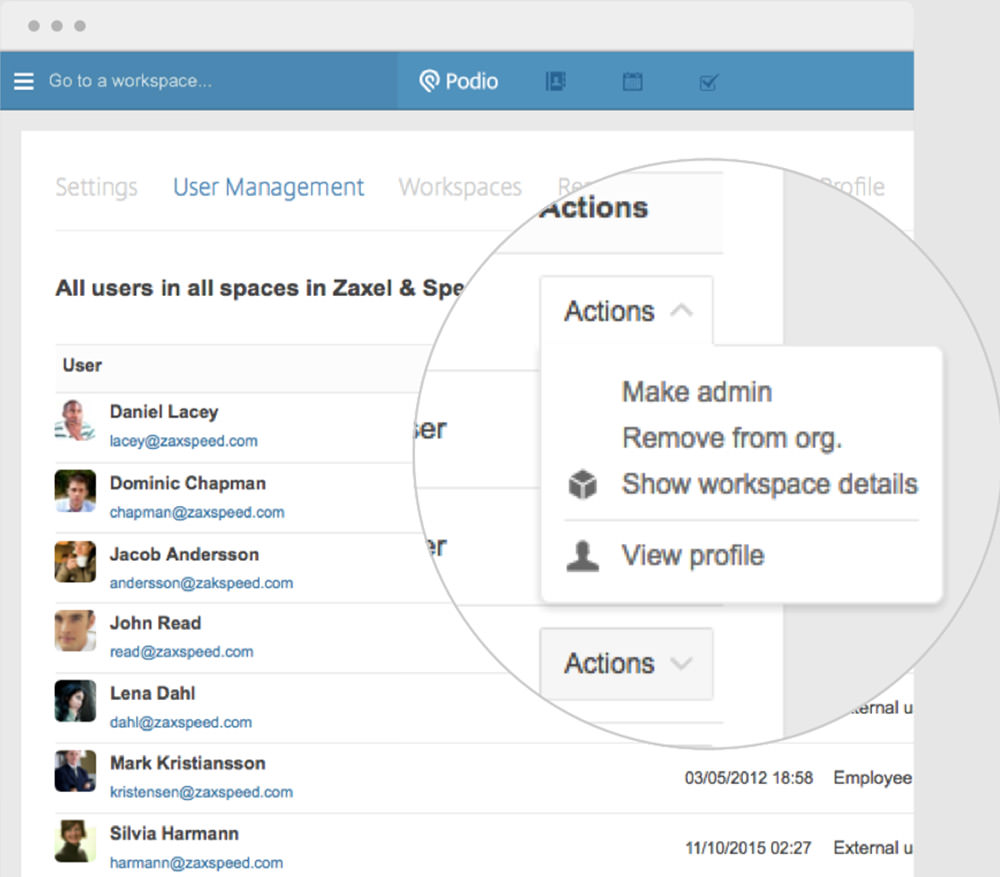 Podio is a versatile tool designed to assist users in managing projects, tasks, events, and meetings. Additionally, it offers features for handling recruitment tasks for future team members within a dedicated workspace.
The user-friendly interface includes task management, instant messaging, and integration with OneDrive, Google Drive, and Dropbox for easy access to your freelance projects.
Podio is also available on iOS and Android.
Unlike other tools that charge based on projects, Podio's pricing is per-user. You can start with a team of 5 for free, or opt for the Podio Team pricing plan at $19 per user per month.
Clarizen is a highly acclaimed project management tool that provides a suitable platform for collaborating with other freelancers. It's equipped with unique features like project roadmap functionality, project monitoring, resource management tools, and 'success kits' to enhance the efficiency of project managers.
Additionally, Clarizen has its own marketplace with various add-ons and mobile apps to cater to diverse needs.
Clarizen supports both iPhone and Android devices.
You can take advantage of a 30-day trial before deciding on a paid plan.
LiquidPlanner is an online project management tool that offers robust features to manage projects efficiently.
It provides comprehensive access to your project's different components, integrating them with various features on a single page. These include team planning tools, project scheduling options, project reporting, dynamic collaboration tools, drag-and-drop scheduling, and estimate cases.
LiquidPlanner is now also available on mobile platforms such as iOS and Android. It offers a 30-day free trial, and even its paid plans cost less than a dollar a day. Educational institutions can use it in the classroom for free, and there's a 50% discount for nonprofit organizations.