21 Photoshop Tutorials to Brush Up Your Photoshop Skills
A curated list of Photoshop tutorials to learn a new technique or improve your skills.
Whether you're looking to master a cutting-edge Photoshop feature or hone your design skills, Photoshop tutorials serve as your ultimate guide. Continuous skill enhancement is crucial for any seasoned graphic designer.
In this all-encompassing guide, we've curated a collection of top-notch Photoshop tutorials designed to help you craft surreal visuals, enhance portrait photography, and transform your images into extraordinary works of art. Let's dive into the list!
This tutorial walks you through 75 detailed steps to craft an imaginative "Flying Car Illustration" using Photoshop. Starting with a simple selection exercise on a vintage car image, the guide integrates flying rocks, towers, wires, and birds to form a lively scene. It also employs free 3D renders and fractal packs to infuse abstract elements into the artwork. This tutorial is both fun and educational, suitable for Photoshop users of all levels.
Learn how to set your text ablaze using Adobe Photoshop's Flame Filter in this comprehensive tutorial. The guide starts by helping you set up an appropriate background and then moves on to color and shading adjustments. Following that, you'll delve into the Flame Filter settings to generate realistic fire effects that wrap around your text. The tutorial concludes with additional tips on enhancing the glow and sparks for a more vibrant outcome.
This tutorial provides a straightforward technique to effortlessly remove unwanted elements from an image's background. It guides you through the use of Photoshop's Object Selection Tool and the Content-Aware Fill feature. The process is quick and only involves a few steps, making it perfect for graphic designers who need to tidy up their images for different projects.
This tutorial, called "Stuck in the Wall," is a fun and creative project designed for kids and parents. The goal is to create an optical illusion that makes it appear as if someone is taped to a wall. To achieve this, you'll need to take photos from specific angles.
Once you have your photos, the tutorial guides you through various Photoshop techniques. These include layer masking, quick selection, and refining edges. You'll also learn how to add realistic shadows and other finishing touches to make the illusion truly convincing.
This tutorial takes you step-by-step through the process of creating realistic water droplets on a window-like surface. You'll start by gathering the necessary resources and installing custom water drop brushes in Adobe Photoshop.
After setting up, you'll move on to adding basic water drops and creating a background effect. The final part of the tutorial focuses on adding reflections to the water droplets, making them look even more convincing.
This tutorial teaches you a non-destructive method for sharpening your images in Photoshop. Although the content is brief, it promises to guide you through enhancing the sharpness of your images in just a few easy steps.
This tutorial guides you through creating an abstract geometric photo collage art piece. You'll start by using Adobe Illustrator to build geometric lines. Then, you'll switch to Photoshop to cut and rearrange pieces of a photograph.
The tutorial also includes steps for adding textures and making curves adjustments. These additional elements give your design a retro style, making it a unique piece of art.
This comprehensive tutorial guides you through the process of creating a stencil banner text effect in Adobe Photoshop. You'll learn how to use various tools and techniques, including shape properties, smart objects, textures, and layer styles.
Additionally, the tutorial teaches you how to use the Warp command to give your text a three-dimensional appearance. From setting up the background to adding final touches like shadows and gradients, this tutorial covers it all.
This tutorial focuses on teaching you how to create impactful lighting effects using Adobe Photoshop and the Flame Painter plugin. The course is designed to enhance advertising campaigns or promotional material by emphasizing the importance of lighting in design.
This tutorial guides you through the steps to create a trendy double exposure effect from scratch. You'll start by understanding the basics of what double exposure is and then move on to preparing the main photo and combining two images.
The tutorial also offers tips on using blending modes and clipping masks to make the image more surrealistic, along with adding the finishing touches.
This comprehensive tutorial guides you through the process of creating an isometric pixel art coffee shop. You'll start by working out the dimensions of the building and then move on to adding finer details like awnings, shop signs, and outdoor furniture.
The tutorial also provides tips on color shading and texture, aiming to help you create a vintage-style coffee shop. It's designed to be part of a series that could eventually help you build an entire pixel art city.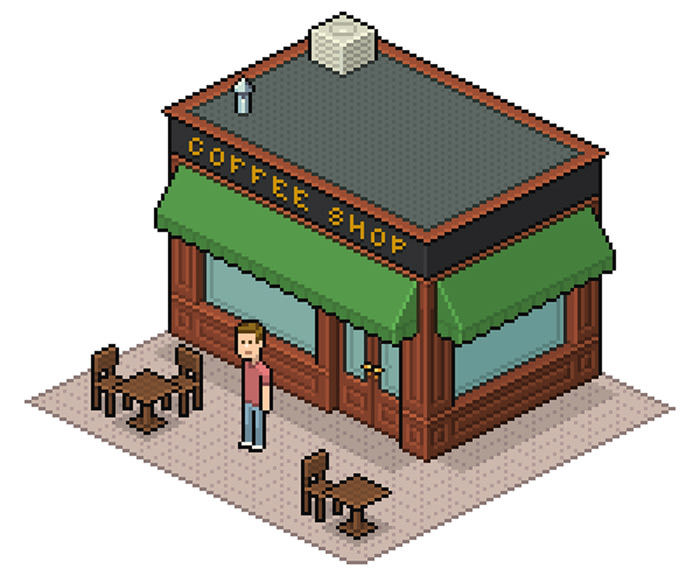 This tutorial takes you through the steps to create a retro Star Wars-inspired text effect. You'll learn how to use layer styles, space textures, and flare brush tips to achieve a vintage sci-fi font effect.
The tutorial also goes into detail on adjusting gradient effects and combining different textures. Plus, you'll learn how to add outer glows and flares for a more dynamic look.
Check out more Photoshop text effect tutorials.
This advanced tutorial teaches you how to create an abstract medical image featuring a DNA strand. It covers a wide range of techniques, from blending modes and adjustment layers to custom brushes for special effects.
You'll learn how to transform a 3D DNA model into a realistic-looking strand and add various effects to make it appear as if it's under a microscope. The tutorial also includes steps for creating a textured background and adding depth of field for a more dynamic image.
This tutorial by Sheridan Johns guides you through creating an Iron Man fan art piece. Although initially published in 2012, the techniques remain relevant today.
The tutorial covers everything from initial sketching to adding finishing effects like smoke and sparks. You'll learn digital painting techniques, layering, shading, and texturing to create a realistic metallic look for Iron Man.
This tutorial guides you through creating a text portrait, known as a Calligram. You'll learn how to use Photoshop's Displace filter to overlay and deform text on a portrait.
The resulting image is made up of tiny words that shape the facial features, appearing as a pattern from afar but revealing the text upon closer inspection.
This tutorial teaches you how to create a realistic 3D chrome badge using Photoshop's 3D tools and Adobe Illustrator. You'll start by designing a flat badge in Illustrator, focusing on shape construction and text alignment.
Then, you'll import the design into Photoshop to convert it into a 3D model. The tutorial covers setting up lighting and materials to achieve a chrome finish, as well as fine-tuning the 3D settings for depth and reflections.
This comprehensive tutorial aims to help you create your own floral fashion print for fabric. It covers everything from sketching motifs and considering scale to adding colors and creating a flowing pattern repeat.
You'll learn how to draw clean lines, layer colors, and arrange motifs in a way that looks natural and dynamic. The tutorial also offers tips on preparing your design for fabric printing.
This family-friendly tutorial explores the concept of being insect-sized and guides you through creating a digital photo where a child appears to be miniaturized in a natural setting.
The tutorial is interactive, with specific instructions for both parents and children. It's divided into several parts, including capturing the right photos, setting up the Photoshop files, and adding final touches, making it a fun and educational experience for the whole family.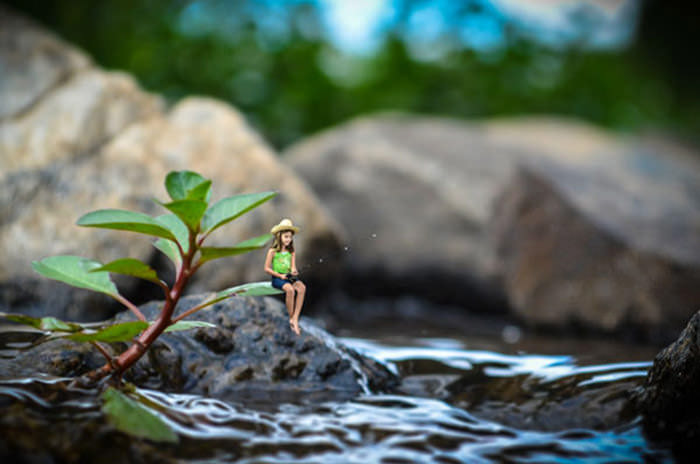 This tutorial guides you through the process of creating an animated neon sign using Adobe Illustrator and Photoshop. You'll start by designing the layout of the neon sign in Illustrator, focusing on creating non-overlapping vector paths for the neon tubes.
Then, you'll export the design to Photoshop to apply layer styles that give the neon tubes a glowing effect. The tutorial also covers how to animate the neon sign using Photoshop's Timeline panel, resulting in an animated GIF that simulates a real neon sign.
This tutorial teaches you how to create a high-contrast, noir-style image inspired by the Sin City films. Starting with a stock photo, you'll learn various Photoshop techniques to transform it into a striking, high-contrast image.
This tutorial teaches you how to create a text effect that mimics the look of bright autumn leaves. You'll learn a range of techniques, including using leaf images, textures, adjustment layers, and lighting effects.
The tutorial guides you through creating a textured background, adding text as a reference, and layering leaves over the text. It also delves into adding more depth and realism through texture and lighting adjustments.