20 Creepy Halloween Photoshop Tutorials
Some cool Photoshop tutorials including photo manipulation to text effects for Halloween.
As Halloween season is approaching its highest, we see a touch of spook almost everywhere. Especially in the advertising and design industry, there are Halloween-themed artworks.
If you're looking to create creepy Halloween artwork, here are some cool Photoshop tutorials to get help from. From photo manipulation to text effects, this list caters to different Photoshop techniques with detailed tutorials. Let's take a look.
Here is a realistic glass-shattering effect that uses amazing techniques such as playing with different textures and custom brushes.
A tutorial that teaches you how to create a gruesome scene of a severed arm with fleshy stumps and strings of sinew using some basic Brushes and Layer Masks.
Create a perfect photo manipulation of a post-apocalyptic scene with the help of adjustment layers, vector masks, and some special effects.
Using layer styles you can create this awesome bloody text effect in Photoshop that you can use in any Halloween design.
Convert just about any pumpkin image into a horrific jack-o-lantern with this tutorial. You can play with the colors and apply layer blending modes to create this effect.
In a few easy steps, this Photoshop tutorial will teach you how to make a zombie out of your own picture.
Through this tutorial, you can create a fantasy photo manipulation using several Photoshop tools such as Color Range, different blending modes, and more.
This tutorial teaches you a fun and easy way to spruce up a photo for Halloween with the help of Smart Objects and Smart Filters.
If you want to create slimy, gooey, and drippy Halloween typography in Photoshop, then this tutorial is the one you should check out. The tutorial also shows how to incorporate this typography in a poster.
A tutorial that teaches you how to draw dark photo manipulation using techniques like retouching, masking, coloring, adjustment layers and more.
A detailed tutorial on illustrating a cute and scary children's illustration using techniques that you could easily incorporate into your own Halloween artwork.
Mysterious Hollow
A Photoshop tutorial that guides you in creating a mysterious landscape with tree, skulls and animals using adjustment layers and filters.
With this tutorial, you can blend together some photos into a realistic horror movie-themed composition.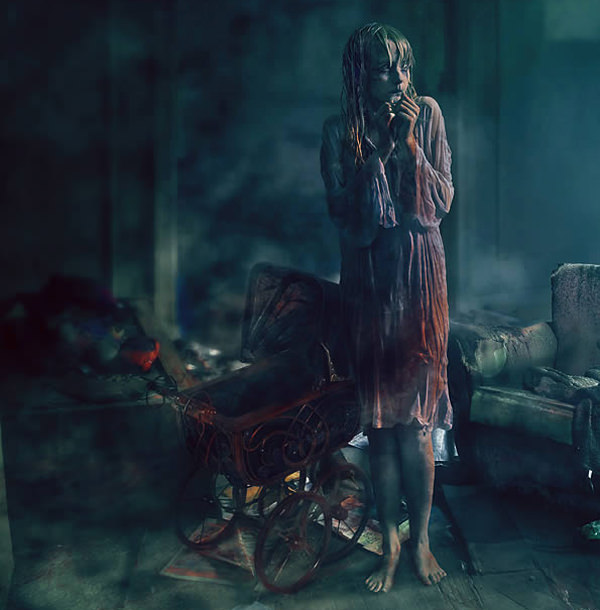 A tutorial that teaches you several photo manipulation techniques to combine two different photos into a single scary poster.
Using digital painting technique in Photoshop, you can create this amazing evil queen image with textures and brushes.
Using a combination of stock images, you can create this amazing photo manipulation with grunge-style fire.
A detailed tutorial that teaches you how to convert just about anyone into a ghost image with great Photoshop technique.