10 Websites to Edit Your Videos Online
Online video editors give you a great solution when you don't have the time, skill, or resources to edit your videos through a professional video editing app. You can do some quick video editing on the go without having to download any software.
From all the resources available online, we picked out some of the best and free online video editors for you. You can read about each tool's different features and take your pick for your next quick video editing.
Spark is a cool online video editing tool from Adobe which has already given us amazing tools like Photoshop, Premier, Illustrator, and many others. Their online video maker allows you to edit and publish any kind and just about any length of videos.
The tool offers many video themes or templates as well that can be modified according to your needs and used for any purpose. These themes are loaded with amazing effects, transitions, and color schemes and can be customized with your own text or background music.
Notable Features:
Instantly edit and publish videos to any digital destination.
Professionally created video themes and templates.
Use beackground music from the vast library or add your own songs.
Clipchamp offers some really good video editing features for your quick editing needs. The interface is simple enough that anyone can use it without having any prior video editing experience. And being online doesn't require you to download and install the tool.
You can edit clips of any size right in the browser with all kinds of customization options. There is also an extensive library of pre-made templates that you can easily customize and use in any kind of project. There are even templates for you YouTube and Instagram channel.
There are many filters and transitions that you can apply to your videos. Once your work is done, you can simply import it in your computer or share on your social media accounts right through the tool.
Notable Features:
Edit clips of any size directly in your browser.
A variety of high-quality and customizable video templates.
Balance colors, add backgrounds, and add text and subtitles.
A quick Facebook ad maker tool.
Kapwing free browser-based video editor offers a great way to edit your videos on the go. You can combine different clips, trim, cut, and cut inline and add any kind of text and background music to your videos.
You an also add special effects, transitions, filters, and even generate subtitles right through this tool. There's also a great option to import a video from YouTube and use it in your project or you can simply use one of their professionally-made templates.
Notable Features:
Use the Timeline for basic editing of your video clips.
Use the canvas for adjusting position and layout of your video and adding special effects.
Easily manage multiple media files with in the editor and reuse them in different projects.
Export the final video to your computer, post on social media, or share with anyone via link.
Animoto is an online app to create great video presentations with ease. You just need to run a few steps: firstly, choose the video template you love, then add logo, pictures or videos, music soundtracts that you like and text you might need. The last step is to produce your video to download.
Notable Features:
Drag and drop your clips to create a stunning video in minutes.
A vast library of licensed song and high quality stock images.
An array of professional templates related to different themes.
Cloud-based video editor that works on any browser on any device.
Magisto is a super cool editor that can help you make your video in just a few steps. Upload your video, choose one of dozens of pre-made editing styles, add a soundtrack you love from the list, add the title and your video is ready to download or for sharing with friends through social media.
Notable Features:
Simple interface user-friendly features.
A vast library of video templates and music to choose from.
Detailed guide on how to make your first video.
Have the almost-perfect video but just want to quickly and easily edit a certain section out? Online Video Cutter allows you to remove an unwanted part of your video. This tool supports almost video format, so it is a handy tool to use.
Notable Features:
All the basic video editing features like cropping, cutting, and rotating video clips.
Supports almost every video format out there.
For upholding the security of your work, all videos created are deleted from their server after a few hours.
Here is simple tool to transform any online video into GIF format. It's very easy to use. Just paste the video source URL and drag the slider to grab the video parts you like. You can set the GIF output for up to 15 seconds long.
Notable Features:
Turn any online video or clips into a GIF.
Drag the slider on any point of the video and create GIF in one click.
Loopster is an online video editor, with an interface that is intuitive and easy to use. It also includes more than 600 sound effects to insert into your videos freely.
Notable Features:
Extremely easy-to-use interface with many interactive tools.
Slow down or speed up video clips for better adjustment.
600+ free sound effects free to use.
Add interesting effects and pre-made titles to your videos.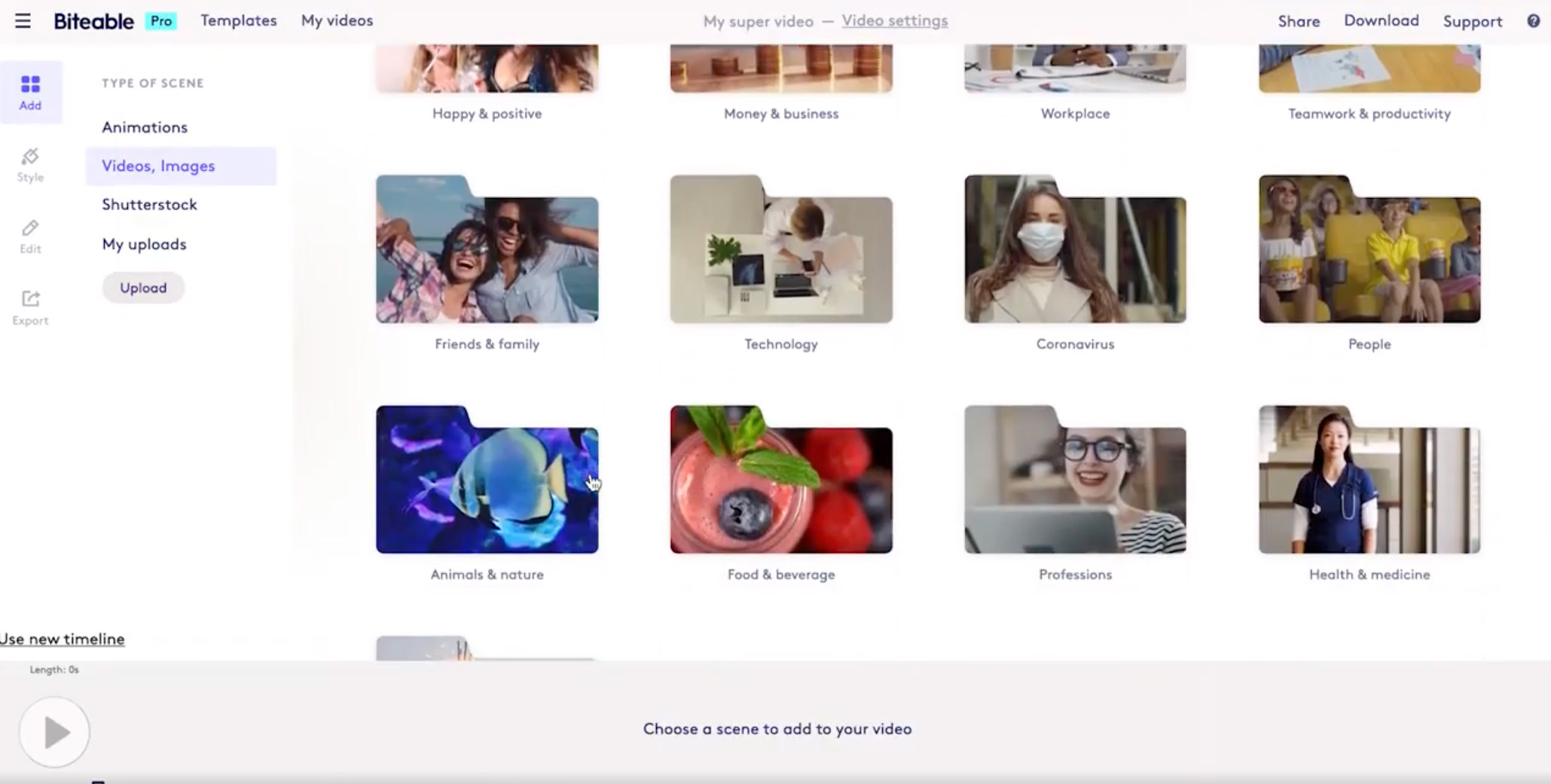 A simple and straightforward video editing tool, Biteable enables you to edit, and beautify your videos online in just a few steps. You can trim, crop, adjust, and merge clips from different sources into one interesting video.
The editing tool also gives you the option to remove audio from any kind of video, add sound effects of background music, or add animated text. You can also resize your videos to be posted on social media, create montage from your photos, and much more.
Notable Features:
Super easy interface with all necessary tools for quick video editing.
Crop your videos to the right size for posting on different social media apps.
Remove audio from your video clips and relace it with music from royalty-free music library.
Clideo online video maker lets you upload any type of audio or video file from any format and edit or adjust it according to your needs. It is a fastest way to create some amazing videos online and on-the-go.
There are many video presets or templates professional made and completely customizable so you don't need to start creating videos from scratch. Also, the tool works with Android, iOS as well as Windows and macOS.
Notable Features:
Convenient resolution presets for posting on social media.
Files are deleted after 24 hours for security of your production.
Works with all the modern image, audio, and video formats.
Bonus, a few more:
Wevideo lets you edit and make videos in an easy and intuitive way on this cloud-based app. You can control the video sections easily in areas like the transition, fast or slow motion, by adding effects, and more.
Coub is a tool for making looping videos as well as remixing videos with ease. You can take up to 10 videos from YouTube or other sources, then remix them with the addition of some nice sounds to produce great video mashups.
Although the look of the website is simple, there are useful features that you might like for your video editing needs. You can perform one of several actions for your video, including convert video, split/cut, extract video, add subtitles, add audio, crop video, add watermark, and merge one or more videos.
The YouTube video editor is a very useful tool to edit your video before publishing it. You can do quick fixes for your video including set fill light, contrast, saturation, blur, stabilizer, and set slowmotion or timelapse.