25 Great Tools and Services to Try Out Without Paying a Penny
Explore top tools with free trials or freemium models. Test before you invest.
Navigating the plethora of online tools and services can often feel overwhelming, especially when you're on a budget. Fortunately, there are many high-quality options that allow you to test their features without making an immediate financial investment. Some of these are entirely free, while others offer free trials or freemium models, letting you explore their capabilities without spending a dime.
Whether you're a budding entrepreneur, a diligent student, or simply someone looking to optimize your daily tasks, there's something here for everyone. These tools offer a no-risk way to assess their value in your life or work, giving you the freedom to experiment before making any long-term commitments. So, feel free to explore and find the tools that best suit your needs.
If you find accounting daunting, you're not alone. FreshBooks is here to help. This invoice and accounting tool is tailored for small businesses in diverse fields such as creative industries, marketing, IT, and home services.
Trial period: 30 days
After trial: $12.95/month
With FreshBooks, you can simplify your financial tasks and focus on what you do best.
Spotify is not just another music streaming service. While it does offer a free version, you can elevate your music experience with Spotify Premium. The Premium version is ad-free, allows unlimited skips, lets you play any track, and even enables you to listen offline.
Trial period: 30 days
After trial: $9.99/month
Try Spotify Premium for a month and discover a new way to enjoy music.
GameFly is often dubbed the "Netflix for gamers." It lets you stream games straight to your TV using a compatible controller. You can either rent or buy games from a variety of genres. Additionally, movies are also available for rent or purchase. As a bonus, a one-month subscription to Hulu Plus is included when you sign up.
Trial period: 30 days
After trial: $15.95/month
HBO Now is a standalone streaming service that doesn't require a traditional TV subscription. Available on various platforms like smart TVs, iOS, Android, and desktop PCs, it allows you to watch any episode at your leisure, free from HBO's broadcast schedule.
Trial period: 30 days
After trial: $14.99/month
Hulu stands as a strong competitor to Netflix, offering a wide range of past and current TV shows with minimal ads. It comes with two subscription plans, and you have the flexibility to switch between them even during the free trial.
Trial period: 7 days
After trial: $7.99/month
Discover the extensive music library of Rhapsody, where you can download and listen to songs or full albums even when offline. The service is available in 32 countries. To avoid being charged after the trial, make sure to cancel within the free trial period.
Trial period: 14 days
After trial: $9.99/month
Treehouse is your go-to platform for learning skills like web design and coding. With access to over 1000 tutorial videos and an active community forum, you're never alone on your learning journey. Opt for their annual subscription to get two months free.
Trial period: 7 days
After trial: $25 – $49/month
Sublime Text is a top-tier code editor that offers a range of features to make your coding sessions more efficient and comfortable. It's compatible with Mac, Windows, and Linux. The trial version has no time limit, allowing you to evaluate the software at your own pace.
Trial period: Unlimited
Upgrade: $70
Office 365 offers a subscription-based model for all your favorite Microsoft spreadsheet and document applications. Install these apps on up to five PCs or Macs and enjoy 1 TB of OneDrive cloud storage per user. A credit card is required for the free trial.
Trial period: 30 days
After trial: $7.99/month
Clear Slide is designed to boost your customer engagement across multiple platforms. It offers live presentation screen-sharing, engagement analytics, cloud storage, and mobile apps. Online support is also available for any queries. Try the Pro version, suitable for up to 10 users, for 30 days.
Trial period: 30 days
After trial: $35/month
PicMonkey is an easy-to-use photo-editing platform. It offers touch-up tools, design options, and collage creation features. Enjoy all these features ad-free during a 30-day trial period.
Trial period: 30 days
After trial: $33.95/month
Bigstock is your go-to source for stock photos for presentations or creative projects. With over 30 million photos, vectors, and illustrations, and 75,000 new images added weekly, you're bound to find what you need. Start your free trial with just your email address.
Trial period: 7 days
After trial: $79/month
Cloak VPN offers unlimited device usage with a single account. Choose between a mini plan with a 5G data limit or an unlimited data plan. You can also opt for weekly, monthly, or annual passes and cancel your subscription at any time.
Trial period: 30 days
After trial: $2.95/month
Backupify provides cloud-to-cloud protection for up to 3 Petabytes of data. It supports data backup for Google apps, Office 365, social media platforms, and Salesforce.
Trial period: 15 days
After trial: $3/month
Flow is designed for seamless collaboration among team members. The free trial is inclusive for the entire team, whether it comprises 2 or 50 members. Organizations like Etsy, TED, and Tesla use Flow for project management.
Trial period: 15 days
After trial: $19/month/3 users
Teamwork offers more than just project management. It also includes time-tracking and billing services. Try any of its premium plans for a 30-day trial period and switch between plans as needed.
Trial period: 30 days
After trial: $12/month
BeeBole is a timesheet application designed to monitor absenteeism and time invested in tasks, customers, or projects. It offers features like a one-click tracker, periodic timesheets, automated reminders, and comprehensive reporting.
Trial period: 30 days
After trial: €5.99/month/user
Lander allows you to construct, manage, and design your landing page using user-friendly templates. They offer a variety of templates suitable for e-Commerce, portfolios, events, products, and services. Choose from three subscription plans: Basic, Professional, and Enterprise.
Trial period: 14 days
After trial: $37/month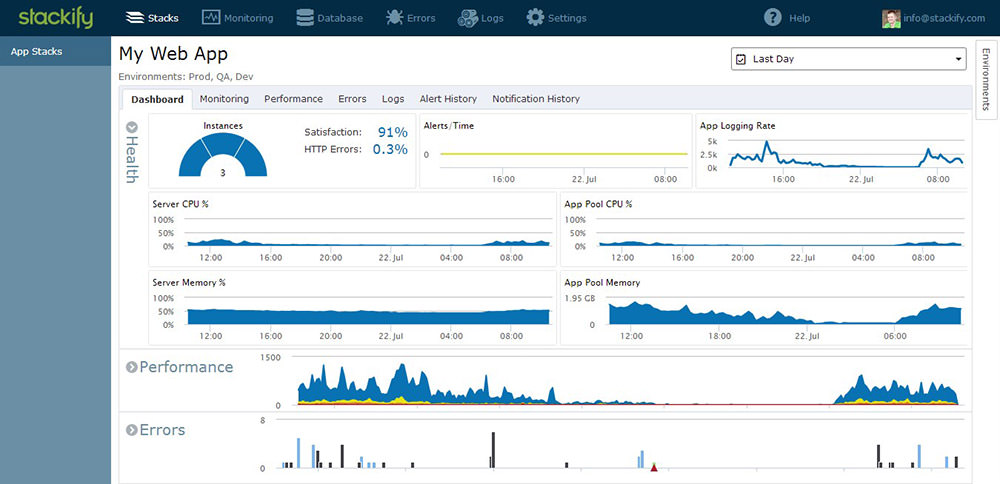 Stackify assists developers in swiftly identifying and resolving issues within applications. It offers features like metrics monitoring, log viewing, error alerts, and pinpointing slow web requests and database queries.
Trial period: 14 days
After trial: $15/month/server
Datadog is a comprehensive monitoring tool that enables you to oversee servers, metrics, cloud systems, and over 100 other applications from a single dashboard. Construct interactive dashboards using a simple drag-and-drop interface.
Trial period: 14 days
After trial: $15/host
Canvas helps you transition all your documents online. Digitize work orders, invoices, forms, estimates, and more, enabling them to be filled out directly on any mobile device. This simplifies the creation and editing process and facilitates the capture of crucial data.
Trial period: 30 days
After trial: $13/month
EditionGuard is an affordable e-book Digital Rights Management (DRM) service designed for independent authors. Distribute your books in ePub or PDF formats to over 150 different devices, ensuring protection against content piracy.
Trial period: 30 days
After trial: $69/month/10 books
Scrivener is a dedicated tool designed for writers. It assists in writing and organizing ideas, scenes, and other related materials all in one place. The free trial is available for 30 days of actual usage.
Trial period: 30 days
After trial: Starts at $35
VideoScribe allows you to create your own whiteboard animations without needing any technical expertise. With a library of royalty-free images and audio, craft the most creative presentations.
Trial period: 7 days
After trial: $12.00/month
Create impressive and visually stunning presentations using Prezi. Access your presentations from any device, and benefit from special discounts for students and teachers.
Trial period: 14 days
After trial: $4.92/month