10 Best (Free and Paid) Support Ticketing Systems
Customer service has been greatly enhanced with technology and online services, particularly when it comes to handling customer satisfaction. When customers have a problem they can now issue a ticket, bearing their info, details of their problem or requests for a solution, at the service provider's website to get them to look into their problem.
However, the process of support ticketing is not a one-task process. It involves filing a complaint, sending confirmation emails, assigning the complaint to a member of support staff, analyzing and solving your problem, and updating the records and sending notification emails etc. Companies that have a large customer database should take advantage of support ticket systems to handle their customer problems in a fast, efficient and organized manner.
In this post we will be listing top free and premium support ticket systems which will help you improve your customer support experience. Do check out the features offered and the pricing plans or visit their sites for more information.
Freshdesk is one of the best support ticketing software. You can even get it free for life for 3 support staff under the free plan. It is no less than Zendesk in terms of features and simplicity, it is also fairly easy to use and easy to manage.
Freshdesk enables your customers to effortlessly submit complaint tickets, and provides your support staff with the right tools to manage those complaints easily.
Price: Freshdesk is free to use, with plans varies from $15/month to $79/month.
Zendesk is a top-of-the-market software suite which is designed to suit the needs of the customer, agent, and manager. Its easy-to-use interface allows customers to submit their tickets via various channels (like website, email, phone, Facebook etc.). Agents can get customer profiles and threaded group conversations and managers can get relevant analytics and reports.
It is available for various mobile devices including Android, iPhone, Windows Phone, BlackBerry, etc.
Price: Zendesk starts at $49/month.
Zoho Desk offers multi-channel customer service tool that allows you to respond and follow-up with your customers. The tool makes use of AI technology to proactively triage support tickets and you can add workflow automation to manage repetitive tasks.
Moreover, you can manage customer queries through email, social media, chat, phone, and website.
You can also connect your account with third-party tools through REST APIs.
Price: Zoho Desk is free (3 agents, with limited functionalities). Plans start at $14/month.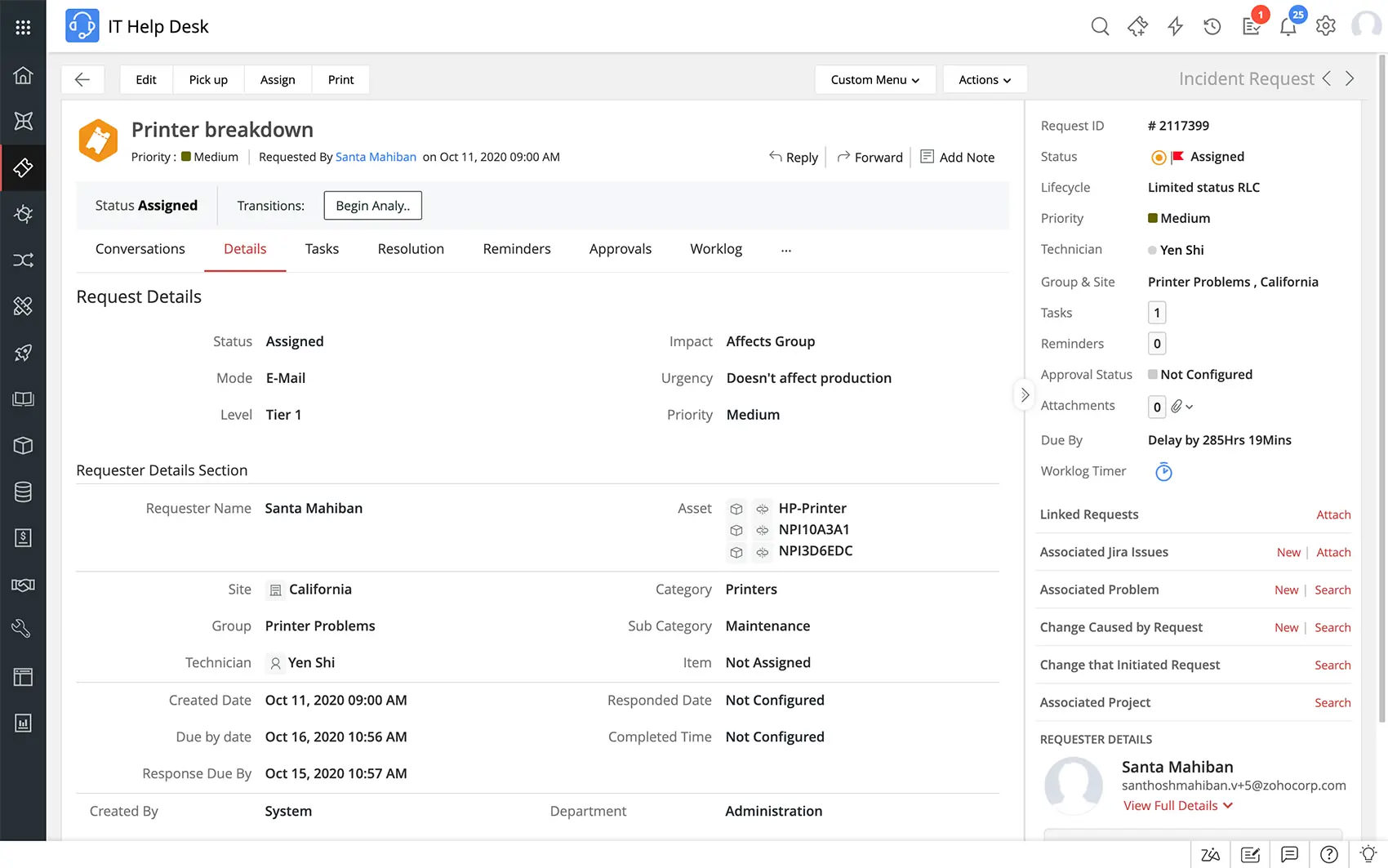 An intuitive IT and customer management tool, Manage Engine comes with many advanced features. You can avail its multi-channel support that works on almost all platforms, manage accounts and contacts of your customers, deploy a self-service portal for customers, and get all kinds of information right on the help desk.
For getting information on pricing you can enter your particulars and requirements and get a personalised quotation. But you can test the service through a limited free trial before subscription.
osTicket is the most popular open source ticket system and it comes in 2 versions: downloadable and hosted. The downloadable version is free and has to be hosted on your own server. The hosted version, branded as SupportSystem, is a paid ticketing service with the reliability and security of managed cloud-hosting.
HESK is a free help desk software. It has features like ticket submission, attachments, spam protection, email notifications, knowledge base, access restrictions, canned responses, reports and rating, etc.
Price: Hesk starts at $39.95 (one-time fee).
Spiceworks is a free software suite for IT professionals and companies. It offers many tools to simplify IT work such as network manager, help desk software, questions and answers, etc. Its help desk software is equipped with features such as tickets submission via web portal or email, tickets organization, automating ticketing job, knowledgebase etc.
Price: Spiceworks is free.
Request Tracker is a free and open source issue tracking system. It is full of features like dashboard, relationship graphs, mobile-optimized interface, time-tracking and reporting, PGP support for emails, branding and custom theming, knowledgebase etc.
Price: Request Tracker starts at $125/month.
Vision Helpdesk is a multi-channel web-based helpdesk software. With unique features like Satellite helpdesk, Ticket billing, and Blabby, it stands out of the crowd. It even links separate helpdesks to a central helpdesk. Its features can be extended using modules and app integrations, and it is available for mobile too.
Price: Vision Helpdesk has a free 30-days trial, plan starts at $12/month.
HelpSpot is a comprehensive, web-based help desk software. It has plenty of great features like centralized help desk portal, ticket management, filtering, automation, mobile-optimized interface, customer management, time tracking, benchmarking and performance reporting, multi-brand support, etc.
Price: HelpSpot has a free 21-days trial, plan starts at $14/agent/month.
JitBit Helpdesk comes in two variants: Web Based Help Desk and SaaS Help Desk. The former can be can be downloaded (upon purchase) and hosted on your server while the latter is hosted remotely in JitBit's cloud and can be accessed through the Web. It offers features like knowledgebase, reporting, asset-tracking, customizable interface, allows unlimited agents, email integration, etc.
Price: JitBit Helpdesk's plan starts at $1699/year.
Kayako provides unified help desk support and multiple channels to more than 30,000 organizations. Some of its features include tickets through helpdesk or email, routing and prioritizing tickets, reports, feedback and ratings, etc.
Price: Kayako's plan starts at $30/month.
Bonus: Ticket Systems for CMS
This ticket system is loaded with features and has two versions. The free version has basic ticketing features, while the premium version gives you more features to handle customer tickets more easily and efficiently. Features can be extended using plugins.
Here's a ticketing system for Drupal. It does not offer many features, only elementary ticketing features like creating tickets, assigning tickets to users, email integration and notifications, ticket overviews, and ticketing activity charts.
This is a premium help desk ticketing system for Joomla. It includes features like ticket creation and management, automatic ticket assignment, performance management, integrated knowledge base, customized email messages, and a dashboard for quick access to all areas of the customer support.