10 Best (Free and Paid) Support Ticketing Systems
All big and small companies these days are using support ticket systems to handle their customer problems in a fast, efficient, and organized manner. Hence, we've seen growth in ticketing systems with many advanced features.
In this post, we will list the top free and premium support ticket systems that will help you improve your customer support experience. We've listed features, pricing plans, and some pros and cons for each tool that'll help you make an informed decision. Let's take a look.
Salesforce's Service Cloud allows you to offer an efficient and personalized customer experience. The customer agents can access all of the customer data through a unified dashboard. Plus, the managers can optimize the performance of their sales team through apps and AI-powered insights.
Some coolest features of Salesforce's Service Cloud include a service console with keyboard shortcuts and templates, efficient case management with access to complete customer interaction data, service automation, analytics, and a vast knowledge base for agents.
Service Cloud's price:
Essential plan starts at $25/user/month; Professional plan at $75/user/month; Enterprise plan at $150/user/month and Unlimited plan at $300/user/month. Salesforce Service Cloud does not have a free plan, but all plans comes with a 30-day trial.
PROS
Add or remove features according to your requirements.
Efficient sales team management and agent performance optimization.
It's easy to implement and scale as per your needs with minimal coding requirements.
CONS
The tool is expensive. You have to pay for add-ons to make the best use of the platform.
The interface is a bit cluttered, with somewhat complex navigation.
It entirely relies on the Salesforce database, which gives you less control over CRM upgrades.
SysAid is a versatile help desk software that enables customer care and IT staff to deal with customer issues in an efficient way. Instead of having to manually post tickets, the tool sorts, routes, and sends tickets to the relevant desks and prioritizes them automatically.
Additionally, there are options for your help desk employees to resolve many customer issues themselves through the self-service portal. Plus, they can remotely access user machines and manage IT assets through the service desk.
SysAid's price:
SysAid Helpdesk Software offers a free-trial. Basic or Full Edition ranging from $1211 with 500 assets and 5 users/ year, or $1611 for 1000 assets/year.
PROS
Easy set up and codeless configuration.
Efficient automation to sort and send the tickets to the right help desk.
On-premise delivery mode that allows employees to respond to customer requests faster.
Remote access to user machines to resolve issues quickly.
CONS
The options in the free version are limited. For more advanced features, you have to subscribe to a paid version.
Though configuration is easy, but too many options overwhelm users.
Software license management is a bit tricky
Click here to read our review on SysAid.
Freshdesk is one of the best support ticketing software. You can even get it free for life for 3 support staff under the free plan. It is no less than Zendesk in terms of features and simplicity, it is also fairly easy to use and easy to manage.
Freshdesk enables your customers to effortlessly submit complaint tickets and provides your support staff with the right tools to manage those complaints easily.
Freshdesk's price:
Freshdesk is free to use, with plans varies from $15/month to $79/month.
PROS
Modern and feature-rich interface.
Available across different platforms
Workflow automation and multiple integrations
CONS
No SMS integration.
Free plan is available but doesn't include many of the advanced features.
Zendesk is a top-of-the-market software suite that is designed to suit the needs of the customer, agent, and manager. Its easy-to-use interface allows customers to submit their tickets via various channels (like website, email, phone, Facebook, etc.). Agents can get customer profiles, and threaded group conversations and managers can get relevant analytics and reports.
It is available for on both Android and iOS.
Zendesk's price:
Zendesk starts at $49/month. Try a demo.
PROS
Many options for customer engagement.
Supports many file formats you can upload in the tool.
Community theme selection and Global UI change feature.
CONS
Not much flexibility in structural changes.
Ticketing lacks a sorting feature.
No 2-way sync for integrations.
Zoho Desk offers a multi-channel customer service tool that allows you to respond and follow up with your customers. The tool makes use of AI technology to proactively triage support tickets and you can add workflow automation to manage repetitive tasks.
Moreover, you can manage customer queries through email, social media, chat, phone, and website.
You can also connect your account with third-party tools through REST APIs.
Zoho Desk's price:
Zoho Desk is free (3 agents, with limited functionalities). Plans start at $14/month.
PROS
Integration with any website through a simple widget.
Track your tickets and agents right through the intuitive dashboard.
Communicate with your customers across different platforms.
CONS
Not easily scalable in the face of increased demand.
No desktop app.
Requires a lot of customization to get started.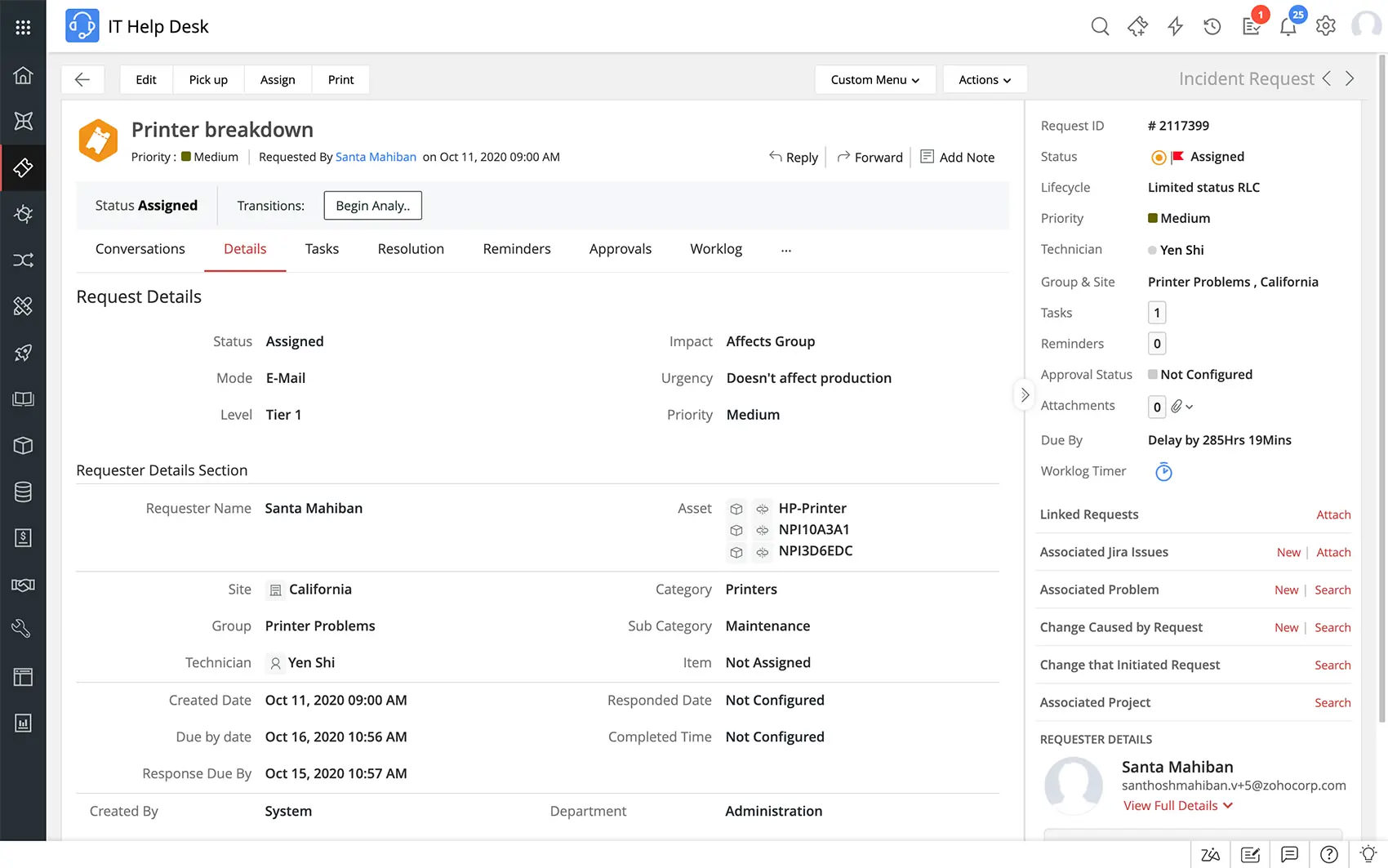 An intuitive IT and customer management tool, Manage Engine comes with many advanced features. You can avail its multi-channel support that works on almost all platforms, manage accounts and contacts of your customers, deploy a self-service portal for customers, and get all kinds of information right on the help desk.
For getting information on pricing, you can enter your particulars and requirements and get a personalized quotation. But you can test the service through a limited free trial before subscription.
ServiceDesk Plus's price:
ManageEngine ServiceDesk Plus has a free trial after which you can ask for a pricing quote.
PROS
Ticket logging for end users so they can see the progress of their query.
Incident, problem, and change management.
Automate responses and keep a history of requests.
CONS
Set up can be a bit confusing as there's not enough documentation
Lags a bit when it comes to updates.
Tidio is an all-round customer communication tool that includes a live chat, chatbots, email marketing templates, and its own ticketing system. It allows the management of all support requests in one place, in an organized and efficient manner.
With Tidio, you can set priorities, assign tasks, and follow-up on older conversations without connecting any third-party tools. This will make the process easier and more pleasant both for support agents and your clients.
Tidio's price:
Tidio ticketing is available for free. Paid plans with additional features start from $17 monthly.
PROS
Easy setup without any coding required.
Simple organization and customization of your support conversations.
Efficient management of requests.
Teamwork-optimized tool.
Free plan available.
CONS
Free plan features are limited. To get more advanced options you have to sign up for a paid plan.
The number of features and customization options might seem overwhelming for a new user.
osTicket is the most popular open source ticket system and it comes in 2 versions: downloadable and hosted. The downloadable version is free and has to be hosted on your own server. The hosted version, branded as SupportSystem, is a paid ticketing service with the reliability and security of managed cloud-hosting.
osTicket's price:
osTicket is free.
PROS
Simple to set up.
Comprehensive documentation.
Merging duplicate tickets and reminders for stale tickets.
CONS
Not available on mobile app.
Ticket analytics are somewhat basic.
HESK is a free help desk software. It has features like ticket submission, attachments, spam protection, email notifications, knowledge base, access restrictions, canned responses, reports and rating, etc.
Hesk's price:
Hesk starts at a one time fee of $39.95. (Try a demo.)
PROS
Easy to set up, customize, and work with.
You can use either or both the help desk or knowledgebase features.
CONS
Management panel needs improvement in terms of UI.
There's no SMS integration.
Spiceworks is a free software suite for IT professionals and companies. It offers many tools to simplify IT work such as network manager, help desk software, questions and answers, etc. Its help desk software is equipped with features such as tickets submission via web portal or email, tickets organization, automating ticketing job, knowledgebase etc.
Spiceworks's price:
Spiceworks is free.
PROS
Create tickets from multiple sources.
Comprehensive documentation and knowledgebase.
Offers a seamless workflow and great customization.
CONS
The desktop app lacks many of the core functionalities.
Third-party app integrations are not very seamless.
Notifications need improvement.
Request Tracker is a free and open source issue tracking system. It is full of features like dashboard, relationship graphs, mobile-optimized interface, time-tracking and reporting, PGP support for emails, branding and custom theming, knowledgebase etc.
Request Tracker's price:
Request Tracker starts at $125/month.
PROS
Web-based tool can be accessed anywhere.
Can be used by big and small businesses alike.
Customer support offers different support plans.
CONS
No mobile app available.
Customer support is only available for paid plans.
Vision Helpdesk is a multi-channel web-based helpdesk software. With unique features like Satellite helpdesk, Ticket billing, and Blabby, it stands out of the crowd. It even links separate helpdesks to a central helpdesk. Its features can be extended using modules and app integrations, and it is available for mobile too.
Vision Helpdesk's price:
Vision Helpdesk has a free 30-days trial, plan starts at $12/month.
PROS
Multi-layered customization options.
Emails are organized and professionally structured.
Quite affordable for every kind of business.
CONS
Third-party integrations are not efficiently incorporated.
Very few out of the box configurations, you have to most of the setup yourself.
HelpSpot is a comprehensive, web-based help desk software. It has plenty of great features like centralized help desk portal, ticket management, filtering, automation, mobile-optimized interface, customer management, time tracking, benchmarking and performance reporting, multi-brand support, etc.
HelpSpot's price:
HelpSpot has a free 21-days trial, plan starts at $14/agent/month.
PROS
Easy reporting through custom categories and sub-categories.
Efficient workflow automation through multiple rules.
Organize customer conversations and quickly retrieve ticket history.
CONS
UI is a bit outdated and somewhat buggy.
The mobile app is a bit cumbersome to use.
JitBit Helpdesk comes in two variants: Web Based Help Desk and SaaS Help Desk. The former can be can be downloaded (upon purchase) and hosted on your server while the latter is hosted remotely in JitBit's cloud and can be accessed through the Web. It offers features like knowledgebase, reporting, asset-tracking, customizable interface, allows unlimited agents, email integration, etc.
JitBit Helpdesk's price:
JitBit Helpdesk's plan starts at $1699/year. (Try a demo.)
PROS
Effcient filtering for email notifications.
Clean and uncluttered interface.
Detailed analytics and metric tracking.
CONS
Quite expensive, without any free version.
Automation for the integrations is missing.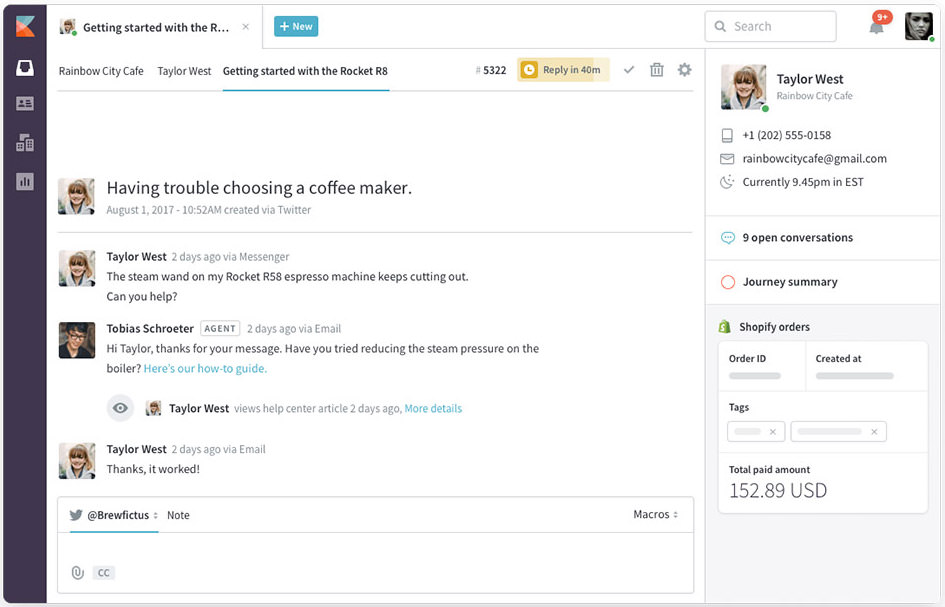 Kayako provides unified help desk support and multiple channels to more than 30,000 organizations. Some of its features include tickets through helpdesk or email, routing and prioritizing tickets, reports, feedback and ratings, etc.
Kayako's price:
Kayako's plan starts at $30/month. (Try a demo.
PROS
User-friendly interface with intuitive UI.
An impressive ticketing system.
Visibility and SLA management.
CONS
Difficult to generate reporting.
Customer support could be more efficient.
Pretty expensive for a small/medium business.
Bonus: Ticket Systems for CMS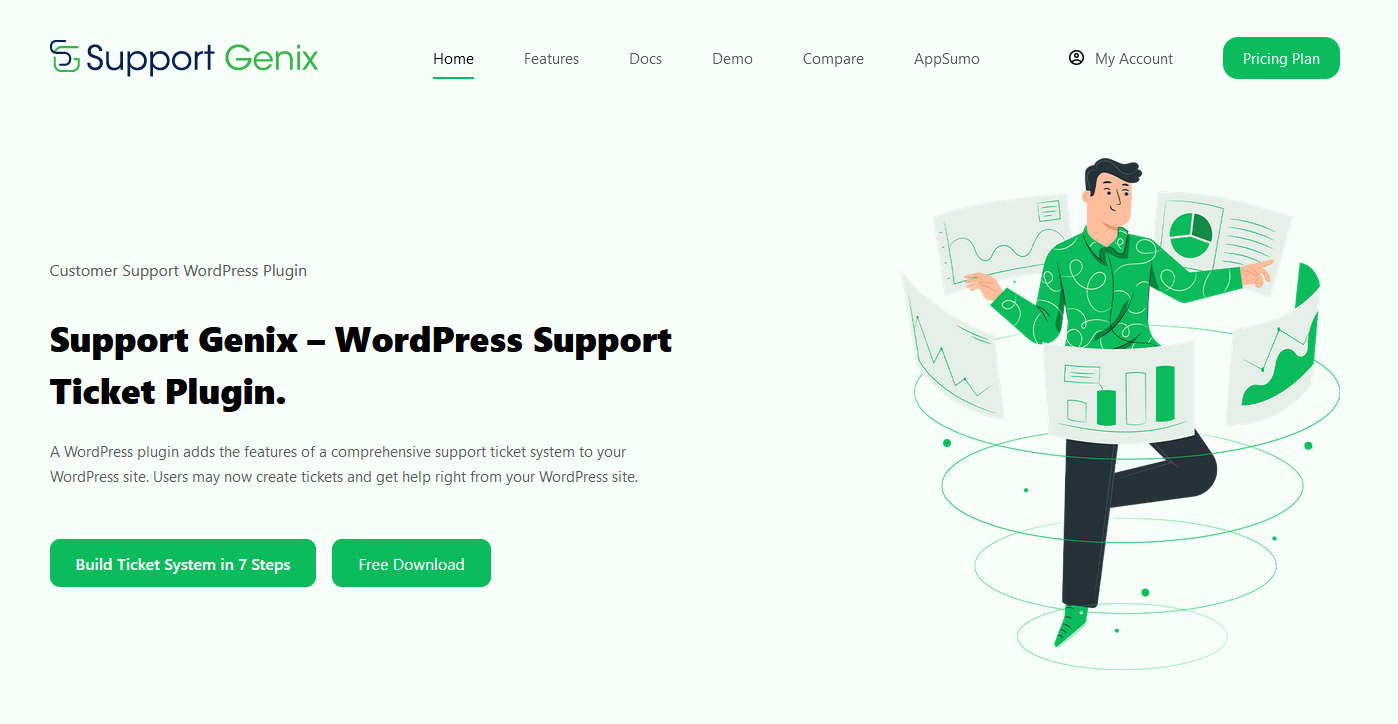 If your goal is to improve customer support straight from your WordPress dashboard, look no further than Support Genix. With a robust WordPress ticketing system plugin, you can quickly generate and manage support tickets. The transfer feature allows you to move issues between departments or teams easily whenever needed.
If you have a business with an ever-growing customer base, the Genix Support ticket plugin is perfect for handling all of your customer's inquiries. Thus, this amazing WordPress Support Ticket Plugin can easily manage everything from one place.
Support Genix offers both a free and a pro version, with the pro version offering additional features and support. The most affordable Personal package comes in at just $29/year, which includes unlimited tickkets as well as business email piping. Alternatively, you can make a one-time payment of $59 and get access to similar features with lifetime updates and support.
This ticket system is loaded with features and has two versions. The free version has basic ticketing features, while the premium version gives you more features to handle customer tickets more easily and efficiently. Features can be extended using plugins.
Here's a ticketing system for Drupal. It does not offer many features, only elementary ticketing features like creating tickets, assigning tickets to users, email integration and notifications, ticket overviews, and ticketing activity charts.
This is a premium help desk ticketing system for Joomla. It includes features like ticket creation and management, automatic ticket assignment, performance management, an integrated knowledge base, customized email messages, and a dashboard for quick access to all areas of customer support.