Prototyping Tools and Practices That Yield Maximum Benefits
Taking a prototyping approach to an app or website design project brings with it several benefits. Peer/Client reviews and feedback, together with testing and validation activities conducted early on, can contribute greatly to the creation of a highly successful user experience.
The benefits of prototyping can be maximized by selecting and using the best tools available. To that end, we will be naming five prototyping tools you can count on in this post.
But first, let's take a look at some of the best practices in prototyping that designers are encouraged to follow to take full advantage of what the tools they use have to offer.
Best practices for ensuring quality user experience
There are certain practices one should follow to ensure a prototyping effort will produce a successful outcome. These three are among the most important:
1. Test Your Prototype
One of the primary benefits of prototyping is how easy testing, including usability testing, can be done early on.
Soliciting team members and client feedback is one means of testing, but you will also want to test your mockup on real devices and on real users to gain the greatest benefit. Test early and test often.
Usability Testing: What You need to Know?
Usability Testing: What You need to Know?
Usability testing is often a misunderstood part of the web design process. While most designers, developers, and business... Read more
2. Don't Save Animations for Last
The use of animation in apps has become increasingly popular since this feature makes a website or app more responsive to user interactions.
When a function or feature is expected to significantly enhance user experience, it only makes sense to incorporate it into the design early on so it can be adequately tested. Include animations in your prototypes, even if they are low-fidelity, simplified versions.
3. User Flows Provide a Foundation
The importance of sketching out user flows up front cannot be overemphasized. Business flows illustrate how information is to be presented to the visitor.
User flows indicate how an end user could best navigate through a site and what actions that user would need to take to reach his or her objective. Once a design has been firmed up, user flows can be difficult to modify.
Great Prototyping Tools
Each of these tools has its special features and unique strengths. Any one of them will allow you to maximize the true benefits of prototyping, such as real-time collaboration and using reviews and feedback to make important changes early on.
These tools also permit the early introduction and testing of important usability features.
Mockplus is an easy online prototyping tool that promises to speed up your prototyping at least 2x faster. It helps you create any fidelity of interactive prototypes fast, share, test, and iterate with your team together via a single link.
With a whole library of over 3000 + built-in design elements and templates, you can design anything from beautiful prototypes and wireframes to rich hi-fi designs in just minutes. No need to start from scratch. Its powerful asset libraries also allow you to easily design UI layouts and patterns once and reuse them across pages, prototypes, and even teams forever.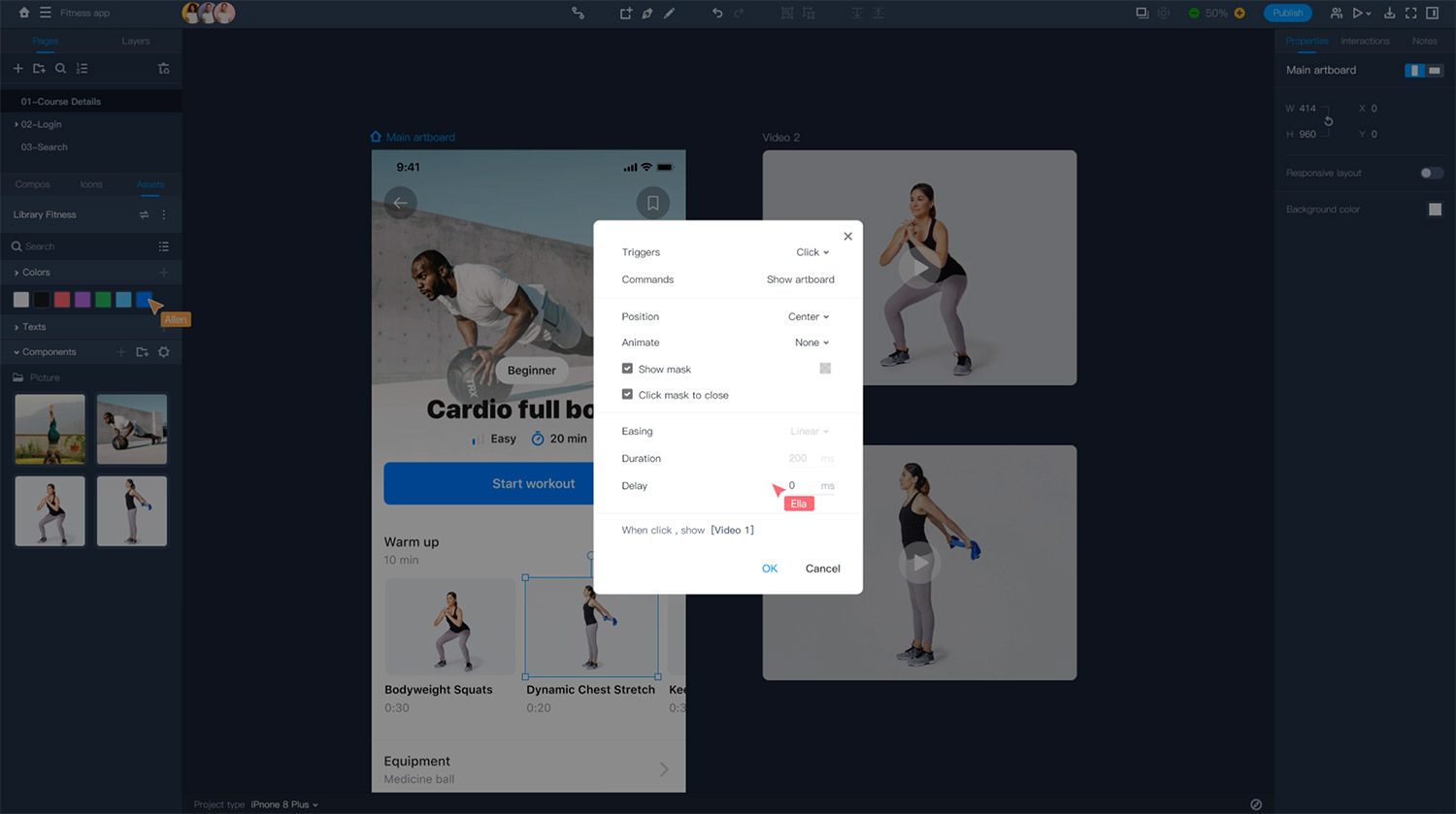 If your projects involve many user flows, interactions, and animations, you may create clear user flows and animate your prototypes with just drag-and-drop to test the real behaviors of your users early.
Along with the prototyping feature, you can also import your designs from other design tools to its collaborative platform Mockplus Cloud for further collaboration and handoff. It has a design review, resource hub, design systems, and Storyboard for user flows, along with powerful task management and commenting features, all in one place, online.
Proto.io is a web-based tool that offers a powerful solution for delivering high-fidelity prototypes that have the look and feel of the real thing. If your project involves designing or prototyping Windows, Android, or iOS native apps, you will appreciate being able to accurately simulate gestures and transitions such as touch, swipe, pinch, pan, and tap.
The fact that Proto.io has a huge user base speaks for itself. This tool is not only used by small teams or individual contributors; it is also a favorite of several large corporations who use it to create prototypes before investing resources in formal design and development.
In addition to a large design and UI element library, to which you can add your own design elements, there is ample support in documentation, webinars, user forums, and helpful customer support staff. This is the right choice if you want to create a prototype that simulates an end product to perfection.
Pidoco is also an online prototyping tool. It supports a wealth of different activities, including a collaborative environment where several designers can work together in real-time and where commenting and versioning are well supported.
This tool is noted for its flexibility, due in part to a feature that enables you to insert common wireframe elements onto multiple pages by means of its global layer feature and view any page in the web browser or on iOS and Android devices. The package also includes a 400+ design element library.
The best way to get an idea of what Pidoco has to offer is to visit their website and view their excellent little video that shows how easily a mockup can be constructed.
InVision advertises itself as the world's most powerful prototyping tool, and that claim may not be far off the mark. In addition to incorporating standard mockup design features and functions, this prototyping tool maintains total version control even during fast-paced and hectic design review and change sessions.
Thanks to its built-in presentation tool, LiveShare, real-time collaboration with team members is possible, allowing you to accomplish more in less time. You can select a point on the mockup and invite comments, which will then be tied to that point or design detail for future reference.
With InVision, you can easily interact with your website or app from a mobile device. This tool also maintains a version history of your past design iterations. Once you start using InVision, you might wonder how you ever got along without it.
HotGloo is an invaluable asset in every designer's toolbox. Easy to use, this prototyping tool includes every feature you need to create an interactive wireframe. HotGloo supports parallel prototyping activities with other team members so you can all work on the same project at the same time.
Your wireframes can be reviewed and edited in real time. If you are looking for a tool to create a blueprint for your future website or app, you don't need to look any further.
Since this powerful and versatile prototyping tool is a Microsoft PowerPoint add-on, PowerMockup could be your best choice if you are an experienced or dedicated PowerPoint user. You can then take advantage of a number of PowerPoint's many robust features to create and demonstrate a high-fidelity mockup.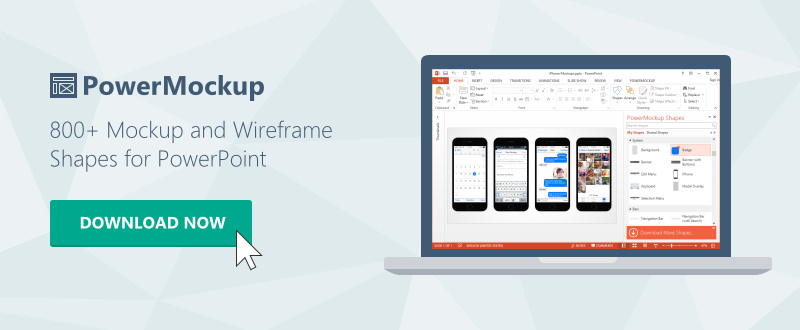 The best way to find out how PowerMockup can work for you is to visit their website and download their free trial version. Over 800 different low and high-fidelity shapes are available to help you start your prototyping quickly.
Choosing The Right Tool
Prototyping encourages collaboration with team members and/or clients as you go about creating a blueprint for your eventual design/development efforts.
Whether you are a PowerPoint user, interested in a web-based tool, or if you prefer working with a standalone tool, there is something here that will meet your needs. Using any one of these top-of-the-line tools while at the same time adhering to the prototyping best practices will virtually ensure that the end product will satisfy your expectations for a great user experience.
For superior results, test early and often, introduce animations early on, and take full advantage of the benefits achieved by creating user flows.