10 Useful Wireframing and Prototyping Tools (2023)
Step up your design game with these must-have wireframing and prototyping tools.
A wireframe is more than just a simple sketch; it's the foundational framework that outlines the structure and functionality of a digital project, be it a web page, mobile app, or any other digital interface. Acting as a visual guide, wireframes are crucial for aligning the team on the design vision, thereby streamlining the development process. While traditional pencil-and-paper methods are still in use, the advent of digital wireframing tools has significantly elevated the design process by adding layers of efficiency, collaboration, and shareability.
To assist you in choosing the perfect wireframing tool that aligns with your design objectives, I've conducted extensive research, sifting through dozens of available options. The result is a carefully curated list of ten top-tier wireframing tools that stand out for their features and user experience. Whether you're a seasoned professional or just stepping into the world of design, these tools are equipped to help you transform your design ideas into tangible, testable concepts with ease.
What is Wireframing and Why is it Essential?
Wireframing is the initial step in the design process, serving as a minimalist outline for digital projects like mobile apps, landing pages, and websites. In this phase, designers use basic shapes like rectangles and lines to represent what will eventually become complex elements such as images, text blocks, and interactive buttons. Once the basic structure is agreed upon, the wireframe can be evolved into a high-fidelity prototype that closely resembles the final product.
The Benefits of Wireframing
Wireframing is an invaluable tool for designers and clients alike. It allows for the exploration of multiple design concepts without requiring significant time or financial investment. Wireframes can be low-fidelity, resembling rough sketches, or high-fidelity, offering a more detailed representation of the final design. These wireframes can then be tested for usability, helping to determine the most effective design approach.
Prototyping: The Next Step
Prototyping takes wireframing a step further by creating a functional version of the website using specialized prototyping tools. These prototypes mimic the final site's navigation structure and layout, providing valuable insights into user interaction with the new design. Prototyping is a quick and effective way to produce a live site for client review and offers a reliable preview of the final product.
Versatility of Tools
Many of the tools available today are versatile enough to handle both wireframing and prototyping, eliminating the need to separate them into different categories. Whether you're a designer looking for the right tool or a client seeking to understand the process, these multifunctional tools offer a range of options to suit various needs.
Overview
|   | Platform | Best For | Pricing | Free Plan Available? |
| --- | --- | --- | --- | --- |
| Lucidchart | Online/Web | Easy use, real-time teamwork | $7.95/month | Yes |
| Figma | Online/Web | Budget-friendly, all-in-one design | $12/user/month | Yes |
| Uizard | Online/Web | AI-powered design | $144/year or $12/month | Yes |
| Whimsical | Online/Web | User-friendly, focus on content | $10/user/month | Yes |
| Balsamiq | Online/Web, Desktop | Sketch-like approach | Starts at $9/month | No |
| Visily | Online/Web | AI-driven, easy for non-designers | Free plan with limitations | Yes |
| UXPin | Online/Web | Detailed design, design-to-code transition | Starts at $14.50/user/month | Yes |
| MockFlow | Online/Web | Real-time collaboration | $14 to $19/user/month | Yes |
| Moqups | Online/Web | Beginners, limited features | $9/month for individuals | Yes |
| Sketch | Mac | Mac users, large community | $120/year for individuals | No |
| Justinmind | Desktop | User-friendly, interactive wireframing | Starts at $9/month | Yes |
Lucidchart: Your Easy-to-Use Online Tool for Wireframing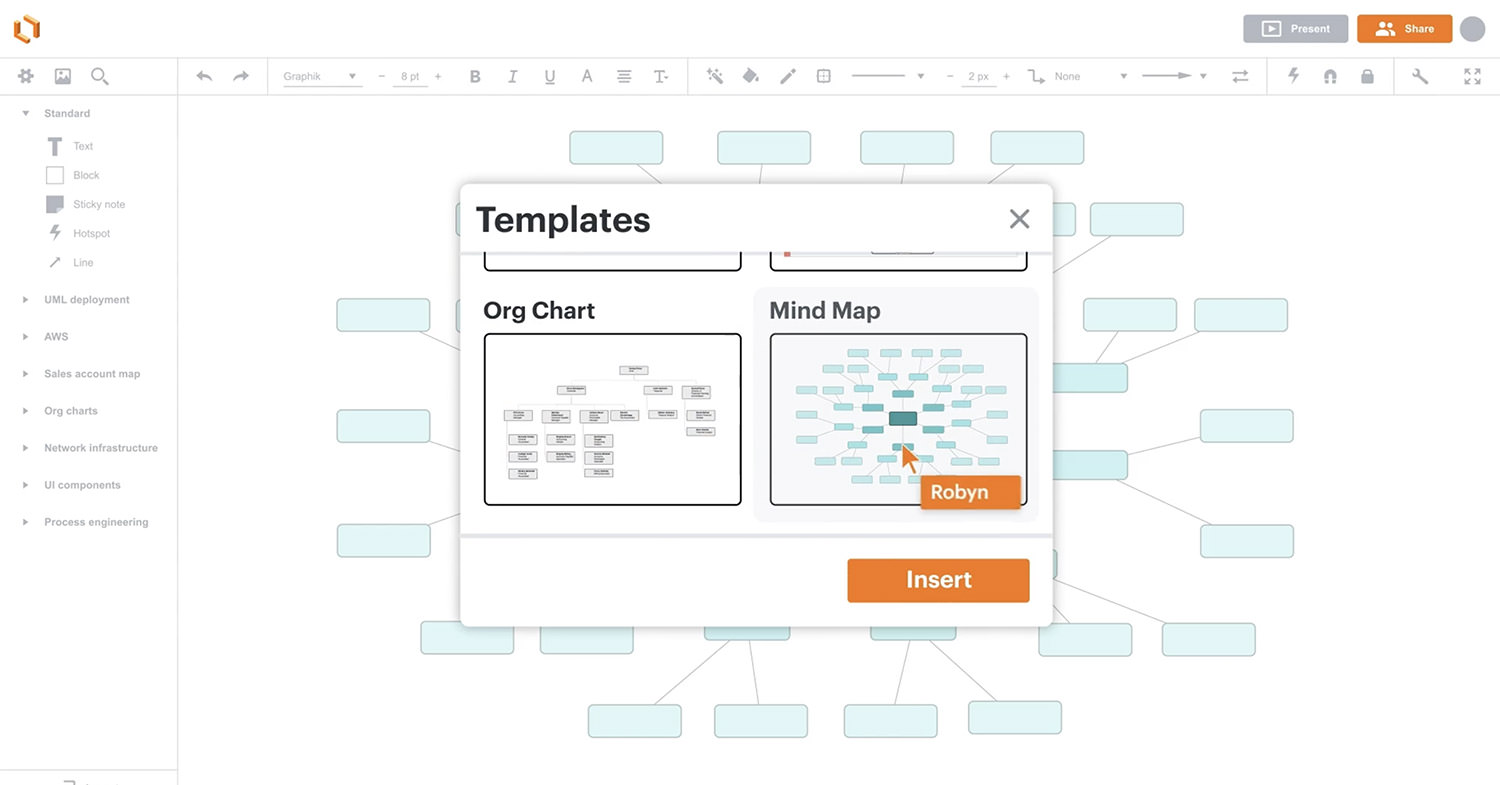 Lucidchart makes it simple to create app wireframes without any downloads or installations – it all happens online. It comes with a variety of ready-made templates and a straightforward drag-and-drop feature on an unlimited workspace. It's built for easy use and allows for real-time teamwork through in-app chat, instant data updates, and secure saving. Even if you're new to wireframing, you'll get the hang of it quickly. It also makes team collaboration easier with options for comments, tasks, sharing, and tracking changes, making it perfect for both remote and mixed-location teams.
Compatibility and Flexibility
Lucidchart is more than just a standalone app; it's a versatile platform. It works well with Microsoft Office and has free add-ons for Google Docs, Sheets, and Slides. It's also compatible with many other services like Salesforce, Atlassian, LinkedIn Sales Navigator, Slack, AWS, and GitHub. Plus, it connects smoothly with Lucid's own brainstorming tool, Lucidspark. This makes it easy to move from brainstorming to creating formal wireframes and diagrams.
Cost
Lucidchart is affordable, with a monthly subscription fee of just $7.95. If you want to test it out first, there's also a free version available.
Figma: An Affordable, Cloud-Based Tool for Wireframing
Figma is a feature-rich, cloud-based wireframing tool that's great for people on a budget or teams looking for an all-in-one design platform. It works seamlessly with FigJam, Figma's online whiteboard, making it easy to go from brainstorming to wireframing and prototyping. While you'll need to create or upload your own UI elements, Figma makes the design process simple with a user-friendly side panel and tools like vector pens for detailed work.
Teamwork and Developer-Friendly Features
Figma is built for collaboration. Since it's web-based, team members can access and edit designs in real-time. It also has a Spotlight tool for demos and meetings, and an in-app comment system that works like sticky notes for easy communication. When you're ready to start coding, Figma's Dev Mode lets developers pull CSS code and object details straight from the design files.
Cost
Figma offers a range of pricing options. The free plan is quite generous, allowing up to three projects. If you need more, the Professional plan costs $12 per user per month and offers unlimited projects.
Uizard: AI-Powered Wireframing for Quick and Easy Design
Uizard stands out for its advanced AI features that make UX/UI design easier. Launched in March 2023, its Autodesigner tool lets you create UI designs just by typing a text prompt. The platform can even turn hand-drawn sketches and website screenshots into digital wireframes. These AI tools make Uizard a time-saver for designers, even on the Pro plan, which costs $144 per year.
Pros and Cons, Plus Collaboration Tools
While Uizard has some cool features, it's not perfect. For example, the AI text generator could be better. But it's still a strong tool for wireframing, offering real-time collaboration, multiple export options, and high-quality prototyping. It also has a variety of templates and design elements to make your work easier.
Price
Uizard has pricing plans to fit different needs. There's a free version with limited AI features and up to two projects. The Pro plan is $12 per month per creator and gives you full access to all templates and extra AI features. Overall, Uizard is a versatile and innovative tool worth considering for your design projects.
Whimsical: A User-Friendly Wireframing Tool for Everyone
Whimsical is a wireframing tool that's easy to use for both experts and beginners. It works right in your web browser, so you don't need to download anything. It has a wide range of customizable elements like buttons and checkboxes, as well as a big selection of icons. This makes it simple to create basic but detailed wireframes that look good and focus on content.
Extra Features and Easy Collaboration
Whimsical is more than just a wireframing tool. It also supports different types of files like mind maps and flowcharts, letting you easily switch between different parts of your project. Teamwork is a breeze with options to set who can edit, comment, or view your work. For extra security and to make your work easier, Whimsical can connect with GitHub, be added to Notion documents, and supports two-factor authentication.
Cost
Whimsical is affordable, starting at $10 per user per month. If you want to try it out first, there's a free plan with some limited features.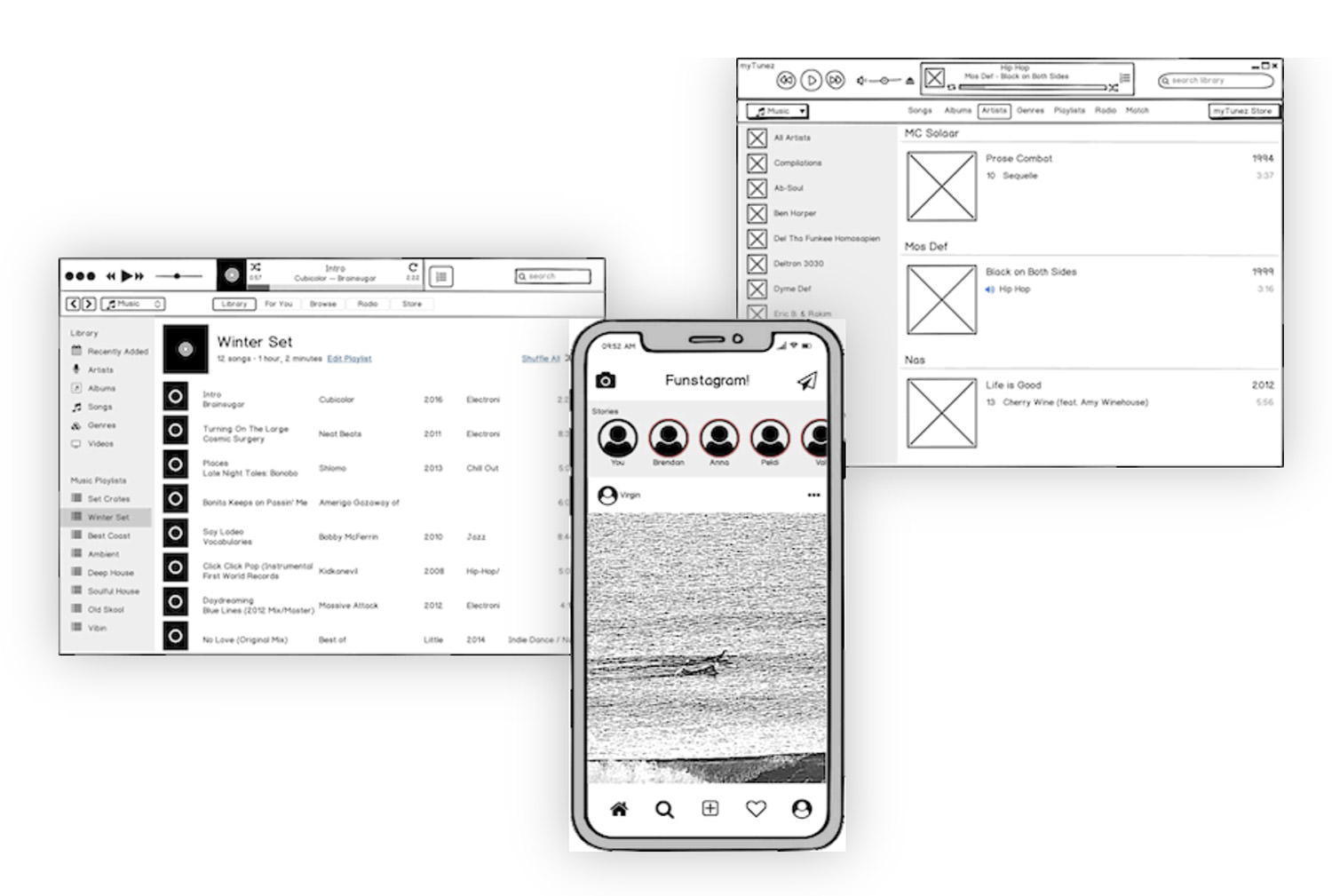 Balsamiq Wireframes focuses on a sketch-like approach to wireframing, keeping things simple so you can concentrate on the structure of your project. It's easy to use and popular among UX designers. While the main color scheme is gray to avoid distractions, you can add some color through notes and callouts.
Easy Integration and Versatility
Balsamiq works well with Atlassian's Jira and Confluence, as well as Google Drive. This makes it a flexible option whether you're in a big company or freelancing.
Cost
Balsamiq has different pricing options to fit your needs. The cloud version starts at $9 a month for up to two projects and offers a 30-day free trial. There are also desktop and Google Drive versions for more flexibility.
Visily: Simple, AI-Driven Wireframing
Visily is designed for people who aren't designers, using AI to make wireframing easy. You can turn hand-drawn sketches into digital wireframes with just a few clicks. It also has strong collaboration features and organizational tools like project folders and a handy navigator view.
AI Features and User Help
While its AI features are still being developed, Visily offers a sketching guide to help you get the most out of the tool as it improves.
Cost
Visily aims to be accessible, offering a free plan with no credit card needed. This includes unlimited viewers and editors, 100 AI credits, over 1,000 free templates, and multiple export options, making it a versatile choice for individuals and teams.
UXPin: Detailed Wireframing with Easy Design-to-Code Transition
UXPin is a robust wireframing tool that's popular for its detailed capabilities. It allows for high-fidelity wireframing, meaning you can create very detailed designs easily. It's compatible with Sketch and Photoshop files and has a live presentation feature for sharing and getting feedback.
Learning and Development Tools
UXPin has a lot of features, which can be a bit much for beginners. However, it's built to make the transition from design to coding easier, offering HTML-ready elements and a feature to import React.js components from Git repositories.
Cost
UXPin offers various pricing options. There's a free plan for up to two prototypes, and the paid Advanced plan starts at $14.50 per user per month if billed annually, including unlimited prototypes and reviewers.
MockFlow: Easy Wireframing with Real-Time Teamwork
MockFlow is an online wireframing tool that's great for real-time collaboration and is easy to use. You can manage multiple projects from one dashboard and even sort your wireframes automatically. It works well with Slack and Microsoft Teams, and also offers extra features like AI-generated images and text.
Cost
MockFlow has different pricing plans, starting with a free option for one UI project. Paid plans range from $14 to $19 per user per month and offer more features like advanced organization tools. Some users have reported occasional lag, but overall it's well-received. For comparison, Mockplus is another tool with similar features, starting at $199/year for individuals and $1999/year for teams.
Moqups: Easy Designing for Beginners and Teams
Moqups is aimed at beginners and teams, offering a simple platform for wireframes, flowcharts, and more. It has a variety of templates and an easy-to-use side panel for adding shapes and icons. It also offers real-time editing and works with Google Drive, Trello, Slack, and Jira.
Limitations and Things to Consider
Moqups does have some limitations like no offline use and fewer features compared to other tools. The free plan limits you to two projects and doesn't allow exporting designs. Some advanced features are also missing.
Cost
Moqups is affordable, starting at $9 per month for individuals and $15 per month for teams, making it a good option if you can work within its limitations.
Sketch: Design Made Easy for Mac Users
Sketch is a long-standing favorite among Mac users, offering a versatile platform for wireframing and more. It's easier to use than some other design tools and benefits from a large online community that shares wireframe kits. It also offers templates for Android and iOS app icons and integrates with Unsplash for royalty-free images.
Teamwork and Compatibility
Sketch offers real-time collaboration with color-coded cursors to show who's doing what. While it's Mac-only, it does offer web viewing and various export options, as well as third-party integrations for a smooth design hand-off.
Cost
Sketch has pricing options for individuals and teams, starting at $120 per year for individuals and $10 per editor per month for teams using Sketch Cloud. You can keep using it after the first year without updates.
Justinmind: User-Friendly, Interactive Wireframing
Justinmind stands out for its user-friendly design and interactive features. It lets you create functional prototypes right from the start, with easy-to-add interactive elements like text inputs and dropdown menus. The layout is intuitive, with design components on the left and organizational tools on the right.
Limitations and Teamwork
Justinmind does have some downsides, like the need to download a desktop app and a check-in/check-out model for collaboration that can limit simultaneous editing.
Cost
Justinmind offers various pricing plans, including a free option for basic wireframing. More advanced features start at $9 per month. It's a comprehensive tool for detailed, interactive wireframes but may not be the best for quick, simple designs.