Converting Music on PC with HitPaw Video Converter (Review)
Converting audio files into different formats has been a challenge to many people ever since the dawn of… well, digital audio files. Especially now when a lot of new file formats and devices pop up almost every month, cross-play seems to always take a hit, and everyone's looking for an audio converter. But did you know that with HitPaw Video Converter, you can actually address this need quite easily?
While the app is primarily marketed as a video converter, as the name implies, its audio conversion feature is just as equally good.
In this post, we will take a closer look at its features, capabilities, and everything else that's important.
Video converter, but also an audio converter?
You read that right. In fact, many full-featured video editors have this capability, although not their strong suit. But HitPaw Video Converter takes it to the next level.
Whether you want to convert MP3 to YouTube, or YouTube to MP3, Spotify music, Apple music, and the like, you can do that through this video converter.
That's right. In fact, let's delve into its features right now.
Its key features: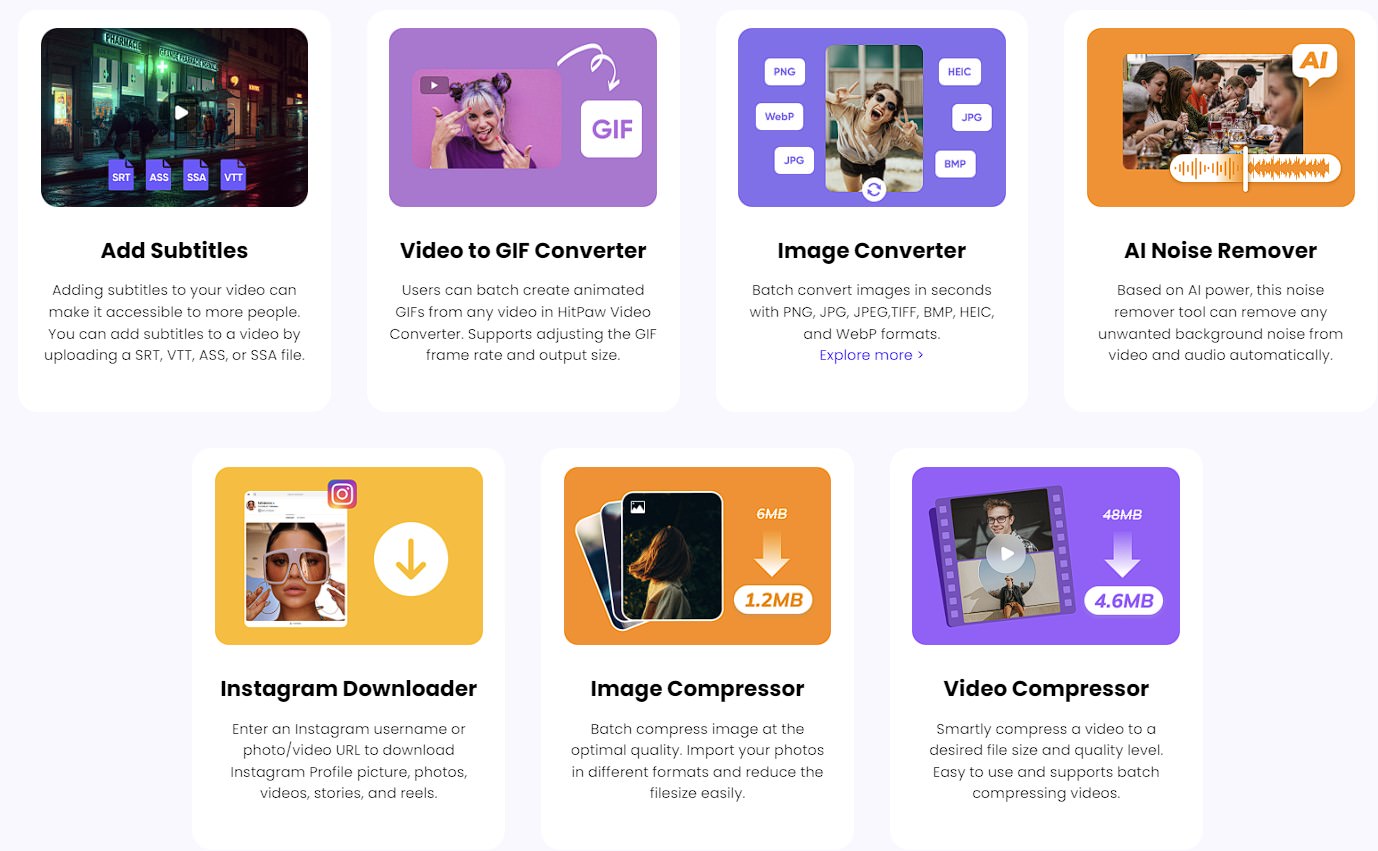 In the lead news, HitPaw Video Converter boasts 120x faster video conversion compared to other converters, which is amazing when you consider how much time and resources is usually spent when rendering HD files.
Anyway, here's what the app is capable of:
Batch video and audio conversion without losing quality.
Download videos directly from over 10,000 websites (you read that right), including Instagram, TikTok, Facebook, and more.
Convert Spotify, Apple Music, and others to MP3 files.
In terms of editing, it comes with a AI vocal remover in case you only want to keep the music and remove the voice (if you're into karaoke and a new song you liked pops up, you know what to do!)
Noise (backgroudn noise) remover, done by AI.
Video editor where you can cut, crop, compress, add effects and subtitles, etc.
On top of that, it can also convert videos to GIF, and convert image files to other file types like WebP, TIFF, BMP, HEIC, JPG, JPEG, and more.
Key features for audio
I already mentioned a few audio-related features above, but let's take it a few notches further.
HitPaw Video Converter actually has a patent to convert Apple Music and Audible Books into other file formats. While this feature only works on Windows, this is a feature that is one-of-a-kind and you can't probably find this elsewhere.
Apple Music Converter
If you've been using Apple Music exclusively, you know full well how limiting it can sometimes be because you can only play your music on Apple devices.
But what if you want to listen to your rightfully subscribed music on different devices or platforms?
The obvious answer to that is, well, you just have to use Spotify for that, right? But some music is exclusive to Apple Music only, so you can see the problem with that now.
Anyway, with HitPaw Video Converter, you can pull your Apple Music playlist and turn them into MP3, M4A, FLAC, WAV, and other file types while maintaining the original quality.
Spotify Music Converter
On another note, what if you're on Spotify and you'd want to download your playlist so you can save it on another device that doesn't run the app, or perhaps burn it into a CD so you can keep your music forever and ever? HitPaw Video Converter can absolutely help with that, too.
What makes this app a great music converter?
There are a few but big reasons, and honestly, until today I never considered the possibility that I'd like to actually take control of what I pay for.
For example, as mentioned above, the music I pay for on Spotify is just there. But at one point, when their license expires, it won't be available for me to listen anymore. In which case, do I own it? Did the months or years of me paying for my subscription just disappear? Because as humans, we are creatures of habits, and we'll keep on listening to the same old songs over and over again.
In which case, whether I'm using Spotify or Apple Music, I think at this moment, I'd like to preserve music that I truly love.
And this is where HitPaw Video Converter's audio conversion stands out.
Another thing is, and I already mentioned above, HitPaw is just always on target and up-to-date with the current trends, especially if it would actually benefit their users. I am talking about their AI-powered features that make people's lives easier.
Remove vocals from music? Done.
Remove background noise? Done.
Done by AI.
Pretty cool and straight-forward.
How to convert Spotify to MP3?
The process is quite straightforward.
First step is to head over to the Toolbox tab. Here you can see a lot of other features like a video/image compressor, an Instagram downloader (piqued your interest, didn't it?), converting Videos to GIFs, and the like.
Click on Spotify Music Converter. Once you do, it will ask you for a Spotify track link. Simply add it and click "Analysis". Before converting it, make sure to check out the settings below. You can convert to MP3, M4A, WAV. You can even change the directory it will be saved to.
Once all settings are good, click on "Convert All" and wait for a few seconds.
It's as easy as that, really.
Converting Apple Music to MP3 is pretty much the same too. You'll just need to have your iTunes on stand by and the entire process will work like magic.
Pricing
Honestly, I was using the trial version for this review and I forgot that it's actually a paid application. But here you go!
$19.95/month
$39.95/year
$79.95 for a lifetime subscription
All tier include all of the features, no features are locked depending on your subscription level, as I mentioned, I didn't even realize I was on free trial.
Honestly, I'd just grab the lifetime subscription.
Download HitPaw Video Converter
To End
Overall, HitPaw Video Converter offers a fast and easy way to convert music files on Windows and Mac.
With its support for a wide range of audio file formats and powerful features such as lossless Apple Music conversion and AI-powered noise removal, HitPaw is a great choice for anyone looking to convert their music quickly and efficiently. Do I recommend it? Absolutely. It does the job flawlessly!