Top 5 Online Tools to Remove Video Watermarks
Video watermarks are a common technique used by content creators to protect their work from unauthorized usage. However, in some cases, these watermarks can be a hurdle if you want to use a video for personal purposes. Fortunately, there are numerous free online tools available that can help you remove watermarks from videos quickly and easily.
Before we proceed, we would like to add a disclaimer that we do not encourage the removal of video watermarks from videos that do not belong to you or that you do not have permission to use. It is essential to respect the intellectual property rights of content creators and avoid using their work without proper attribution or consent. With that said, if you have the necessary authorization to remove a watermark from a video, we can guide you through ten free online tools that you can use to accomplish this task.
These tools are user-friendly and require no specialized skills or knowledge. Whether you're a content creator, marketer, or a curious user, let's explore these ten free online tools to remove video watermarks.
First on the list is HitPaw's AI Watermark Remover. Eliminating unwanted watermarks from videos and images is a breeze with HitPaw.
This tool is very user-friendly and can work on various types of content such as vlogs, movies, short videos, blogs, and YouTube channels. It is not just limited to videos, as photos can also be edited using this tool. Say goodbye to logos, photo stamps, texts, and watermarks with ease.
However, it is important to note that your video should have a duration of at least 3 seconds to ensure the tool works effectively.
PROS
The tool has a user-friendly interface.
It effectively removes video watermarks.
CONS
Sign in is required to use the tool.
The imported video file must be at least 3 seconds long.
The exported video file will have a Hitpaw logo stamp if you are using a free account.
Next up is a watermark remover from Medio.io. Just to clarify, while the tool's name is Media.io, but when you click on the "Remove Watermark From Video" button, it will take you to AniErase. Don't worry, AniErase is still capable of removing watermarks from your video.
To use it, simply drag your video into the tool and select the area where the watermark is located. Then, click the "Remove object now" button and the watermark will be removed.
PROS
User-friendly and intuitive interface.
Efficiently removes watermarks from videos.
CONS
Sign-up and login are mandatory.
The free account has limited usage for removing watermarks from videos.
This online tool by Apowersoft can help you remove watermarks from your photos and videos for free. It comes with a simple and user-friendly interface that is easy to navigate. Moreover, it promises to maintain the quality of your video after editing. You can try it out anytime without any complications.
Input/Output: MP4, MOV, WMV, WEBM, 3GP, AVI, ASF, M4V, MPEG, MPG
PROS
Supports a variety of video formats
Simple and intuitive interface
No login required to use the tool
CONS
Limited functionality, only removes watermark.
This tool can effectively remove unwanted logos, texts, and photo stamps from your videos. It is designed to be user-friendly and doesn't require any login process.
Input/Output: MP4, MOV, AVI, WMV and others
PROS
Effectively removes video watermarks.
Offers additional video editing features.
No sign up or login required.
CONS
May display intrusive pop-up ads.
Beecut is a tool that lets you remove watermarks from your videos, and you can also remove watermarks from your images on its main page. It's very easy to use. All you need to do is upload your video, use the provided tool to highlight the logo, and then click the erase button. That's it!
Input/Output: MP4, MOV, WMV, WEBM, 3GP, AVI, ASF, M4V, MPEG, MPG
PROS
Efficiently removes watermarks from videos.
Completely free to use, no sign up or sign in required.
CONS
Limited to removing watermarks only, without additional video editing features.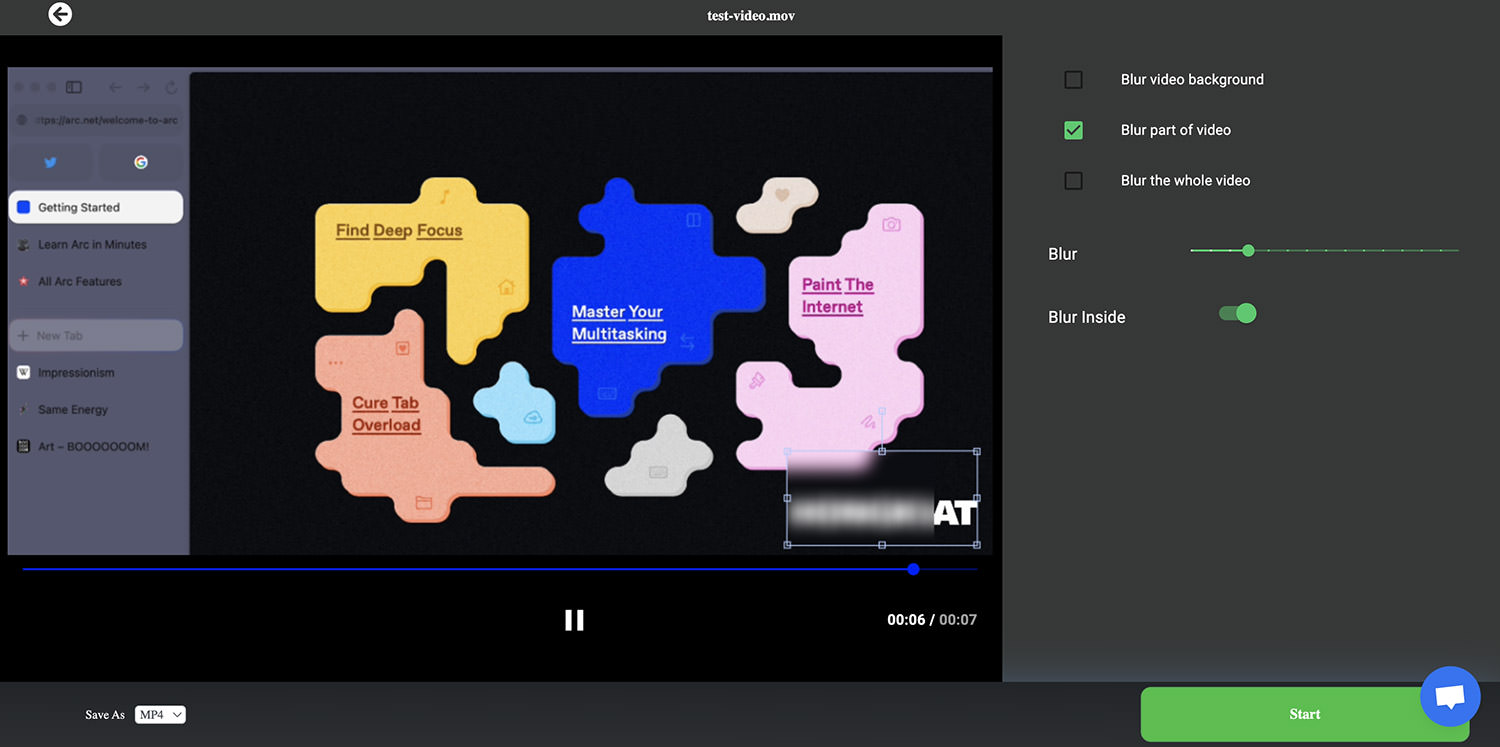 This tool doesn't entirely remove watermarks from videos; instead, it provides an option to blur them out so that the logo becomes less noticeable. The blurring technique is quite effective, and it helps to maintain the overall quality of the video.
This way, you can use the video without any distracting logos. It's a great tool if you want to share or use a video for a project, without having to worry about the watermark.
Input: All video formats.
Output: MP4.
PROS
User-friendly interface for ease of use.
No need to sign up or log in, making it hassle-free and accessible for everyone.
CONS
The tool does not actually remove the watermark, but rather provides the option to blur it.
While Veed.io's video editor does not have a specific tool to remove watermarks from videos, there are still ways to achieve this goal using its various video editing features. For example, you can crop the watermark out of the frame or cover it with another logo or stickers. This requires some creativity and a bit of trial and error, but with some effort, you can still get the job done with Veed.io's powerful video editing capabilities.
PROS
Packed with a multitude of video editing features.
All features are free to use, with no login required.
CONS
No direct tool to remove video watermark.
This tool can be bookmarked as a backup option if you can't remove the watermark from your video using other tools. It can do the job of removing watermarks, but there are some drawbacks. For example, its website may not always work smoothly, and it doesn't allow you to preview your uploaded video. Additionally, there is a captcha screen that you need to pass through to get to the final output. Overall, it's a tool that you can try out as a last resort.
PROS
Great as a backup or alternative.
CONS
No indication or preview of uploaded video before processing.
Requires an annoying captcha verification before displaying the output.
Conclusion
In conclusion, removing watermarks from videos can be a daunting task, but thankfully, a variety of free tools are available to make the process easier. Each tool has its strengths and limitations, so it's essential to find the one that best suits your needs. Some tools, like Beecut, are ideal for quick and straightforward watermark removal, while others, like HitPaw Watermark Remover, offer more advanced editing features.
Whatever your requirements, there is sure to be a tool on this list that will help you remove watermarks from your videos quickly and easily.