30 Creative Ideas to Light Up Your Room
Looking for a way to boost your creativity? Why not decorate your house with some unique lights for a start. Lighting fixtures almost never take center stage in home decor because we have so many other things to be obsessed with like furniture, carpet, floor panels, mosaic, wall color, smart gadgets, wall decors etc. But as the following examples will show you, a little creativity goes a long way.
Here is a compilation of 30 unique and creative lamps and light fixtures perfect for the living room, bedroom and even your garden. You might even be able to find a new way to DIY your own home lighting. Which one did you particularly like? Share your favorites with us at the comments section.
ColoredSHAPE Black
We're seeing flat design everywhere, even in bed light designs.
Image Source: Sabrina Fossi
Avatar Plant Flowers Night Light
Colorful shrooms!
Image Source: CSL
Boon Glo Nightlight
This is a great idea for those who need a light for middle-of-the-night bathroom trips.
Image Source: The Glow Company
EGGLIGHT
There's a egg-citing concept you don't see every day.
Image Source: Igor Pinigin
Portable Pocket LED Card Light Lamp
Here's one portable lighting source that you can store in your wallet.
Image Source: Sinedya
Martyr
That lightbulb is out of its mind. Someone stop him.
Image Source: The Play Coalition
Light Blubs
Dude, I think your lightbulb is sick.
Image Source: Pieke Bergmans
Pear Light
Someone finally made the link between pear shapes and lightbulb shapes; they are one of the same!
Image Source: Nick Foley
Liquid Light
Dripping lights to the rescue.
Image Source: Liquid Light
Ring Lamp
TRON-inspired concept for a ring lamp.
Image Source: Loris Bottello
Hat Table Lamp
Bowler hats as table lamps, what will they think of next?
Image Source: Jake Phipps
At Your Command
Position the mannequins any way you want to get the right amount of light where you want it.
Image Source: Daniel Loves Object
Nixie Tube Thermometer
This is a DIY light slash thermometer that displays Fahrenheit, Celsius, Kelvin (heaven knows why), and humidity
Image Source: Amazon
DIY Clouds Night Light
The House of the Rising Sun, literally.
Image Source: Design Rulz
Captain America
The cracked wall sticker really adds to the effect, doesn't it?
Image Source: Target
Spiderman Face
Here's Spiderman trying to get a piece of the action. Still not an Avenger, my friend.
Image Source: Target
Hulk Hand
Hulk Smash… and light up your room!
Image Source: Target
Thor Hammer
Try pulling that one out of the wall.
Image Source: Target
Shark Tale
Honey! Who let the shark in the house this time?
Image Source: Mukomelov Studio
Computer Key Desk Lamps
Also available: Esc, Del and Ctrl buttons.
Image Source: Ali Express
BANG!
Shoot 'em up carries a different meaning here. The gun turns the lights on and off. Just aim and pull the remote-control trigger.
Image Source: BitPlayInc
The Question Block Lamp
Are you tempted to knock the bottom of that question box to see what jumps out of it?
Image Source: 8 Bit Lit
Tetris Constructible Desk Lamp Light
The classic game is reborn, as desk lamp lights.
Image Source: Paladone Products
Uncle Milton Moon In My Room
Fancy having the moon in your room?
Image Source: Uncle Milton
The Lightsaber Wall Sconce
Lukes lightsaber in your room, complete with the iconic humming sound.
Image Source: Hammacher Schlemmer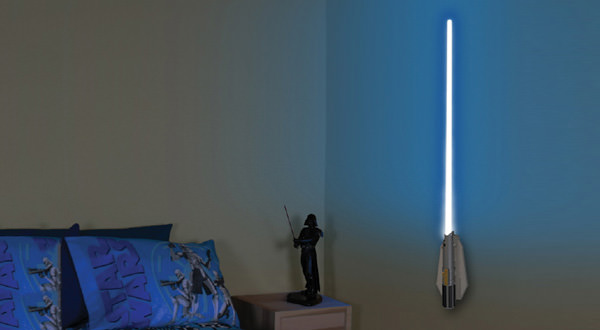 Ghostbusters 12″ Neon Sign
Well, this is ironic.
Image Source: Amazon
Mini Batman Bat-Signal
For fans of the Dark Knight.
Image Source: Amazon
Weekend LEDIY Project: LED Cloud Lanterns
Not loving the others? Make your own.
Image Source: Elemental LED
Atomium Floor
Alright, who left their asterisks lying out in the garden?
Image Source: Kundalini