20 Gadgets That Make Your Smartphone Even Smarter
Smartphones are awesome. From phone book and calendar to clock, camera, and music player, smartphones incorporate hundreds of little gadgets into one hand-held device. But, if you want to get even more out of your smartphones there are many accessories that can take your smartphone use to the next level.
Take a look at the following list of gadgets that will make your smartphone even smarter. The list includes smartphone-operated security systems, storage devices, digital microscope, and even a pocket fan! Let's take a look.
30 Famous Tech Gadgets Disassembled
30 Famous Tech Gadgets Disassembled
Ever really wonder what makes up an iPhone, Kindle Fire, Samsung Galaxy Tab or any other Apple, Microsoft... Read more
Viper SmartSart is a is a vehicle control platform that enables you to connect your vehicle to your smartphone.
The Viper smart device establishes a secure connection with the Viper SmartStart app in your phone so you can start, lock, and unlock your vehicle, receive alerts, locate and check its status.
What I find most interesting is that you can start your vehicle and even lock or unlock its doors remotely. There's also a Diagnostic Trouble Code that helps you check the issues in your vehicle's engine.
You need to subscribe to a service plan and get the device professionally installed in your vehicle.
Let your smartphone find your lost objects with Tile. It is a multi-purpose tracker that connects with your phone via Bluetooth and can be put in or attached to anything that is at risk of getting lost.
Once connected to your smartphone, you can make it ring to find your stuff with in 200 ft range or use the Tile app to see it on the map. Interestingly, it works two-ways i.e. you can use Tile to find your phone. Just double press it and it'll make your smartphone ring.
There's also an option to anonymously ask the Tile user community to help you find your lost belongings. With a compact design and replaceable battery, Tile is a great tracking device.
LiftMaster is a smart lock system to access and control your home's locks through your smartphone and without any keys.
You can place it on any or all entry points of your residential or business property and avail features like opening/ closing the doors with smartphone, receiving alerts, setting a schedule for locking doors, and syncing with other smart devices.
LiftMaster smart locks connect with your phone via the myQ app and offer smart keypad lever and smart touchscreen deadbolt among others.
You can also let anyone in your home remotely and share your place's access through the guest feature in the app.
Dubbed as the world's smallest projector, PIQO is a grab-and-go HD projector that connects with your smartphone and offers an amazing viewing experience to any sort of media.
Being compact in size (a little more than 2 inches) and with a powerful battery life (5 hours of video playtime) you can carry your little cinema just about anywhere.
What's best about PIQO are its amazing technical features like built-in hi-fi speakers, WiFi, Bluetooth, HDMI, and USB connectivity, and 16 GB of built-in storage.
It's also compatible with 3 million apps on Google Play Store and the ability to stream media from Netflix and YouTube via your computer or smartphone making it truly an entertainment cube.
If you're bad at fishing or don't want to spoil your fishing trip with no catch, then this tiny smart device is here to help you.
Deeper smart fish finder is a fishing gadget that works on sonar technology and you throw in the water and it scans the waters and notifies you about the location of fish on your smartphone.
The Deeper smart fish finder is compatible with both Android and iOS smartphones and houses a rechargeable lithium-polymer battery.
Moreover, the device can detect fish within an approximate range of 50 meters and offers an easy to understand display with information on vegetation and bottom contours as well.
Here's a hand-held digital microscope that connects wirelessly with your smartphone and lets you look into tiniest places where the human eye cannot reach otherwise.
You can capture images and record video at 1080P HD resolution with 2 MP camera that brings out incredible details in the objects. The digital microscope connects with your smartphone via Android or iOS app or to your Windows or Mac computer via its software.
You can achieve magnification from 50x to 1000x and 8 adjustable LED lights provide great clarity to the viewing. There's also a fixed stand and a rotatable metal stand to hold it during a process.
If you want a reliable and compact photo printer for your smartphone, take a look at the KiiPix portable photo printer that's highly compact and easy to use anywhere.
All you have to do is to place the film paper and then place your smartphone with the desired picture on top and viola! Your favorite photo will be instantly printed out.
The cool thing about KiiPix printer is that you don't need to connect it with batteries or cables though it does require FujiFilm install mini film that you'd need to buy separately.
Additionally, the two sides of the printer can be folded down flat for easy carrying around.
If you're a fan of playing multi-player games on your smartphone, then this versatile little device will you much fun.
COOBILE is a multi-purpose game controller that doubles as a mobile phone holder and mobile game trigger.
It's a one-size-fits-all controller that goes with all 4 to 5.6 inches smartphones of any operating system. COOLBILE game controller is designed to offer a comfortable hold with alloy triggers and 4-finger operation.
What's more is that the game trigger can be flipped up 180 degrees so you can set up the game and fix the screen.
Xenvo Pro Lens Kit is a perfect accessory for mobile phone photographers and selfie enthusiasts.
The kit comprises of Clarus 15x Macro lens, TruView 0.45x wide-angle lens, TruGrip lens clip, and GlowClip mini LED light, quick-release case, and EasyClipall of which can give you a great mobile photography experience.
The lens kit is compatible with all single and dual-camera phones and comes with a video tutorial and quick-start guide. The lenses in the kit are high-quality and give excellent results while the LED light clip makes your images brighter.
Moreover, the sturdy travel case makes sure that you're able to carry your lens kit around.
To capture on your phone's camera what your eyes see on a microscope, telescope, monocular, or binoculars, here is a smartphone mount that fixes your phone to any of these instruments with ease and perfection.
The mount keeps your phone stable and properly attached to the said viewing devices. The main part of the mount's body is made with zinc alloy with a high-strength PA plastic phone clamp.
You can fit any smartphone or any dimensions on the mount and use it for bot filming and photography on your smartphone.
If you want to take photos from your smartphone that turnout perfect in terms of light, you can very well benefit from Auxiwa clip-on LED light for smartphones.
The light can comfortably attach to your phone and offers soft illumination to your videos and images.
This is especially a useful accessory for selfie fans where you need good light to get the best results. The light can be used with any smartphone and with both front or rear cameras as well as an emergency torchlight if the need arises.
Our phones should never run out of storage space, and this product just makes this a possibility. This multi-purpose USB 3.0 flash drive is compatible with a range of latest iPhones as well as iPads and allows you to transfer data to and from the smartphones.
The flash drive has a generous capacity of 256 GB and comes with safe and free software that allows your phone to read multiple files including photos as well as various types of documents.
Additionally, it comes with a One-Click Backup feature that instantly copies the data from your phone so you can use it as a backup device for all the important data in your smartphone.
This multi-coloured product is designed to beat the heat while using your smartphone. The USB mini fan is a detachable, lightweight product, which, owing to its small size, can fit in your pocket, and can be easily carried anywhere.
The mini smartphone fan is made with TPE plastic body that gives it its amazing flexibility and noiseless usage.
Moreover, it is quite easy to install (just connect one of the USB ports to your smartphone) and works with iPhones as well as a range of Android-based smartphones.
If you are among those who love to capture their memorable moments in more dynamic style, then DJI Osmo Pocket is surely for you.
It is the small 3-axis stabilized handheld camera that can turn any moment into a cinematic memory giving you stunning videos and images.
It features three different types of stabilization technologies that, when combined, allow you to capture absolutely smooth video. With a 1/2.3-inch sensor, 80° FOV, and f/2.0 aperture, you can capture images in breathtaking detail.
Moreover, it comes with a universal port that connects it to your smartphone, as well as an ever-growing suite of accessories that lets you film in any way. The only limit is your imagination.
To transform any space into the big screen and watch your favorite movies with cinematic experience, look no further than this smartphone projector.
It allows you to project videos from your smartphone with the 8x magnifying lens without compromising on the picture quality.
Furthermore, it is absolutely easy to use, comes with a space to plug the speakers in, and is also highly compatible with every smartphone in the market.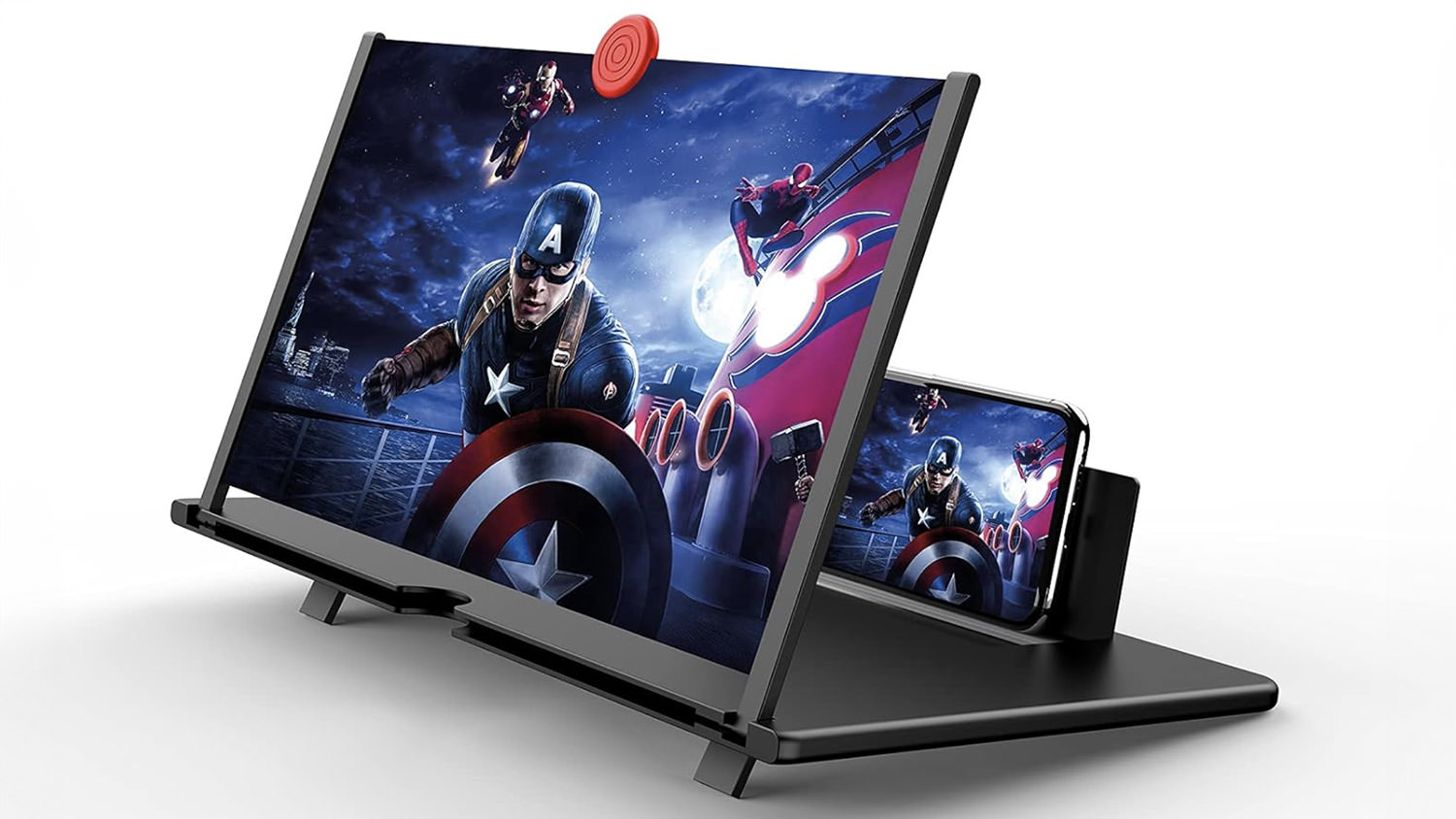 To get cinematic experience out of your phone, here is this 3D HD mobile phone magnifier, that can turn your smartphone into a projector.
It comes in a rotating folding design allowing you to take it along anywhere and set it in any environment. The 3D mobile phone projector doesn't need any connectivity and is compatible with any smartphone.
Apart from projecting your phone's media, it is a useful product to relieve the discomfort and visual fatigue caused by focusing on a small screen for a long time.