34 Creative Furnitures That Stand Out From The Rest
Usually, when we talk about furniture, it's all about price and material. But what about furniture that's not just ordinary? I dream of innovative furniture, the kind that's so unique, it makes you never want to leave your home. For now, I turn to the Internet for inspiration.
And the Internet has plenty to offer! Here are 34 concept furniture pieces, some already available for purchase, that are truly creative. They might look a bit unconventional, but they're practical, user-friendly, and ergonomic. Furniture shopping just got more exciting.
Read Also:  Creative & Modern Office Design Around the World
Openaire combines a laptop case, a work table, and a chair, all in one stylish and ergonomic design.
It folds into a standard-sized bag, so you can set up an office almost anywhere. Unfortunately, it's still not available in the real world.
Imagine a table that's also a sliding puzzle! Underneath its surface is a chalkboard where you can write notes, apologies, or even romantic proposals.
When you slide the tiles, the messages underneath get erased, making it a fun and interactive piece of furniture.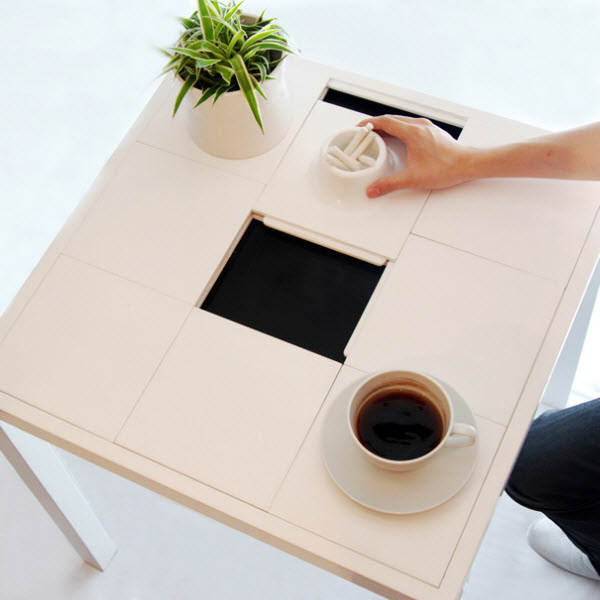 For those seeking an alternative to traditional bookshelves, the Exhibi-Table is a stylish solution. It's ideal for book enthusiasts and perfect for a mini-home library.
This table allows you to easily access your most-used books by placing them in its slots. Not just for books, it can also hold other items that fit.
It's a versatile piece of furniture that combines utility with elegance.
Hexagons are in! Coordination Berlin creatively used hexagonal shapes to design stylish chairs that transform into various furniture like coffee tables for two or meeting tables for ten. These pieces are not just inspirational but incredibly versatile and, of course, awesome.
Extensions
Unlike typical furniture, Extensions can transform beyond the ordinary, like from a chair to a table, and more. With the same parts, you can build your own table, shelf, or bench, adapting to your furnishing needs. It's like the Transformers of furniture!
Unstable
Ever fancied being a superhero? Unstable might not make you fly, but it can give you the thrill of seemingly breaking tables! The surface adjusts to the weight of the object on it. If that's not enough, rearrange the blocks for personalized messages or even a chessboard.
The FIT IN table stands out with its sleek design and vibrant colors, but its real highlight is portability. This compact table can be easily carried and expanded as needed. You can adjust its size and shape to fit different spaces and needs. Hence the name, FIT IN!
Anti Crise Chair
Ever thought of a chair that doubles as a piggy bank? The Anti Crise Chair lets you save coins in a fun way. It's a seat and a coin bank in one.
When it's time to 'break the bank', use the provided hacksaw to open the bottom. Don't worry, the chair remains usable, and you can even use the opening to store magazines!
Bounce Chair
For those who dislike the discomfort of traditional chairs, the Bounce Chair is a delight. It's designed like a Pilates ball to keep your body moving, helping to relax muscles and nerves.
While it's great for comfort, be prepared to be the center of attention, as you might resemble a playful Daruma doll!
A chair that doubles as a bag – what a concept! With our laptops being portable, why not our chairs? This innovative design is crafted from bent plywood or polypropylene, making it sleek and stylish. It comes in vibrant colors like orange and yellow, as well as classic black and white or brown in its prototype form.
Long Form Library
The Long Form Library offers a unique experience, almost like Gandalf delving into high-level magic books. This cozy library setup has plenty of slots for storing books within easy reach. Its prototype even features a rocking motion, adding an extra layer of comfort to your reading sessions.
Lost in Sofa brings a fresh take on the concept of furniture with empty slots. Its clever design allows you to tuck away items like coffee cups, books, or remote controls into the sofa itself, making them easily retrievable. This could be the ultimate solution to the ever-mysterious disappearing remote control issue!
The Swing Chair is a testament to how small optimizations can make a significant impact. At first glance, it's a romantic swing chair perfect for reading. But the real magic lies in its versatility: the seat can fold out to become a bed, offering both relaxation and a cozy sleeping option.
The Strucchair is a marvel of design, dynamically adjusting its shape to suit different terrains. It's perfect for fishing trips, camping, or picnics, defying the usual limitations of furniture with its versatile structure.
This Picnic Bench is a masterpiece of dual functionality. It serves as a table with two chairs in one form, and flips 180 degrees to become two benches. It's an ideal piece for accommodating larger groups without needing extra setup.
Curv offers a choice between a stool and table or a cozy sofa with a side table. Pair two together for a collaborative workspace or a gaming session. It's also available in a wood design for a more natural look.
Loopita is the ultimate in comfort and style, combining luxury with a fun, looping design. It's perfect for making work sessions more enjoyable and is designed to accommodate two people comfortably.
Floorscape is an innovative concept in freeform furniture, offering the freedom to arrange its parts for the most comfortable seating positions imaginable. The design even includes suggestions for various poses, like a planking pose, showcasing its versatility.
Piccells
Piccells is an artistic and inflatable sofa that can be stored compactly or expanded into a semi-circle or full circle. It comes in four styles: "Orange," "Leaves" in green, "Butterfly" in grey, and "Foam" in blue. Perfect for an eco-friendly home, it offers the unique experience of sitting on air with a biologically-inspired design.
For $7950, the Feel Seating System Deluxe offers a luxurious experience with "120 soft and pleasant balls." This versatile piece can be customized into a bed, a lounge sofa, or any shape your imagination desires, providing both comfort and style.
At first glance, the Bed 2 Share looks like a futuristic bed, but it's much more. Embracing the spirit of sharing, it transforms into two individual beds or two types of benches. Whether propped up like a sun-deck chair or lying flat, it offers flexibility and style.
OH is a remarkable bookshelf designed for adaptability. It allows you to rearrange and resize the shelf to fit any space, making it a convenient choice for frequent movers. Combine several units for a larger, smaller, or uniquely styled bookshelf. It's a testament to practicality and innovation in furniture design.
Units
For a simpler yet versatile shelving solution, try "Units." Comprising four metal boxes with dual compartments and two solid trays, these units let you create a custom shelf. Whether you need a tall shelf or a TV cabinet, the design flexibility is all yours.
Full Moon
Though designed in 2008, the Full Moon cabinet feels ahead of its time. Its unique feature is a glowing moon on the cabinet surface, which lights up beautifully in the dark. This aesthetic discourages opening the cabinet, preserving the moon's illusion. It's so enchanting, you might find yourself dancing under its glow.
Namibia Credenza
The Namibia Credenza is for those who appreciate art in furniture. It features striking graffiti art inside the cabinet, adding a rebellious touch to its interior. Priced at $6500, this cabinet is not just a storage solution, but a statement piece that embodies a revolution in design.
From Japan comes the ultimate space-saving trio, Kenchikukagu. These three cabinets extend into a bed, a work desk, and a cooking space. Ideal for compact living, they can be stored neatly when not in use. They're actually available for order, offering practical solutions for tight spaces.
Don't overlook these wooden crates; they're more than meets the eye. Featured on TV and used in exhibitions, they evoke the charm of a sundry shop with an array of fresh goods. These crates bring a rustic, authentic feel, ideal for creating a homely, inviting atmosphere.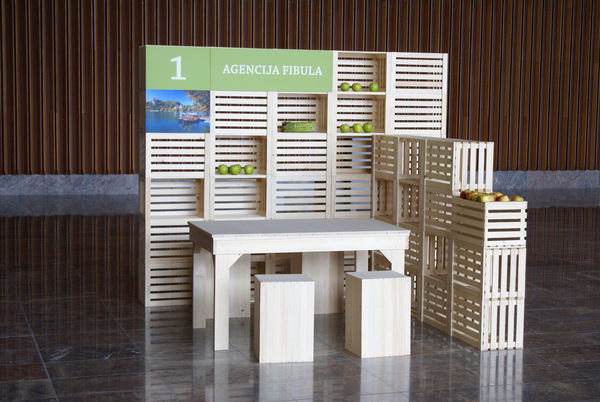 For fans of the United States, this bookshelf designed by Ron Arad is a striking piece. While it might seem too unconventional for your books, it's a perfect fit for those who appreciate artistic or unconventional design. This wild piece of art is sure to amaze and amuse.
This playful design transforms a bookshelf into a life simulation game. Arrange your books to create facial features like a crew cut, eyebrows, teeth, and even a moustache. It's a fun and creative way to display your books and add character to your space.
BILBAO
BILBAO brings the artistic concept of a tree-shaped bookshelf to life. At first glance, it may seem unstable, but a closer look reveals boards behind the limbs, providing a secure platform for books. Adding mini green-covered books could further enhance its tree-like appearance.
Book Hugger
The Book Hugger may not hold many books at once, but it's a unique way to show off your favorites. It's versatile too, doubling as a hanger for hats, scarves, or coats.
Embodying simplicity, Line the Rack is a minimalist solution for hanging various items. With its 150 mm height and 850 mm width, it can hold shirts, keys, and even serve as a mailbox. A simple yet effective design for multiple uses.
Reflection
The furniture industry continually inspires with innovation, focusing on portability and usability. Many of these creative designs are also eco-friendly, integrating nature into their concepts. If you know of any other unique furniture pieces that could match these, feel free to share in the comments.