20 Furniture Marvels For The Futuristic Home
Welcome to the future of home furnishing! In this post, we'll take you on a journey through the latest trends in futuristic furniture design that will revolutionize the way you live.
From sleek and minimalist designs to space-saving solutions, we've scoured the internet to bring you the most innovative and cutting-edge furniture pieces that will transform your home into a modern-day utopia. So, buckle up and get ready to be inspired by our top picks for the ultimate futuristic home furniture that will have your guests in awe.
Z Island
Designed for Scholtes by the renowned Iraqi-born architect Zaha Hadid, this futuristic prototype design features a touchscreen control panel, heating membranes, sound activators, aromatic scent dispensers, LED lights, and a multimedia entertainment system that comes with a flat-screen TV and your very own Apple Mac Mini, which would complement any modern-day home. If the Starship Enterprise had a kitchen, surely this would take center stage! Beam me up, Scotty!
Concoon Bed
Wasserbetten has taken design to new intergalactic heights and touched the rings of Saturn with this amazing bed, using innovative technology and incorporating a yacht design. This bed would actually feel more at home in space than in a bedroom. It contains built-in surround sound, therapeutic lighting, water bed sound, and a water mattress to simulate the weightlessness of space.
Innermost Asteroid Lamp
Now all we need is an asteroid to accompany the Coocoon bed… Maybe this 24-facet Innermost Asteroid indoor/outdoor Lamp designed by Koray Ozgen will do the trick. This unique space-age lamp has 24 facets, giving it an asteroid-like appearance and making it the perfect one-of-a-kind lighting source for your home.
Kure Family Dining Table
Designed by Turkish designer Faith Can Sarioz, this dining table features an innovative concept inspired by the animated show The Jetsons. The table is shaped like a sphere that can be closed to save space, but when opened, it blossoms like a flower and seats six people. The center of the table houses a light with a glowing blue base.
Hi-Can High Fidelity Canopy
Designed by Edoardo Carlino, this bed is the ultimate sleeper's dream! Shaped like a metallic box, this elegant and visually stunning sleeping pod is, ironically, a full-fledged multimedia entertainment system! It includes a reading lamp, a sound system, game consoles, an HD projector, and blinds that enclose you. From the comfort of your bed, you can control everything, including your bed's movement.
EBB "Bathroom Furniture"
Created by US Together, this all-white bathroom furniture features simplicity and incorporates an all-in-one design that includes a sink basin, bathtub, and shower.
Nuab Sofa
This stylish, futuristic sofa is handcrafted using stainless steel. Don't you think that this couch resembles Superman's spaceship, half-cut?
Cloud
Award-winning designers David Koo and Zheng Yawei have come up with this revolutionary concept design. Using magnetic force, the base will levitate a soft upper cushion. This physics-defying couch could be the perfect place to drift off into dreamland after a long day at work.
Ecotypic Bed
Designed by Arthur Xin, this bed represents the next generation of eco-living and sleeping. Equipped with LEDs to help the plants grow and speakers to play music that lulls you to sleep, this bed also comes with its very own power-generating system. All activities, such as weight lifting in and around the bed, are converted into energy, making it 100% eco-friendly. The main highlight of the bed is the integrated plants, which are supported by a built-in planter.
Melting Point TV Stand
The Melting Point TV stand was designed by Erhan Afsaroglu, who stated that his inspiration came from a water droplet before it hit the ground. This smooth, seamlessly jointed stand was created using LG Hi-Macs. When fixed to the wall, this unit looks as if it is floating in the air, while the LED lights underneath further amplify the effect.
Toyo Isola's Kitchen Island
Created by Toyo Kitchens, this kitchen furniture can fit into any space. The innovative yin-yang design is accompanied by three electric cooker rings, a sink, and loads of space for all your kitchenware in the elaborate corrugated drawers. Like yin and yang, this design fuses into perfect harmony, combining futuristic design and practicality.
Exspoze Table
Designed by Nuvist, this futuristic table is inspired by the natural curvature of living organisms. The lines are integrated into one another, and the table can be turned and twisted in almost any direction.
Arc Shower System
Designed by David Koo, this magnificent hi-tech shower is capable of switching between normal mode and energy-saving mode by recycling hot water on-site. This next-generation water system is far more energy-efficient than current-day showers. The device comes equipped with a touchscreen panel along with temperature and pressure control buttons.
Cruzador
This intergalactic deck chair is an innovative design created by Pedro Silva. Not only does it look aesthetically futuristic, but it is also extremely comfortable. Made with high-quality fiberglass, leather, and a chrome structure, this deck chair is the perfect way to relax under the sky of a distant galaxy.
Affinity Chair
They say seeing is believing, but not when it comes to this next design. Ben Alun-Jones' Affinity Chair attempts the impossible by recreating the effect of invisibility through exploring light and space. Using one-way mirror film, plastic acrylic, LEDs, and ultrasonic sensors, the chair cloaks itself and blends into its environment. This futuristic feature also has the ability to interact with humans by flashing LEDs the nearer you get to the seat.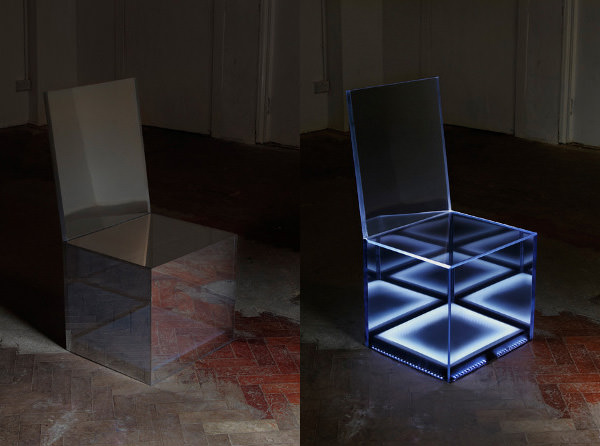 i-Sopod
This revolutionary bathtub design is the handiwork of i-sopod. Like a car straight out of a sci-fi film, this bathtub is constructed using double-skinned GRP moldings. While open, the tub lights up like a Christmas tree using its built-in LEDs to create the perfect ambiance. The tub also comes with its very own MP3 player and has the latest filtration system.
Volna Floor-Mounted Table
This stylish table by Nuvist looks like it has been teleported from the future. Created using the latest technology and advanced materials, this ingenious design has a levitating effect with a wave-like body inspired by the flow of liquid. Sleek, sexy, and minimalistic, this futuristic desk is for the man of tomorrow, today.
Brandt Aion Kitchen
Antoine Lebrun's futuristic design is an eco-multifunctional kitchen that incorporates electromechanical technology. The unit features special plants developed by the aerospace industry with filtering and cleaning properties that constantly provide renewable, clean water and soap. Additionally, the kitchen includes a cooking surface and sink. It even comes with a built-in dishwasher where dirty dishes can be placed and professionally cleaned.
Fiesta Lighted Bar
Now, what space-age home would be complete without a futuristic bar? Luckily, Vondom has the answer. The Fiesta Lighted Bar illuminates the room and comes with a remote that allows changes to the color of the lights. It is sun- and water-resistant for outdoor or indoor use, and the bar comes lined with storage shelves for easy access.
Hold The Line
This bench is the brainchild of Austrian designer Christian Precht. This creative bench uses a loop design, twisting and turning like a nebula allowing for various seating positions. Connected using multiple elastic 3D fibres, this bench can be taken apart and arranged in nearly any position you desire.
Summary
So, there you have it – futuristic furniture designs that even the Starship Enterprise would be envious of. Which one is your favorite, and which one would you most like to have in your home? Leave your comments below.