40+ Creative Bookshelf Design Ideas For Your Inspiration
If you love books, no tablet, e-books, or e-reader will make you abandon your love for paper and print. Similarly, a bookworm will always maintain a library of books. However, if you can't find space for a personal library at home or at work, maybe these creative bookshelves can help you better organize your favorite reading materials.
Here are 20 creative ways to organize and display your books, ranging from floating shelves to curvy trees, deer's head, and even a shelf made out of water pipes! Plus, if you are the DIY type, these will serve as a great source of inspiration for your own version of a creative bookshelf.
#1 – Deer shelf oak
This design is inspired by wild deer of the forest and beautiful nature. You can use it to store books, magazines, and small decoration stuff.
#2 – Kollen Bookshelf
Kollen Bookshelf is an amazing piece of furniture, because it can be fully customized to fit necessary shape and size. It's perfect to collect books, but also to spice up any interior.
#3 – Typographic Bookshelf by Meb Rure
This bookshelf is an amazing reminder of what books you need to read in future, but it also shows off how many books you have already read. A perfect white finish of the shelf will fit almost any room.
#3 – Tree Bookcase
Add some spirit of nature into child's room with this amazing green tree bookcase. It can keep about 100 books at a time and can be attached to the wall to stay steady.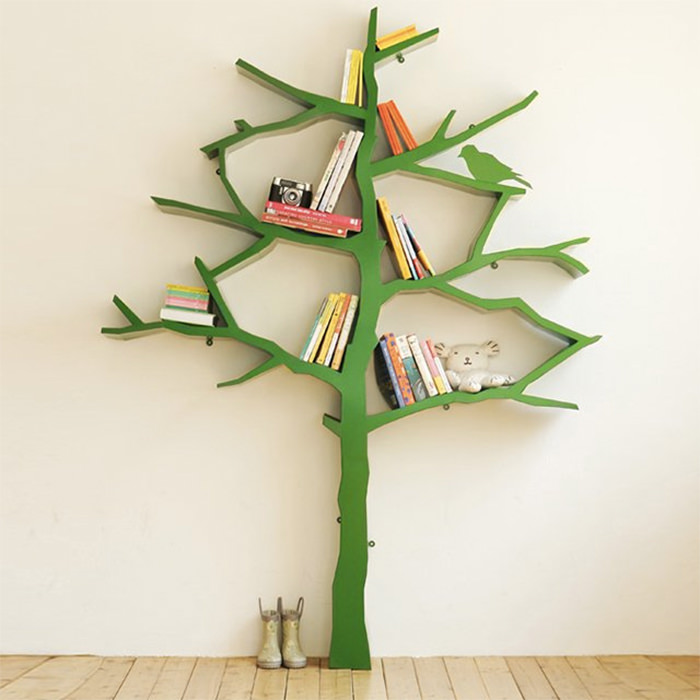 #5 – Floating Book Shelf
This popular award-winning bookshelf design by Miron Lior is amazing because the mount looks invisible behind the book. It relly looks like the books are floating in the air right beside the wall.
#6 – Tabletop Bookshelf
This awesome bookshelf will be perfect for students because book's spines are on the top and can be easily seen. Besides, it features really unique wooden design.
#7 – Steampunk-Industrial bookshelf
This crazy-cool steampunk bookshelf is made out of old used water pipes. Each shelf design is unique.
#8 – Curved bookshelf
Salvador Dali would really appreciate this bookshelf design. This piece of furniture was inspired by the Dr.Seuss' books. It's green and 6ft tall.
#9 – Naviglio Bookshelf Glass Shelves
This amazing shelf made out of metal and glass would be a perfect fit for any room. It features classic minimalistic design.
#10 – Fitting Pyramid bookcase
This cool bookcase looks like it would fall down anytime. However, it's a designer's thing. This cool design will fit any modern living room, a hotel lobby or a cozy country house.
#11 – Equilibrium bookwcase by Malagana
Balance is the spirit of nature and it's what this interesting bookcase represents. It comes in three different color options to go with any interior.
#12 – Osuna bookshelf by Tonin
Osuna Bookshelf by Tonin is made of geometric wooden shapes with mirror-finished inserts that create effects of depth and light. It's not just good for books, but can hold other stuff as well.
#13 – Sheep bookshelf
This cute sheep bookshelf if fun and creative storage solution. It is white and will fit any child's room, would it be a boy or a girl.
#14 – Vocal shelf
This bookcase looks like stairs atop a box. You can place any stuff on top, it's quite steady and strong, and an ideal storage solution for limited-space appartment.
#15 – Tess Tree Bookcase
An amazing tree bookshelf for those of you who love nature and woods. It gives the appearance that the things are placed on it on different angles.
#16 – Wooden book rack
This is a custom-made hanging book rack of oak wood. It comes with 12 pins so you can attach your books and de-attach when it's needed.
#17 – Meter wall bookshelf
This meter bookshelf will help you to count how many books you have read not by the number, but by the height. Besides, you can measure the height of your kids while they grow up.
#18 – Kesselhaus plywood bookshelf
Made out of Baltic birch plywood this crazy-cool bookshelf looks classy and sleek. The shelf can be kept standing near the wall or hang on it.
#19 – LiliLite: All-in-one book lamp, shelf & mark
A multifunctional product for reading in bed: LiliLite is a bookshelf, reading light and bookmark in one. When you pull your book from the wooden peak a sensor automatically turns the lamp on. When you put the book back the light turns off.
#20 – Fan Shaped Shelf
This bookshelf can have different shapes, depending on your needs. It will fit perfectly to a kid's room or a living room for storage books and other things.
#21 – The Infinity Bookcase @Job Koelewij
#22 – The Staircase Bookshelf @apartmenttherapy
#23 – Bookseat @Fishbol
#24 – Circular Walking Bookshelf @David Garcia Studio
#25 – The Neverending Bookshelf @Luca Nichetto and Andreoli
Console Bookshelves @#26 – Stanislav Katz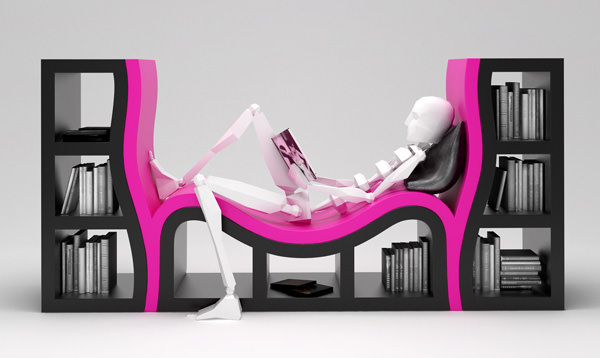 #27 – The Equation Bookshelf @Estudio Breder
#28 – Movement Bookshelf @Samulnoli
#29 – Inverted Bookshelf @Instructables
#30 – Pulse Bookshelf @Mans Salomonsen
#31 – Elastico Bookcase @Arianna Vivenzio
#32 – Bias of Thoughts @Laughing Squid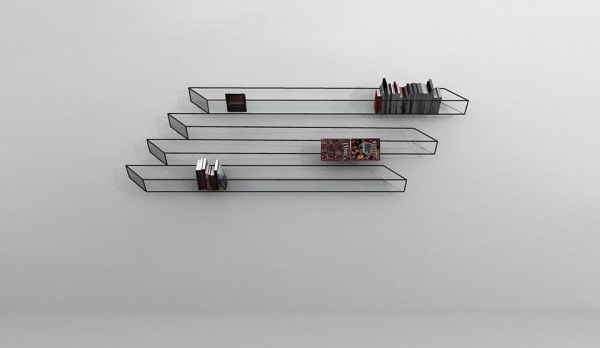 #33 – Chuck @Hafriko
#34 – Round Sofa @Irina Zhdanova
#35 – BookTree @Kostas Syrtariotis
#36 – Second And A Half Dimension Shelves @Chris Burns
#37 – READ Bookshelf @mubarocks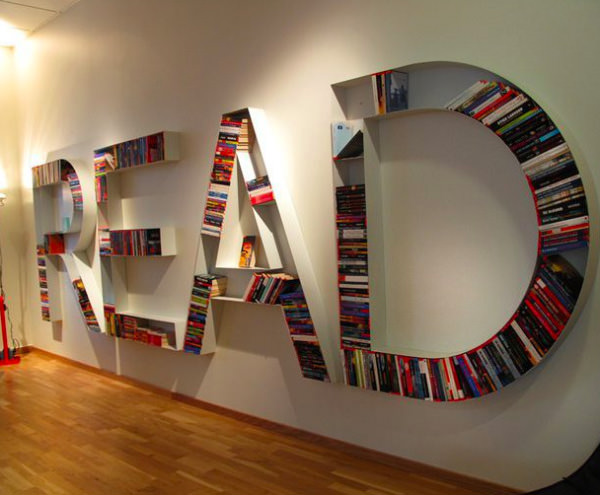 #38 – United States Bookshelf @hiconsumption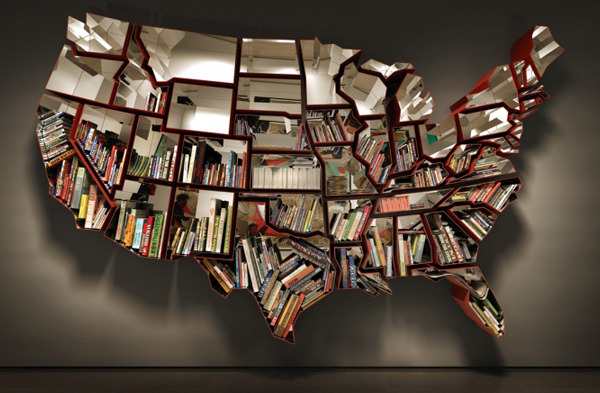 #39 – Dream Bookshelf @Dripta Design
#40 – Ousama Bookshelf @Dripta Design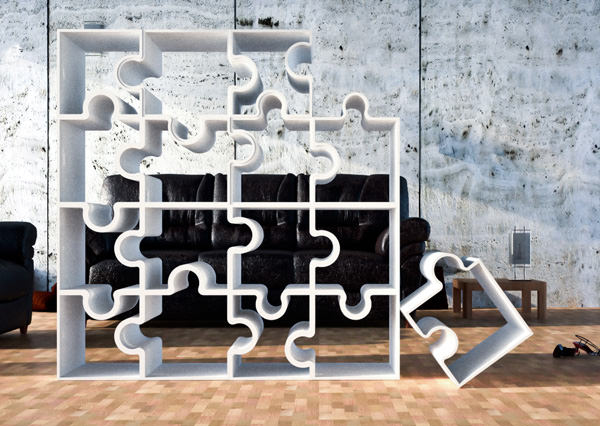 #41 – Bookworm Bookshelf @Kartell