How to Clean Install Windows 11 (and Rollback If Needed)
Windows 11 is around the corner, and it is bringing some amazing features including a redesigned Start button, new File Explorer, new Taskbar options, and more. All these exciting features make us want to try out Windows 11. Microsoft has hinted that it will be available in October 2021 on new devices and in 2022 for upgrading devices running Windows 10.
However, you might not want to wait to check out the amazing features until the official version rolls out later. Thanks to the Windows Insider Program, you can download the Windows Insider Preview and ease your curiosity. And later, you can clean install its release version when it rolls out next year.
But what if you do not like the new Windows 11? Fortunately, it is as easy to roll back Windows 11 as it is to install it (though this rollback feature only works within 10 days of upgrading to the preview or release version).
So, in the write up below, I will guide you step-by-step on how to install Windows 11 or roll back to Windows 10.
How to install Windows 11 Preview?
If you want to install Windows 11 Insider Build Preview on your PC, your device needs to meet a set of system requirements. Apart from running Windows 10, the requirements include 4GB RAM, 64-bit CPU, and TPM 2.0 (security module).
Microsoft's PC Health Check app can check if your system is compatible with Windows 11. You can visit the official website, scroll down to Check for compatibility, and download the app. Then, open it to perform the check.
Although it sounds exciting to try out the new operating system, I do not recommend downloading its preview release — especially on your main device. The reason being preview releases are generally buggy and may not offer all the exciting features promised in the final release.
But you may still want to download it because you cannot tame your curiosity, or maybe you are an app developer who needs to test his app on Windows 11… Whatever be your reason to try the new OS, let me guide you on how to install the Windows 11 Insider Preview.
Open https://insider.windows.com/en-us/register in a web browser.
If you are not already a member, register for the Windows Insider Program. If you are, simply login to your Windows Insider Account.
Then, open Windows Settings, go to Update and Security > Windows Insider Program and click the Get started button to install the preview.

Log in with your Microsoft account registered with the Insider Program.
Follow the on-screen instructions and select the channel through which you want to get the preview builds. You should choose one of the Beta Channel or Release Preview Channel to get the best experience.

Accept the terms and conditions and the privacy policy that is shown.
After restarting the system, go to Windows Settings > Privacy > Diagnostics and Feedback, and select Optional Diagnostic Data.

Finally, click Check for updates under Settings > Update & Security > Windows Update. You will see the latest preview build to download.
Your PC will be updated with Windows 11 Insider Preview just like any other update. After restarting, your device will be running Windows 11 — try it out!
How to clean install Windows 11?
You can also install Windows 11 using a bootable installation disk, i.e., a bootable flash drive. It is beneficial in case you do not want to carry on with your current installation of Windows 10 and wish to install Windows 11 with a clean slate. Here's how to do it:
Open the following link in a browser: https://www.microsoft.com/en-us/software-download/windows10.
Under Create Windows 10 installation media, click and plus button and follow the steps under Using the tool to create installation media (USB flash drive, DVD, or ISO file) to install Windows 10 on a different PC.

After you have created a bootable installation media, continue.
Open Settings, go to Updates & Security > Recovery.
Click on Restart now under Advanced start-up.

At the Advanced start-up screen, choose Use a device among options.
On the next screen, select the bootable disk for installing Windows 11.
This opens the Windows Setup Screen. Enter your preferred language, time, currency, and other details as asked; and finally, click Next.

Click on Install now on the next screen (as shown below).

Enter your product key, or you can click I don't have a product key.

Select Custom: Install Windows only (advanced) to perform a clean install. This will erase all data, so make sure you backed up all your data.

Next, you need to select the drive or partition on which you want to install Windows 11. Select the drive on which you had installed Windows 10.

Click Next to start the clean installation of Windows 11.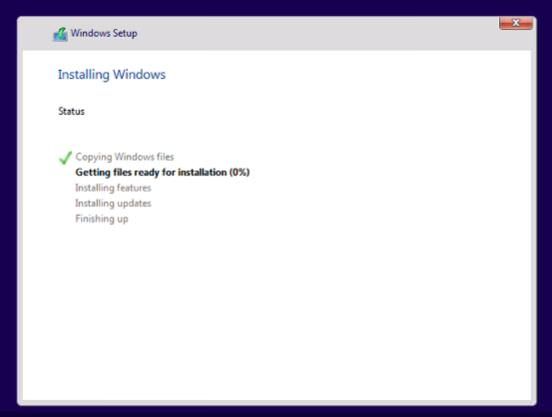 After a few restarts, you will finally see the world of Windows 11. Now you can set up your user account and personalize settings before starting to try it out.
How to update to Windows 11?
Windows 11 is rumored to be officially released for general usage starting in 2022 for upgrading from Windows 10. You can download it on your PC if you are using a licensed version of Windows 10 and the device meets all the system requirements listed by Microsoft.
Once Windows 11 is available for download or upgrade to the general public, follow the below instructions to get it installed:
Open Windows Settings and go to Updates & Security.
Click on Check for updates to check for the available updates.

You will be able to see an update named Feature Update to Windows 11.
Click on Download and Install to get it and upgrade to Windows 11.
How to roll back Windows 11 to Windows 10?
Windows 11 is going to have some magnificent features, but its Insider Preview has reported bugs and errors and does not even support all the features. So, if you gave in to the temptation of downloading a pre-release software but now a less-than-great experience makes you regret your decision, do not worry. You can follow the steps given below to revert back to Windows 10.
Rollback via Windows Settings
You can easily roll back to Windows 10 in the first 10 days after you upgraded to Windows 11. However, you need to make sure not to get rid of the old installation files, which get listed as Temporary files in Storage settings.
Open Settings and go to Update & Security and click Recovery.
Click on Get started under Go back to the previous version.

Accept all the warnings by Microsoft to begin the rollback process.
Once the reversal process is completed, you will have rolled back to your old build of Windows 10. Wasn't that easy enough? If you failed, read on below.
Rollback via installation media
However, what if you realize you are not a fan of Windows 11 on the 11th day after installation? Well, you need to reinstall Windows 10, i.e., clean install your old operating system.
However, you first need to back up all data. After backing up your data, follow the steps below to reinstall and start on a clean slate with Windows 10.
Open the following link in a browser: https://www.microsoft.com/en-us/software-download/windows10.
Click Download tool now under Create Windows 10 installation media.

Launch the setup and click on Accept to accept the license terms.
On the What do you want to do? page, click Upgrade this PC now.
Accept all the dialogs shown by Microsoft, then finally click Install.
You can also click the plus buttons to see a detailed guide by Microsoft. After you are done, Windows 10 will be installed on your computer. You can now create a user account for yourself and update your preferences using Windows Settings. Finally, use the backup to restore all your previous files and data.
Windows 11 has many exciting features that tempt us to try it out right away. However, if you are not a developer or a technical writer, it is always wise to wait for the official release before downloading new software. But if you are looking to try it out before the official release, you can install its preview.
After all, you can always roll back to Windows 10 in 10 days after upgrading to Windows 10. Also, Windows 11 will be officially released starting October 2021, so you can also wait for the official release. Either way, you can try Windows 11.