Best Alternatives to Windows 10 Built-in Tools
Did you know there are much more powerful third-party alternatives for many of the Windows built-in tools? Windows search, start menu, notepad, media tools, uninstaller, and many other built-in tools have alternatives that offer more customization options, more features, and overall more power that you'll surely like.
Here is a list of 12 of the most commonly used Windows built-in tools. All of these alternatives are completely free to use, so there is no excuse for not trying them.
Read Also: 30 Must-Have Free Windows Tools
Alternative for Windows Task Manager
I personally like Anvir task manager for its heavy emphasis on security. Its interface may set you back to Windows XP days, but it's much more powerful than Windows Task Manager.
Anvir has a smart process behavior detection system that lets you which processes are safe and which entail a risk. It lists all the processes and programs that start with Windows and gives you full control of what to do with them. And when you are in doubt, it gives an easy option to check almost any type of file with VirusTotal.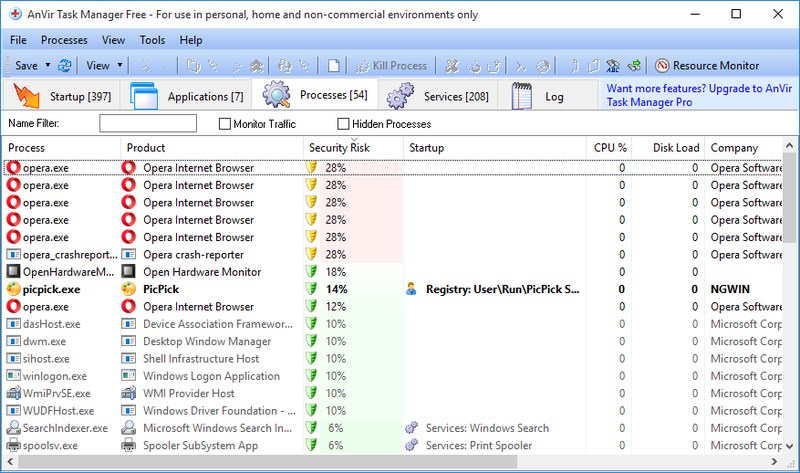 Alternative for Notepad
If Windows built-in text editor is too simple for you, then you need the beefed-up open-source text editor Notepad++. It's one of the best text editors and comes with a plethora of features for writing code.
It uses pure Win32 API and STL for the fastest execution speed along with smaller sized files. It has support for dozens of coding languages including, JavaScript, C++, Python and more.
If you just want to create some notes, then the Windows built-in Notepad is enough. However, if you are a coder or want more from your text editor, then Notepad++ is the ultimate solution.
Alternative for Cortana
People who use Cortana find it to be helpful but a bit slow and a rather stalky. There are many third-party search tools available, (interlink my Windows search alternatives article here when it's published) but I find Listary to be the best alternative for Cortana (as far as the search feature is concerned).
As soon as Listary is installed, you can simply start typing anywhere and it will automatically start providing accurate results. A simple double-tap on the Ctrl key will let you search through installed apps and Windows functions.
Best of all, the results are instantaneous and program itself is very light. Smart learning, quick commands, history and gesture support are just the tip of the iceberg that Listary has to offer. Do keep in mind that it is only free for home use. For commercial use, you will have to buy a license.
Alternative for native uninstaller
Windows built-in uninstaller only uninstalls the program from its directory. The program registry entries, app data, and other junk files still stay in your PC and waste space or even create errors. A third-party uninstaller tool will do a much better job of cleaning and may offer other handy features.
I like IObit uninstaller for this purpose as it does a great job of cleaning almost everything and it's light on the resources. Furthermore, it has support for bulk uninstallation and it automatically answers most of the common dialogs created while uninstallation.
Defragmentation tool alternatives
Windows built-in defragmentation tool does a reliable job, but it doesn't provide much control and feels a bit lacking in features. I will recommend you to check out both Defraggler and Smart Defrag by IObit.
Defraggler
Defraggler is a more to-the-point tool that offers handy features to analyze and defrag your hard drive.
It has multiple defrag modes and it can individually defrag files and folders. Additionally, you can also defrag free space.
Smart Defrag
Smart Defrag offers a bit more control than Defraggler with dedicated defragmentation tools for games, Windows apps, and multiple boot time defragmentation options. Although, Smart Defrag installer is also bundled with adware and its interface may seem a bit overwhelming to some people.
I personally use Smart Defrag for its extended boot time defragmentation options.
Alternative for Windows Registry Editor
If you dwell on Windows Registry often, then you must try out O&O RegEditor. It has a similar interface as the Windows Registry Editor (in fact more polished), but it has additional ease of access features that any registry maniac will love.
It has a power search bar to quickly find any entry, lets you easily copy/paste entries, keeps a record of changes and lets you export the file as an XML file.
Alternative for Windows Firewall
Windows Firewall is a reliable internet safety solution, but if you are one of those users who like the best security for themselves; then you should get a third-party firewall tool. There are a few good ones, (interlink my article Windows firewall review here) but I'll recommend ZoneAlarm Free Firewall.
It's highly customizable and scans both inbound and outbound connections. It also has dedicated application behavior control tools to keep rogue apps at bay, and comes with Wi-Fi protection as well. Overall, it offers much more security than the Windows built-in firewall.
Alternative for Windows Disk Cleanup
Windows Disk Cleanup is a very basic cleaning tool. You should get the renowned CCleaner that does a way better job of cleaning and comes with additional tools as well.
It cleans both Windows and browsers junk and gives you full control over what you want to delete. Additionally, you can use its duplicate cleaner, disk analyzer, startup manager, and more cleaning tools to keep your PC tidy.
How to Deep-clean Your PC with CCleaner
How to Deep-clean Your PC with CCleaner
Like every other machine, your PC needs cleaning and maintenance. However, in the flow of daily life, we... Read more
Alternative for Windows Media Player
Whether you use Windows Media Player or Windows 10 default media app, both are very limited in features and codec support. The open source VLC media player is astonishingly powerful and supports almost any type of media file.
It offers full control over video, audio, subtitles, volume and other aspects of a media file. Furthermore, it has hundreds of plugins to further extended its capabilities.
Alternative for Start Menu
Windows 10 Start Menu is quite good in itself, but if you are still in love with the Windows 7 Start Menu (I know I am), then I got a perfect alternative. Classic Shell lets you completely switch the Windows 10 Start Menu with the Classic menu or an exact copy of Windows 7 Start Menu.
The Start Menu functions perfectly with smooth transitions and access to all the features. You can also change skins, add/remove functions, use custom start menu icon and even use multiple Start Menus at the same time.
Alternative for File Compressor
Windows has a built-in compressor and decompressor tool to compress multiple files in a folder to decrease the size and make it easy to share it. However, this is only what it is capable of. Any serious user should switch to 7-Zip as soon as possible. 7-Zip offers more customization options and archive formats.
It's also more secure and lets you encrypt your compressed folders with 256-bit AES encryption. Additionally, you have full control over how you want to compress the files, such as the ability to customize compression method, compression level, and CPU threads, etc.
Alternative for Disk Analyzer
Windows 10 came with a storage analyzer to see what is taking up all the space on your drives. Unfortunately, it is very limited and won't make it easy to get a full picture of what is taking space on your hard drive.
There are many disk analyzer tools (Interlink my article best disk space analyzer tools), but I swear by WinDirStat for its simple interface and extensive information about data. It creates a color-coded directory tree that lets you quickly see all the data and what is taking most of the space.
I also love how it lets you explore the files right inside its interface and make changes as required. A very handy tool to both view and manage data to save space.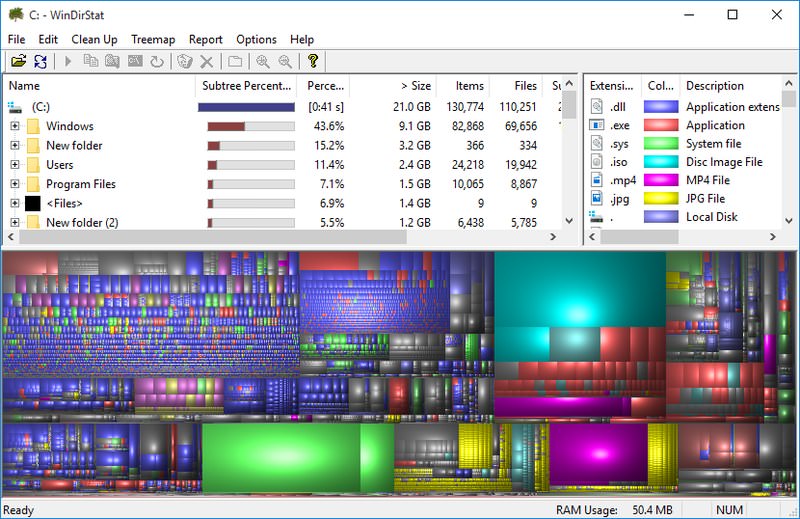 Summary
These were some of the best alternatives to common Windows 10 programs. It should be kept in mind that all of these tools also work perfectly fine on other versions of Windows, including Windows 8 and Windows 7.
I am personally using most of these tools, and they really make it easy for me to complete most of the Windows tasks optimally. If there is any other good replacement for Windows built-in tools, do let us know in the comments.