20 Weird And Unusual USB Products
That USB port on your PC is not just for connecting USB flash drives or USB data cables. It can also power some mini gadgets. From mug warmers and mini sewing machines to mini washing machines, you can get all kinds of interesting USB powered gadgets.
In this post, I bring you 20+ of the most unusual gadgets that are USB powered. To be honest, you may find some of these gadgets to be useless inventions, but when you're in dire need, they can come in really handy.
Your chilly drink getting warm without the fridge? Check out this drink chiller by Dream Cheeky. It's a mini fridge that can store 12oz beverage.
However, it's only powerful enough to keep a drink chill (and not frost a warm drink).
Weird but very useful USB powered eye mask that has many uses. It's a soft eye mask that heats up to relieve your eye of stress and may also soothe headaches (not advertised). It also has a lavender smell that is known to reduce anxiety and help sleep better.
The heating temperature is adjustable and can heat up to 50° C. Could even be a solution to dry eye syndrome as it can heat up to 108° F (again, not advertised).
This is a really cool decoration to sit beside your PC. When you connect it to a USB port plasma rays will start flowing in it that look really epic.
Best of all it's touch sensitive, so when you touch it all the blue lightning will move towards your fingers.
These USB heating slippers and gloves will be perfect for anyone who always has cold hands and feet. It has built-in heating system and adjustable temprature modes all powered by USB to give you a cozy computer session.
These are high-quality dual fans to keep you cool. Both fans can be rotated and come with 3 adjustable speeds.
Although it has a built-in 1200 mAh battery, it can also be powered by USB port. The dual fans can also be folded so you could carry it around.
Create a bug-free environment for summer nights with this USB bug zapper. It features a UV lamp that attracts the bugs and mosquitoes and fan vortex that inhales them and kills the bugs inside. Useful for an area of 20 sq m
For the times when you want to really look into a device or thing, here is a USB-powered digital microscope with a mini camera, adapter and metal stand.
Just install its app in your computer and smartphone and you can record and take screenshots of the micro world.
A cup warmer that doubles as a table clock and a 4-port USB hub. The built-in lcd display shows the temperature of the heating pad. It is a versatile USB-powered device that fits perfectly on your office desk, kitchen counter or any other place.
USB Head Massager
It's a massager helmet that vibrates to massage different areas of your head. Both the vibration intensity and helmet size is adjustable to let you use it as you like. Weighing 434g, it is heavy enough to comfortably sit on your head.
However, do keep in mind that it just vibrates and does not works like a proper massaging machine.
It is a pen scanner that enables you to scan text from a book or paper and enter it on your PC.
Just move the pen scanner on the required text and it will magically appear on your PC's text editor. Of course, this pen will connect to your PC using a USB data cable and transfer the data.
Even though they come with a hefty price tag, they can be really helpful to keep you awake while you work.
These glasses remind you to blink so your eyes stay hydrated and you don't doze off. It has a blink sensor that fogs up one of the lenses when you don't blink for 5 seconds. This little trick encourages you to blink and keep the eyes hydrated.
A cute little desk vacuum to clear the dust off small and difficult to reach surfaces like keyboard, car seat or dashboard etc.
You can charge it with USB connector and it can clean up from pet hair and food crumbs to paper scraps and grit from windows sills etc.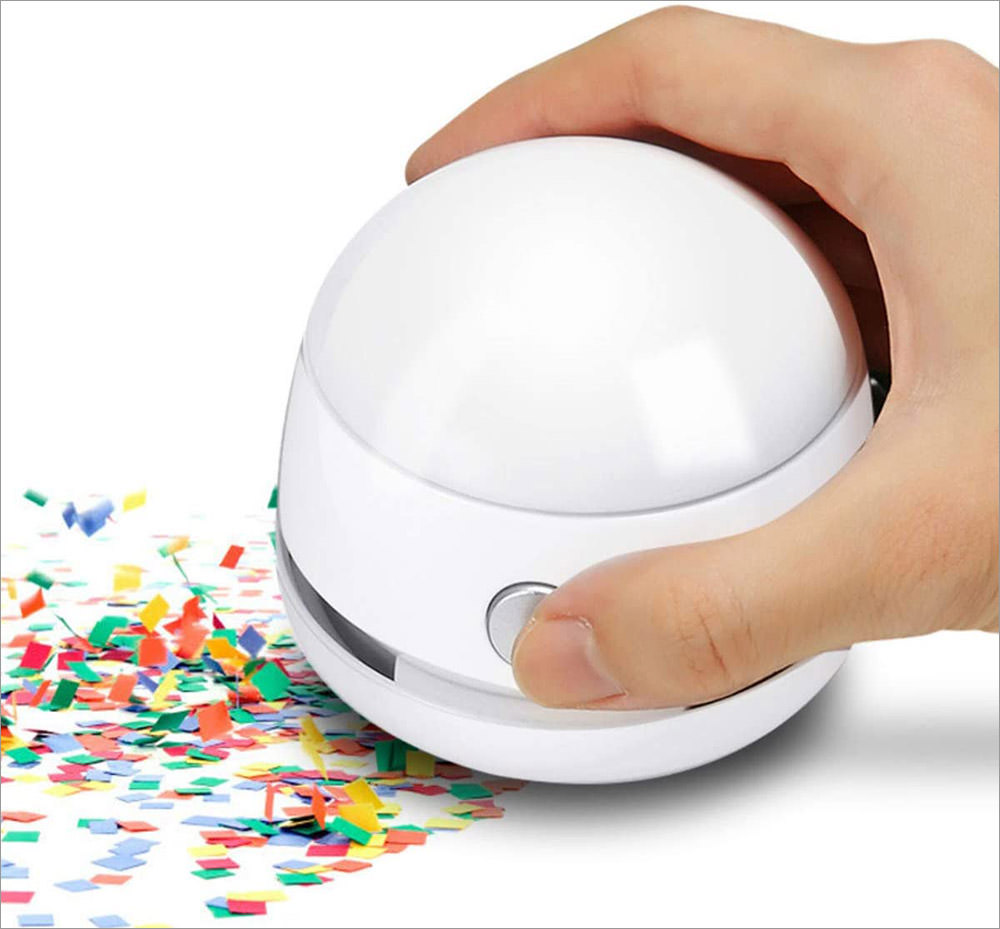 If nice fragrances and aroma therapy relaxes you, then you'll find this USB aroma diffuser pretty handy. It defuses hours of fragrance in your personal space and works with only a few drops of your favorite aroma.
Here is a USB tester that measures the charging status of your USB-powered or type C-enabled devices.
You can test the speed and quality of wireless, wall or car chargers and charging cables that power you're different devices. It also protects your devices from over-and under-voltage coming from the output.
Who needs a big ol' paper shredder when this handy USP-operated mini paper shredder will do. It features a forward and reverse button and a 4.5 inch opening to shred the papers of any thickness.
An interesting little device, this is a USB fan that is also an LED clock.
Simply plug it in your desktop, laptop or any other USB outlet and as soon as the fan starts rotating, it'll display time and temperature and send off cool air your way.
If you're a fan of Steampunk or 80's Soviet culture, then this Radio vacuum tube 8 GB USB flash drive will be perfect for you. The Usb flash drive supports USB 1.0, USB 1.1, and USB 2.0.
A 64 GB USB flash drive in the shape of a miniature spanner.. It is made with premium-grade material and is a standard USB 2.0. What's more, it is waterproof and dust-proof.
For all the Star Treck Discovery fans, this is a USB 3.0 type-c flash drive shaped like alloy insignia badge.
It feature OTG function that makes it compatible with type-c smartphones, PCs and notebooks.
A beautiful USB flash drive designed in crystal and wood. You can choose among 2 GB, 4 GB, 8 GB, or 16 GB. The cool part is that when you plug it in your laptop, the crystal glows in blue, red or green color.