10 Pocket-Sized Yet Powerful Mini Computers
Our daily activities are so powered by our computers and mobile devices that it was only a matter of time before mini PCs came to be. Like their much larger, old school counterparts, these mini computers carry processors, operating systems, RAM and even storage media but only need a fraction of the power supply to function, and also a fraction of the price tag to own.
They are also great space savers (which was the main point) and are usually not as noisy. That said, they could hardly take over the computer you are working on right now, and once they are out of the box, you will need to find peripheral devices (keyboard, mouse, screen, and the power supply) to start using these mini computers.
But for those who are on a tight budget or who are always on the go, perhaps these mini computers are the solution they seek. Here are 10 mini PCs that show you how far computers have, and can, shrink.
It is just a little bigger than a USB flash drive and it is equipped with an Intel Bay Trail processor with quad core for faster processing power, along with 2 GB of RAM and 32 GB of media storage. Plus, it comes with Windows 8 installed.
To use, just plug Hannspree into the HDMI port in your monitor or TV screen, and you can use it as your personal computer. (Price: $177)
Specs
Processor: Intel Atom Z3735F quad-core
Memory: 4 GB
Space: 32 GB eMMC
Operating System: Windows 8.1 (preinstaled)
Dimensions: 110.9 mm x 38 mm x 9.8 mm
The Intel Computer Stick transforms your TV into a full computer. It uses a Quad Core processor from the Intel® Atom™ series. You can choose whether Windows 8 OS or Ubuntu 14.04. Windows has 2 GB RAM and 32 GB of on-board storage while the Ubuntu Linux version only has 1 GB of RAM and 8 GB of storage. Need more storage? Use the microSD card slot to get more.
One reported drawback that it has is that it has only 1 USB port, so you might need a hub if you want to plug in your keyboard and mouse together. (Price: $149 for Windows; $110 for Linux)
Specs
Processor & RAM: Intel® Atom™ Processor Z3735F
Memory: 2 GB (Windows) and 1 GB (Ubuntu)
Space: 32 GB eMMC
Operating System: Windows 8.1 with Bing & Ubuntu 14.04 LTS
Dimensions: 103 mm x 37 mm x 12 mm
MINIX is a manufacturer of products mainly for the TV box but interestingly, the MINIX Z64 is equipped with Windows 8.1 which allows a TV box to also function like a computer.
It comes with 32 GB of eMMC built-in storage, 2 GB of DDR3L memory and a 64-bit Intel Z3735F processor.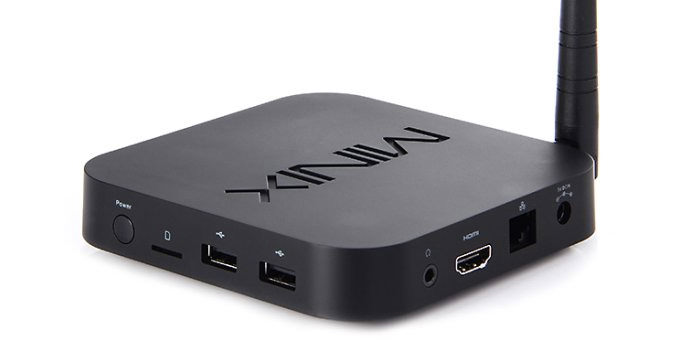 With this little device you can enjoy full 1080 HD videos and also the XBMC media center. (Price: $161.90)
Specs
Processor: Intel Z3735F (64-bit)
Memory: 2 GB
Space: 32 GB eMMC
Operating System: Windows 8.1 with Bing (32-bit)
Zotac ZBOX PI320 is from the Zotac Pico mini-PC series. Its size is small enough to fit in your pocket, so you can take it wherever you go. It comes assembled with a Celeron N4100 (quad-core, 1.1 GHz, up to 2.4 GHz) processor, runs on Windows 10 Home in S mode and it allows you to play HD videos.
It has 4 GB of RAM on-board a storage capacity for 64 GB eMMC but if you want more space you can add them via the provided MicroSD card slots. (Price: $249.99)
Specs
Processor: Intel Atom quad-core
Memory: 2 GB
Space: 32 GB eMMC
Operating System: Windows 8.1
Dimensions: 7.1″ x 7.1″ x 2.3″
Need a super thin one? Here's a mini computer that is only 10 mm thick. Vensmile iPC002 features an Atom Bay trail quad core CPU which runs Windows 8.1 (pre-installed) with Bing. It carries 2 GB RAM, and you can keep your files and data in its 32 GB media storage.
Vensmile includes a built-in 3000mAh rechargeable battery, so you don't have to worry about power supply wherever you go with it. (Price: $114)
Specs
Processor: Intel Atom Z3735F Quad-core
Memory: 2 GB
Space: 32 GB eMMC
Operating System: Windoes 8.1 with Bing
Dimensions: 151mm x 90mm x 10mm
Here's a flat mini PC that can fit in the back pocket of your jeans. This mini computer from Cloudsto comes with two variety, one running Windows 8.1 and another version running Ubuntu 14.04.
Don't let the size fool you, it features 3 USB ports, Micro SD card slot and a 3.5mm headphone output. This mini computer runs on Intel Atom Z3735F Bay Trail processor with 2 GB of RAM.
The available storage is 32 GB, but is extendible with microSD. Cloudsto has a built-in 3000 mAh battery which you can even use to charge your smartphone. (Price: €129.99)
Specs
Processor: Intel Atom Z3735F Quad-core
Memory: 2 GB
Space: 32 GB
Operating System: Windows 8.1 and Ubuntu 14.04
Dimensions: 148mm x 79mm x 9mm
VivoMini UN62 is equipped with Intel Core i3 or i5 with RAM of up to 16 GB. It also requires low power consumption and is pretty quiet enough, releasing only 26.3dB at full load; that's 60% quieter than the average computer in the market.
Its integration with SonicMaster Technology offers good sound quality and it can output 4K/UHD quality images to your screen.
Best of all, it can run on a power supply of only 6.95 Watts and it comes with fast-charging technology. (Price: $318.27)
Specs
Processor: 4th Gen Intel® Core™ processors (Core i3 and i5)
Memory: 4 GB Up to 16 GB
Space: 32 GB Up to 256 GB mSATA SSD
Operating System: Windows 8.1 Pro
Dimensions: 131mm x 131mm x 42mm
MSI Cubi computers are sold as "barebones" computers, which means you have to add the memory, storage, and operating systems yourself. Another way of looking at it is that you get to build your own computer and fit it with the specs you want. You can add between 2 GB and 16 GB of memory and install an additional 2.5″ HDD for a bigger storage capacity. For the CPU, you can choose from:
Intel® Celeron™ 3205U
Intel® Pentium™ 3805U
Intel® Core i3™ 5005U
Intel® Core i5™ 5200U
It is a real quiet computer (the noise is only about 20.1 dB) and it consumes less than 30 Watts of power. (Price: from $168)
Specs
Processor: Celeron, Pentium, or Core i3
Memory: 2 GB – 16 GB
Space: 2.5″ HDD/SSD
Operating System: Windows 8.1/7
Dimensions: 115mm x 111mm x 35mm
The Meerkat has an elegant and beautiful design, and has a size that is almost the same as the Cubi, just slightly taller. Like the MSI Cubi, Meerkat is a barebone computer.
You can configure the hardware before buying it from its website. There are two processors available, Intel® Core i3-5010U or i5-5250U, and you can choose between 4 GB up to 16 GB of memory. For media storage, they offer SSD from 32 GB to 500 GB.
On the product site, you can also add other devices like monitor, speakers, keyboard and mouse. (Price: from $499)
Specs
Processor: 5th Gen Intel® Core i3-5010U or i5-5250U
Memory: Up to 16 GB
Space: M.2 SATA SSD, 2.5″ drive. Up to 2.5TB total
Operating System: Windows 8.1 with Bing
Dimensions: 114.3mm x 111.76mm x 48.26mm
NUC or Next Unit of Computing is Intel's take on the mini computer. Intel NUC NUC5i5RYK is equipped with the 5th Generation Intel Core i5-5250U processor.
The kit doesn't come with memory, storage and OS, so you need to install it yourself. You can plug in up to 16 GB RAM and for storage there are M.2 slots for SATA or PCle SSD.
If you want SSD/HDD in, you can opt for another taller model with a larger storage space. This computer integrates Intel HD Graphics 6000 which is good for 4K videos. (Price: $399)
Specs
Processor: Intel Core i5-5250U
Memory: up to 16 GB
Dimensions: 4.5″ x 4.4″ x 1.3″