10 Must-have iPad Apps for Web Designers
If you're a web/ graphic designer looking for best iPad apps to work on the go, this list can be your answer.
Web designers always have a lot on their plate. They need to come up with concepts, pitch their ideas to their clients, execute those ideas and keep a check on the latest developments in the field. And a handy smart device like iPad proves really helpful for them to navigate smoothly through their day.
Owing to the usefulness of the iPad, here are the best iPad apps that can be particularly helpful for web designers. From designing and drawing on the go to brainstorming and note-taking, each app in this list caters to a particular need of web designers and comes with its own set of features.
Adobe Illustrator Draw helps to create, design, and edit vector artwork. The app has a gamut of drawing features and tools, including multiple pen tips, various styluses, layers support, etc. and is available in several languages.
That is not all, Illustrator Draw works with its cousin apps as well, allowing you to send your illustration directly to Adobe Illustrator or Adobe Photoshop. You can also connect it to Adobe Capture CC to get new vector shapes for your drawings.
Related: Check out our posts on Best Adobe Alternative Apps.
Concepts is a fantastic ketching application for your professional designing or sketching requirements. It features support for endless layers along with a quick touch-up option and offers infinite canvas, object libraries, organic brushes, responsive vector engine, precision tools, and much more.
I liked its clean and intuitive interface as well as its broad set of markers, pens, pencils, and wires that also feature adjustable strokes. Moreover, it supports multiple formats (including PSD) and more than ten languages.
Noteshelf allows you to handwrite notes in almost every way possible – including signatures. What I found interesting is that you can add audio recordings, draw sketches, include pictures, etc. in your notes. Moreover, you can annotate PDFs, fill forms, print documents, sign contracts and do much more using Noteshelf.
Noteshelf provides you with a plethora of personalization features and ample of pre-designed options for a note-keeping app. For example, you can choose the notebook cover, pick a paper template, and select a shelf theme as well.
Adobe Comp CC is a wonderful iPad app for creating layouts for web and graphic design projects on the go. Its full of features including photos and shapes repository along with free fonts, gestures support, and more.
One of the most interesting features of Adobe Comp CC is that you can start a layout within this app and later send it to Adobe products like InDesign, Illustrator, Muse, and Photoshop. Lastly, it works with Adobe Creative Cloud services, including Creative Cloud and CreativeSync and supports over 15 languages.
MindNode is one of the best mind mapping tools that helps you to collect, organize, and share your ideas and thoughts. The iPad app is most helpful in joining threads of different ideas in a pattern while traveling or even when working with your team.
What I liked is that you can add pictures and stickers to present your ideas better, and it supports voice-overs, gestures, and many more features as well. The app is fast, thanks to its "Smart Layout" and allows you to highlight, and add notes to your mind maps, etc. that help you organize your ideas quickly.
Markup is a superb annotator, editor, highlighter, scanner, and viewer for PDFs. I feel it as an ultimate tool for you if you work with lots of documents regularly. That is not all; you can highlight web pages as well and use shapes, sticky notes, text boxes, etc.
Markup has a text-to-speech engine, so you can ask it to read a PDF to you. Moreover, it allows inserting audio files, hyperlinks, and photos in the files. Additionally, it comes with a tabbed interface and supports cloud sync as well along with support for getting files from Dropbox, Google Drive, OneDrive, and more.
PANTONE Studio is an interesting color tool for web designers that helps you design and share awesome-looking color palettes. You can build a custom palette by extracting colors from a picture, thanks to its color picker tool and visualize the colors on 3D designs and materials as well.
With the PANTONE Studio app, you can pick images directly from the phone's storage, online networks or services like Facebook and Pinterest. Lastly, it is linked with ColourLovers – a community to inspire you to create your next excellent palette.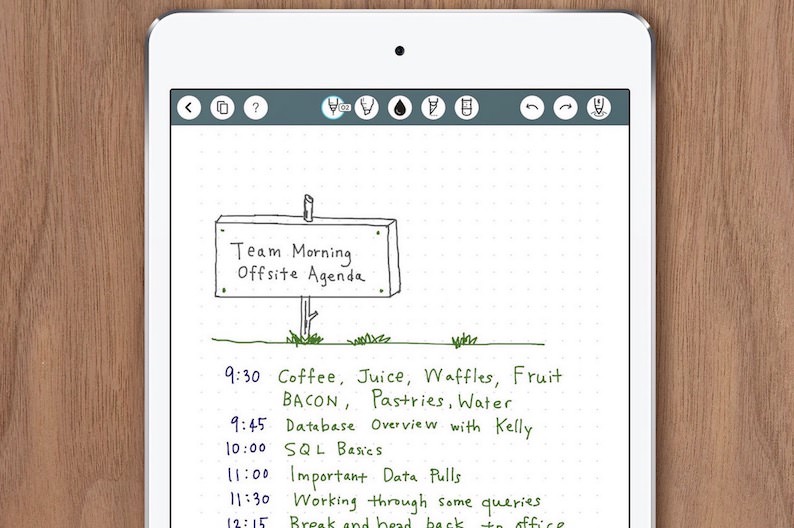 Penultimate is digital handwriting and sketching application with which you can save and browse your handwritten notes. What I found amazing is its unique inking technology that makes natural strokes and its "Wrist Protection" feature prevents possible stray marks on your notes.
Another thing to look for is its "Drift" feature that moves the page based on your progress on the note, and the pinch-to-zoom feature as well. Penultimate supports cloud sync with Evernote, allowing you to sync and search your handwritten notes easily.
OmniGraffle 3 is the iPad app to create, design, draw and sketch charts, designs, diagrams, graphics, mockups, and more. Amazingly, you get to work in three canvas modes – fixed, flexible, and infinite – that you can select based on your design requirements. It also features searchable objects, various stencils, and more.
OmniGraffle 3 supports cross-platform automation using JavaScript and a unified sidebar listing the canvases, layers, and their objects. Moreover, it has many optional, in-app purchase features and tools for satisfying the expert in you.
Monotype's FontBook is a decent font reference app for providing you the necessary typography inspiration and comes with a humongous library of 150 type foundries that publish the font works of 1800+ font type designers. That said, it curates 600+ samples of 46+ typefaces from 9400+ font families.
What I found intuitive in its interface is, you can apply filters, make lists, and search fonts by class, design, foundry, name, and year. Also, you can bookmark your favorite fonts or share them directly via email or on networks like Facebook and Twitter.
Read also: