30+ Useful Mobile Apps for Designers (Updated)
Designing is one of the most demanding professions in the world. From keeping updated with newer tools and tech to being constantly in search of inspiration, designers have a lot on their plate. In such circumstances, some useful mobile apps can come in real handy.
So, here's a long list of useful mobile apps for designers that can help them manage their daily tasks swiftly on the go. The list encompasses everything from social media and invoicing apps to image editing and photo manipulation apps with a lot more.
PicsArt Photo Studio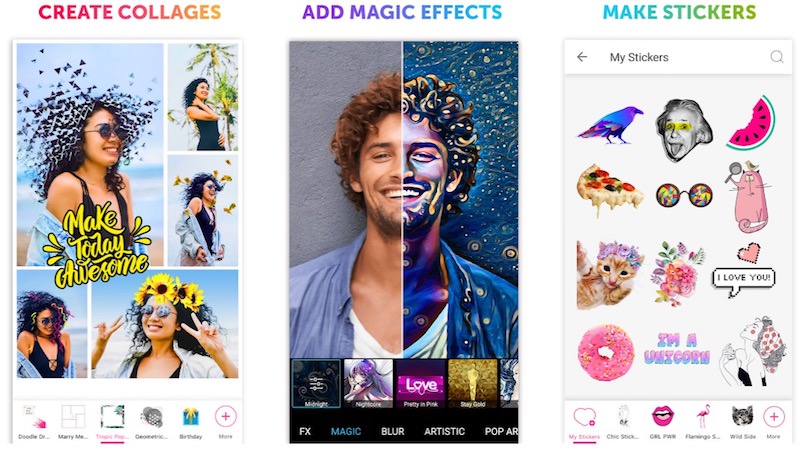 PicsArt is the best photo editor and collage maker app. It offers some really cool effects, a clipart library, various stickers, and a set of drawing tools for editing pics.
Download for:
Pinterest
Pinterest helps you discover inspiration including ideas and sample projects for your next design to try. You can save ideas and organize them per needs.
Download for:
Pixlr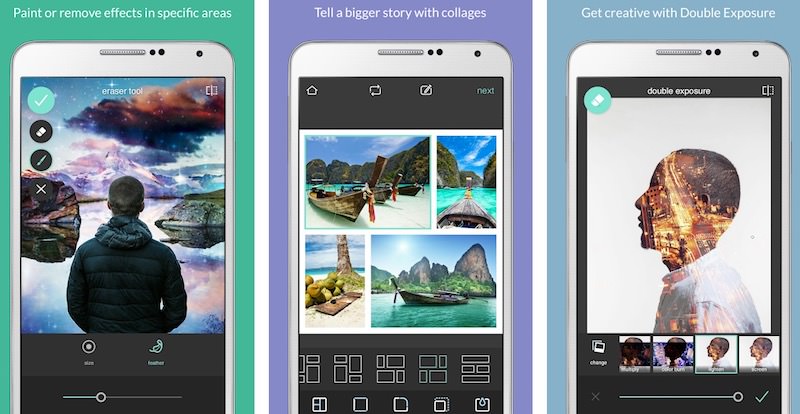 Pixlr is a fantastic photo editor with lots of free effects, filters, and overlays along with editing tools. Also, you can share your creation on social networks.
Download for:
Adobe Photoshop Express
Adobe Photoshop Express is an ultimate photo editing app with a collage maker. It packs in multiple corrections and looks along with quick editing features.
Download for:
ibis Paint X
ibis Paint X is a social drawing app, which lets you create excellent drawings and publish them or the process of drawing them to Facebook, YouTube, etc.
Download for:
Adobe Photoshop Lightroom
Adobe Photoshop Lightroom CC is another fantastic app for clicking, editing, and sharing photos. It also features organization and synchronization features.
Download for:
QuickEdit Text Editor
QuickEdit is a full-featured code and text editor. It features a syntax highlighter for 50+ languages, a tabbed interface, and more features for coding on the go.
Download for:
AirBrush
AirBrush brings the best photo editor and filter features to you. It packs in many cool filters, retouch tools, and numerous features for editing pics.
Download for:
Houzz
Houzz is an app full of interior design ideas along with annotation and sketch features. It packs in much inspiration for building or decorating a house.
Download for:
Google Pay
Google Pay is a quick and simple way to pay and get paid. Using this service, you can accept payments for providing design projects and services to others.
Download for:
SketchBook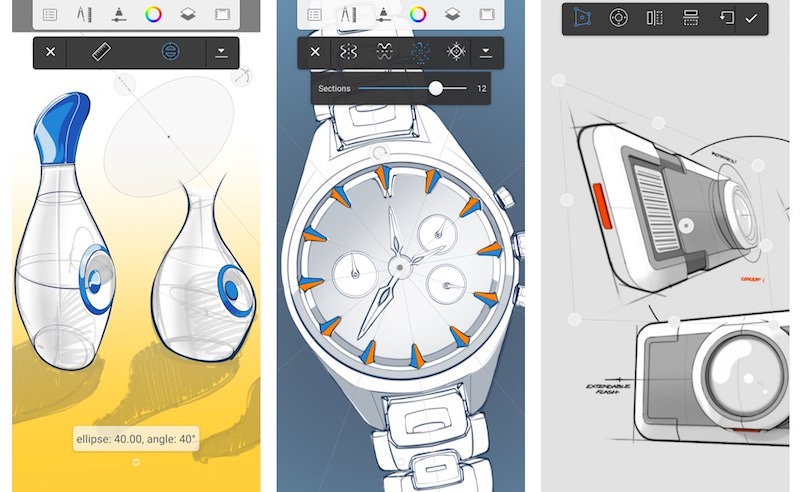 SketchBook is an app to unleash your creativity quickly by creating conceptual sketches as well as fully-packed artworks directly on your smartphone.
Download for:
Color Touch Effects
Color Touch Effects is an app to recolor images and add beautiful photo effects to them. You can import photos from Facebook and later share them on it too.
Download for:
Toolwiz Photos
Toolwiz Photos is a tool to become creative with your photos. It is a pro editor with 200+ tools including magic filters and numerous image processing tools.
Download for:
Todoist
Todoist is a to-do list app that helps to keep track of all of your tasks. It offers app integrations, real-time sync, and many more task management features.
Download for:
AutoCAD
AutoCAD brings the power of AutoCAD to your mobile. It offers drawing and drafting tools that help to create, edit, share, and view CAD and DWG drawings.
Download for:
MediBang Paint
MediBang Paint is a comic creation and digital painting program. It avails many backgrounds, brushes, fonts, etc. along with cloud sync and more features.
Download for:
Canva
Canva is an excellent tool to help you create beautiful collages, designs, and photos. It packs in stock photos and templates along with photo editing tools.
Download for:
Google Analytics
Google Analytics allows you to monitor your business and website on the go. You can check metrics and reports and monitor real-time statistics data as well.
Download for:
Adobe Illustrator Draw
Adobe Illustrator Draw lets you design vector artworks with drawing layers and more details including different pen tips, shape stencils, and vector shapes.
Download for:
PaperDraw
PaperDraw is a painting app that lets you draw a doodle, graffiti, or painting. It packs in a color library, handwriting signature, various paintbrushes, and more.
Download for:
Adobe Photoshop Mix
Photoshop Mix helps you edit and transform your photos. You can apply filters, change colors, combine pics, and enhance and share them on social media.
Download for:
Infinite Painter
Infinite Painter is a superior painting app with lots of brushes and brush presets. Also, it has blend and layer modes, guides, symmetry tools, and much more.
Download for:
Behance
Behance is the largest network of creative enthusiasts and professionals. You can browse projects, follow great designers, and share your creations with others.
Download for:
Infinite Design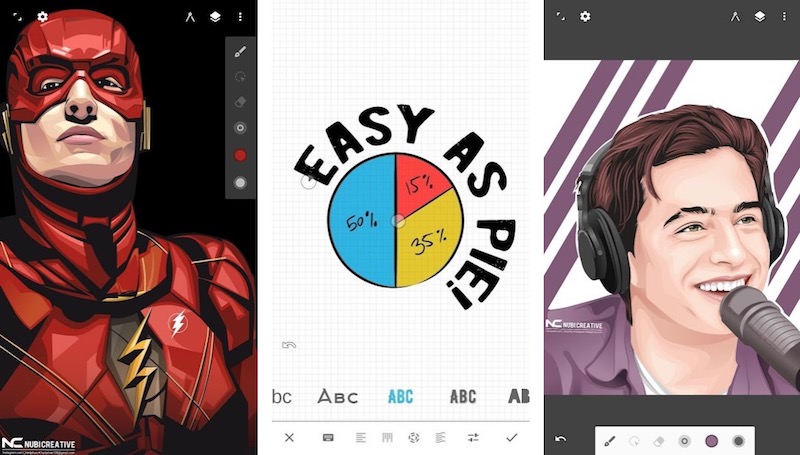 Infinite Design provides a drawing canvas with path editing, boolean operations, and more superior tools along with perspective guides and unlimited layers.
Download for:
magicplan
magicplan allows you to create floor plans by just taking photos. You can use its floor and wall editor to create job estimates, plan DIYs, and furnish your home.
Download for:
PicsArt Color Paint
PicsArt allows creating digital illustrations. It packs in a full drawing suite with features like a color mixer, layers, paint brushes, texture brush, and a lot more.
Download for:
ArtFlow
ArtFlow is another digital sketchbook app that offers 80 paint brushes, smudge, fill, and eraser tool as well. It supports digital pens and many advanced features.
Download for:
Invoice Simple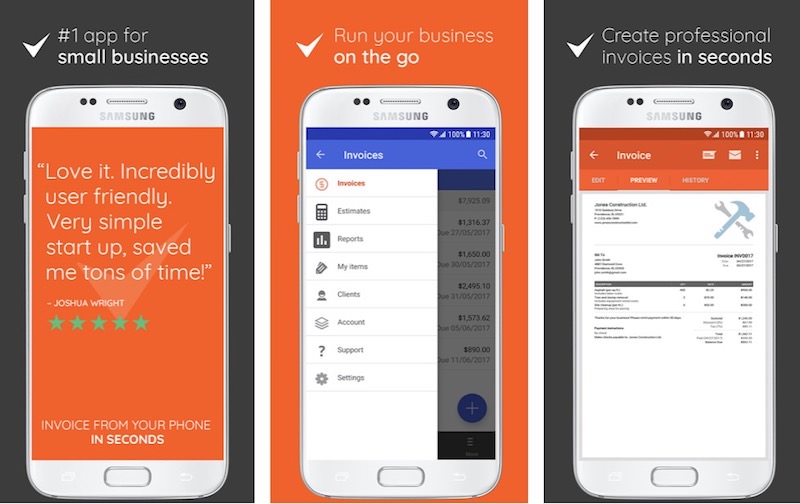 Invoice Simple is an invoice app for generating, sending, and tracking estimates and invoices. However, it supports just a limited number of free invoices.
Download for:
Adobe Capture CC
Adobe Capture CC is a creative app to discover fonts, patterns, and vectors as well. You can easily create vectors by capturing a drawing or uploading a photo.
Download for:
Invoice2go
Invoice2go is another invoice app for freelancers and small business owners. It allows to create and send invoices, capture expenses, and do more on the go.
Download for:
Color Pop Effects
Color Pop Effects is a photo editor with effects and highlights. It allows to select parts of a photo and keep them colored and convert them to black and white.
Timesheet
Timesheet allows keeping a record of your work hours effectively. You can add breaks, expenses, and notes to your timesheets and export them as well.
Download for:
Color Grab
Color Grab is a fantastic color tool that helps to capture, pick, and recognize colors by just capturing a shot. It also packs in a color mixer and more tools.
Download for:
Sketcher FREE
Sketcher is a drawing tool with numerous features like brushes, color picker, adjustable canvas, multiple modes, and more including sharing features.
Download for:
Desygner
Desygner is a graphic design app with 100k+ layouts and templates. It packs in powerful tools along with fonts and graphics to draw out your imagination.
Download for:
Color Reference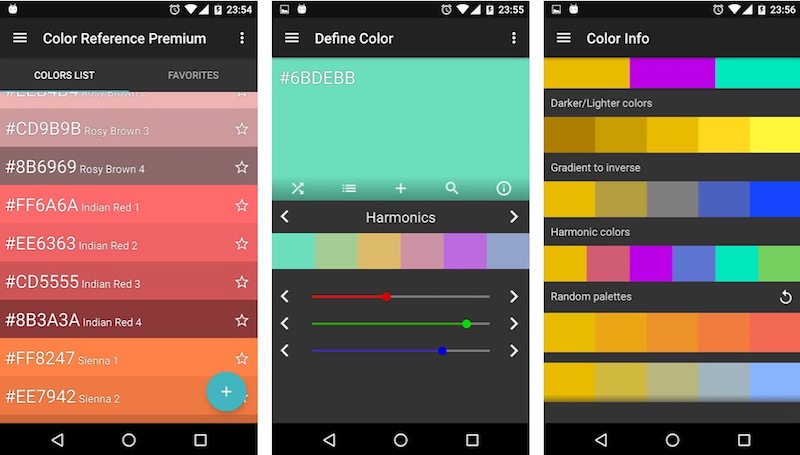 Color Reference is a color tool for the designer in you. You can discover new color schemas, get inspiration, browse colors, and create new color palettes.
Download for:
Twitter
Twitter is a place to read about breaking news to common interests. You can follow people and discover the latest trends to keep yourself updated.
Download for:
Color Harmony
Color Harmony is a robust color matcher that lets you create, discover, and save color palettes. You can grab a picture with the camera to see matching colors.
Download for: