9 Music Apps That Work For Both iOS and Android
If you're an avid music listener and have recently switched from iOS to Android or vice versa, you'll surely be annoyed about converting to a new music app that works for the new platform.
But you'll be glad to know that there are some music apps that work on both iOS and Android – and this is what this post is all about. Following is a list of music apps that you can find on iOS as well as Android. So, read on to know about each app in detail.
10 Best Music Apps for iOS
10 Best Music Apps for iOS
If you're a music fan (which almost everyone is), you'd want access to music everywhere, even on the... Read more
1. Pandora
Imagining a world without streaming music apps like Pandora is impossible. With the release of this app, we were gifted with a new breed of radio station that played songs you loved and skipped all those annoying ones you couldn't stand. There was also an added bonus – if one song became boring or no longer fit your mood, there would be more to explore resembling infinite varieties in every genre imaginable for any situation or activity.
Pandora Premium lets you customize your stations with genre-focused, artist-based, and preprogrammed stations. It also gives an ad-free listening experience for a higher quality sound. The Unlimited Skips and Replays feature ensures that no song will ever get stuck in your head again because the next one is only a few seconds away.
2. LiveXLive
LiveXLive lets you listen to your favorite music and watch live streaming performances for free. It has a global coverage and massive collection of music that you can access for free, from music events to stations that are personalized just for you. Whether you're a music aficionado or just need something to play at the office for productivity, LiveXlive offers the perfect solution.
LiveXLife Plus is only $3.99/month and provides users the maximum audio quality it can give, coupled with unlimited skips and an ad-free experience. Meanwhile, LiveXLive Premium includes all the benefits mentioned before plus it allows for offline playback, access to millions of albums and songs, and the like for $9.99/mo.
3. hazam
Shazam is perhaps the most popular application for music lovers who just can't quite remember the title of a song. Hum it, make your phone listen to it, Shazam will find the name, artist, and lyrics of that song for you. But contrary to what many people believe its only purpose to be, it's also a great app to discover new songs, artists, and albums for free – I mean, 1 billion people can't be wrong, right?
Shazam can play music or videos from YouTube, Apple Music, and Spotify directly without leaving the app. It also works offline (for a limited database), and it can also be used to identify music in TikTok and Instagram clips — if everyone learned of this, we will all stop seeing comments asking, "what's that song?".
4. Songkick Concerts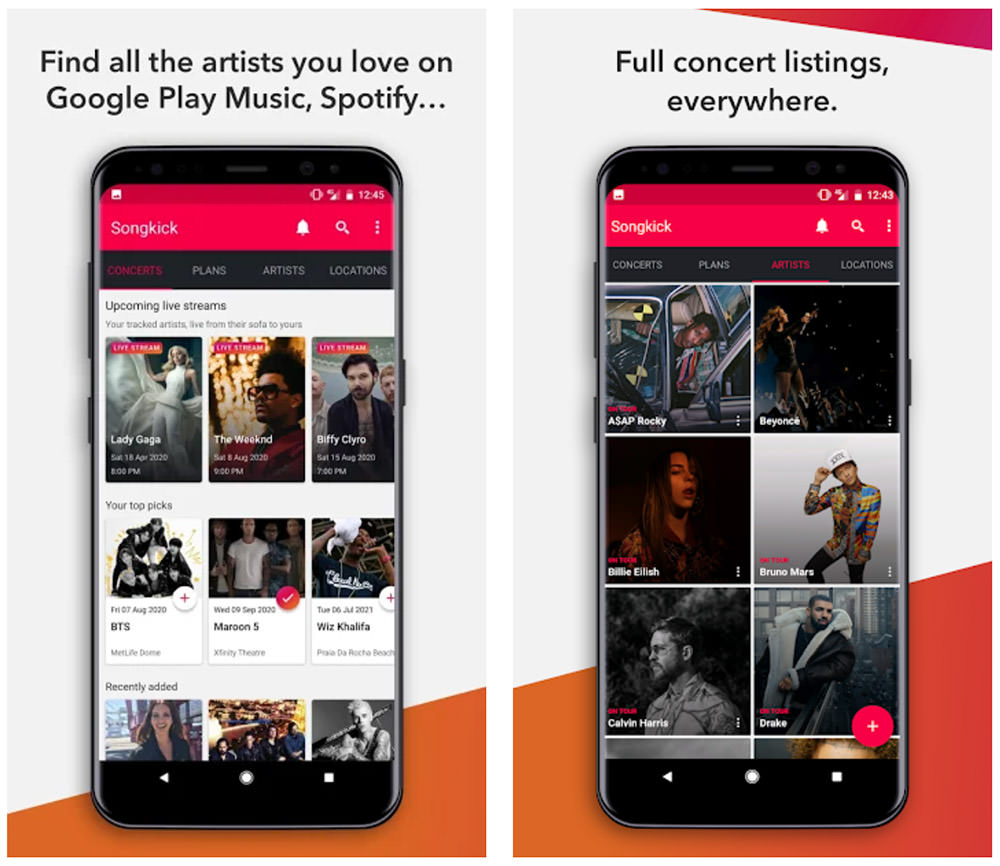 Songkick Concerts is a concert-tracking app that makes it possible for you to never miss a single event by your favorite artists. You can track your artists and get notified when tour dates are announced, or set up notifications for specific artists that aren't yet on the list.
Songkick seamlessly builds a local concert guide based on the artists you are following on Google Play Music, Spotify, and Facebook. Keep track of your artists so you won't cry over soldout tickets!
5. Neutron Player
Neutron reinvents the way you experience music with its Audiophile grade playback engine and blazing fast user interface, bringing the ultimate Hi-Fi listening experience straight to your ears.
Neutron supports all audio formats, it can even copy music from Apple Music straight to your Neutron folder. It offers playback of local music files as well as Internet radio streams in uncompressed high quality format. You can also use it to create a playlist of your favorite songs from iTunes and other preconfigured sources.
6. foobar2000
foobar2000 is a lightweight and straightforward music player for those who want to just keep it simple. It's a free player that has all the premium features of other competitors, like gapless playback, crossfade, ReplayGain support, and open skin customization.
It supports Musepack, MP3, MP4, AAC, Opus, FLAC, WAV, and several other audio formats.
7. Radsone Hi-Res Player
Audio should be heard like it was intended by the artist. Radsone Hi-Res Player is a high-resolution music player app with analog-like sound quality that lets you enjoy your favorite songs like never before. In fact, you'll hear every detail of the instruments and vocals in ways you've never experienced before.
With its easy-to-use interface, you can choose from three sound environments (headphones, speakers or vehicle), tweak EQ with Radsone proprietary 10-band EQualizer plugin and adjust volume levels easily. Its wireless support for Bluetooth or Airplay receivers doesn't lose sight of how high quality music should be experienced, which is a great plus.
8. jetAudio
jetAudio is a powerful audio player that lets your find, play and create your favorite music tracks in a wide variety of popular file formats such as wav, mp3, ogg, flac or m4a. Its user-friendly interface combined with features like high quality sound effects makes it the top-rated media player on CNET.COM among other players.
The premium version gives you access to 14 app widgets, X-Wide, Reverb, and X-Bass sound effects, crossfading, sleep timer, gesture controls, and many more.
9. Onkyo HF Player
Onkyo satisfies the discriminating needs of discerning listeners with uncompromising quality and intuitive functionality. With 16,384 discrete bands of HD audio equalization that will tweak your system's sound to perfection, you'll be enjoying Hi-Res Audio in no time.
It is the perfect player for on the go audiophiles who want stunning audio quality. It's also great for professionals that need a high fidelity music app. Okyo HF Player also allows for real-time DSD conversion on its paid version. You can also purchase music directly from the app!