10 Best Free Note Taking Apps
Explore our list of the best free note-taking apps currently available, as we compare their features, prices, and more.
In today's fast-paced world, note-taking has become more crucial than ever to stay organized, manage tasks, and increase productivity. And with the rise of mobile devices and cloud-based services, note-taking has evolved beyond pen and paper.
Whether you're a student, a professional, or just someone who likes to jot down ideas as they come, this article is for you. Here is a compilation of the 10 best free note-taking apps that we reckon will help you find the one that meets your need.
One of the simplest and most sophisticated note-taking apps on the market, Notion helps you better organize your personal and professional life. The app is your one-stop solution to streamline projects, collaborate with team members, and save and share notes and documents.
One of the most appealing features that I noticed about the app is it is a highly collaborative platform in which you can invite as many participants as you want. Moreover, your notes and tasks are organized in an array of categories that are displayed as a collapsible menu to one side.
Even though the app's many templates can be quite useful, however, for a first-time user, Notion can be quite an intimidating tool. As soon as you open a new note, be ready to be bombarded with different types of templates that make it a confusing matter for the user.
Notion is free, with paid/subscription plans.
Download Notion for:
Evernote is one of the most popular note-taking apps, and there's a good reason for this. From simple note-taking and documentation to complex task management, the app offers many big and small features to its users.
What I find most useful in Evernote is the app integration and multi-device synchronization features. You can integrate different apps, like Gmail, Google Drive, Slack, MS Teams, etc., into your account and share your notes with and from these apps. Similarly, you can sync your notes on different devices that are in your use.
However, most of Evernote's best features are limited to the paid version only. The free version gives users only a handful of features, too, with a monthly bandwidth limit. So if you need to avail the best of this app, you better have deeper pockets.
Evernote is free, with paid/subscription plans.
Download Evernote for:
Note-taking app from Microsoft, OneNote is a simple app without many bells and whistles. You can manage your notes and documents in different categories or Notebooks and further arrange them into sections and pages (something we're already familiar with). Other features include To-do tags, audio recording, single-click web content saving, and many more.
One-note is best for people who avoid too many complex or fancy features. Moreover, you can sync your notes on different devices and various other apps. You can also collaborate with your team, group, or students and share notes.
On one hand, as OneNote is simple and easy to use, it does come off as too basic for some of its features. There's a lack of formatting features for the notes, several people cannot edit the same document simultaneously, and the spectrum of integrated apps is not very vast. If you can live with the absence of these features, then OneNote would be your best choice.
OneNote is free, with no paid/subscription plans.
Download OneNote for:
Apple's default system note-taking app Notes comes built-in with all iOS and macOS devices. At a glance, it does look too simple and basic. However, once you start using it and delve deeper into its features, you'll realize the many benefits of the app.
The best thing about the Notes app is that it syncs at lightning speed across Apple devices and is very reliable with it. Surprisingly, it even syncs with Gmail which makes things even easier for a user. You can do simple formatting of your notes and even add checkboxes to your lists.
Apple Notes does, however, falls behind when it comes to data sharing with other apps. There's also no option to tag a note so you can find it later with its tag name (a pretty basic feature missing). Notes is best if you're an all-Apple person. Also, all the features are free – meaning no fancy premium and barebones free version.
Apple Notes is free, with no paid/subscription plans.
Download Apple Notes for:
Google Keep is just what the name says – to keep your notes, documents, and reminders, etc. saved for later use. It's a simple cloud-based app by Google that allows you to jot down your thought process on the go or as a team.
With Google Keep, you can create an infinite number of notes and to-do lists, give them labels and color codes, share and collaborate the notes with others, and access them from any other device. You can even record voice memos and the app will transcribe and save it for you.
I did, however, feel a few things are lacking in the app as there is no desktop app, no text formatting feature, and no integration with other apps, which is a bit off-putting. Nevertheless, Google Keep is a great app if you're requirement is basic note-taking without having to pay anything.
Google Keep is free, with no paid/subscription plans.
Download Google Keep for:
If your work requires you to take notes that are a bit sensitive in nature, then Standard Notes would be an ideal note-taking app for you. It is an open-source app that saves encrypted notes that only you can decrypt and read.
Privacy of your notes is the main thing that the app boasts of. The notes that you create are end-to-end encrypted and even the people behind the app cannot read them. Its other best feature is multi-platform accessibility I.e., it works on Web, Mac, Windows, MacOS, iOS, Android, and Linux.
Some of its best features are offered through powerful extensions. But unfortunately, these are available only in the premium version. So in the free version, there isn't much, but you can still have simple text editing with complete encryption. If privacy is your only concern then I'd say you go for it.
Standard Notes is free, with paid/subscription plans.
Download Standard Notes for:
A note-taking app with a focus on team collaboration, Slite allows teams of infinite numbers to share and collaborate on notes. Different members of a team or group can create spaces on the app for their shared notes that they can collectively edit or discuss.
Apart from the collaborative editing, commenting, and revision history among team members, Slite also allows you to create private notes for your personal use only. There are many templates to get started with, as well as the feature to import your documents from other apps and platforms.
As a team collaborative note-taking app, Slite does miss out on some important features like project or task management, calendar and video conferencing features. Other than that, it is a very useful app for well-coordinated team work.
Slite is free, with paid/subscription plans.
Download Slite for:
Typora is basically a markdown editor with a bundle of editing and annotation features. However, it can be equally useful as a note-taking app. It allows you to organize your files, sync your data with cloud services, import and export files in multiple formats, and use any of the cool themes for your notes.
Typora's best feature is its intuitive formatting of text that allows you to see the word count, focus mode and typewriter mode of editing as well as code editor-type auto-pairing of brackets, quotes, and markdown symbols. The app also eliminates the need of a preview window and gives you a live preview instead.
As Typora is essentially a markdown app, there are not many advanced features of a note-taking tool like collaborative editing and direct sharing with a group or team. Also, I'd really like to see a mobile version for iOS and Android. Other than that, it is a perfect minimal editor that can double as a note-taking app.
Typora is free, with no paid/subscription plans.
Download Typora for:
Grammarly is hailed as one of the most useful tools for proofreading and grammar-checking. If you're already using Grammarly for proofreading, you might as well use it for note-taking too. The app allows you to save notes in your account and even upload documents from your computer.
The notes that you save as displayed as tiles on your homepage from where you can either delete or download them. You can sync your account with five different devices, and there's a huge 150K word limit for notes. Also, you can integrate it with mainstream browsers, native apps for Windows and macOS, Google Docs, and MS Word and Outlook.
Grammarly being essentially a proofreading app, it has no special features for note-taking. Though you can save notes and search them later by name, but that's pretty much it in the basic account. The premium account does give you a little more room to play. Still, alongside its main usage as a proofreading tool, it can work as a simple note-taking app.
Grammarly is free, with paid/subscription plans.
Download Grammarly for:
For those who are looking for pictorial or visual note-taking, here is Paper. It helps you in collecting your creative prompts as graphics or doodles and bring your ideas to life through interesting visuals.
Paper provides you with ease of use with so many features that even the ones who can't draw can easily come up with colorful sketches. Apart from sketches, you can take textual notes and organize everything in journals. Moreover, the app syncs your notes seamlessly with other devices.
Paper is free, with paid/subscription plans.
Download Paper for: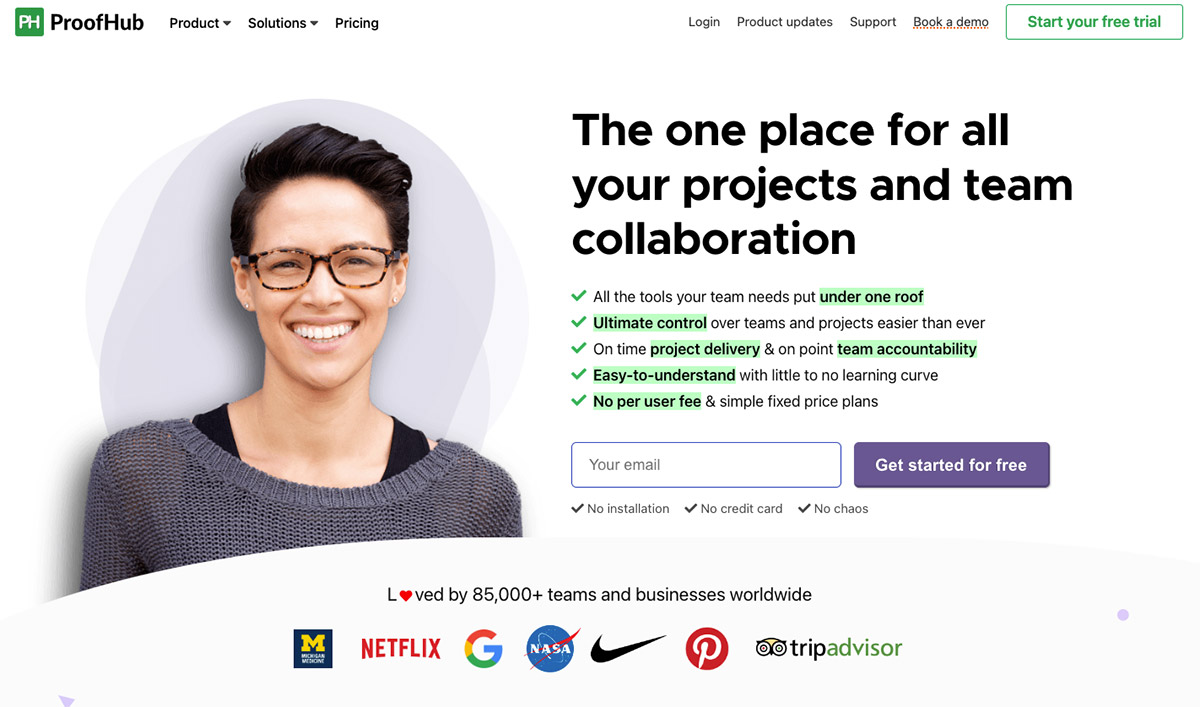 A powerful work management and team collaboration tool, ProofHub, offers a suite of advanced features like reports, recurring tasks, forms, custom fields and many more.
ProofHub also offers an easy-to-use inbuilt note-taking app that allows you to jot down, save, organize, and collaborate on your notes whenever needed. The mobile app of ProofHub allows you to manage your notes even on the go, which is crucial considering today's fast-paced work environment.
ProofHub's smart note-taking app offers you a range of features that you'd expect from such a top-rated software solution. Whether you work remotely or in-office, you can carry your notes anywhere you go as the app works across multiple devices. You can color-code your notes, a feature that I found very thoughtful as it makes it easy for users to categorize and differentiate notes from one another.
Collaborate seamlessly on your notes by subscribing to people, adding comments, and attaching files & docs. The best part is you get a note-making feature in ProofHub's both pricing plans.
ProodHub is free, with paid/subscription plans.
Download ProofHub for: