5 Creative and Unique Ways to Document Your Travels
Documenting your travels is not a new concept. It is a way to remember your travels and the memories you associate with the places that you visited. Most of us would take tons of photos. Some would keep a travel journal or a travel blog. Others would rather video the trip and even turn it into a mini movie.
But surely that's not all there is to it. What if you want to document your travels with a little bit more flair than just posing with a famous landmark in the background? What if you want to include your significant other with you but you don't want to do it the conventional way? Maybe all you need is a litte inspiration.
Take a look at these 5 couples who document their travels creatively by going down the road less traveled.
1. Feet First
We never get to see the faces of British photographer Tom Robinson and his girlfriend, Verity. Just their feet.
It all started in 2005 when the couple were sitting on Brighton Beach, UK. Tom thought that a picture with their feet pointing out to the sea would look nice. It became a photo series from there as the pair went on to travel around the world together.
Eventually one thing led to another with Tom and Verity tying the knot. Their photo series 'Feet First' is still going strong… with a couple of additional legs as their family expands.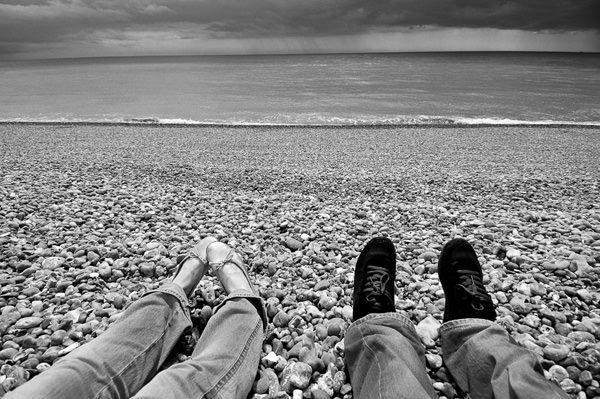 2. Follow Me
Murad Osmann has taken over Instagram the moment his girlfriend lead him to various countries by hand.
The first picture was taken accidentally when Murad's girlfriend Natalia Zakharova became annoyed at his constant photo-taking when holidaying in Barcelona, Spain at 2011.
So, to stop him, she grabbed him by his hand to pull him forward. Murad didn't stop and that photo went on to inspire his ongoing photo series 'Follow Me'.
If you're wondering how it worked out for them, just take a look at the picture below.
3. Lens Between Us
This is perfect for couples who are both photographers like Peter Sedlacik and Zuzu Galova.
Somewhere around 2013, the pair wondered how they can capture each other during their travels. They eventually came up with the idea to take each other's photo, giving the impression that the other is always the object of their attention. It's a fascinating and sweet concept from the Slovakian couple as viewers get to see 2 different POVs.
The series is made even more delightful as Peter and Zuzu make sure to shoot each other amidst unique backdrops instead of at conventional tourist stops in each country they travel to.
Peter and Zuzu are currently residing in Australia. For more of their adventures, check out their Facebook, Instagram or Tumblr.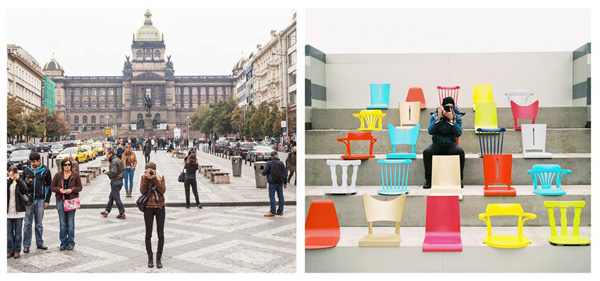 4. Lego Travellers
You might have seen this Scottish couple's cute photos of their Lego selves on Instagram or Facebook.
Craig McCartney and Lindsey Haggerty have been traveling all over the world long before their Lego personas. It all started when Craig found his old Lego collection at his mom's place. He then got an idea to turn 2 Lego minifigs to represent himself and Lindsey.
The minifigs' first trip was when Craig presented them to Lindsey as her birthday gift when they were at Paris, France in 2013.
Their Lego selves now come along with the couple wherever their wanderlust takes them.
5. #BrinsonBanksing
Kendrick Brinson and David Walter Banks took it up to the next level by starting a hashtag movement on Instagram.
Known as #BrinsonBanksing, the photographer couple were captured kissing candidly by a friend at Las Vegas, Nevada in 2010. Kendrick and David liked the pose so much that they decided to recreate it on their own with a self-timed camera. And they did it again, and again, and again everywhere they go as a way to document their love for each other. Even after they got married in 2012.