40 Spectacular Sights of Nature You Should See, Vol. 1
No matter what you build by hand, nothing compares in terms of beauty and awesomeness to what Mother Nature has to offer. And you don't even have to travel the world to see some of the most spectacular sights nature is capable of conceiving. We have compiled here 40 exquisitely beautiful and natural sights you really need to see.
Granted that these are just photographs (you can be sure that the real deal will definitely be a lot more breathtaking), but if you are in no place or condition to travel to these countries to see these amazing sights for yourself, these will have to do for now. Let us know if you know of more amazing natural sites and share them with us in the comments below.
Salar de Uyuni, Bolivia
Image Source: Libertas Magazine
Mount Roraima, Venezuela
Image Source: Tourism on the Edge
Zhangjiajie Sandstone Pillars, China
Image Source: Rare Delights
Chesler Park, Utah
Image Source: CourtneyHouse
Socotra, Yemen
Image Source: National Geographic
Bryce Canyon, Utah
Image Source: Bryce Canyon Country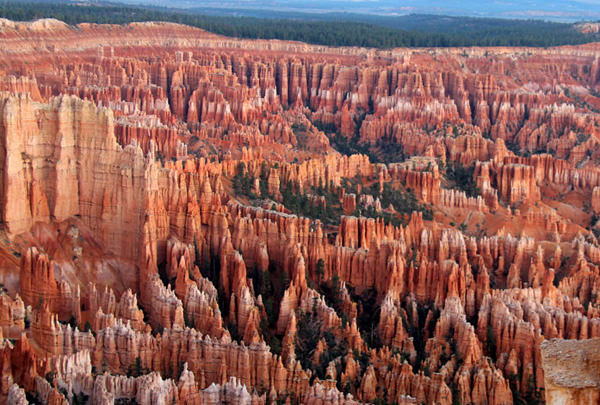 Zhangye Danxia Mountains, China
Image Source: Huffington Post
The Wave, United States
Image Source: Wanderpress
Wave Rock, Australia
Image Source: TH Yuen
Badab-e Surt, Iran
Image Source: Picomazing
Fly Geyser, United States
Image Source: Andrew Lee
Whitehaven Beach, Australia
Image Source: Ma Première Fois En Australie
Trolltunga, Norway
Image Source: Runear
Victoria Falls, Southern Africa
Image Source: Nicole Cambré
Plitvice Lakes National Park, Croatia
Image Source: The Richest
Niagara Falls, North America
Image Source: Photoinpixel
Pamukkale, Turkey
Image Source: Unusual Places
Mendenhall Glacier, United States
Image Source: National Geographic
Red Beach, China
Image Source: TravelX
Lake Hillier, Australia
Image Source: AWSMmag
Great Blue Hole, Belize
Image Source: CharterWorld
Great Barrier Reef, Australia
Image Source: Global Connection
Giant's Causeway, Northern Ireland
Image Source: Profissão Viajante
Black Falls, Iceland
Image Source: Vacation Homes
Spotted Lake, Canada
Image Source: Daily Mail
Sand Dunes, Brazil
Image Source: National Geographic
Danakil Depression, Ethiopia
Image Source: Colin's Notes
Lake Natron, Tanzania
Image Source: Anu Sri
Darvaza Gas Crater, Turkmenistan
Image Source: TheFabWeb
Hang Son Doong Cave, Vietnam
Image Source: National Geographic
Sea of Stars, Maldives
Image Source: National Geographic
Antelope Canyon, United States
Image Source: Art of HDR
Hall of the Bulls, Lascaux Cave, France
Thanks Adrien) (Image Source: Phaidon
Reed Flute Cave, China
Image Source: Big Picture
Vatnajokull Cave, Iceland
Image Source: Einar Runar Sigurdsson
Waitomo Glowworm Caves, New Zealand
Image Source: Penn State University
Fingal's Cave, Scotland
Image Source: Photo District News
Blue Grotto Sea Cave, Italy
Image Source: Hannah Burke
Naica Mine, Mexico
Image Source: Wikipedia
Orda Cave, Russia
Image Source: Orda Cave