45 Beautiful Photos of Abandoned Places
Every building that exists has a story to tell, some more than others. This is especially true when it comes to abandoned buildings. When you encounter one, a variety of emotions are evoked, usually that of curiosity, melancholy and/or nostalgia. Questions such as 'who made it?' and 'how long has it been here?' start appearing in your mind.
In this post, we've gathered 45 beautiful photos of abandoned places from around the world. Whether from accidents, wars, money or just simple abandonment, each one has its own history that will surely keep you intrigued.
Namie, Fukushima, Japan
Image Source: Damir Sagolj
Ryugyong Hotel, Pyongyang, North Korea
Image Source: Timur
Tanque Verde Guest Ranch, Tucson, Arizona, USA
Image Source: Ethan Kahn
Domino Sugar Factory, Brooklyn, New York City, USA
Image Source: Tom Harrison
Michigan Building, Detroit, Michigan, USA
Image Source: Bob Jagendorf
Bannerman Castle, Pollopel Island, New York, USA
Image Source: ArtificialOwl
Buzludzha Monument, Bulgaria
Image Source: KamrenB
Hashima Island, Nagasaki, Japan
Image Source: Jordy Meow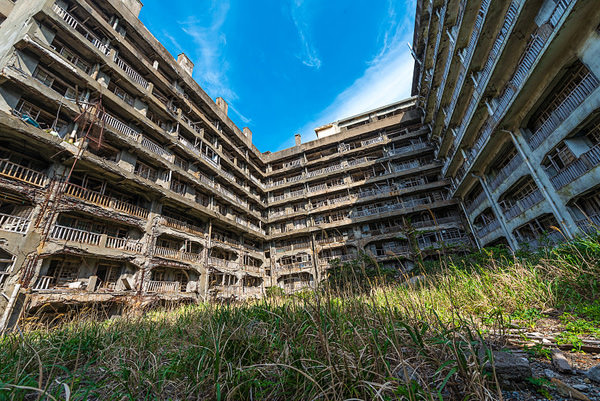 Miranda Castle, Celles, Belgium
Image Source: P. J. L. Laurens
Chambre de Commerce, Antwerp, Belgium
Image Source: Saul
Denbigh Asylum, Denbighshire, Wales
Image Source: Jo Conchie
Pripyat, Ukraine
Image Source: Timm Suess
New World Shopping Mall, Bangkok, Thailand
Image Source: Jesse Rockwell
Barnes Hospital, Cheadle, Greater Manchester, England
Image Source: Mike Peel
City Hall Subway, New York City, New York, USA
Image Source: openingintro
Michigan Central Station, Detroit, Michigan, USA
(Image Source: Albert Duce
Yekaterinburg TV Tower, Yekaterinburg, Russia
Image Source: Kuriositas
Red Sea Star Bar, Eilat, Israel
Image Source: Distaplia
Wonderland, Chenzhuang Village, China
Image Source: David Gray
Spreepark, Berlin, Germany
Image Source: Jan Bommes
Sathorn Unique, Bankok, Thailand
Image Source: IMP1
Aldwych Tube Station, London, England
Image Source: David Jones
Book Tower, Detroit, Michigan
Image Source: Albert Duce
Baker Hotel, Mineral Wells, Texas
Image Source: Festino114
Mos Espa Set, Tunisia
Image Source: Iñaki Martínez de Marigorta Díaz
Oradour-sur-Glane, Limousin, France
Image Source: Dna-Dennis
Canfranc International Railway Station, Canfranc, Spain
Image Source: Wikimedia
Six Flags New Orleans, New Orleans, Louisiana, USA
Image Source: Kim Hill
Sanzhi UFO Houses, New Taipei City, Taiwan
Image Source: Chao-Wei Juan
Kolmanskop, Namibia
Image Source: Damien du Toit
Dayton Arcade, Dayton, Ohio
(Image Source: vistavision
Grande Ballroom, Detroit, Michigan, USA
Image Source: Albert Duce
Mid Wales Hospital, Talgarth, Wales
Image Source: True British Metal
Camelot Theme Park, Lancashire, England
Image Source: True British Metal
St George's County Asylum, Strafford, England
Image Source: True British Metal
Orpheum Theatre, New Bedford, Massachusetts, USA
Image Source: Marc N. Belanger
Battersea Power Station, London, England
Image Source: Alberto Pascual
Beelitz-Heilstätten Hospital, Beelitz, Brandenburg, Germany
Image Source: Doris Antony
Czestochowa Train Depot, Czestochowa, Poland
Image Source: Mircea Tătuc
Nara Dreamland, Nara, Japan
Image Source: Jordy Meow
Abandoned City By The Yangtze River, China
(Image Source: cindyt7070
Abandoned Buildings Along Route 66, USA
Image Source: Andrew Yang
Starlite Music Theatre, Latham, New York
Image Source: Sébastien Barré
The Holy Cross Campus of Pius XII Youth and Family Services, Rhinebeck, New York, USA
Image Source: Sébastien Barré
Nicosla International Airport, Cyprus
Image Source: Neil Hall