10 Best Mobile Apps to Plan Your Next Trip
A list of the best travel apps that offer multiple features to log your trips.
If you like to log your trips but don't want to carry a travel diary all along, then let your smartphone take over this task through a useful travel app.
A journal app built for logging your travels must have two elements; an intuitive interface as well as stunning features that allow you to capture your memories, add photos and videos along with location info etc. So, in this post, I'll list down some of the best travel apps that offer multiple features for users. Let's take a look.
Polarsteps
I have used a few travel apps, but none as easy and intuitive as Polarsteps. What I liked most is, it tracks your trip and shows it on a colorful map. Also, you can add a story and calculate statistics including countries visited, distance traveled, etc. Moreover, you can share the trip on social media and via email.
What's more interesting is that you can track your journey in the offline mode, letting you to trek and track remote places. Also, the app can create a travel log of your trip using the location-tagged photos. Last but not least, you can also create a paper-printed travel book through Polarsteps for just €30 to €80.
Download Polarsteps for:
Journi Blog
Journi Blog is an intuitive story-telling app that captures and categorizes your best moments and stories of your travel life on a catchy timeline. It lets you blog about your vacations, create photo albums, and geolocate your photos. What's best? You can allow others to track your trips, thanks to its sharing options.
If you use several devices, you can sync your journal to Dropbox or Google Drive. Also, like Polarsteps, you can track your travels offline. However, these two features require a premium subscription. Last but not least, you can also turn your blog into a unique photo book for starting price of €22.99.
Download Journi Blog for:
Tripcast
Tripcast is another diary app, which — I find — is most useful when you are traveling in a group. It captures your trip and lets you share an update with family and friends in real time. Interestingly, it works like a group journal — all the members can add photos and videos to one place.
Moreover, you can also build a photo album like Polarsteps or Journi Blog; however, what is unique here? You can create a collective photo album as well. Last but not least, Tripcast creates a trip map based on the geo-tagged photos, so you can browse them by location, just like other apps on this list.
Download Tripcast for:
Bonjournal
If you love journaling with a minimalistic approach, you will like the intuitive diary-style journaling of Bonjournal. You can create a day-by-day narrative with your photos, the date and location, title, and some chosen words. Moreover, it offers offline support to travel and journal without a web connection.
What I liked the most is, you can export your logs to PDF so it can be printed, shared, or stored. It also generates a map of your trip and lets you share the complete exhibition with your friends and fellow travelers. Last but not least, you can also share your journals or photos via Facebook and Twitter.
Download Bonjournal for:
Journey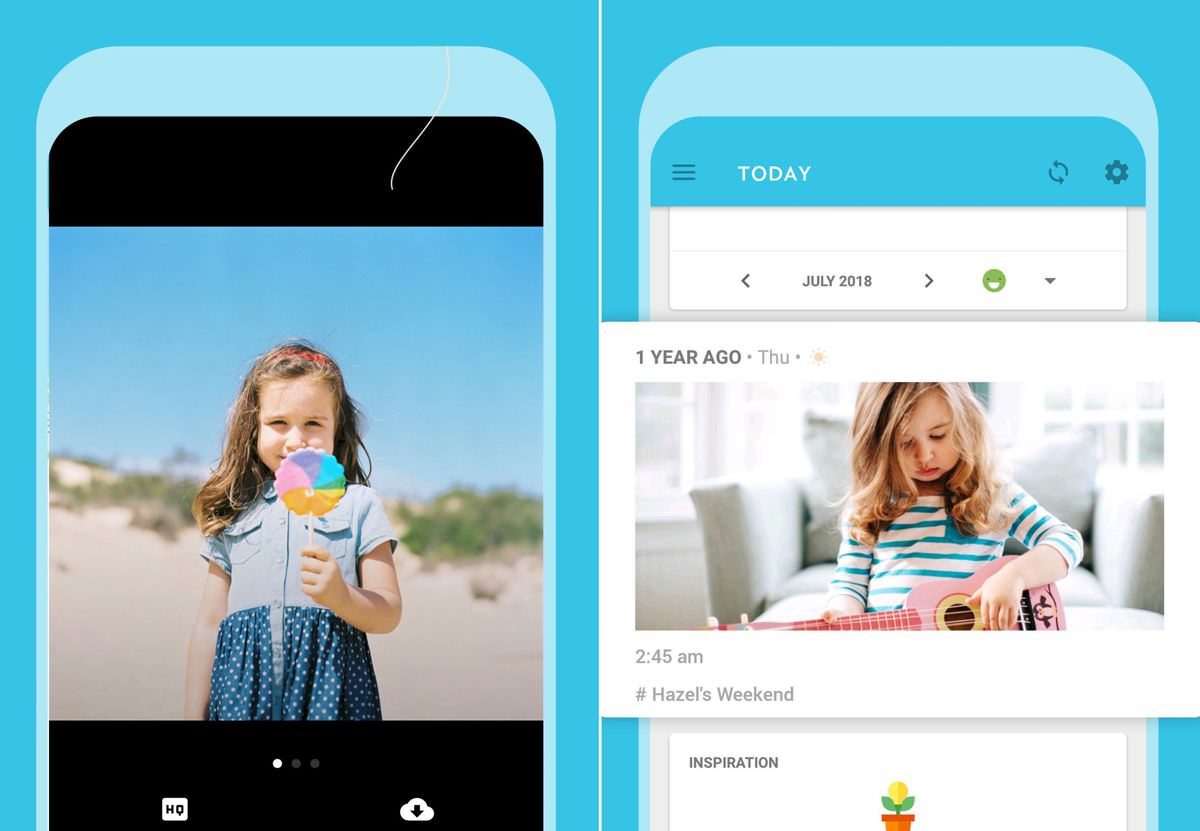 Journey is another seamless mobile journaling companion to help keep your travel memories for a lifetime. You can add photos and videos, attach audio notes, and pen your stories in words. Additionally, Journey adds the weather and location information to your journal entries on the fly.
You can import diaries from other apps and export to DOCX and PDF, allowing you to share and safe-keep them. It can also sync across multiple platforms and share your journal entries on social media. Its Throwback feature lets you view your timeline and revisit the places on an intuitive map.
Download Journey for:
Evernote
If you already use Evernote to jot down notes or to-do lists, then you can stick to it for logging your trips as well. How's it better than the rest of the apps? It supports multiple platforms and cross-syncs between them. If that's not enough, you can share photos on social media and do more, thanks to IFTTT.
What it uniquely offers is, you can create travel plans (and to-do lists) and assign tasks along with writing your journals. I suggest creating a notebook for writing your travel journals, and if it becomes complex, then create a notebook per journey. And lastly, you can share your diary with others as well.
Download Evernote for:
Penzu
Although Penzu is not built specifically for travelers, like Evernote; it is a popular journal app that offers unlimited yet intuitive journaling experience. I love its reminders that request you to write — online as well as offline. Moreover, you can sync your journals across the web and mobile platforms — for free.
You can add photos in travel logs along with text and categorize them with tags. However, you can't share or publish them, unlike above apps. Moreover, you can also customize the journal cover, perform smart searches, and enjoy a lot more features in its Pro/Pro+ subscription for $19.99 or $49.99 a year.
Download Penzu for:
Diaro
Diaro is a multi-purpose and multi-platform service which works offline as well, like Bonjournal and Penzu. What I liked the most is, the app has an intuitive interface that lets you organize everything, thanks to its support for folders and tags. Also, it lets you add geotagged photos and maps in diary entries.
Diaro offers multilingual support (unlike many other apps), journal-sharing features, friendly reminders to write posts (like Penzu), and a lot more features. Isn't it enough? Its paid version offers additional features like ad-free experience, cloud sync, and export options.
Download Diaro for:
Diarium
When it comes to logging your memories, Diarium is helpful in capturing journals in a calendar interface. You can attach drawings and photos as well as audio files, tag multiple entries for a day, write stories, and include timestamp along with the location. What's unique? Diarium automatically pulls in social media feeds and reminds you to write the journal on a daily basis.
Moreover, it displays your calendar events, fitness data, and weather info along with your journals. Last but not least, its pro version offers reliable syncing to OneDrive and allows you to export journal entries in various formats (like DOCX and HTML) along with their media attachments.
Download Diarium for:
Momento
This list would not have been complete without Momento: a travel diary app for your iPhone. Momento automatically organizes your entries into a beautiful private journal. You can write notes, add photos and videos, and insert people, places, and tags in your journals. Also, you can set up custom reminders to encourage you to capture your beautiful moments.
What piqued my interest is that Momento collects your posts from a wide range of social media feeds and places them in your journals. Moreover, you can search and explore, relive, and rediscover your moments on a unified timeline. Lastly, it offers journal-sharing features and local and iCloud backup and restore options as well, surprisingly.
Download Momento for:
Bonus: More Traveling apps:
Jauntlet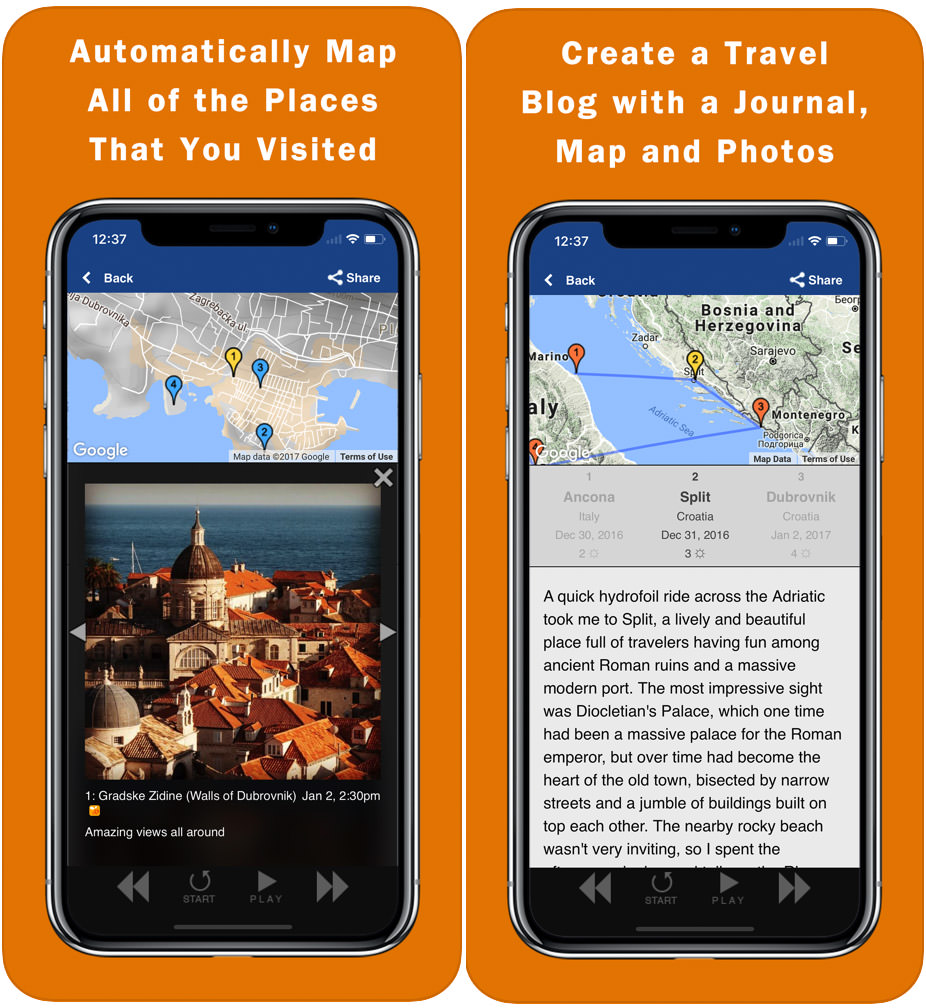 Update your Facebook posts, Foursquare check-ins, tweets and Instagram photos like normal, and Jauntlet will collect them and map out your travels for you. You can also add to it by updating your travel blog.
Download Jauntlet for:
Geospike
Log on and snap a photo which comes with the location of where you are (this makes it great as a real-time journey log). Plus, you don't have to duplicate your updates onto other social networks like Facebook or Twitter – just syndicate it.
Download Geospike for:
Which is the best journal app?
It depends on your requirements. I have picked the ten best journal apps for Android and iOS, but all these apps don't work on both the platforms, of course. Moreover, some of them work on the web and other platforms as well. So you need to think about platforms and use cases and choose accordingly.