These Photos Are Why Being An Astronaut Is Cool
When the word 'selfie' exploded in cyberspace back in 2013, astronaut Mike Hopkin's outerspace selfie took off in its on way on Earth, even though it wasn't technically the first space selfie.
What makes it such a hit (and one of the most epic selfies, ever) is that it offers us a glimpse of the Earth from space as well as what astronauts risk their lives for. But space selfies aren't the only photos astronauts take. They shoot plenty of stunning pictures from the window of the space center. You might even have come across a few astronauts on social media like Reid Wiseman and Chris Hadfield on Twitter.
To that end, we went about scouring for these 20 photos taken by astronauts and the stories that came with them for your viewing pleasure.
Recommended Reading: Wallpapers Of The Earth That Captivate You
#1
The Sun is not the only thing that sets and rises on our horizon. The Moon does too as this photo shows. What you see here is the moon setting and the phenomenon is called Moonset. (Image source: André Kuipers)
#2
Anyone managed to catch a glimpse of the Supermoon on August 13, 2014? If you didn't, American astronaut Reid Wiseman managed to take a photo of it. From space. (Image source: Reid Wiseman)
#3
The Sun setting over the Indian Ocean as seen from the International Space Station (ISS). (Image source: Earth Observatory)
#4
The New Moon as captured over the southeast of the Pacific Ocean. You can see a thin crescent at the bottom of the Moon where it reflects the Sun. (Image source: Nasa Johnson Space Center)
#5
This is photographic evidence of how different the two Koreas are from one another. South Korea is brightly litted up with city lights on the right and the dark area in the middle is North Korea. If you look closely, there's a spot of light that's slightly brighter than the rest which indicates where the city of Pyongyang is. (Image source: Nasa Earth Observatory)
#6
To us, the Aurora Borealis is already a spectacular sight to behold. Just imagine how much more wondrous it looks like from space. The Aurora Borealis captured here was taken when the ISS was flying over the eastern North Atlantic with city lights from the UK and Ireland. (Image source: NASA)
#7
At first glance, this might seem to be just a night view of a country until you notice what seems to be explosions of light. In fact, they are rocket attacks over Israel and Gaza in July taken by German astronaut, Alexander Gerst. (Image source: Alexander Gerst)
#8
The city of Dubai at night is apparently a favorite photographic subject among the astronauts. It's not hard to see why, as you can see the man-made Palm Island pictured at the top left corner. (Image source: Earth Observatory)
#9
This is apparently a river in Bolivia according to this Slate article. The reason why the river looks like a meandering gold thread is that the river's water is reflecting the sunlight from the Sun, which is situated well off towards the right. (Image source: Chris Hadfield)
#10
This is how Mount Vesuvius in the Gulf of Naples, Italy looks like from space. It's also scary to see how close the towns and cities are around the active volcano. (Image source: Chris Hadfield)
#11
Astronauts don't just take photos of volcanoes. They also photograph mountains like this one of Mount Fuji, Japan's highest mountain. (Image source: Earth Observatory)
#12
Photos that are taken also show life growing on earth. In this photo, the milky green trail you see is a plant-like organism called phytoplankton which bloomed off the coast of Oregon and Washington. (Image source: Earth Observatory)
#13
Our ocean will always look beautiful from above. Here's part of it along Hawke Bay in New Zealand. (Image source: Alexander Gerst)
#14
Anyone remember when Typhoon Haiyan struck the Phillipines? Here's how it looked like from space; as a gigantic swirling mass of clouds that completely engulfed the Southeast Asian country. (Image source: Earth Observatory)
#15
Lightning may not look like streaks of bolts from space but they do flash brighter than the city lights, as shown by this photo taken from above West Africa. (Image source: André Kuipers)
#16
This is known as the Richat Structure in Mauritania but it's perhaps better known as the 'Eye of Sahara'. It's one of Earth's landmarks for astronauts. (Image source: Chris Hadfield)
#17
A reminder that the Great Barrier Reef is called great for a reason. And this is only one section of it off the east coast of Australia. (Image source: Douglas Wheelock)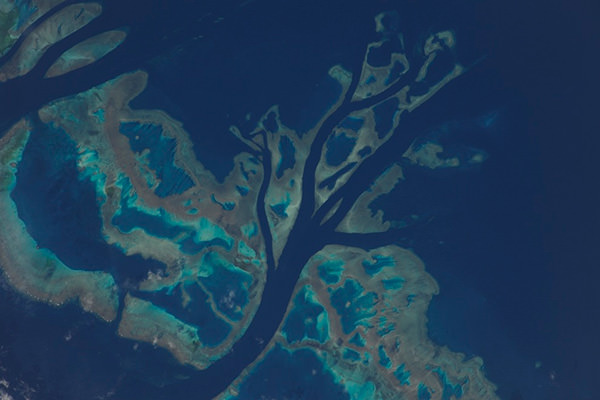 #18
Every once in a while, astronauts will peel their eyes away from the Earth to look at their surroundings instead and the view isn't any less magnificent. Pictured among the star-strewn sky is the ATV which fires its boosters to help place the ISS at a higher orbit. (Image source: André Kuipers)
#19
Astronauts also take photos when they go on spacewalks especially when mending or performing maintenence on the ISS. (Image source: Alexander Gerst)
#20
Astronaut Don Pettit used long exposure to capture this trippy photo of star trails. (Image source: Don Pettit)