How to Reply to an Email and Archive It in One Click in Gmail
One of the best features of Gmail is its threaded conversation function, which greatly reduces clutter. This is particularly beneficial for busy individuals who heavily rely on email for business transactions. For many, achieving Zero Inbox is a daily challenge, and one of the best ways to keep emails in the inbox without adding to the confusion is through the practice of archiving.
While Gmail makes archiving easy with its "Archive" button, the process can become somewhat tedious if you have to archive everything at once. However, did you know that you have the ability to archive emails when you hit the "Send" button? This method allows you to continually tidy up your inbox as you use it, resulting in a less cluttered and more organized mailbox in the long run.
Simultaneously Sending and Archiving Emails
To set this feature, you first need to activate the 'Send & Archive' button in your compose window. To do this, click on the button located in the top-right corner of the window and navigate to 'Settings'.
Proceed by scrolling down until you come across the 'Send and Archive' category. Once there, choose the option that says 'Show "Send & Archive" button in reply'.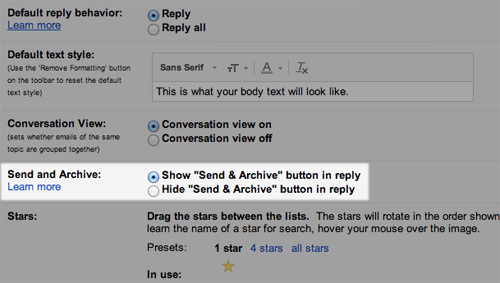 Don't forget to save your modifications. You can do this by scrolling to the bottom of the page and clicking the 'Save Changes' button.
From now on, when replying to emails, you will notice a 'Send & Archive' button situated next to the 'Send' button. If you desire to archive your email conversation while sending, opt for the 'Send' + 'Archive' button instead of the usual 'Send' button.
If you inadvertently archive the wrong email thread, there is a remedy. Just click on the 'Undo' link which will promptly appear near the top of your inbox immediately after the email is sent.
Conclusion
In another scenario, you might decide to return the thread to the inbox. To achieve this, navigate to 'Sent Messages', select the conversation in question, and hit the 'Move to Inbox' button situated at the top.
If you are anxious about missing future emails from the archived conversation, rest assured. Archiving your emails will not influence future incoming messages linked to the archived conversation. New messages in an archived conversation will continue to show up in your Inbox.