10 Google Calendar Tips to Know
The calendar is a critical organization tool, particularly for freelancers and teams that work remotely. While apps help us cope with distractions or keep track of time, the calendar is still the go-to tool to mesh all your upcoming events and meetings together. One online calendar I believe most of you are using is Google Calendar.
Just like Google's other services, Google Calendar has flexibility which lets you work faster and more efficiently. With Gmail, separate calendars for work, school or home affairs, keep them altogether in the same view, and share your calendar with colleagues.
If you're already using Google Calendar or about to start, here are 10 things you can do to get more out of Google Calendar.
1. Quickly Add Event Details
As you know, you can quickly add events to Google Calendar by clicking on a date or time and typing into the box that pops up. Next time, just type in the time, followed by the agenda, and its location (see shot) as well.
The information that you have entered into the 'What:' text box will be recognized and placed in the appropriate fields by Google Calendar.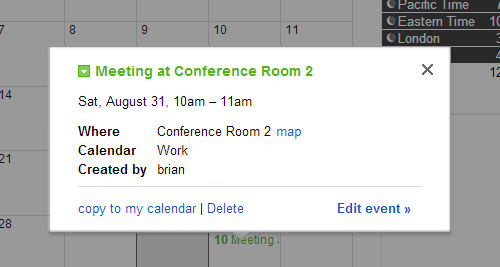 2. Enable Email Notifications
Even though we use Google Calendar a lot, not all of us check it faithfully. So, for real important events or meetings, it's good to enable email notifications. To do this, press on the arrow button next to a selected calendar, then select Reminders and notifications.
Once there, you'll be able to set what kind of email notifications you want for each calendar. You can also choose to send a reminder email at a determined time before each event. If you do not want to overwhelm yourself you can just set email reminders for your most important calendar.
3. Add Holidays & Sport Calendars
Google has included many pre-loaded calendars that you can subscribe to. To view their wide selection, click on the arrow button next to Other calendars and select Browse Interesting Calendars. You'll then be able to see holiday calendars for multiple countries.
You can also follow the game dates of your favorite baseball, basketball, cricket, football, hockey, rugby or soccer team.
4. Hide Inactive Hours
Ideally your work calendar would only occupy working hours where there are no events or meetings slotted in between 10pm to 6am the following day. With that premise, it is safe to assume that you won't need those hours in your calendar.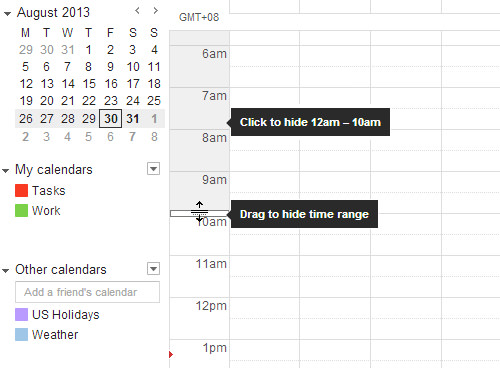 You can customize what your working hours are and hide irrelevant hours by enabling Hide Morning and Night under Settings > Labs.
5. Add World Clock
Need to work around the clock literally? get a world clock add-on to get international times into your calendar and keep track of everyone's working hours. To enable it, go to Settings > Labs tab. Look for World clock and enable it.
Once enabled, you can click on Settings under the world clock 'widget' to select what countries or time zones are to be shown. Morning and night are differentiated with light and dark backgrounds, respectively.
6. Enable Weather Forecast
Have events that are outdoors? The weather forecast information wil be real helpful. Go to Settings > General > Location and enter your country. Then, determine the metric for temperature, °C or °F.
After saving these settings, you'll see icons that state the weather conditions of your location, for the next 3 days.
7. Google Tasks
Google Tasks is a simple to-do list that works with Google Calendar. It's akin to the things you leave on Post-It Notes, only with Google Task you can see it right on your calendar and assign a deadline to it. Just check them off when you're done.
8. View Google Calendar Offline
Installing the Google Calendar app for Chrome allows you to view your calendar offline. To make sure all your events are synced, click on the Gear icon > Offline. A green tick means that your calendar is completely synced for offline viewing.
Do note that you won't be able to add or edit any events while viewing your calendar offline.
9. Use Keyboard Shortcuts
You can navigate throughout your dates and events faster on Google Calendar via Enable keyboard shortcuts in Settings > General.
Here are all the keyboard shortcuts you can use on Google Calendar:
Shortcuts
Descriptions

K

or

P

Previous date range

J

or

N

Next date range

R

Refresh calendar

T

Jump to today's date

1

or

D

Day view

2

or

W

Week view

3

or

M

Month View

4

or

X

Custom view

5

or

A

Agenda view

C

Create new event

E

Show event details

Backspace

or

Delete

Delete event

Ctrl

+

Z

or

Z

Undo last action

Ctrl

+

S

or

S

Save changes to event details

Esc

Return to main calendar page

/

Places type cursor on the search bar

+

Add a calendar

Q

Quick Add

Ctrl

+

P

Print calendar

S

Open settings

?

Show keyboard shortcuts list
10. IFTTT Recipes
IFTTT (If This Then That) is a service that allows you to connect 2 online services to interact with each other e.g. archiving your social media data. You can also use it with Google Calendar, for instance, add a new Google Calendar event through SMS, an awesome recipe for people constantly on the go.
As you may have calendar needs that are different than that of another readers, I suggest you browse and enable recipes of your liking from the list here at IFTTT recipes with Google Calendar. Automate your calendar events with IFTTT.