21 Handy Chrome Extensions for Google Calendar
If you work on the Web, you will depend a lot on the calender to keep track of project progress, submission deadlines and the likes. For most of us, Google Calendar is a great scheduling tool, mostly because it had been conveniently integrated with Gmail and other Google services. Best of all, it even allows the display of other calendar services like iCal and Outlook.
No matter which calendar you use, there are a few handy plugins and add-ons that can help you keep track of your productivity rates, particularly if you are not able to avoid procrastinating while on the job. To help you with that, we have 5 browser tools that can help you better manage your online calendar events.
10 Must-have Chrome Security Extensions
10 Must-have Chrome Security Extensions
From managing tabs to increasing productivity, Chrome has a whole bunch of handy extensions to empower the user.... Read more
This Chrome extension allows you to customize your Google Calendar in many ways. You can add colors to any day of the week and also chose various colors for adding text on the important dates.
There are different options of the calendar views. month view, week view, and even agenda view for any specific day. It is also really easy to add customization; just make the changes to background and text color and click save and your changes will be applied to the calendar.
It shows you a full year calendar view of Google Calendar and a countdown to any date that you're looking forward to. Just click a day to open the menu and put a badge on to count up or count down from this date.
You can also add notes to any date and when you hover over this date, the note will popup. There are also many ways you can customize your calendar like changing color and adding icon with the countdown date etc.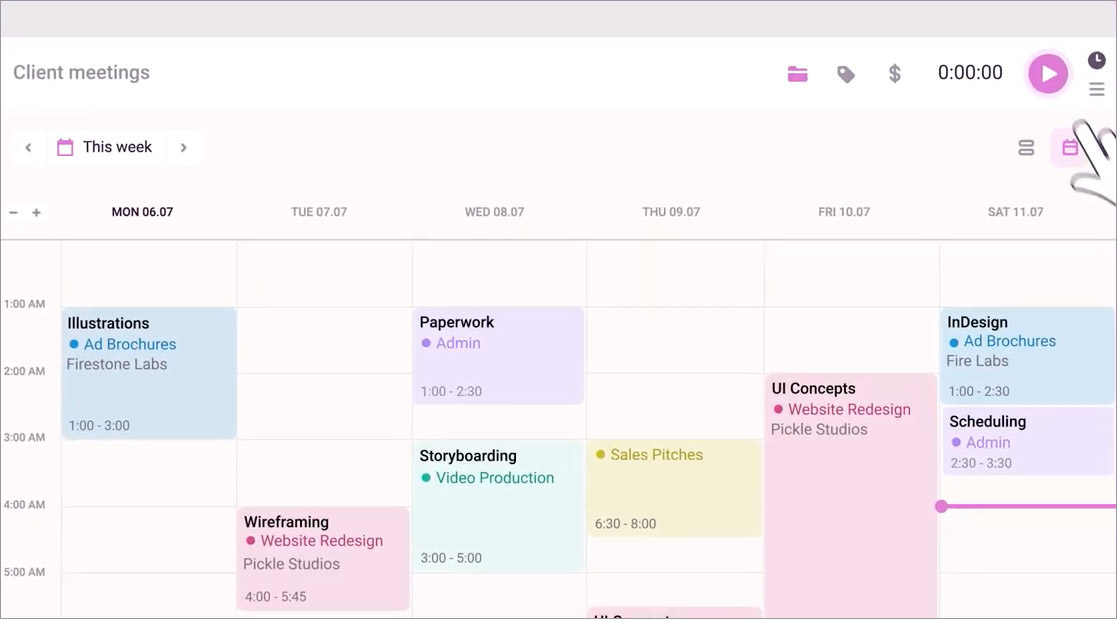 This extension adds time tracking features to your Google Calendar so you can use it as a productivity tool. You can put a timer at any of the supported web tool and track your productivity in real-time.
Other features of the extension include, automated tracking reminder, time tracking without opening any other tab, idleness detection, and adding Pomodoro timer to the web tools etc. All the time tracking data will be stored in your Toggl account.
The Checker Plus extension is a boon for your productivity. It allows you to get notifications of your important events, meetings, or appointments without having to open Your Google Calendar page. There's also a lot of customization that you can do for the notification you receive from the extension.
This extension gives your Google Calendar a simple yet powerful little tweak. You can give the notes and tags on your Google Calendar little visual addons that simplify your schedule and make it easy for you to browse through the important dates.
It works in a way that the events that have a colon (:) in their names will have the part of the name before the colon displayed as color tag. Similarly, the events or appointments with a question mark will be shows as transparent. This way, you can know about each event without having to open them.
TeamCal enables you to open multiple calendars in a timeline sort of view. You can open different schedules right through the extension and edit each schedule or calendar at ease.
This extension is specially useful for managing employee or team schedules. It uses the data from your Google Calendar and arranges different schedules in one place. You can also share any of the schedules with your team, embed the schedule in a website, or export it as PDF.
This extension enhances the functionality of your Google Calendar. It gives various viewing options like full-screen, maximized viewing, week view, and month view etc.
Apart form that, there are other features you can add to your calendar like busy dates, disable opening Maps when you click on location, showing titles on hover, color coding the events and meeting and much more.
Here is a simple yet helpful little extension enables you to visually merge the same event on different calendars like merging an event on your work and personal calendar. The merged event is shown as strips and allows you to have a decluttered schedule.
This extension is a weekend highlighter for your Google Calendar. It offers you to choose two different colors for two different days and change their background colors for highlighting. You can make this customization in day, week, month, and custom view.
Just as the name says, the Hide Morning Days extension hides the empty hours in your Google Calendar so they don't waste space on your screen. You can drag the small grey handle on the calendar to hide empty hours and they'll turn grey. Click on the grey hours and you can see them normally again.
This Button for Google Calendar gives you a one-click access to your calendar and schedule. It adds a button on your Google Chrome toolbar from where you can see your calendar and upcoming events.
It can also sent you reminders and notifications for your appointments, gives quick access to conference links for supported apps like Skype, MS Teams, and Zoom etc., and allows you to create new events in a jiffy.
Join.me is an online meeting app for collaborating with individuals and teams. This Chrome extension is for scheduling join.me meetings. Just create a Google Calendar invite and click "make it a join.me meeting and generate invitation.
You can schedule join.me meetings for up to 250 participants through this extension. There is also an option to schedule recurring meetings and use different join.me accounts, along with other interesting features.
Planway is a simple and easy extension for Trello that integrates with Google Calendar. It allows you to manage the team projects and track their performance at the same time. You can add Planway extension on your Trello page or Planway side panel on Google Chrome browser.
Some of its main features include different viewing options, checking your milestones, time tracking and estimations, grouping your timeline on the basis of members, boards, lists, or labels, and you can even export your calendar to CVS or Excel.
You can jot down your meeting notes and tasks directly on Google Calendar with this extension. It enables you to add important information regarding calls, meetings, and things-to-do right in your Google Calendar. You can also track the meeting time and assign tasks to yourself.
If you work with many calendars, this extension will allow you to save calendar presets right in your Chrome browser. It gives you a set of buttons to create, save, and display calendar presets so you can easily switch between different schedules by using simple keyboard shortcuts.
This simple extension adds text enhancing features to your Google Calendar. It allows you to change the font style and render the font of any event bold or unbold according to your requirements. The customization you'll make will be automatically saved and synced on remote browsers.
A super useful extension for forgetful minds. With this extension, you can import the birthdays of your friends and acquaintances from Facebook into your Google Calendar. It gives you a birthday calendar overview and marks the birthdays with a cake icon so you never forget the special days of your friends.
This is a little appointment scheduling tool for Google Calendar. It takes out the hassle from appointment scheduling as your contact or client is able to book an appointment themselves.
The client can see your up-to-date availability through this extension and fix a time that suits both of you. It also gives you reminders and notifications, automatic time zone detection, and an easy-to-navigate interface so everyone can easily use it.
Some people find the scroll feature of Chrome to be pretty annoying. This Chrome extension allows you to disable the scroll function on your Google Calendar. Once the scroll is disabled, you can use the < and > arrow buttons to navigate.
Generate links for your Google Calendar events and appointments through Calendar+ extension. It extracts the description and URL from the Google Calendar event and provides you with clickable links.
This Zoom scheduler extension allows you to plan a Zoom meeting right through your browser. With this extension you can start an instant meeting, avail free global telephoning, see all 25 video streams at the same time, and share audio, mouse, and keyboard controls.